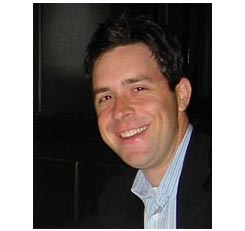 Travis Van
-IT Database Tech Research Tool
It takes 2 seconds to create an invoice -Travis Van, ITDatabase
This is what Travis Van, the founder of ITDatabase had to say about Zoho Invoice. ITDatabase is a San Francisco based start-up, founded in 2007. It provides analytical tools for dissecting coverage related to specific tech topics, competitors, and other parameters - and helps tech companies get the aggregate views they need to make important marketing and PR decisions.
Here are some excerpts from our conversation with Travis Van.
How did you come up with the idea to start ITDatabase?
he real problem we wanted to solve was that for nearly any tech topic, there are hundreds and often thousands of people writing about it. New authors - especially bloggers - pop up every day. Authors that wrote about netbooks and other consumer electronics yesterday are today writing about Cloud Computing or some other enterprise tech. It's very difficult to keep up with the changing focus for publications and authors - and we felt that there was an opportunity to index all this content in a much more organized way than anything that was available. And after years of using every other available tool in the industry we felt that there was an opportunity to build a tech media research tool that was much more compatible with PR / marketing folks' every day needs.
How did you become a Zoho Invoice user?
I did a web search for online invoicing software. I had quickly learned that in our sales process, some customers enroll immediately, while others have much longer approval processes. It became sort of a mess to keep track of who is at what stage, and it was a bit overwhelming. So I wanted an easy way to keep track of all of the outstanding invoices, and I also wanted some reporting to be able to see historical customer win and renewal dates.
For me it's really the simplicity. You hear software developers describe minimalistic design as the hardest goal for any product to accomplish. I think Zoho Invoice accomplishes that. It doesn't impose a bunch of unnecessary features or configurations on the user. It provides the perfect tool for the person to get exactly done what they want, and as a result it is extremely efficient to use. It takes 2 seconds to create a customer and 2 seconds to create an invoice and send it out to them and then you have a paper trail of when you sent the invoice to the customer, when its due, etc.. When they pay you, you can add the payment and have a receipt sent to them instantly. For someone like me with no background in finance, who is casually floating in and out of looking at what our outstanding invoices are, what kind of revenues I can expect in the next 6 months or 3 months - it's just very nice to use an invoicing tool that is so straightforward. With Zoho Invoice I've never had a question as to how anything works, it is extremely user friendly.
The price I'm paying for keeping my invoices tracked within Zoho isn't much compared to the time it saves me. Zoho Invoice has really helped me cut out the time I spend on accounting. I would rather spend that time pursuing other features and improvements for our product.
So what is Travis Van all about besides work and ITDatabase?
With a two year old kid and a start-up, I'm not exactly the most exciting profile in leisure time activity. But when I'm not working or spending time with my family, I like to golf or surf. I'm not very good at either, but that doesn't stop me. Probably my favorite is just hanging out at home and trying to cook something new. You can also share your invoicing story with us, like Travis did. Write to us now!