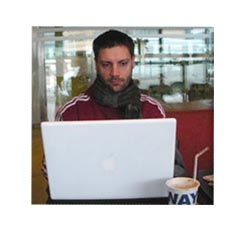 Davide Peri
-Pesav.com IT Consulting
Pesav.com
A Little about Pesav.com
Pesav.com is an IT Services and Consulting firm in Rovato (Brescia) Italy. We work on a variety of IT projects, including Linux server administration, network administration, web-based software development and web projects, open source software support, WordPress themes development and support, G Suite support, and training.
Pesav.com's Challenge
Before Zoho Invoice, we invoiced our clients using software that we created on our own for our internal use. Over time, most of our clients began requesting an invoicing solution as well, so our development began to focus on meeting our clients needs instead of our own. Our goal was to create an invoicing application that was easy to use, simple to configure, required no maintenance, and included some basic functionality. Given the scope of our business, our fundamental challenge was finding the time to develop and refine a consumer-oriented invoicing application. The project started to take on a life of its own, and started to intrude on our other projects and development work.
Zoho Solution
At some point during our own development, we found Zoho Invoice through a search on Google. In a nutshell, Zoho Invoice met our design goals and had better prices than we would be able to offer our clients. We shut down our own invoicing application project and migrated to Zoho Invoice (internally) and began recommending Zoho Invoice to our clients who had expressed interest in our invoicing app.
Zoho Invoice Impact
Zoho Invoice has a lot of functionality - things like reports, estimates, recurring invoices and invoice template. The best features for us, though, are the mobile access via Zoho's iPhone app and the integration with G Suite. The iPhone app gives us access to all our accounting information, everywhere we go. And the G Suite integration makes it easy for us to create invoices from within the G Suite UI, and to populate Zoho Invoice fields using information from our Google address book.