---
Benefits of the Integrated Finance Suite for Businesses
All Zoho Finance apps are built from the ground up to work together seamlessly. Information entered in one app will be reflected in the rest, which means your data is up to date at all times.
When salespeople generate quotes and orders in one application, they are immediately available in the others for appropriate teams to promptly fulfill the order, invoice the customer, and collect payments.
With the world moving toward a subscription business model, the Zoho Finance Suite equips you with a solid recurring billing solution while bridging the gap with traditional accounting.
Zoho Expense automates your reimbursement approval flow, making it easy for your employees to claim reimbursements. All of their expenses fall into the right accounts automatically.
With all the back office apps connected, there is no need to manually tie together data from different sources. Real-time information flows between the apps so you can make more informed business decisions.
With a single administrative console, it is easy to manage multiple users across different departments. You can add and provide role-based access to users to different apps from a centralized panel.
We are tightly integrated with Zoho CRM. Learn More
Run your business from anywhere.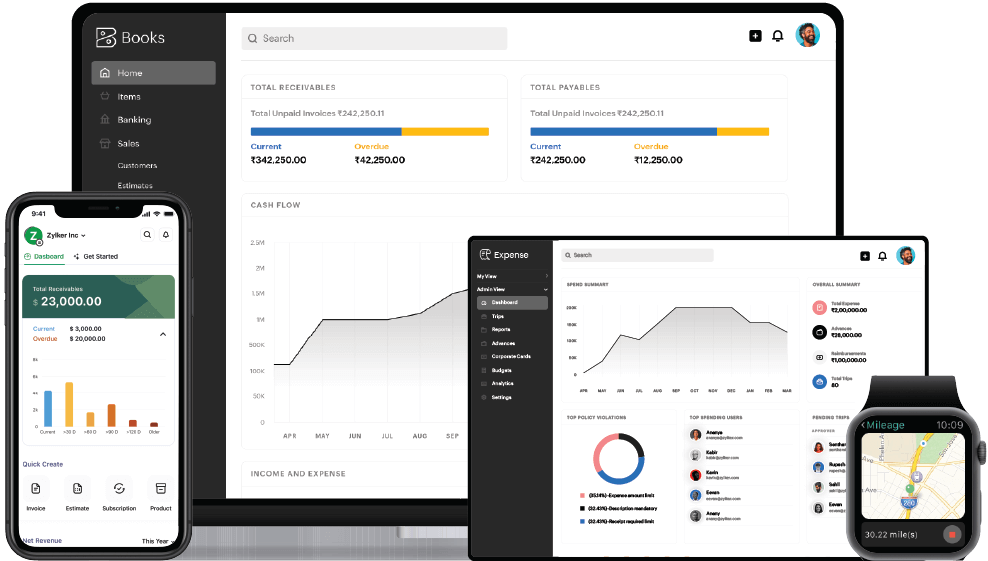 Simple, affordable pricing.
Per Organization / Month
Includes 10 users
Contact Management

Sales and Purchases

Inventory and Warehouses

Expense Reporting and Reimbursements

Manage Subscriptions - MRR/ARPU/LTV

Accounting and Online Payments

Tax Compliant - VAT/GST/Sales Tax

One-time and Recurring payment pages
Let's grow your business. Together.