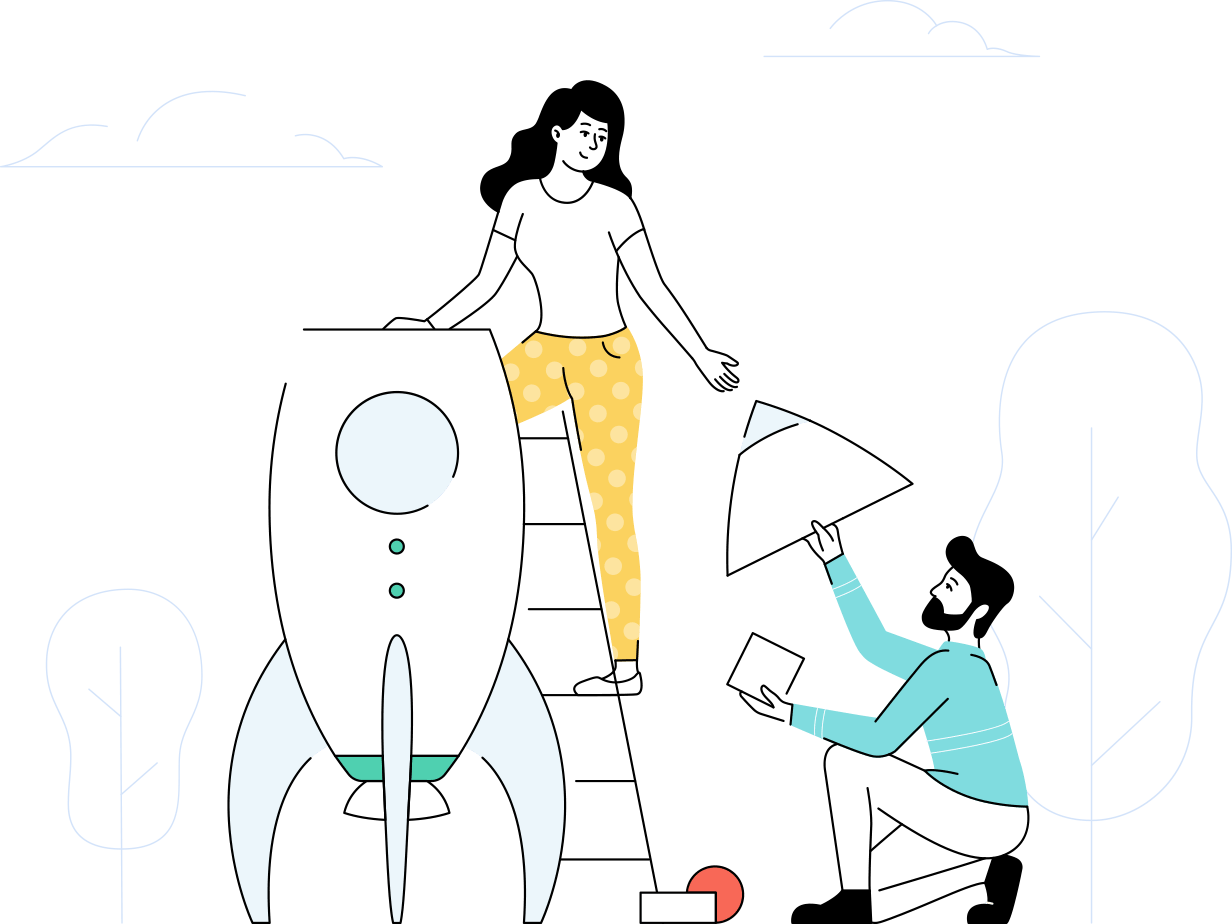 We are sorry; this program isn't yet available in your region. However, we have plans to expand and we'll keep you posted in our social-media handles when we do.
We are sorry; we haven't yet launched Zoho for Startups for this region. If you are keen on exploring Zoho's apps, please write to
sales@zohocorp.com
Scaling your business doesn't simply mean revenue growth. Developing the skill sets and managerial depth in your company—thus increasing your internal talent pool—goes hand in hand with scaling. These things don't just magically happen.
When we talk about technology entrepreneurs, they just want to focus on building their products. So when we offer them a year's access of Zoho's suite, we are essentially taking away the road block from their initial journey, which is the toughest.
As Zoho celebrates its 25 years, it has been a privilege for us to be associated with this exceptional brand since 2017. Over the years the program has connected to over 2000 entrepreneurs with focus on their customers and their passion to help startups at every stage of their journey.
Find Where you Fit
Startup

entrepreneurs

If you are a startup looking to explore Zoho for your business, you are on the right path. Send in your application to take the first step towards fueling your startup's success with Zoho's software solutions.

Apply for credits
Startup

ecosystem enablers

If you are an incubator, accelerator, co-working space provider, or any organization that aims to help startups grow, partner with us to help startups find the right technology to run their business.

Collaborate with us
If you have registered your startup with a startup enabler, get in touch with them to learn if they are a Zoho partner and inquire about how you can join the Zoho for Startups program.
Program benefits
1.86 L2.5 K
Wallet Credits
Eligible startups can get up to 1.86 lakhs INR $2500 worth of Zoho Wallet credits to explore Zoho.
45+
Integrated Applications
Choose from 45+ integrated applications from our catalog to purchase using the startup credits, valid for 360 days.
Available Services
The credits can be used for the purchase of individual Zoho applications, suites, upgrades, add-ons and even for monthly renewals.
24/5
Support Professionals
Get free technical and product-related email assistance from our trained support professionals 24/5.
Free Consultation
Register for a

free consultation

from our Concierge team to narrow down the applications best suited for your business.
Read more
All startups can get 1 lakh INR$1500 worth of startup credits after validation.
Startups interested in hosting their email with Zoho are eligible for an additional 86K INR $1000 worth of credits.
Note: The Zoho Workplace suite alone is subject to a credit limit of 1 lakh$1500 during the offer period.
*

Startups with current or previous paid subscriptions to Zoho's applications are not eligible.

**

Startups that have previously recevied the benefits of the Zoho for Startups program are not eligible to apply.
Frequently Asked Questions
Criteria for Applying
Points to Remember
Key Points on the Wallet Credits
General Questions
Criteria for Applying
What are the requirements to apply for Zoho's startup benefits?

Create a Zoho account and fill the registration link provided above in this page to apply for the credits of the program. A Zoho account can be created at www.zoho.com through any application of your choice.

I previously got the one-year free subscription of Zoho One. Am I eligible for the Wallet program?

Those who have already had the opportunity to explore our apps through the Zoho One for Startups program are not eligible for the Wallet program.

I have a paid subscription to Zoho Mail. Can I get any credits from this program?

The program is not open for paid Zoho users. We launched this program hoping to provide the startups with an opportunity to explore Zoho for their business. Those who have already had the chance through paid subscriptions are not eligible for the free benefits offered via the program.

I am based out of the USA. Can I apply for the credits?

The Zoho for Startups program is currently live only in India, MEA and Europe, but we do have plans to expand more. We will make an announcement when we launch our program in new regions. So follow us on twitter @ZohoforStartups.

How can I get the additional 86K INR$1000 via the program?

Once the credits are approved for your startup, 1 lakh INR $1500 worth of credits will be automatically deposited in your account. In the next 15 days you should host your email with us to get the additional 86K INR$1000 worth of credits.
Points to Remember
Do I get any special discounts or promotional credits on the renewal of my subscriptions after the Wallet credits expire?

Unfortunately not, but you might not need it. Please check each of our product's pricing to get a better understanding of this program's one-year value.

Will we be provided onboarding as a part of the startup benefits?

At this time, onboarding assistance is not included for free with the program benefits. With that being said, you can contact our support teams at any time for free assistance. We also have neatly compiled help documents for all our applications to help you get started without a hitch.

If you are still interested in onboarding, please write to us on info@zohoforstartups.com and specify on which product you'd like onboarding. We will connect you with the appropriate team so you can discuss the pricing and book an appointment.

I am a startup with a Udyam (MSME) registration from the government of India, how can I obtain the benefits of the Startups program?

While MSMEs can also be referred as startups in the initial stage, structually they are different from each other and so we do not include MSMEs in the Zoho for Startups program. The program is open only to those startups that have an incorporation certificate and to those that come via our partners.
Key Points on the Wallet Credits
How can I use the Wallet credits?

The Wallet credits can be used to purchase licenses of our Zoho One suite, subscriptions to individual Zoho applications, product upgrades, and/or add-ons.

Can I use the Wallet credits for renewal?

Yes. If you purchased the subscriptions under a monthly billing cycle, you can use the credits for the monthly renewal until the end of the one-year validity period.

How do I check if the credits have been deposited into my account?

Log in to your Zoho account and access your Zoho Subscription page to view your credits.

I have a Wallet balance of 500 INR$20. It is not enough for a new subscription or renewal. How can I use it before it expires?

The Wallet credits can be used until the last day of your validity period, and they can be combined with other payment methods to renew your subscription.

I have some leftover credits in my Wallet. What will happen to them at the end of one year?

After one year, the credits left in your Wallet will expire and your Wallet balance will be reset to 0.

What happens to my Wallet balance if I downgrade or cancel my subscription during the validity period?

Your Wallet balance will be reset to 0 and you will not be able to recover your credits.

Can the Wallet credits be encashed?

No, you cannot encash the Wallet credits under any circumstances.
General Questions
I am running a one-man business with my savings and funding from family and friends. Can I apply for the program?

Of course, yes! All startups are eligible for the program as long as they can furnish a government authorized document such as the incorporation certificate validating their company's registration.

I have applied for the program, how long will it take for me to be accepted and receive the credits?

It takes between 5 and 7 business days from the date you applied for validation and processing. We appreciate your patience and will keep in touch with you if we have any queries. Do not hesitate to reach out to us if you need additional information.

The startup enabler I am associated with is partnered with Zoho. How do I apply for the credits?

We request that you reach out to your contact from the Startup-enabling organization. They can give you the steps to apply for our program through the partnership.
Be business-sorted with Zoho