Overview
Take a quick look at Zoho Sign's features and benefits to see why we are the best fit for your business.
View Presentation
Tour
Walk through Zoho Sign's user interface to get a feel for the app before you sign up.
Take a tour
Alternatives
With so many options out there, it becomes difficult to choose one. Check out how Zoho Sign compares to other digital signature solutions.
Compare now
Integrations
Zoho Sign easily integrates with other Zoho apps and third-party applications that you use every day, which means you don't have to worry about using multiple platforms to get work done.
Learn more about integrations
Solutions
Zoho Sign is suited for various industries and departments. With industry and domain-specific features, we ensure you have everything you need to smoothly run your business.
Learn about use cases
Trust Center
We take the responsibility of safeguarding your documents and business agreements very seriously. Read through our privacy policies, legality, compliance and security standards in detail to know how.
Visit the Trust Center
Pricing
Zoho Sign offers all the features your business needs without hurting your wallet.
Check pricing
Resources
Check out our extensive resource library consisting of user and admin guides, videos and webinars, our blog posts, and our forums to learn more about Zoho Sign.
Access resources
Wondering how Zoho Sign works?
Watch our product demo to get an idea of how to use Zoho Sign's various features. With Zoho Sign, you can get your documents signed in seconds.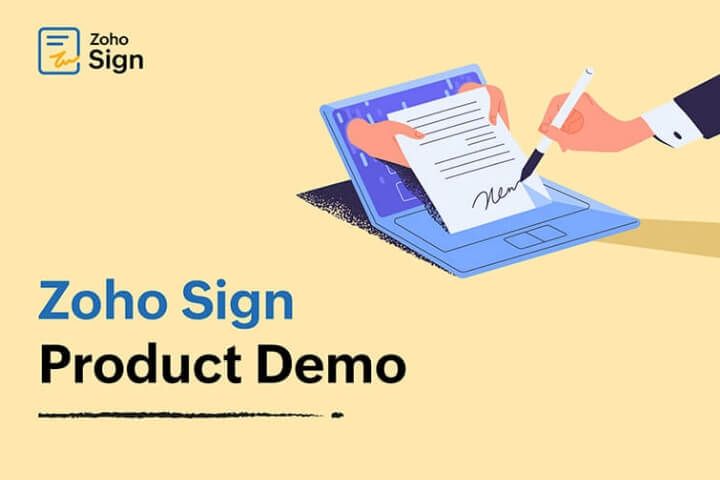 Stef Chua
Founder, Vault Personnel
Shreyash Khandelwal
Founder and Managing Partner, Recoversy
"It is an excellent tool that facilitates legal processes; they can sign several documents with a single click."
Juan Vinay
Java Software Engineer, Adveritas
"The workflow process provided for signing documents is very easy to set up and understand."
Jaideep T.
Head of Product, Glide Invest
"The status and notification features are great for being in tuned with docs that are out to be signed and those that still need to be signed."
Ben G.
Senior Account Executive, Small Business Owner