Set up is a breeze
You can set up Zoho SalesIQ for your website and get started in less than a minute. Simply copy the code for your chat widget, add it to your website, and get ready to connect with your customers.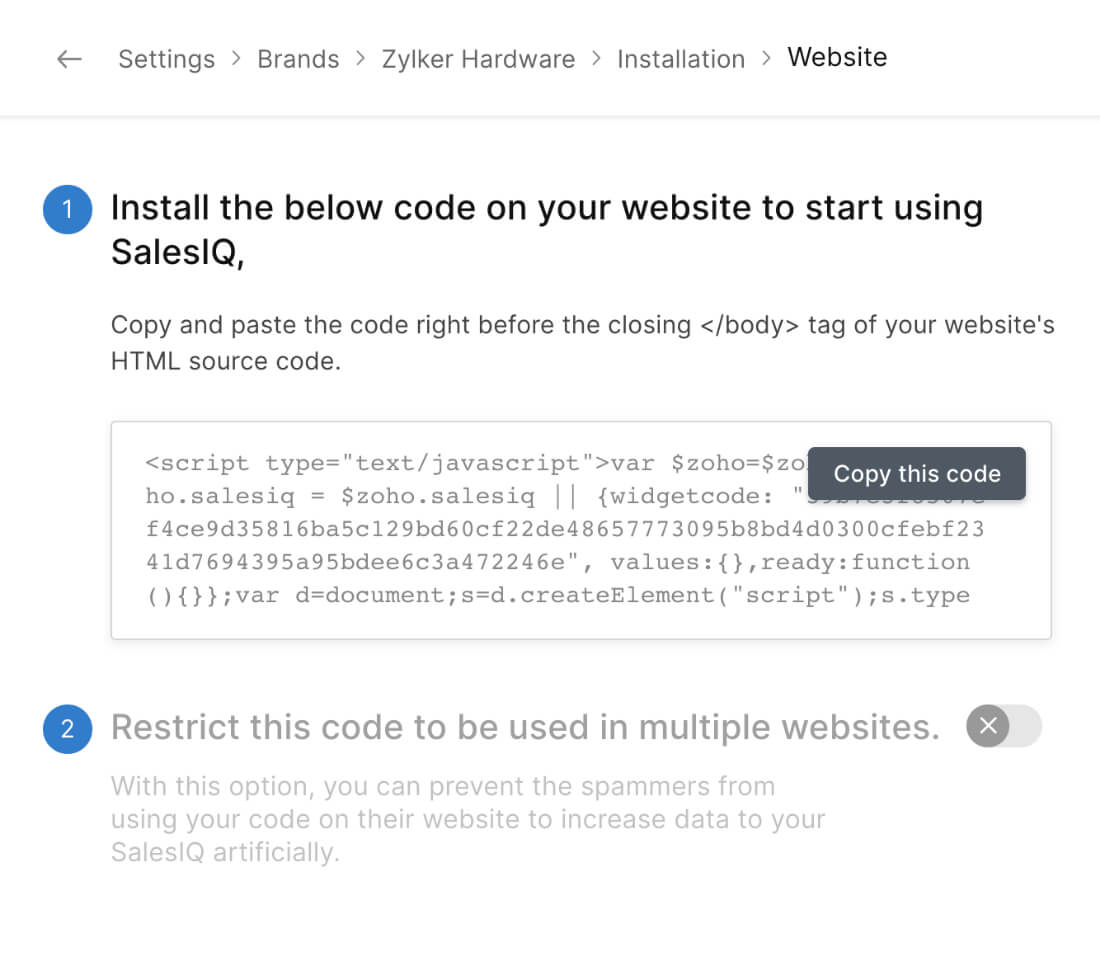 Tap the right audience
With SalesIQ's visitor tracking features, you can filter and easily reach out to valuable prospects, experience higher conversions, and close better deals.
Automate conversations using bots
Are all your agents busy? Don't fret! Proactively engage website visitors, no matter the time or day, and offer better customer experience with our automated chatbots, Zobot and Answer Bot.
Provide unparalleled assistance
Increase customer satisfaction by providing quality support. Direct chats automatically to specific representatives, share articles from your knowledge base, and accurately address customer pain points.
Know if you're on the right track
Monitor the performance of your agents as well as analyzing visitor behavior and demographics with reports and analytics.
Identifying your best prospects has never been this easy
01
Understand and prioritize your visitors
Get insights on the visitors who land on your website so you can prioritize them and they never go unnoticed. Set the criteria to categorize visitors into hot, warm, and cold leads, monitor their actions when they click on a chat or navigate through the website, and find the right moment to shoot a message to engage them.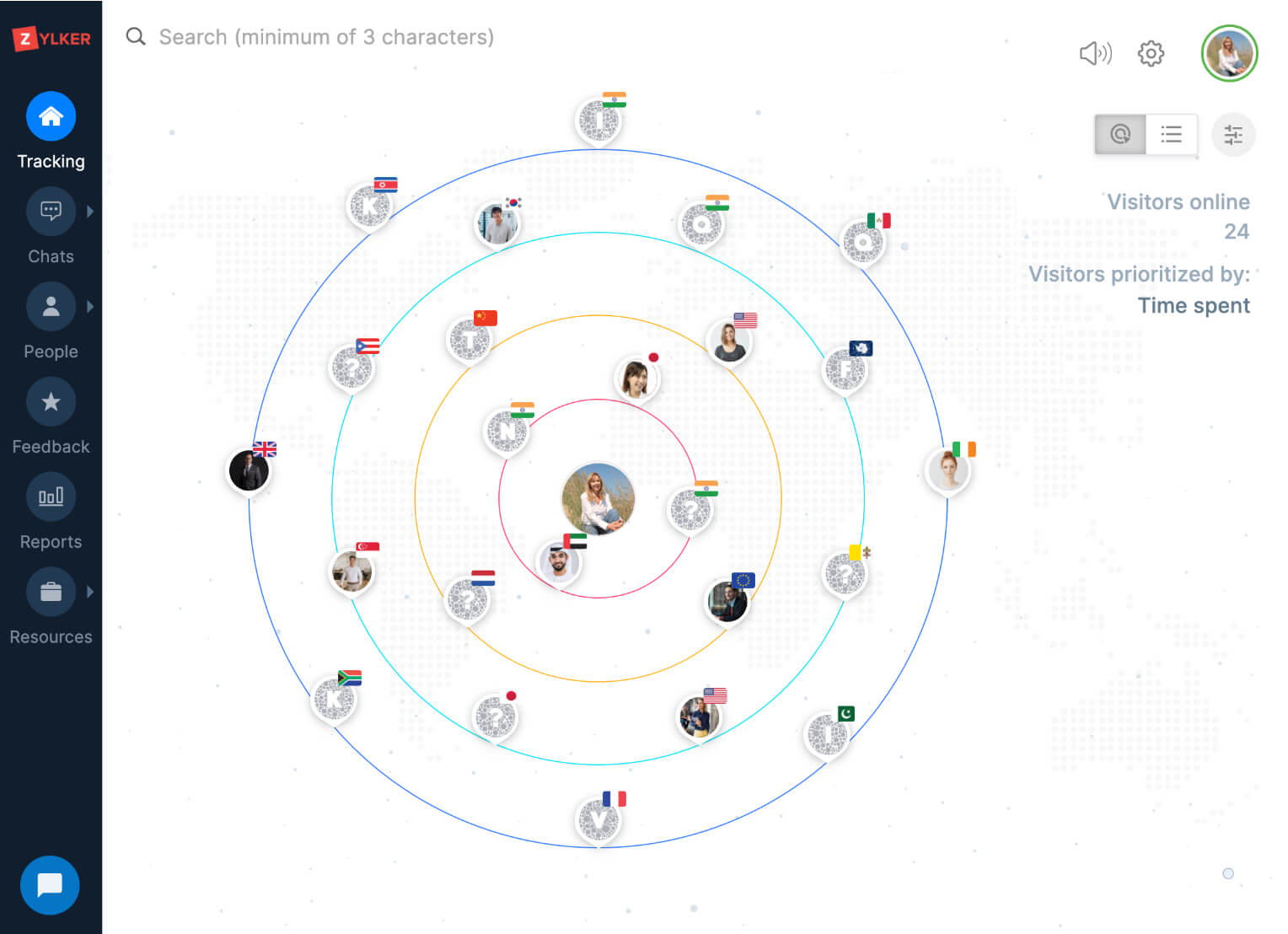 02
Group visitors into contacts and companies
Target potential leads effectively based on the information they provide. When visitors share their contact details, they will be grouped under Contacts. Two or more visitors accessing your website from the same organization will be grouped together under Companies. You can also filter companies based on their sectors such as Education, Business, Transport, and others.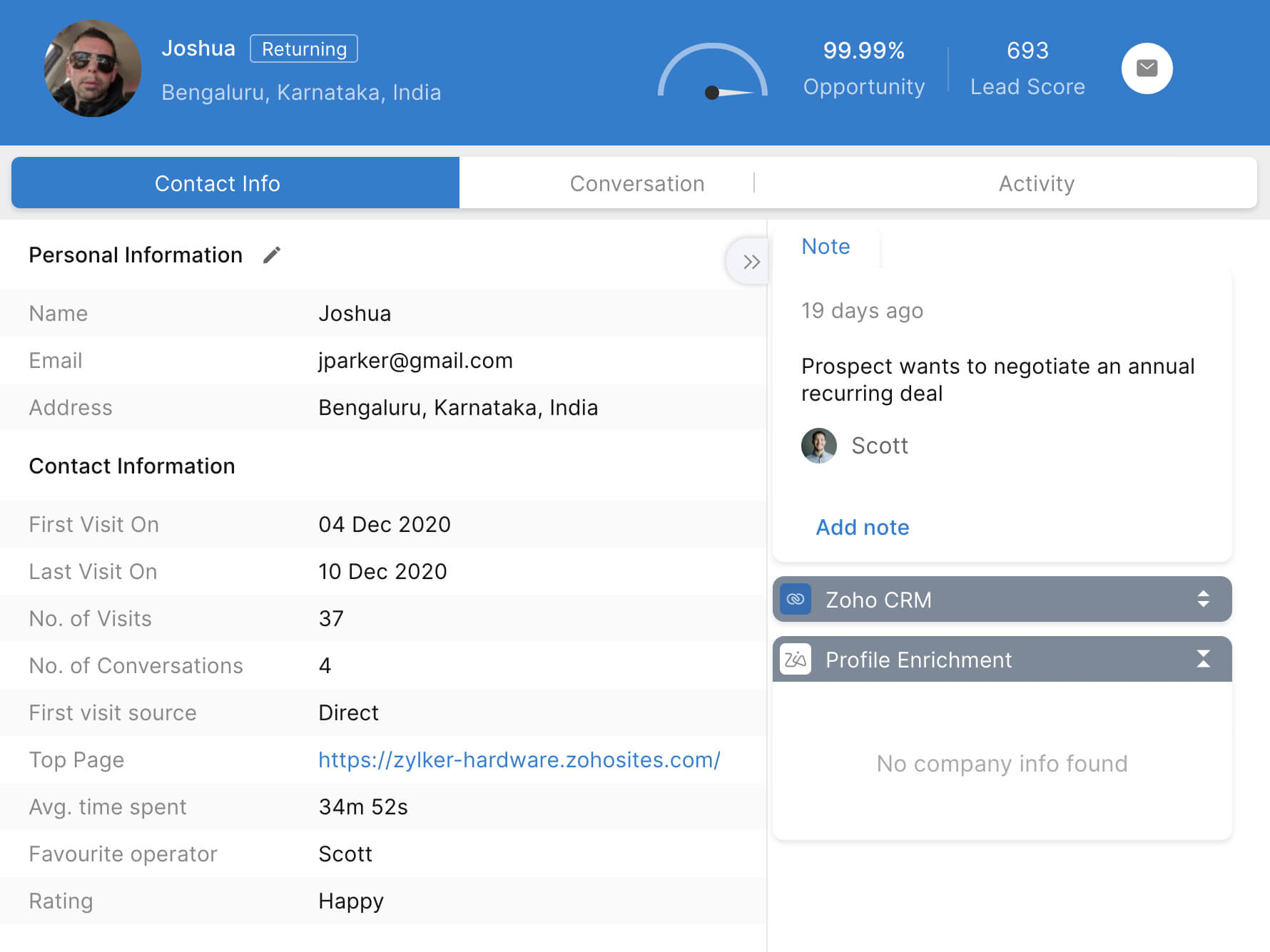 03
Drive your sales through qualified leads
Define lead scores for SalesIQ visitors to help your sales team save time and only reach out to effective leads that are most likely to convert. Scores assigned to a company as a whole is company score. You can automatically generate leads and push the data into your CRM software based on the scores.
Welcome to the world of automated conversations
01
Codeless Zobot at your beck and call
Building a chatbot is now as easy as abc. Construct your chatbot on our codeless platform using flows, give your bot a unique name, and set it to assist your customers at all times. If the bot is unable to engage your customer, you can configure the bot to hand the chat over to a human operator at any point in the conversation.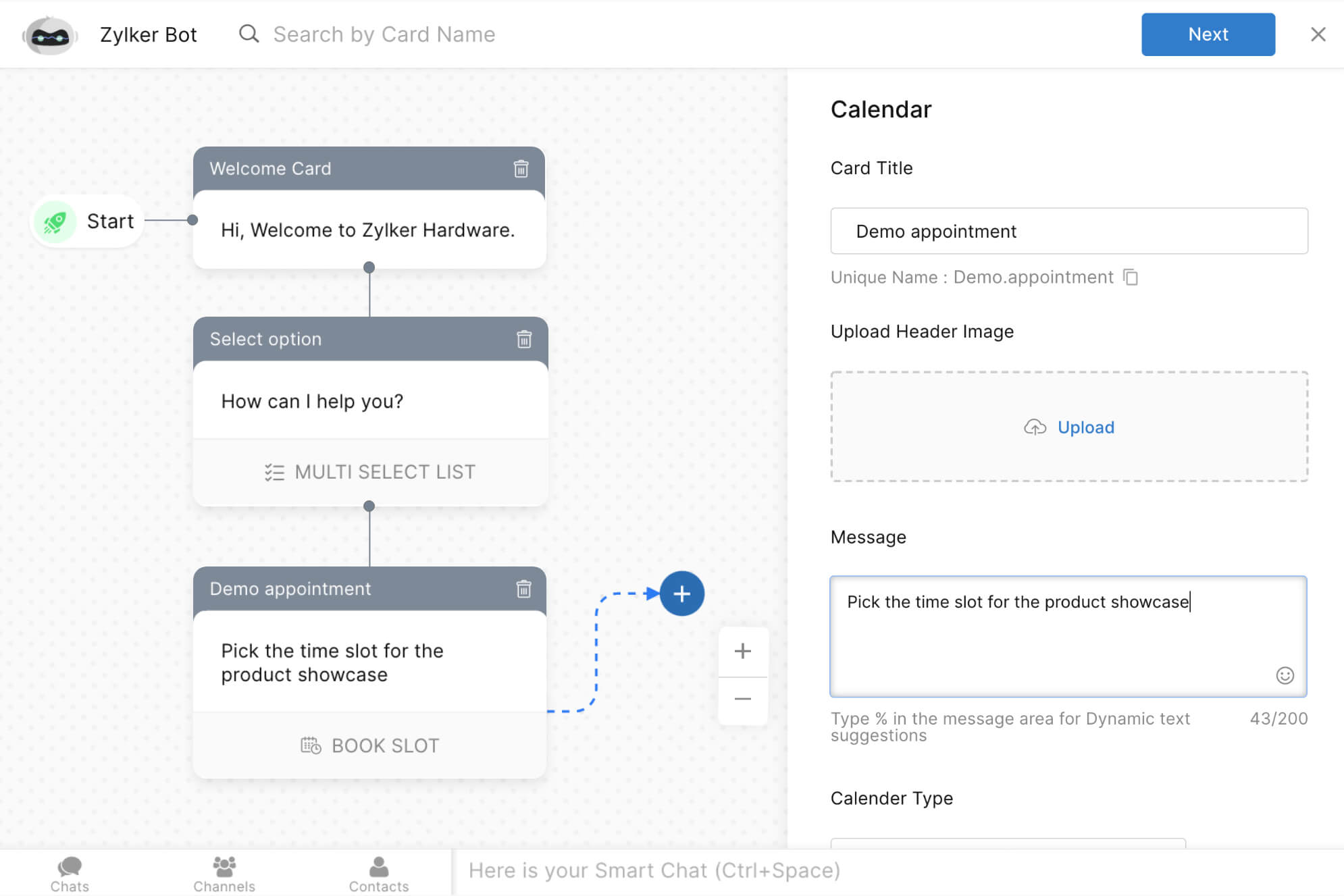 02
Build your Zobot on external AI platforms
For those who love to code and design bots from scratch, you can build and train them on external AI coding platforms like Watson Assistant, Azure Bot Service, and Dialogflow. Apart from the external AI platforms, you can also construct bots using our in-house AI platform, Zia Skills.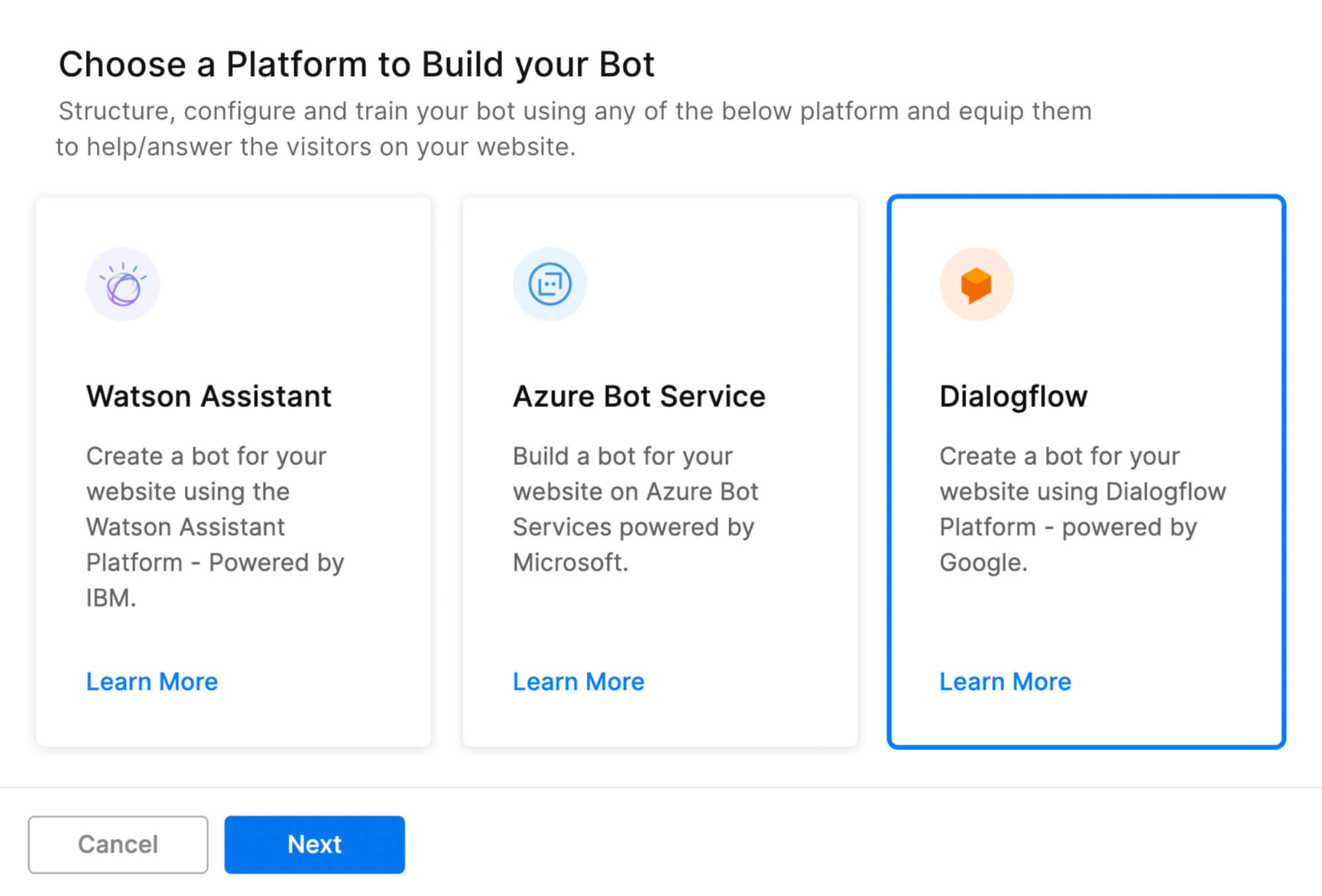 03
Power Zobot with Webhooks
If you prefer your chatbot to be integrated to your internal servers using Webhooks, you can build one in Zoho SalesIQ. When specific interactions happen with the bot, it will be communicated as messages by SalesIQ to trigger Webhooks.
04
Your designated full-time product expert
While Zobot takes full control of your business from sales to support, Answer Bot provides instant solutions to customer queries using your built-in resources. Educate and engage your visitors with Answer Bot and give them direct access to your FAQs and articles for the questions posted, even when your agents are busy or unavailable.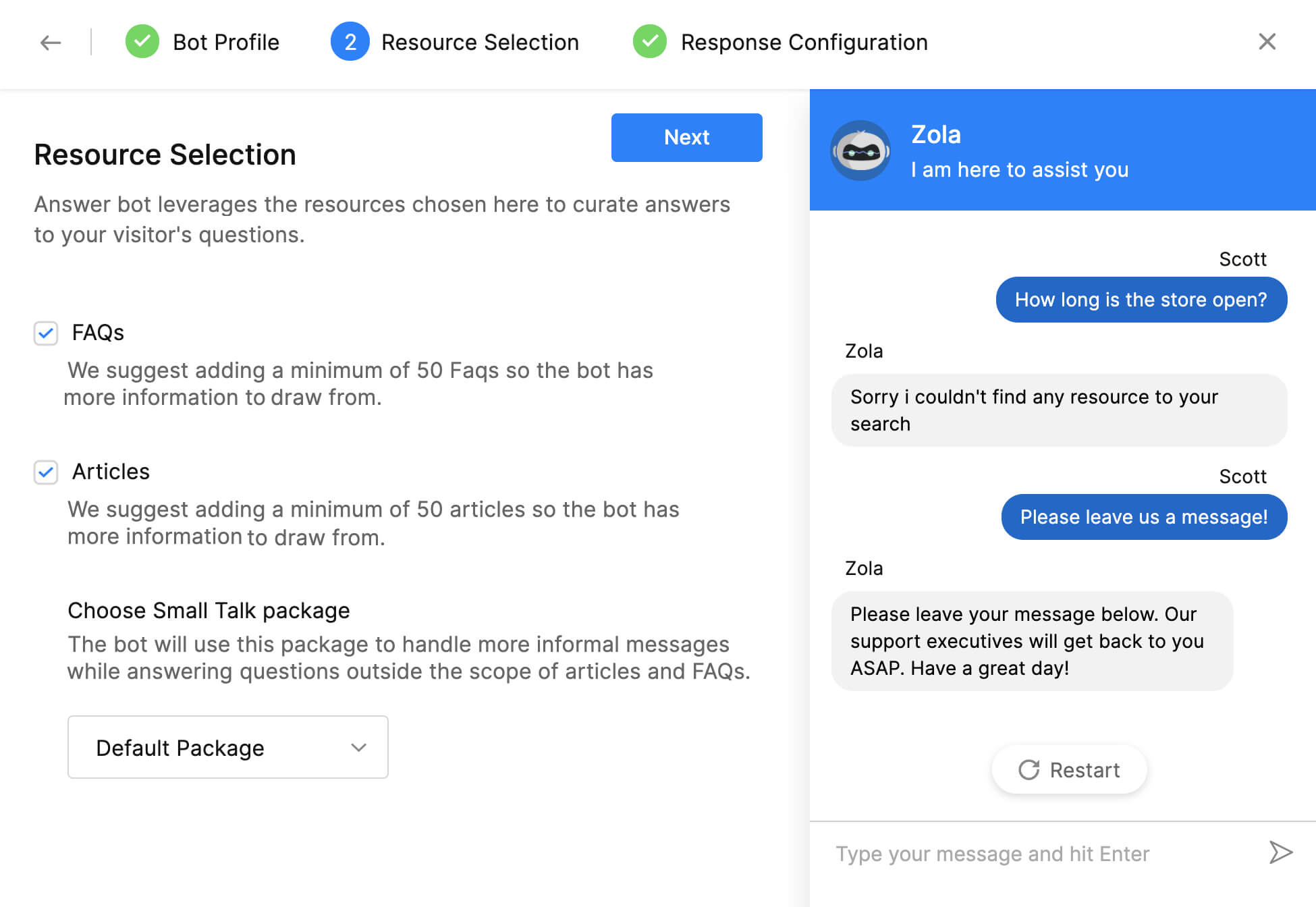 05
Smarter bots for sharper conversations
Train your Answer Bot to make smarter conversations with visitors. Put together small talk packages with phrases and responses and tag them to respective bots to fuel engagement. You can also coach your bot with business terms commonly used in your organization for the bot to identify and reply with appropriate solutions.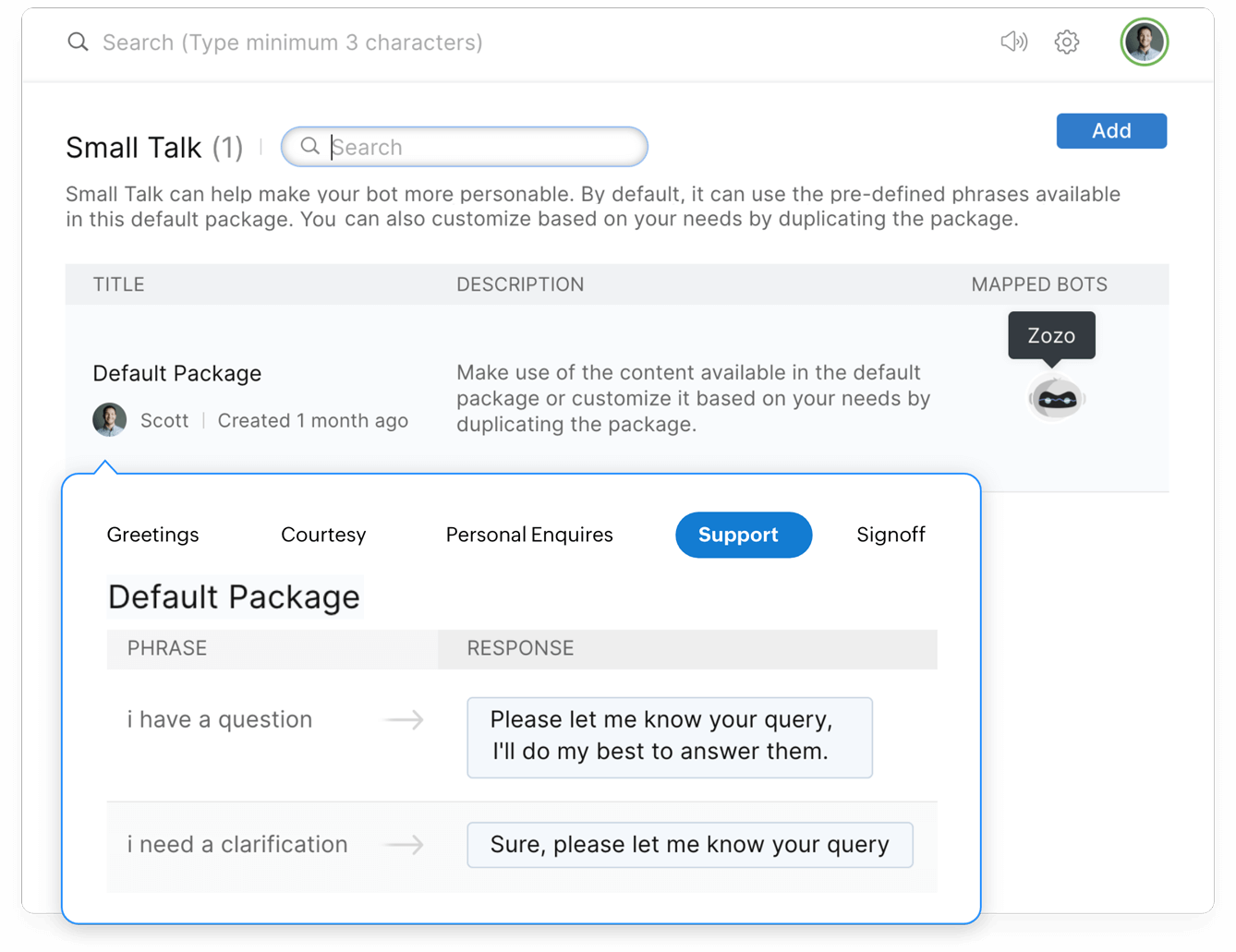 Make customers fall in love with your business
01
Spark engagement with tailor-made actions
Grab visitor attention by setting up automated triggers to send customized messages when they access your website. You can set these triggers for specific audiences based on various conditions like their CRM value, browser type, visitor details, and more.
02
Ensure your customers get the best support
Have straightforward customer interactions by automatically directing chats to the right department or agents. Give quick solutions when needed by inviting other agents to join an ongoing chat or transferring the chat to another agent for hassle-free engagement.
03
Go beyond messaging for customer engagement
When messages don't get it done, make the call. Resolve issues in no time by reaching out to customers via audio calls during chats. Easily share your screen with your customers to provide a demonstration or request for remote access to take control yourself.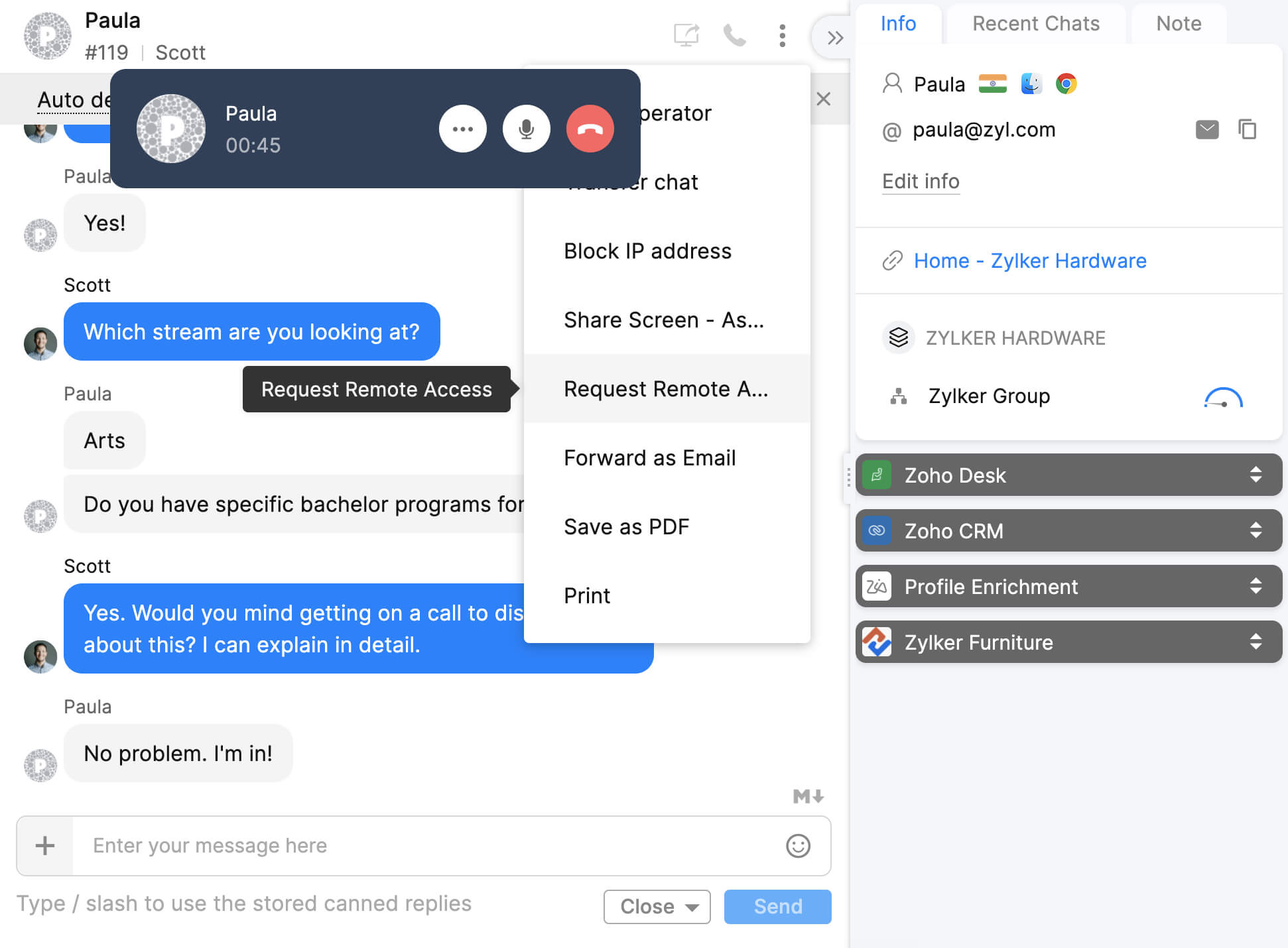 04
Save time typing with knowledge base
Create a knowledge base of articles in SalesIQ and coach your chatbots to instantly share them when your customers post relevant questions. Add multiple related questions for one response in FAQs and link related articles to it.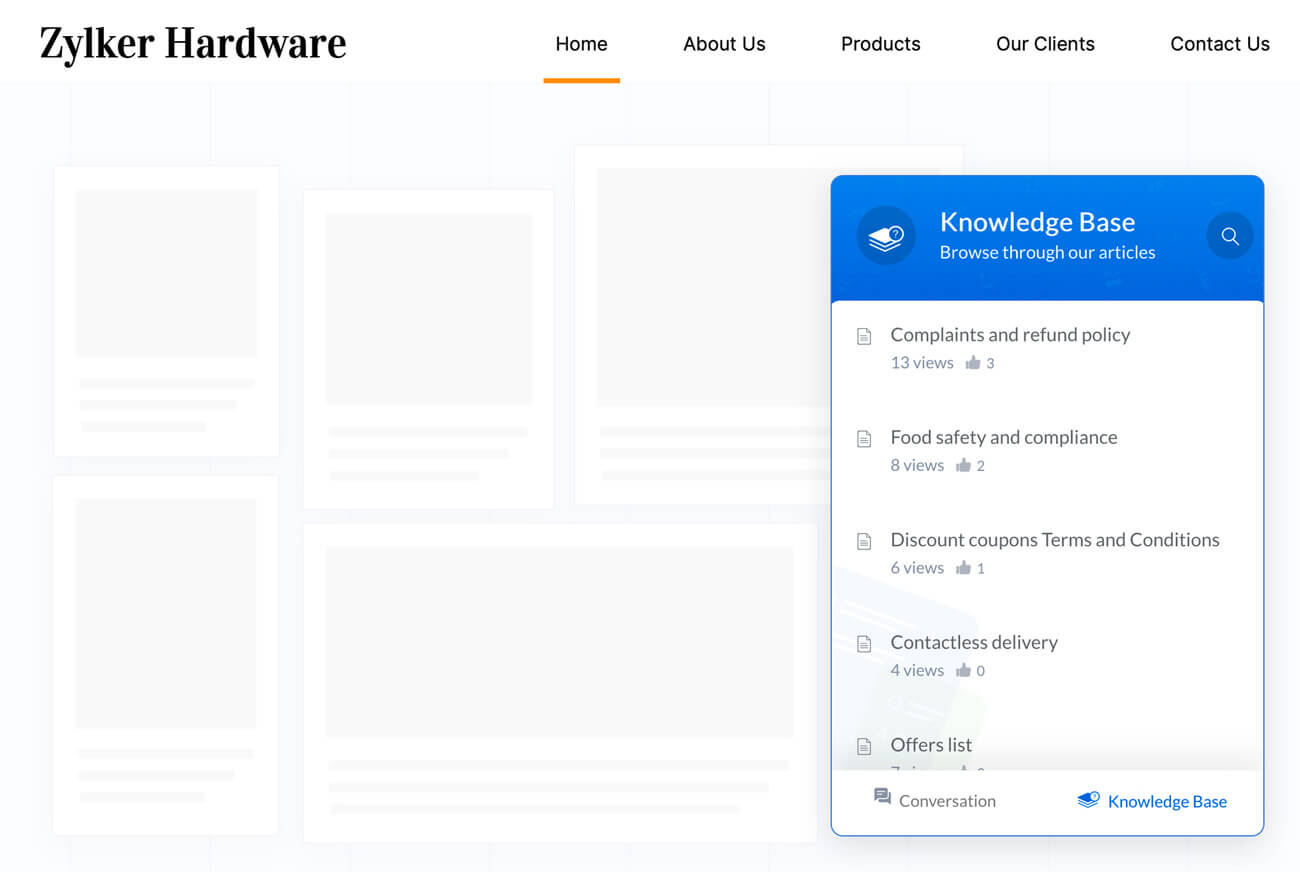 05
Add unanswered questions to your resources
Did your visitor have a question for which your chatbot couldn't find an answer in the FAQs? SalesIQ collects these unanswered queries in the UAQs section for you to reference later. You can then add suitable answers to them and move them to FAQs or Articles.
06
Don't let language differences stop you
Converse beyond language barriers by enabling real-time translation and having the customer's messages immediately translated into your language. Chat responses that you send in your language will also be translated back into the customer's language.
07
Give easy access to chat history
Allow customers to view past discussions they've had with your agents from their chat window. If needed, customers can also reopen old conversations and resume a chat from there.
Experience seamless customer interactions
01
Identify and combat cyber bullying
Put an end to abuse and block visitors who display profanity. Create libraries of frequently used foul words in different languages and train your bot to understand and block such visitors. Operators can also manually block IP addresses of visitors in SalesIQ.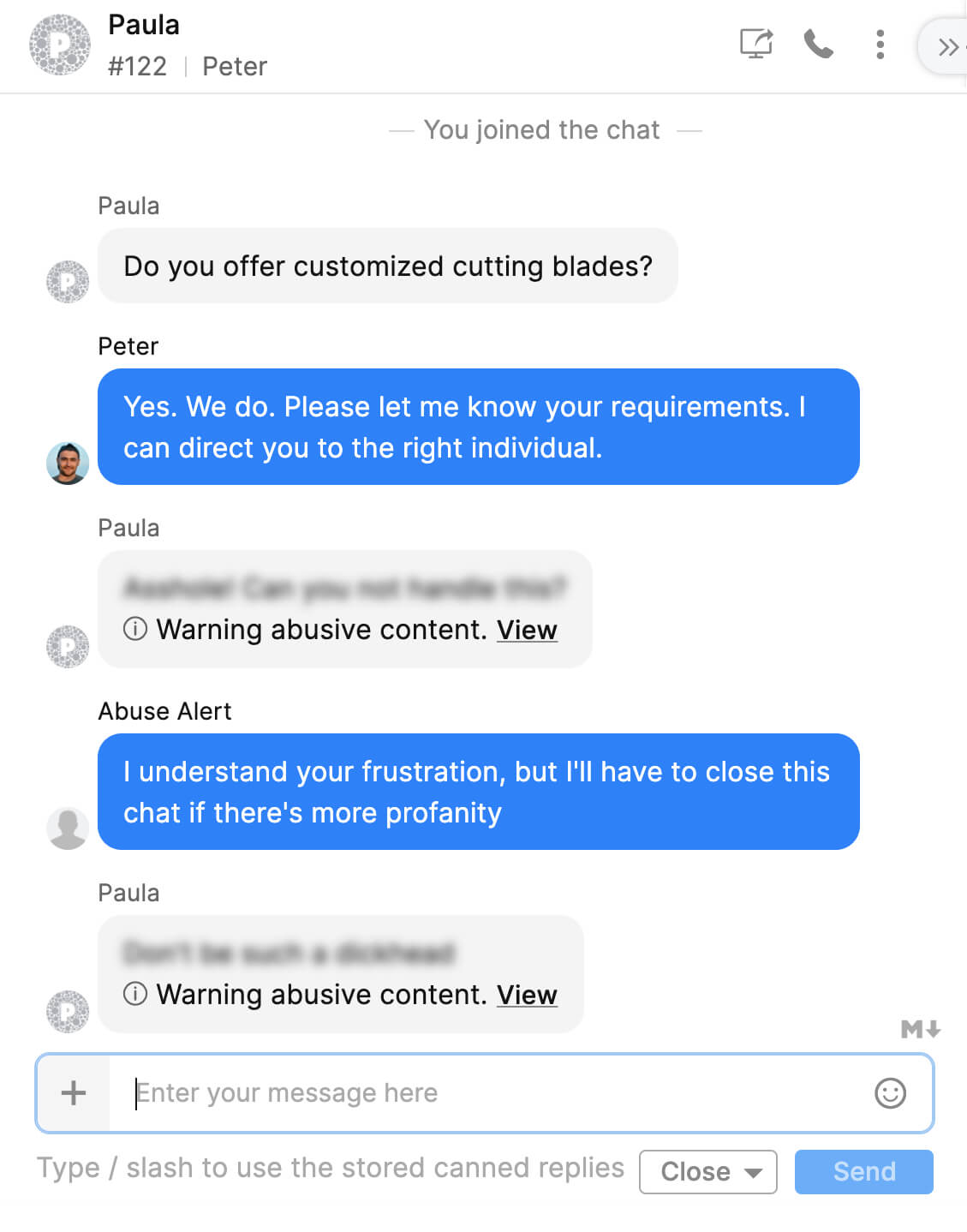 02
Supervise and monitor chats
Keep an eye on your customer engagement and assess your operators' performances by monitoring their chats. You can oversee chats coming from a specific IP address, email address, or chats assigned to respective operators and take over when necessary. Only administrators and supervisors can monitor chats.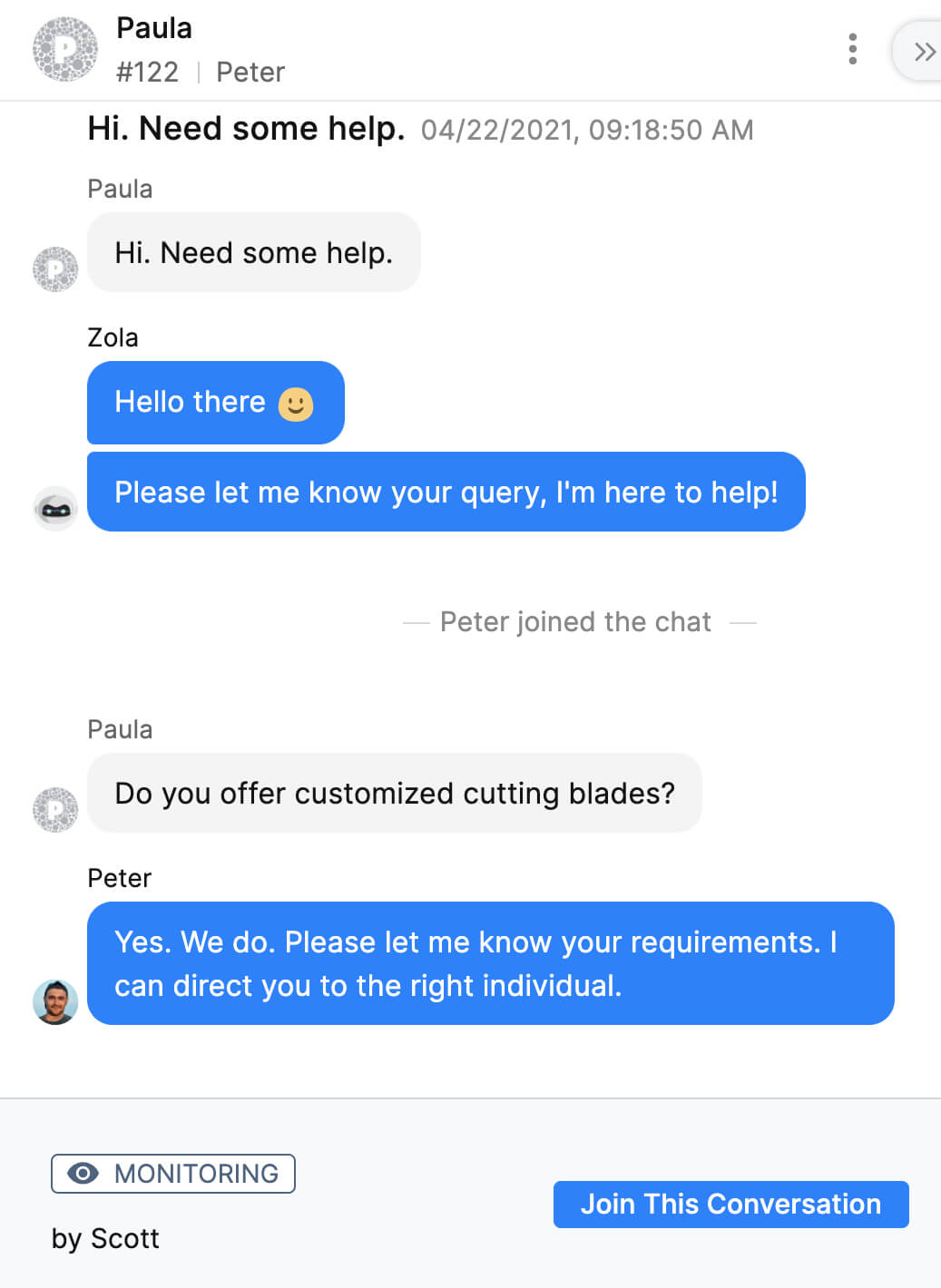 Integrate with your favorite tools
Take your game to the next level. Integrate Zoho SalesIQ with your preferred external apps including CRM, Help Desk, Email Marketing, and Data Enrichment.
Boost customer engagement from your mobile app
Wondering how to get in touch with your customers from your mobile app? Our in-app SalesIQ tool, Mobilisten, has got it covered for you. Set up SalesIQ for your Android or iOS app with this mobile SDK tool and let customers connect with you in one touch.
And more...
01
Power your conversations with Widgets
Get all the details you need when you interact with your customers from various sources through widgets. Set up widgets for your customer chats, view data from your CRM or help desk software, check out their purchase history, extend support, and do a lot more from your widget panel.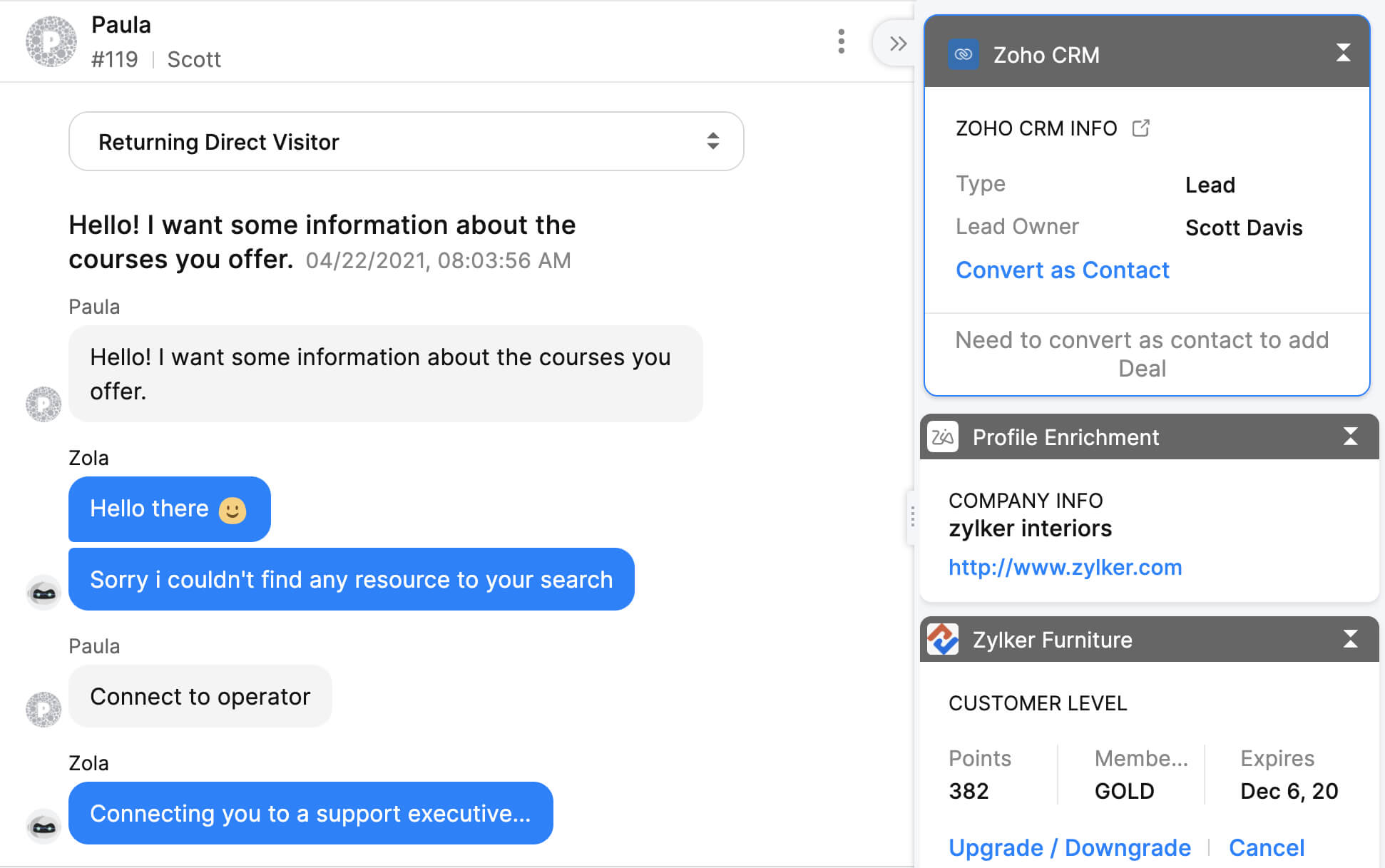 02
Get to know what your customers think
Measure customer satisfaction and take necessary action by analyzing feedback given by customers at the end of every conversation. You can access all the feedback registered via the chat widget as well as export it as a file.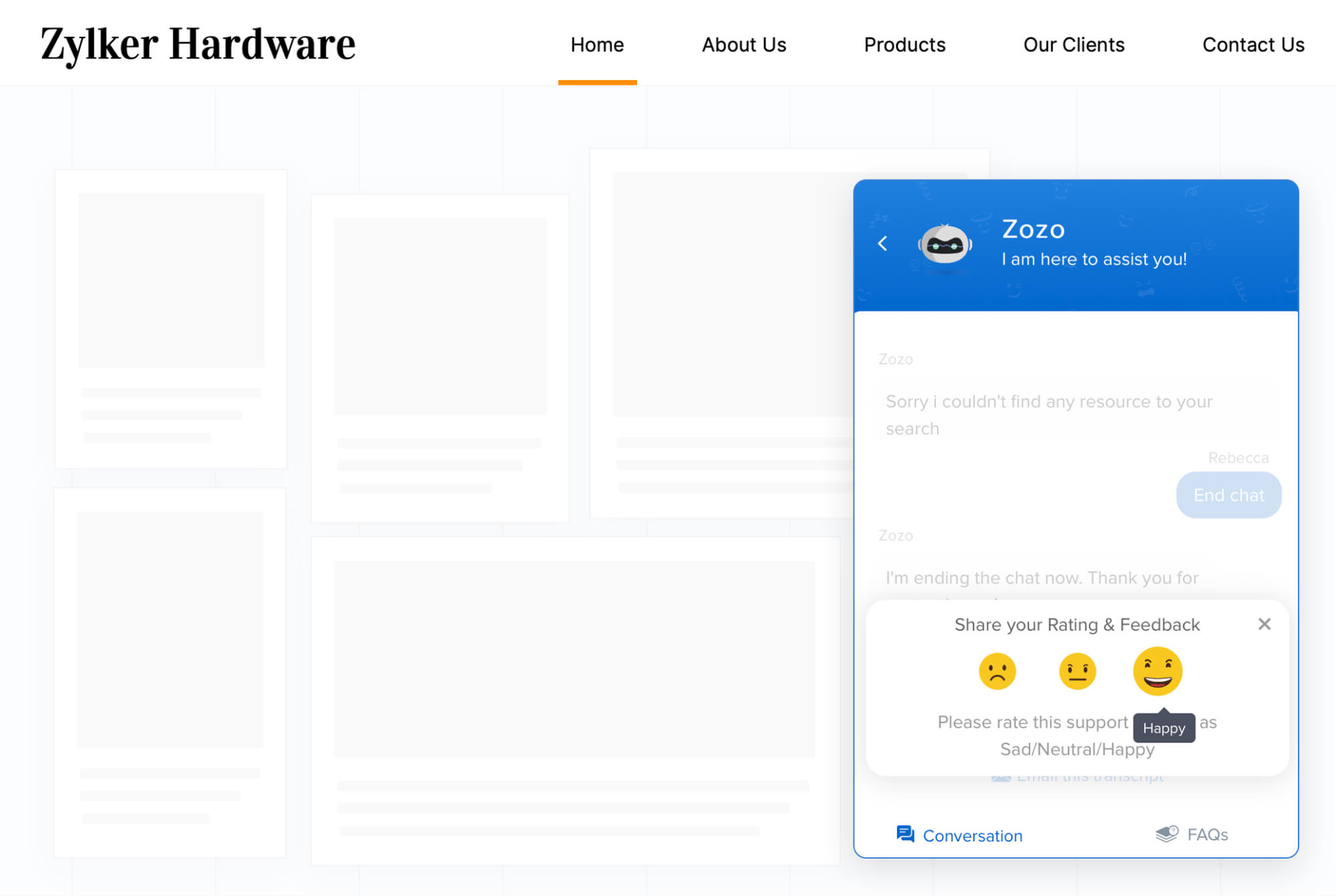 03
Assess performance with reports
Study and evaluate visitor behavior, agent performance, and live tracking statistics with detailed reports. Get an overview of the entire performance from the dashboard and narrow down the metrics to visitors, operators, and tracking for a deeper analysis.