Traditional mail
In sales, you need to stay on top of the most important customers and deals that are most likely to turn into revenue. Traditional emails put the latest email on top, not the most important one.
SalesInbox
The first email client built exclusively for salespeople. Get your email automatically prioritized and organized according to the deals that matter most to you.
See more—and do more—right from your inbox.
Your Pipeline. Your Inbox.
You already organize and prioritize your sales activities according to your sales pipeline and the stage each deal is in. Wouldn't it be great to have your email organized in the same way? SalesInbox automatically does this for you. Columns, folders, and filters reflect your sales priorities, so you stay on top of the deals that matter most, not on top of the last one you got.
Your emails, organized.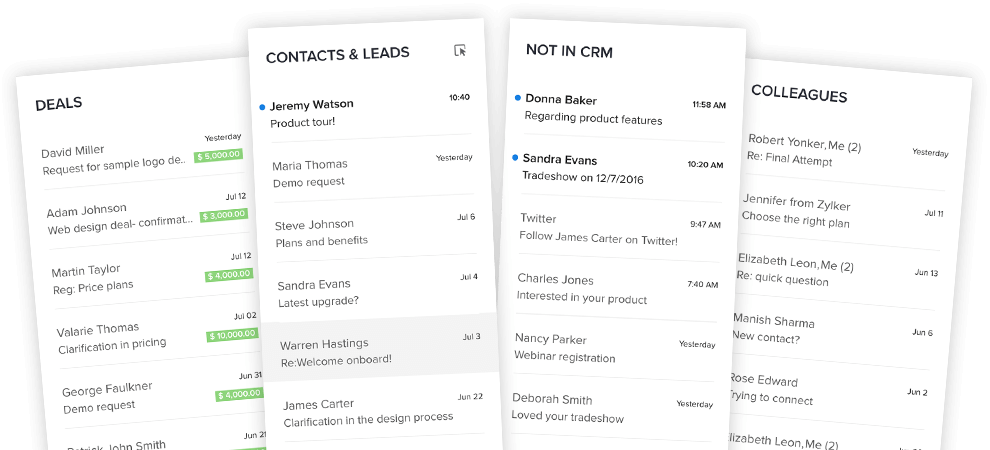 Find what you're looking for.
Your emails, organized.
No more sifting through endless notifications and irrelevant emails. Get an inbox that cuts through the clutter for you. SalesInbox intelligently organizes your emails into columns according to how you've set-up your CRM. For example, open deals, leads, contacts and colleagues.
Find what you're looking for.
Not all leads are created equal. Customers sent by referral are more likely to convert than those met at a trade show. Filter your leads by any number of CRM criteria, from deal size to closing date to source. Apply labels to your emails for more fine-grained searches.
Go beyond the thread.
Whether you know every detail about a customer or don't remember the last time you talked, SalesInbox gives you the context you need to craft the right message. Before you hit send, reference your organization's whole history with your contact—from every support ticket to their last social media post.
get the details.

Knowledge is power.
Get the details.
Each time you email a contact, see a breakdown of how they've progressed through the sales cycle. Scan your tasks, notes, and past messages to pick up from where you left off. Know how valuable each customer is and when their next deal is closing.
Knowledge is power.
Let SalesInbox be your team's memory. Bring new hires up to speed with the contextual information provided by the timeline view. Make sure employee turnover or role changes don't disrupt your sales processes.
drag. drop. deal.
Perform your CRM activities right from your inbox. Automate the process of lead conversion. Set rules or simply drag and drop mails to create leads, contacts, and deals.
An end to manual entry.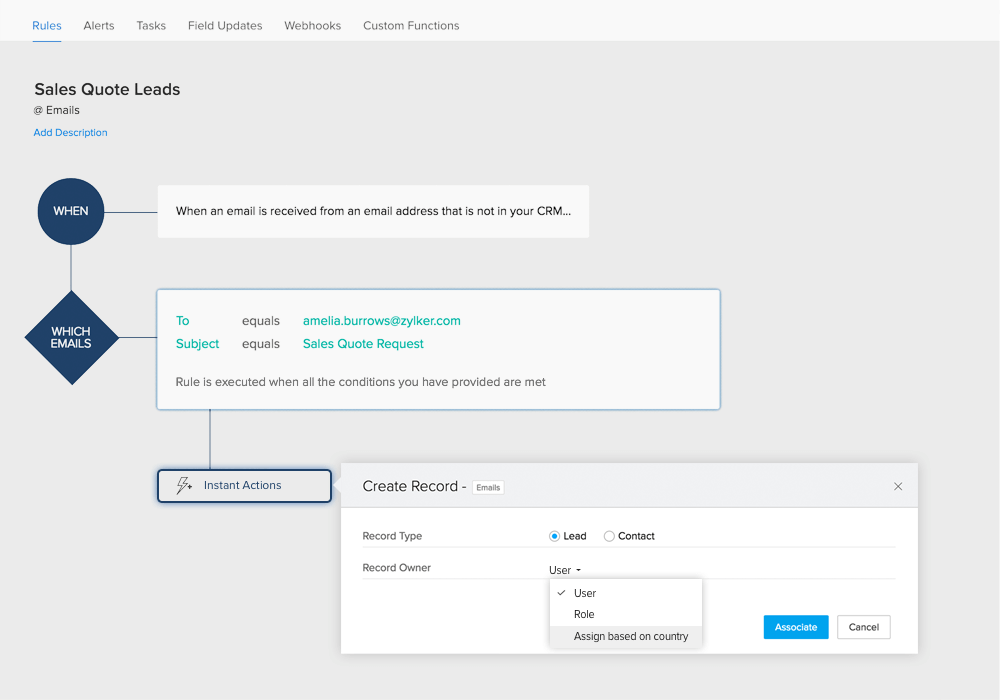 Keep your email and your CRM in-sync.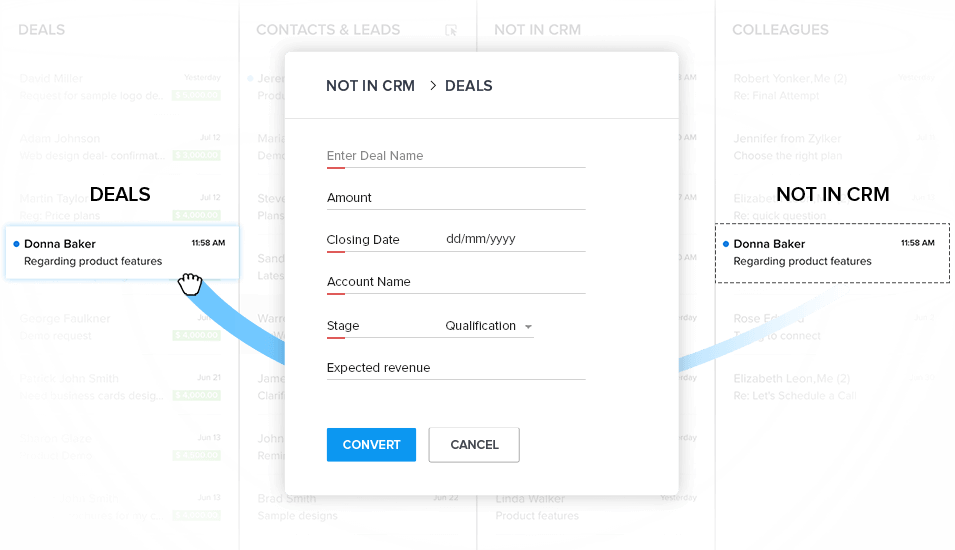 Stop looking for that email address.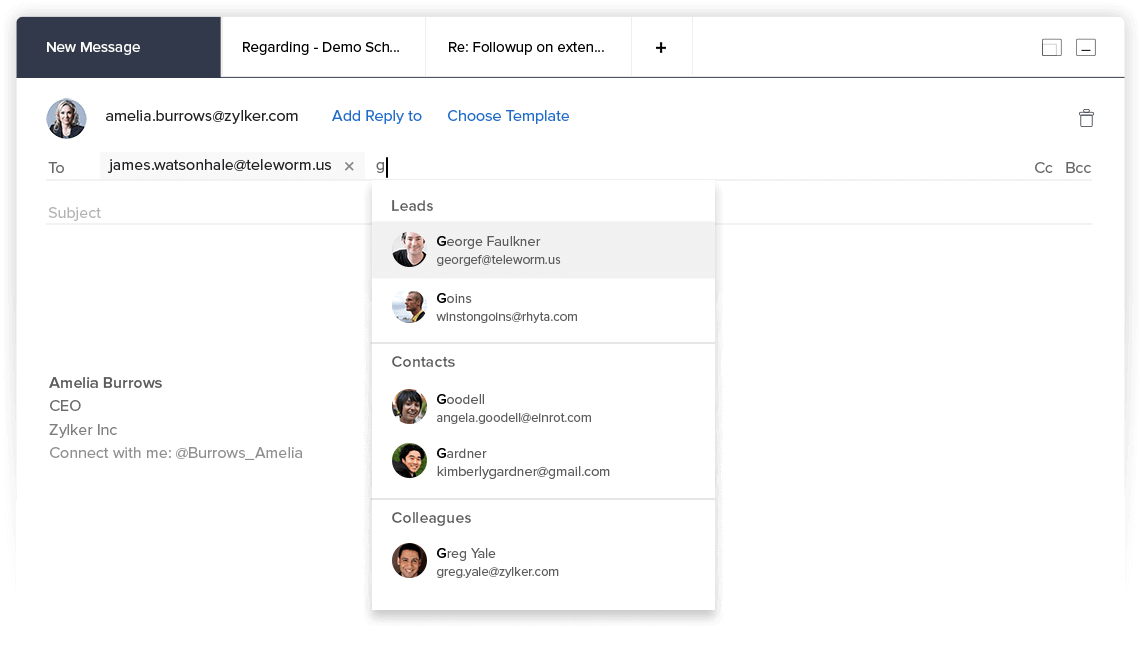 An end to manual entry.
When interested customers reach out via email, add them to CRM straight from your inbox. Save yourself time by setting up triggers that immediately categorize new messages as leads.
Keep your email and your CRM in-sync.
Convert hot prospects into closed sales by dragging and dropping emails into Deals column. Set the price, determine a closing date, create follow-up tasks, and keep yourself organized.
Stop looking for that email address.
When emailing your leads, SalesInbox automatically suggests addresses from CRM and auto-populates them where necessary.
follow-up.
When you're swimming in a sea of "to-do's", it's hard enough to remember what you should do—let alone remember what others need to do for you. Let SalesInbox lead the way with alerts for follow-up activities and notifications about the conversations that matter most.
Sell in real-time.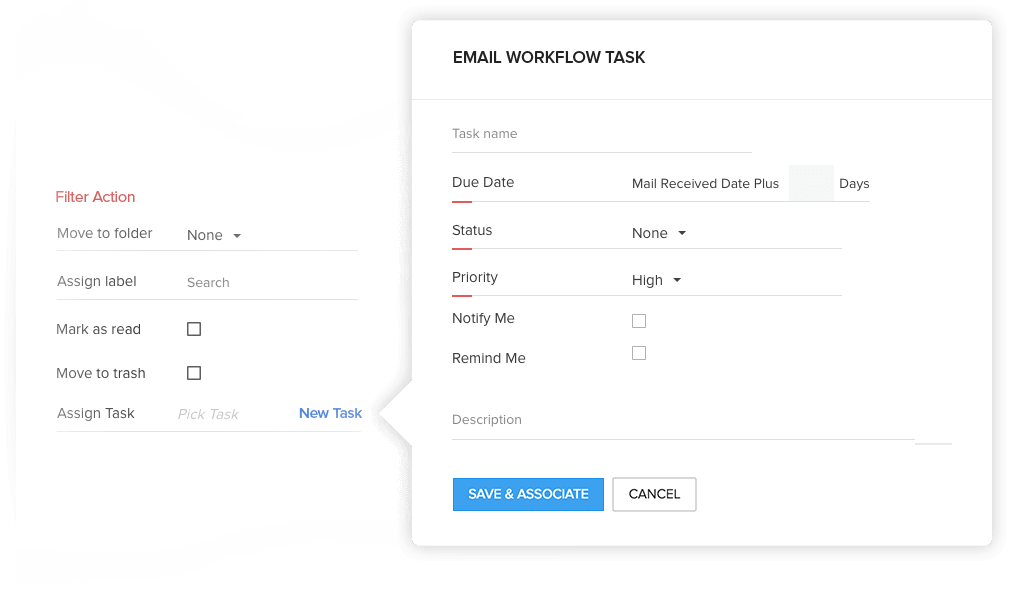 Remember what others need to do for you.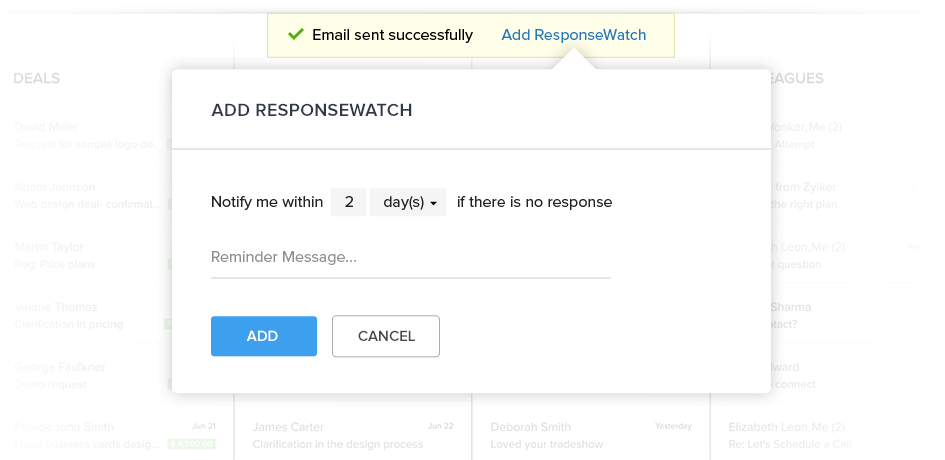 Act fast.
Sell in real-time.
Need to stay up-to-date on your top leads? Set notifications to trigger when specific clients contact you so you can seal deals in real time. Automatically schedule follow-up calls and events, and never drop the ball again.
Remember what others need to do for you.
Any email client will let you set reminders for the things you need to do, but only SalesInbox lets you remember what others need to do for you. ResponseWatch is a feature that lets you assign a time for when you need to hear back from a customer. ResponseWatch monitors your inbox, and if you don't hear back by the deadline, it lets you know so you can follow-up. Never again let your emails go unanswered.
Act fast.
Reply faster to important deals. Create automatic notifications in case you haven't replied to emails for a particular set of customers in the timeframe that you specify.
Send better emails.
Fine-tune your emails with analytics to make the perfect pitch. With email insights, you'll know which messages struck a chord with your audience and which ones fell flat.
Asked and answered.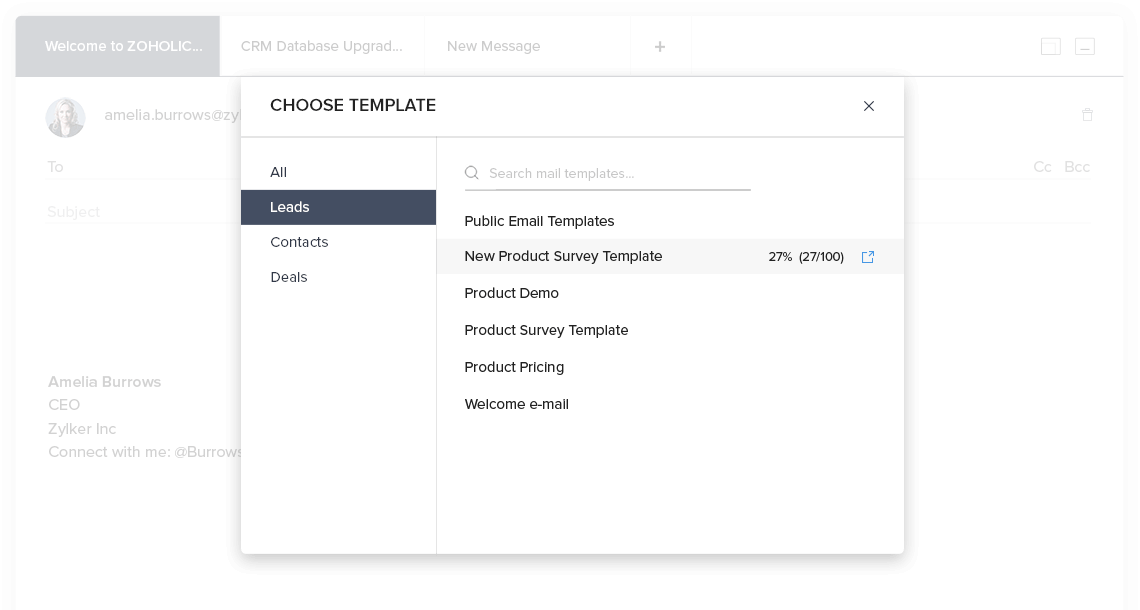 Know which leads are listening.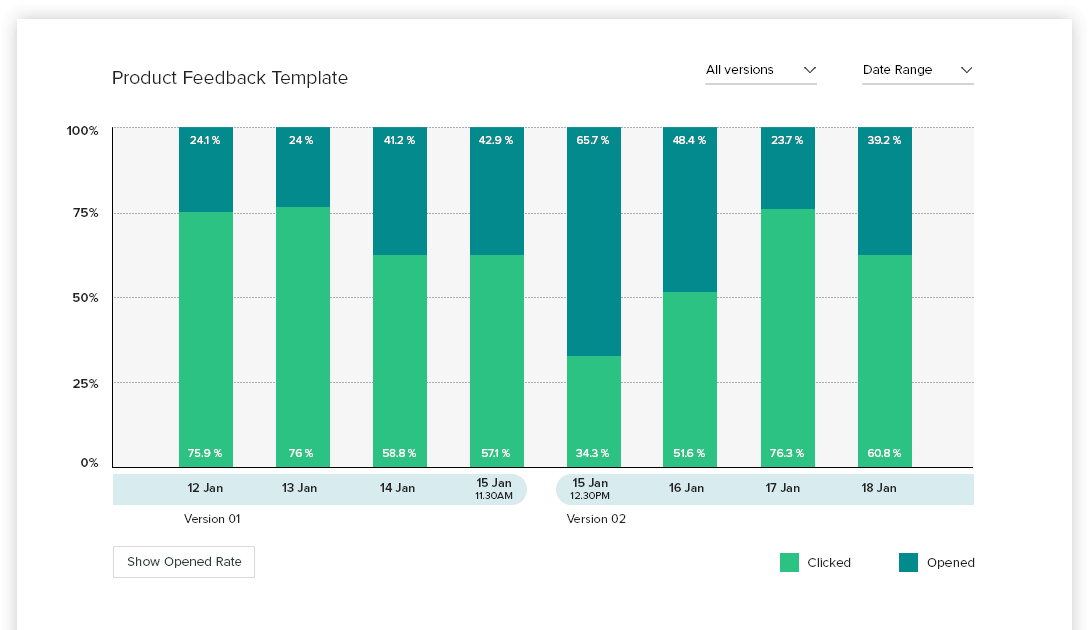 Help each other improve.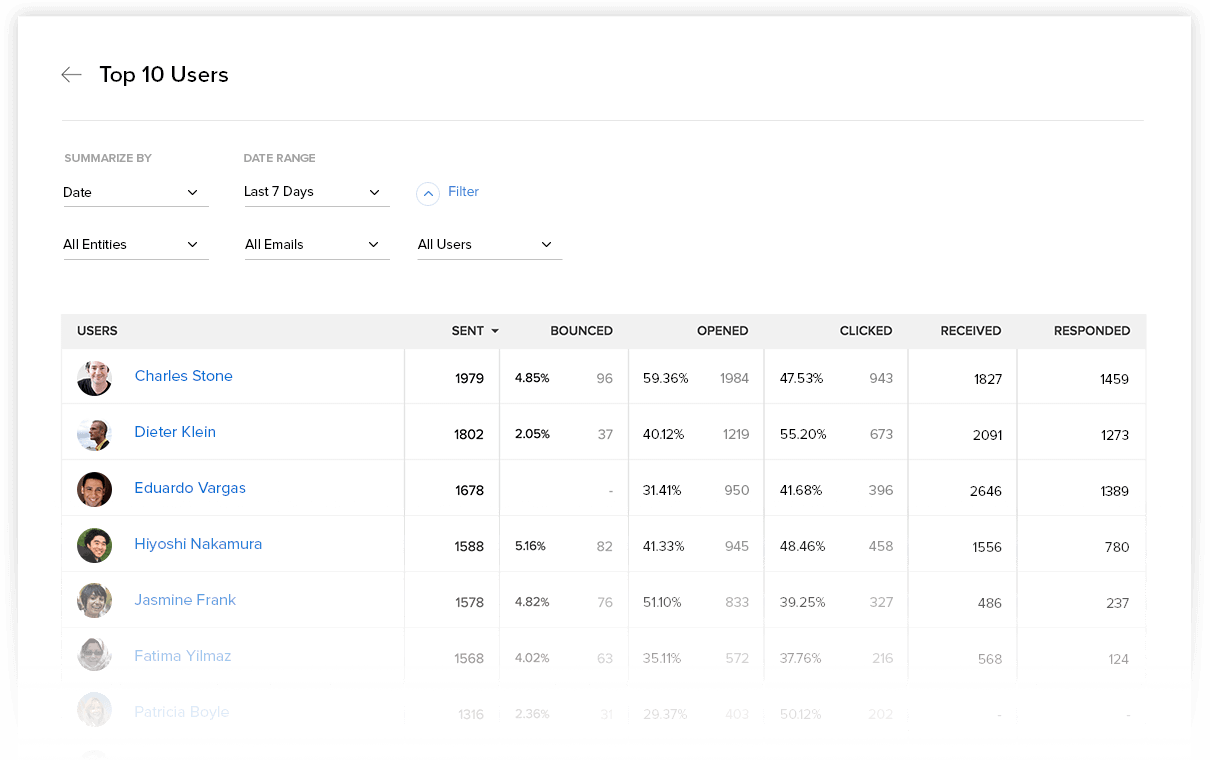 Know which email strikes a chord.
Through dashboard reports and analytics, you can know which templates were opened the most and which ones were left un-clicked. You'll also see how major or minor changes to a template affect its performance.
Asked and answered.
Some customer questions come up over and over again. Create responses in advance and share them with the team so that everyone has the answers ready; save yourself from reinventing the wheel every time you get a sales inquiry.
Help each other improve.
Get insights not only on the emails and templates you send, but also who among the team sends the best emails or gets the most responses. Share tips and best email practices with the team and watch everyone improve.

@skingstone
@zoho launches SalesInbox, which prioritizes emails based on customers and deals.
Mobile. mails on the move.
SalesInbox works on your mobile device, so you can touch base with your prospects even when you're away from the desk.
SalesInbox works with your existing email client.
Receive important information about the person sending the email, their accounts and associated deals, while still using the mobile email client you like.
Easily find the emails you are looking for.
SalesInbox creates dynamic folders for "Closing This Month", "Customers", and "Deals" and shows them alongside the folders you already have in your email server. SalesInbox keeps these folders automatically updated with the relevant emails.