What is recruitment marketing?
Recruitment marketing is more than just building a strong employer brand and attracting passive job seekers. It's also how you engage active candidates, create meaningful candidate experiences, and make placements that your new hires or clients can feel great about. Zoho Recruit is just one of many recruitment marketing tools to help you you attract more, engage better, and build a winning recruitment strategy for your organization.
Sign up Now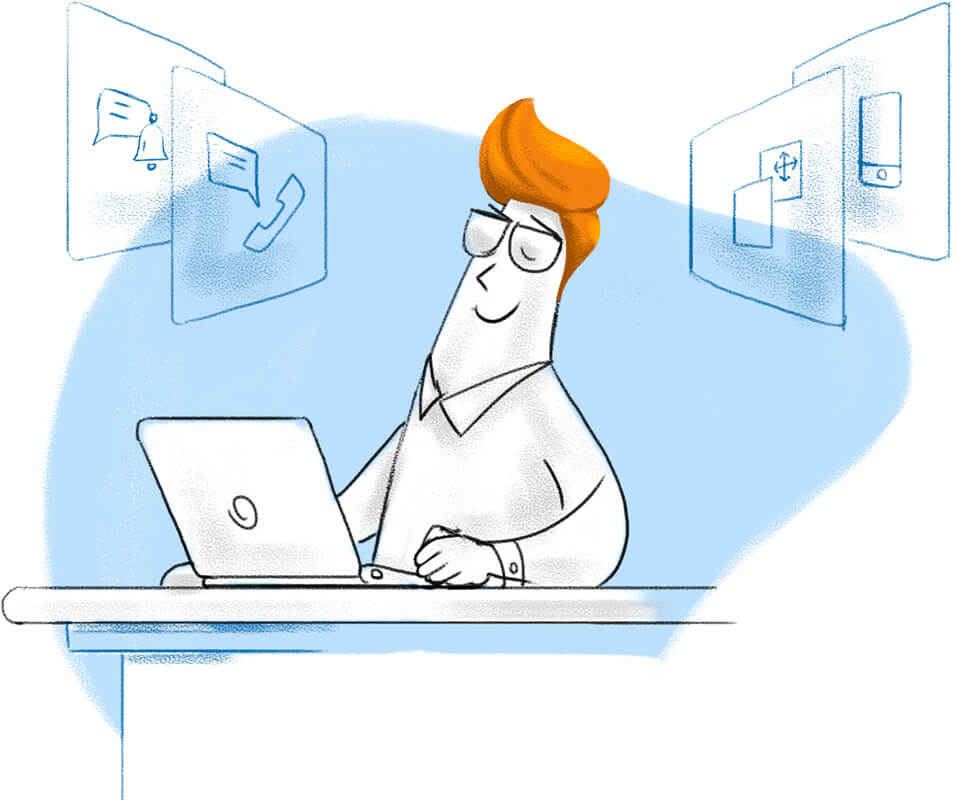 Why is recruitment marketing important for your organization?
A head hunter's job is to actively look for candidates who will add to the organizational culture of a company through their skills, background, and personality. With a strong recruitment marketing strategy, top quality candidates will come to you rather than you having to seek them out. This reduces your time-to-fill, improves the quality of your hires, and helps prevent candidate drop-off.
The more you build your employer brand, engage with passive job seekers, and create a smooth candidate experience, the better your employee retention will be. Every new hire's journey with your organization or your client will start off on the right foot.
How does marketing fit with your recruitment strategy?
A strategic recruitment plan should align with the vision and mission goals for the future of the company. Hiring, like every organizational function, is dependent on closely monitored strategic goals. Recruitment marketing can help you build a stronger recruitment strategy in the long run by:
Learn more
Ensuring your employer brand aligns with your goals, policies, and needs
Taking advantage of employer referral programs
Using social recruiting to identify and engage with job seekers
Providing analytics and metrics to help you measure strategy effectiveness
Elevating candidate experience through automation and collaborative tools
Why should Zoho Recruit be chosen for recruitment marketing?
Employer branding
Create your best first impression with a beautiful Careers page. It's important in the pre-applicant stage that the candidate understands a company's culture and core values. Recruitment marketing supports employer branding by allowing companies to be found by both passive and active applicants. Applicants often evaluate an organization based on its website, so make it count!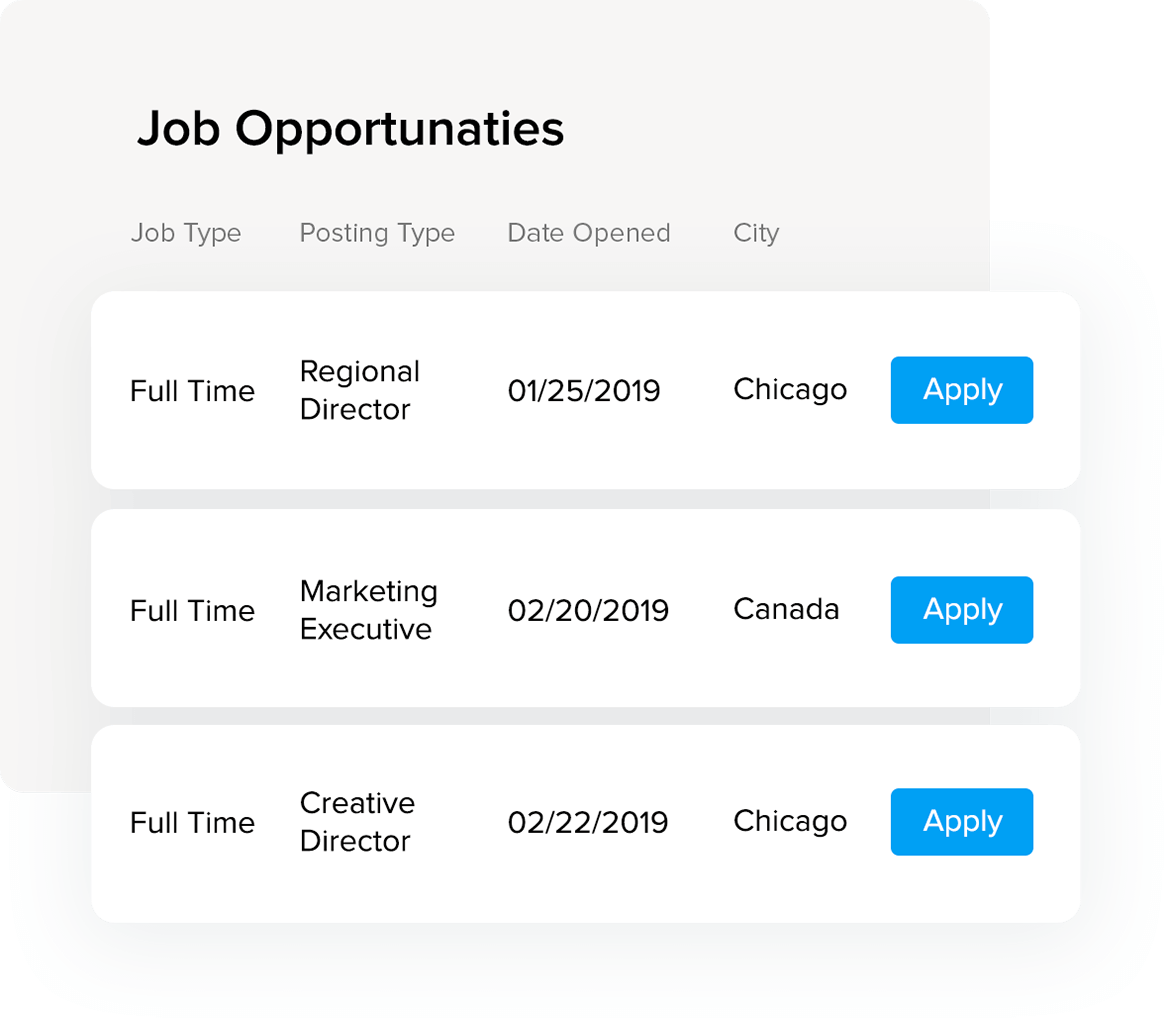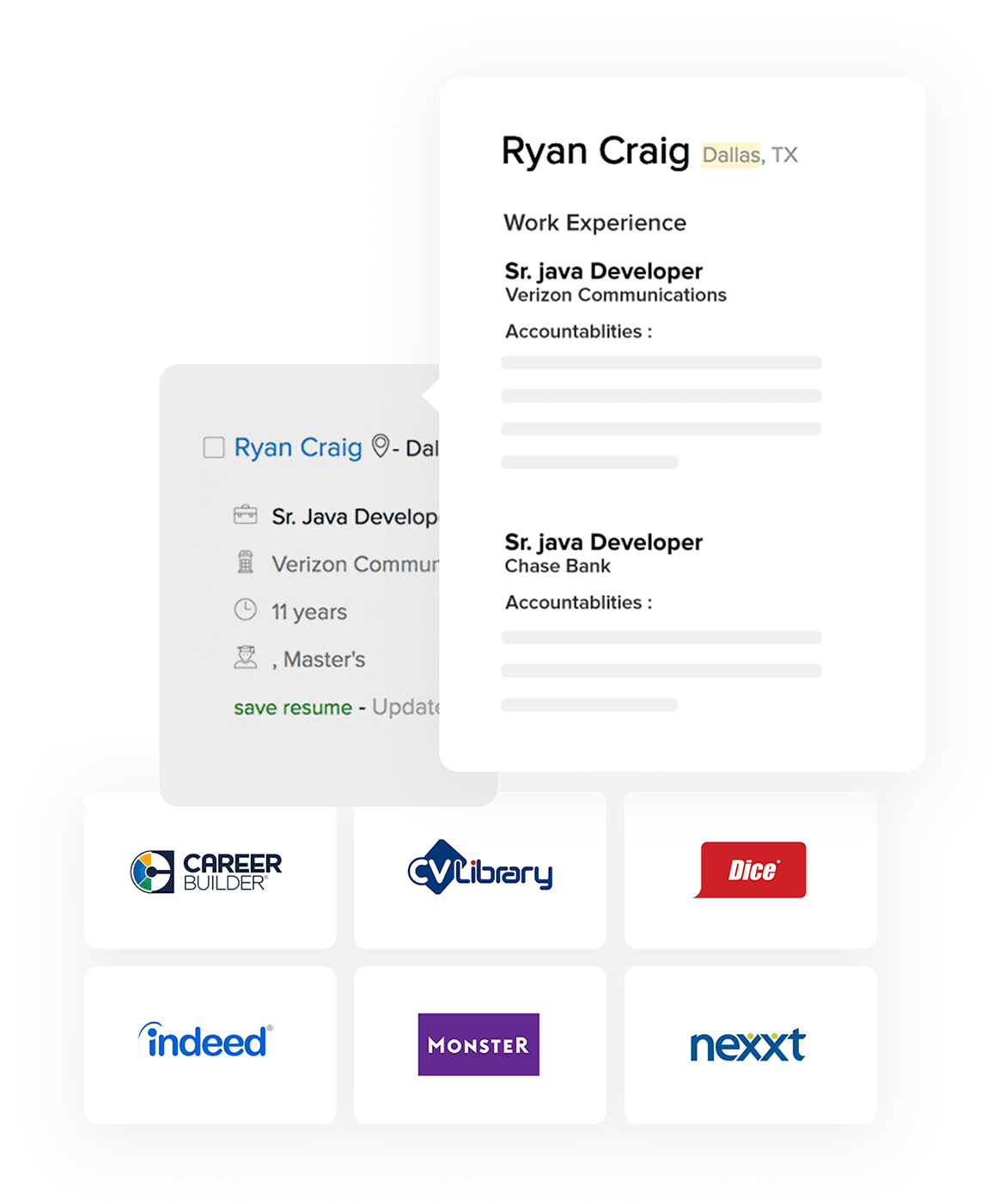 Multiple job postings
Post once and publish everywhere. Zoho Recruit integrates with 300+ job boards and aggregators. All you need to improve the quality of hires is to have an excellent job description and a applicant tracking system (ATS) to streamline your application process. With Recruit's Source Boosters, instantly search candidates who are the best fit for your organization and access their resumes.
Social recruiting
The job market is constantly evolving. Nine out of 10 brands use social media to source, attract, and engage new recruits. Reach out to passive candidates through social recruiting and tap into the right platforms for your organization. Have millions of job seekers discover your job postings every day through Google, Facebook jobs, and LinkedIn.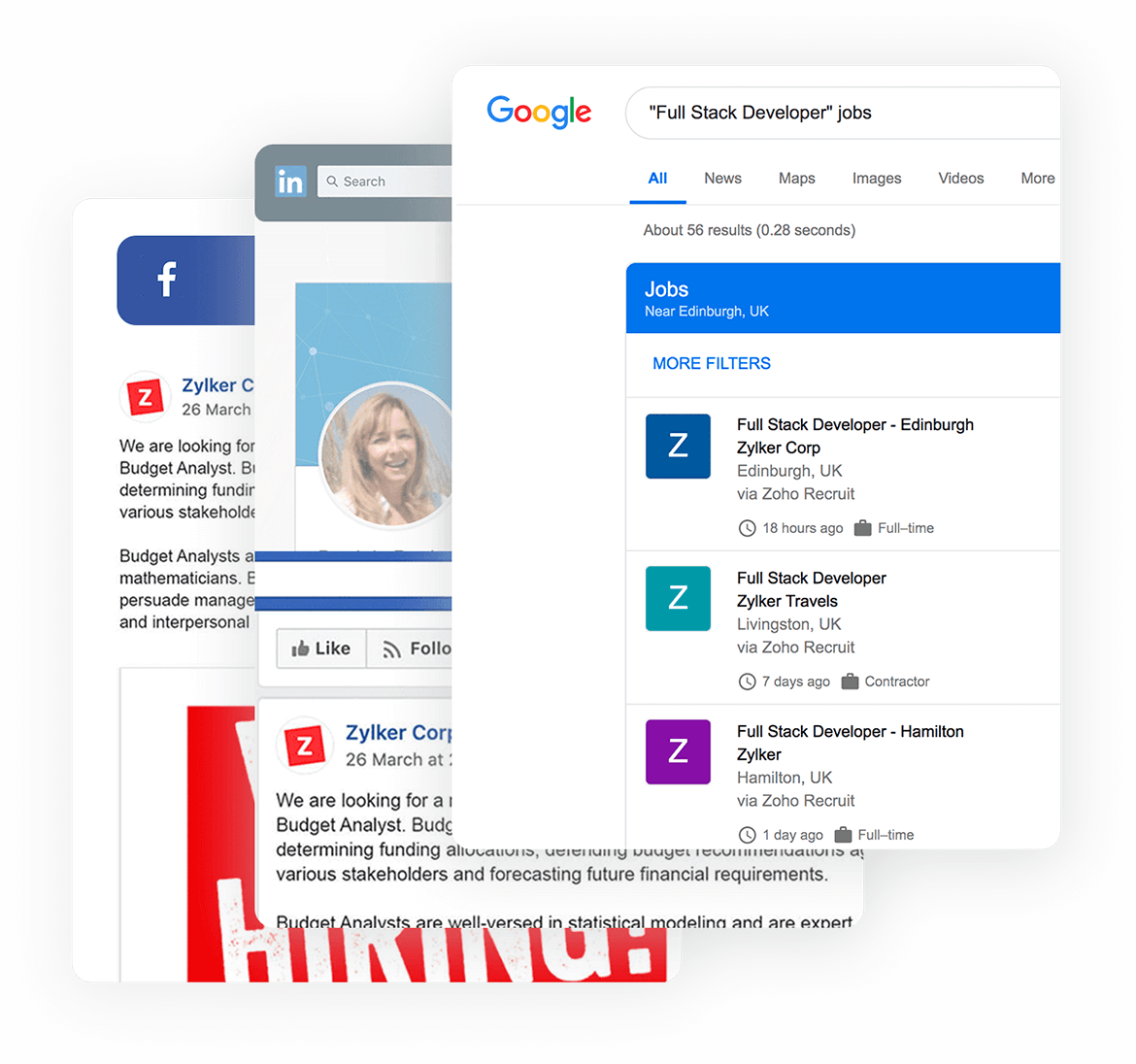 Employee Referral
Boost your recruiting efforts by using your own workforce as a sourcing extension. People you hire are going to grow along with your company. Employee Referral allows you to brand your referral program and make sure potential candidates share your vision and fit your culture. Make referrals a part of your company's culture and encourage others to participate.
Self-service portals
Give clients, vendors, and candidates the chance to get hands-on with their information through easy-to-use self-service portals. Leave a lasting impression by inviting them to join your organization in the process and keeping them in the know.
Advanced recruiting metrics
Candidates are every firm's greatest and most valuable asset, so finding and engaging them should be a top priority for your organization. With Zoho Recruit's ATS system, identify and track the source of your candidates. The advanced analytics can lead you to build strategies for your business.
Content marketing outreach
It's essential to connect with new candidates. With Zoho Recruit and Zoho Campaigns integration, you can sync contacts, send mass emails, and track their responses. Keep everyone in the know; send bulk SMS to candidates, contacts, and candidates; and associate them with a job opening. Capture a visitor's information from the websites using web forms and let your recruiting be data-driven.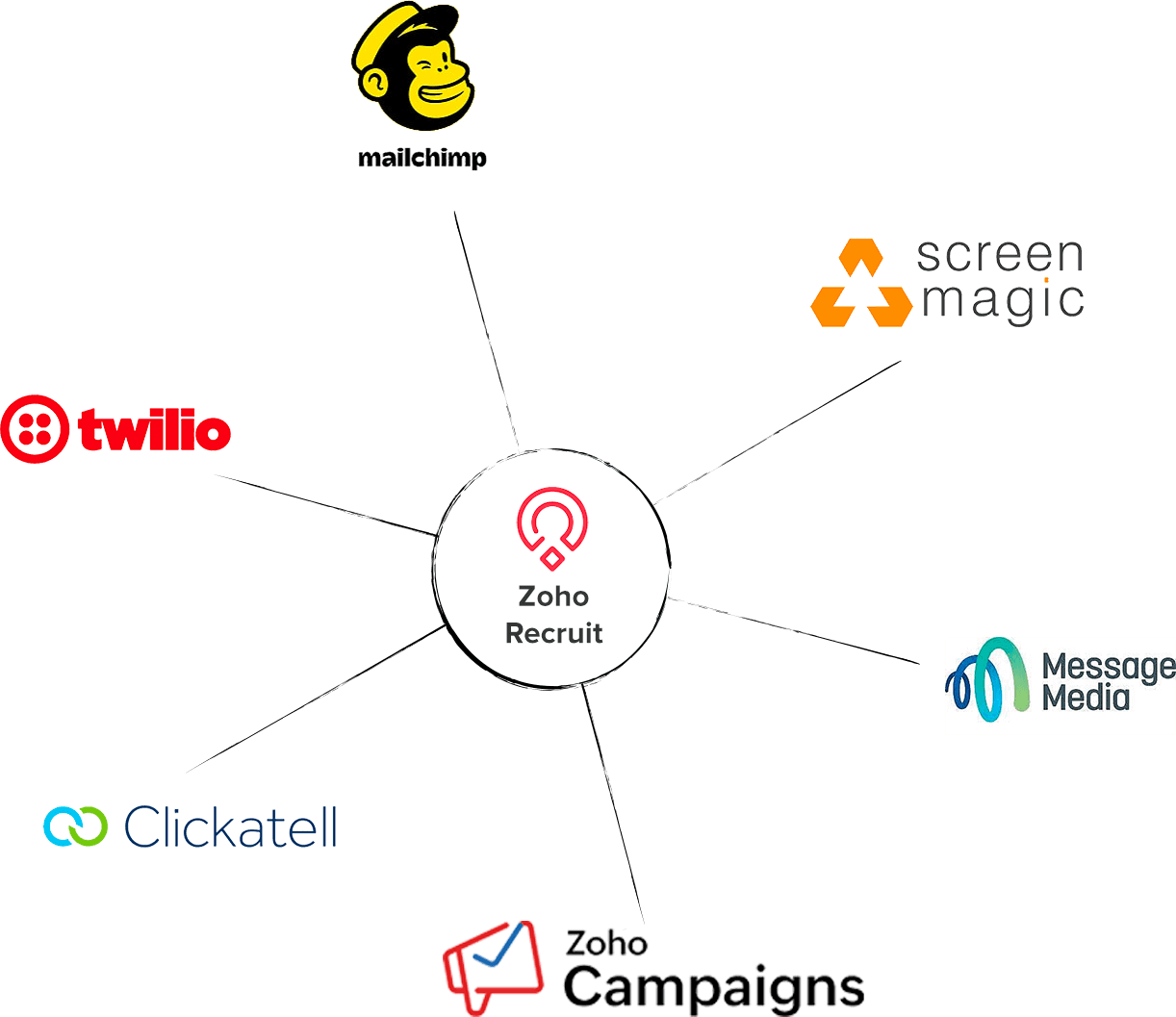 Recruiting vs recruitment marketing?
Even though recruiting and recruitment marketing seem similar, they address different sides of the same coin. Recruiting is about attracting candidates to specific jobs while recruitment marketing is about attracting talent to specific employers.
A recruiter might use recruitment advertising channels, like job boards or social media, to incentivize candidates to apply for job vacancies. Creating a recruitment marketing strategy involves developing an array of employer brand content that generates awareness, attracts followers, and captures leads in the form of engaged, high-quality candidates. These candidates, after becoming full employees, are more likely to refer better-suited job seekers to your organization because of the great candidate experience they had during the application process.
Improve the hiring process
Investing in recruitment marketing can give your company a competitive advantage and help you hire top talent faster, cutting the costs associated with a long hiring process.
Sign up Now