Top 5 reasons why the retail sector should adopt a corporate LMS
Top 5 reasons why the retail sector should adopt a corporate LMS
Last Updated: August 21, 2020
2.2K Views
4 Min Read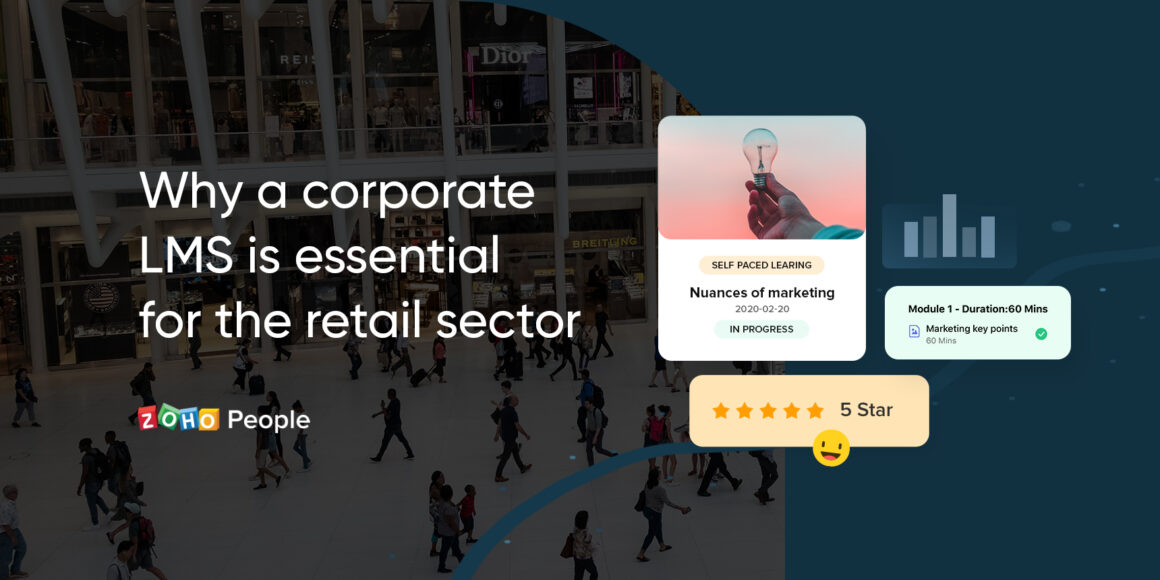 Retail is dynamic, and professionals in this industry have to constantly come up with new approaches and strategies to keep up with changing consumer expectations. Every employee has to be trained regularly to ensure that customer demands are met. Without corporate learning programs, your employees will have a difficult time flourishing as this sector evolves. This can greatly demotivate employees, causing them to leave your organization and seek those growth opportunities elsewhere. Furthermore, a bad employee experience drags down your customer experience.
Employee turnover in the retail industry is at an all-time high, and it's your responsibility to do everything you can to keep the workers you have happy and motivated. Providing continuous learning and development opportunities is one vital step to achieving this. With a corporate Learning Management System (LMS), different courses can be easily developed and made available to your employees. Here's how an LMS can benefit your retail business:
Stay ahead of the competition
Having a corporate LMS allows your organization to stay competitive by making the learning and development process continuous. The user-friendly nature of an LMS enables you to develop and administer multiple courses with little effort and cost. Learner progress can be tracked easily in real time. Everything is online, so the time and geographical constraints associated with traditional learning are prevented. Large numbers of employees can be trained at once, allowing you to focus on providing continuous learning instead of iterations of the same course. This will help you overcome some of the major challenges that the retail sector faces, including poor employee retention, changing consumer behavior, low customer loyalty, and more.
Encourages employees to invest in L&D
Some of your employees may not be interested in learning programs as they think that taking courses will hinder their day-to-day work productivity. Others may think that the courses are not relevant to their jobs. An LMS encourages employees to participate by providing flexible and specific course opportunities. You can create an unlimited number of courses with clear descriptions, so your employees can choose the ones that are relevant to them. Training is not confined to four walls, so your employees can learn whenever they have time. They can even choose the learning style that best suited for them as an LMS supports everything from purely virtual courses to blended learning. There is also unlimited access to learning materials like files, URLs, videos, podcasts, and more, so employees can refer to them even after course completion. This level of flexibility goes a long way toward motivating your employees to get involved with L&D initiatives.
The skills necessary to succeed in the retail sector often change. What seems necessary this year may not be relevant next year. Conducting regular skill gap analyses allows your workforce to seize opportunities and thrive. High training costs, having a dispersed workforce, employee resistance to training—these are some of the biggest hurdles to closing skill gaps. Using an LMS, you can avoid these obstacles entirely. Training is mostly online, so costs of travel and classrooms are eliminated. Everyone, even remote employees, can be trained easily from a centralized system. These modern learning techniques motivate employees to complete the courses faster. Employees in every department of your organization, including product development, marketing, sales, finance, and more can be trained with an LMS.
Improves customer satisfaction
Providing continuous learning opportunities to retail employees can have a compounding effect. Access to top-notch training helps your employees develop better products to keep up with market trends and consumer expectations. Customer service training can also be conducted to help employees enhance the support they extend on a daily basis. And with all these training opportunities, your employees will feel appreciated and become more loyal and productive. Happy employees provide better customer experiences. In a way, every learning course you offer to your employees will help your organization serve its customers better. This is the key to winning your customers' confidence and trust.
Provides detailed insights
Learning analytics are one of the most useful benefits of using an LMS for the retail sector. They will provide all the insights required to make your learning programs more effective and meaningful. With data-rich reports, you'll be able to determine what's working best for your employees in terms of learning and development. This way, you don't have to spend money on what's not working, and your employees will only spend time on courses that are interesting, engaging, and productive for their professional careers.
Also read:5 training reports every organization need to track
In order to overcome the impediments facing the retail sector and thrive in the industry, organizations should conduct learning and development programs that allow employees to be more productive and engaged with their jobs. With an LMS, it's easy to organize learning programs for the retail sector's diverse workforce.
Zoho People's LMS is the perfect solution to help your retail business prosper. Any number of courses can be developed and made available to your employees, and our learning analytics and feedback system allow you to boost employee performance and improve courses over time. Discover more about Zoho People's LMS.
Also Read: Here's why HRMS is essential for the retail sector
Tarika

Content Specialist at Zoho People
Leave a Reply
Your email address will not be published. Required fields are marked