Tips to develop an effective work from home policy
Tips to develop an effective work from home policy
Last Updated: April 2, 2020
8.1K Views
4 Min Read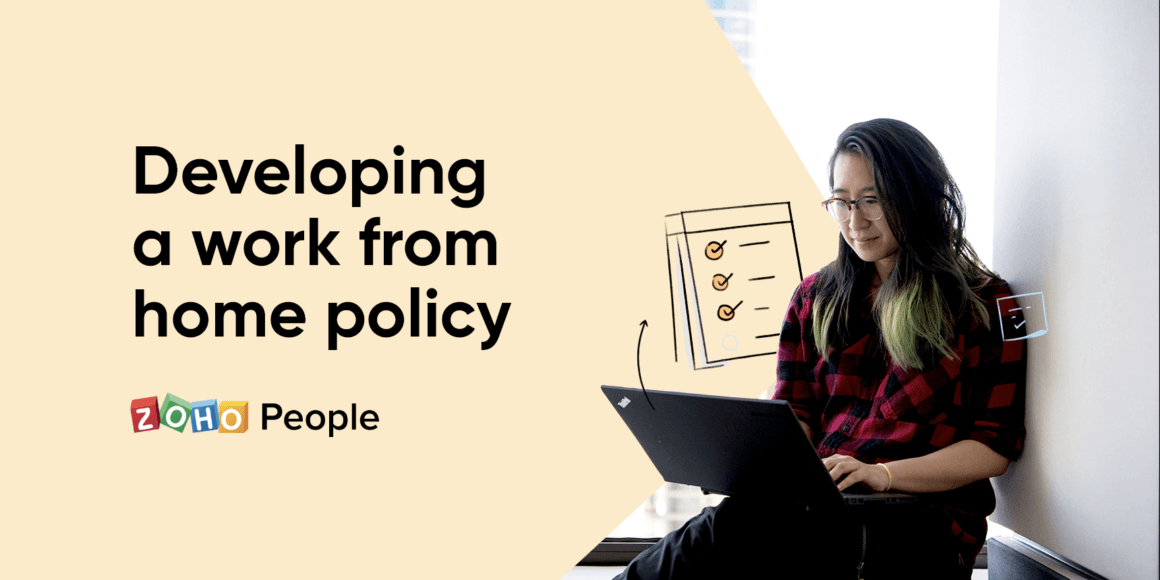 Remote work has become the new way of life for many during this current COVID-19 crisis. In an attempt to follow social distancing guidelines, many organizations have encouraged their employees to work from home. According to research conducted by Gartner, 88% of organizations have encouraged or required their employee to work remotely, regardless of whether or not they showed symptoms of the Coronavirus. This indicates that working from home will remain the norm for most of us until the Coronavirus situation is mitigated or comes to an end.
If handled correctly, working from home can boost your employee engagement because it gives your workers a sense of freedom and trust. Also, a survey conducted by FlexJob revealed that employees tend to be more productive in their home office rather than in a traditional office environment.
However, managing remote employees comes with its own set of challenges, such as overworking or a lack of technology, human interaction, and communication. To overcome these challenges, it's essential to develop a work from home policy that keeps your employees focused and engaged. This will help employees understand what is expected of them during a remote work situation. Under a proper policy, employers will also have the tools to manage their teams efficiently. Here are some tips to develop an effective work from home policy:
First, make the purpose of the policy clear to your employees. Establish what you wish to accomplish, and make it clear to your employees that they should stick to the policy guidelines. Make it short, easy to grasp, and valuable.
Define the eligibility criteria for remote work
Not all employees can work from home. Certain job roles demand your employee's physical presence in the workplace. Several factors, including technology limitations, customer interactions, customer support, client confidentiality, and data security, should be considered before deciding who can work from home. In some organizations, remote work eligibility may be based on seniority. In others, it's determined by an employee's sincerity, discipline, and productivity. However, this may not be applicable during the times of emergency. If your organization has a global presence, the policies and rules may be based on the location. When finalizing this eligibility, include all staff, temporary workers, contractors, and interns.
Receive input from your employees
A work from home policy that is not consistent with the needs of your employees is not going to be useful. When your employees do not like the policy, they will have a hard time following it and employee morale and satisfaction will drop. Include your managers in the process of drafting the policy because they may know better about how their team works. If you wish to receive input from all your employees, send out a survey to ease the feedback receiving process.
Defining remote work hours for your employees can prevent problems caused by unavailability. If your organization's work demands employees to collaborate, it's important that your teams are working at the same times. The policy should mention when employees are expected to be online. For instance, IT support teams should work when other employees work to ensure that connectivity and server issues, if any, are resolved quickly. If collaboration is not necessary, encourage employees to set their schedule and work accordingly. Alternatively, you can ask your managers to specify the working hours for their teams.
Communication is the key to a successful business. Lack of proper communication hurts workplace relationships. Without the right tech tools, however, interaction between remote workers can be difficult. Help your workers stay connected with the right software. Ask employees what they'd prefer to use for client and peer meetings. When this preferred mode of communication is established, there will be a single channel for company-wide interaction, reducing confusion and stress.
Also read:Tips to enhance internal communication at your workplace
Securing your organization's online data is crucial especially when your employees work from home. Using their own wifi or gadgets may make your devices susceptible to a virus attack if proper measures are not taken. Be sure to outline the security policies that have to be followed strictly while your employees work remotely. Ask them to check if the device they use is secure enough. Encourage them to install anti-virus software if they haven't already and use strong passwords. Explain the consequences of a virus attack, and go over the best practices for avoiding one.
At a time, when several countries are going for a complete lockdown, it's crucial to allow employees to work from home. Having a work from home policy can help your remote employees work without doubt as expectations and responsibilities are clearly defined. We hope these tips gave you insight on how to develop and implement an effective work from home policy amidst the current COVID-19 situation.
Zoho People, our employee management software, helps you and your employees to complete all the necessary HR operations online. It makes work from home more engaging and productive. Learn more about our product here.
Tarika

Content Specialist at Zoho People
Leave a Reply
Your email address will not be published. Required fields are marked