Simplify and automate employee shift schedules
Simplify and automate employee shift schedules
Last Updated: August 28, 2020
3.3K Views
3 Min Read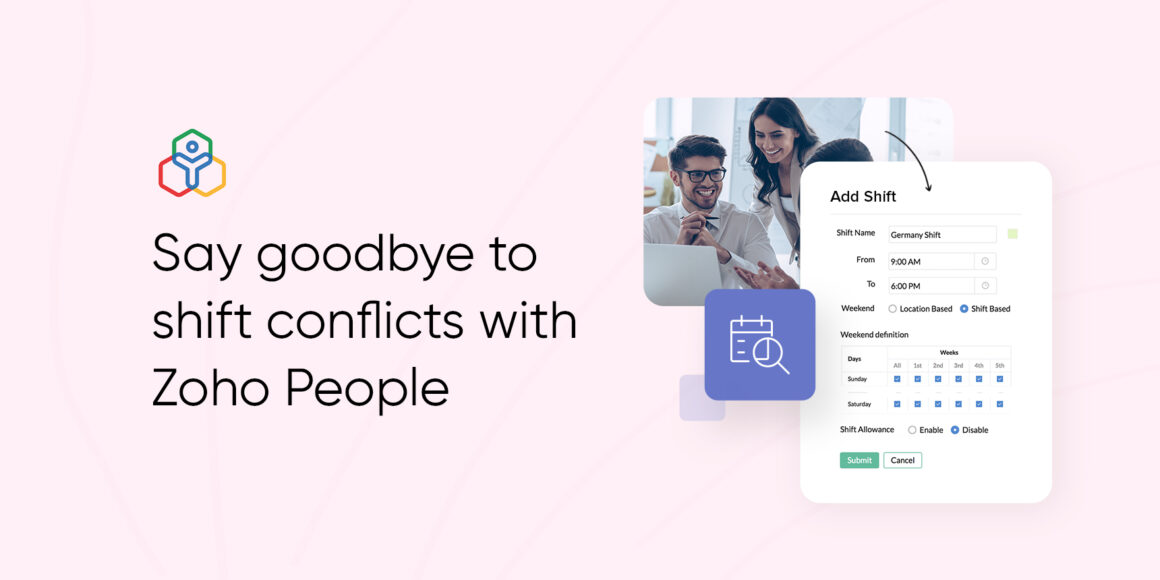 Effective people management will strengthen your company's operations and give you an edge over your competitors. After all, in order to improve the quality of service provided by your organization, your employees have to be productive, engaged, and happy. They steer the success or failure of your organization, so finding ways to improve the experience your employees have at their jobs is vital.
Shift management is one area that has to be managed effectively in order to maintain employee satisfaction. Any inaccuracies or errors in your employees' shift schedules can damage their trust in your organization. Zoho People's shift scheduling system has the perfect solution for this persistent problem. It simplifies and automates the whole shift scheduling process, helping your employees to stay organized and plan their work well in advance. Here's some of what you can do with Zoho People's shift scheduler:
Create shifts effortlessly
Nothing is more tedious than managing employee shift schedules with spreadsheets. Coordinating and communicating with employees about their shift schedules can be time-consuming. With Zoho People's user-friendly shift scheduler, multiple shifts can be created in just a few steps without having to worry about scheduling conflicts. All the shift details, including shift times, margins, allowances, applicable employees, and more can be added from a single window.
Managing shift rotations manually can confuse your employees and lead to shift conflicts, work delays, and a drop in productivity. With Zoho People's shift rotation feature, shift swapping is automated and error-free. All you need to do is define the shift rotation's frequency, span, and applicable period, and select the shifts that you'd like to swap. You can map applicable employees based on categories such as their role, designation, or location. This way, their shifts will be changed automatically without any confusion or uncertainty.
This feature makes shift scheduling even simpler, which is especially useful when your workforce is large. By assigning a shift admin, you give them permission to manage the shift schedules of a defined group of employees. Focusing on a small group of employees makes shift scheduling faster and more accurate. Employees can either be selected individually or added to a Shift Group based on their role, designation, division, location, or department. Authorize the shift admin to view and edit attendance entries and shift schedules.
Configuring shift margin ensures that employees work only during their exact shift hours. With the Shift Margin feature, you can define the time boundaries within which the payable hours for an employee should be calculated. For instance, assume that the shift hours for an employee are from 11am to 8pm. That employee will be paid only for work that occurs during those nine hours. If they work from 9am to 6pm, they will only be paid for seven hours. This is especially important if your organization has to be available to its clients during a particular time.
Send notifications instantly
This feature is designed specifically to keep you and your employees on the same page. When you make any modifications to an employee's shift, e-mail and feed notifications can be sent instantly and automatically. The same goes for shift rotations. Because employees are notified well in advance, the chance of shift conflicts is greatly reduced.
All these features of Zoho People's shift scheduling system allow you to save time and manage employee shift schedules more efficiently. As everything is automated, shift scheduling errors can practically be eliminated. More importantly, managing shift schedules better and providing clear information to employees about their work hours will make your workers happier and more engaged.
Also read:Top 4 benefits of automating approvals
Tarika

Content Specialist at Zoho People
Leave a Reply
Your email address will not be published. Required fields are marked