Improve work-life balance among your remote workforce
Improve work-life balance among your remote workforce
Last Updated: June 12, 2020
4.8K Views
4 Min Read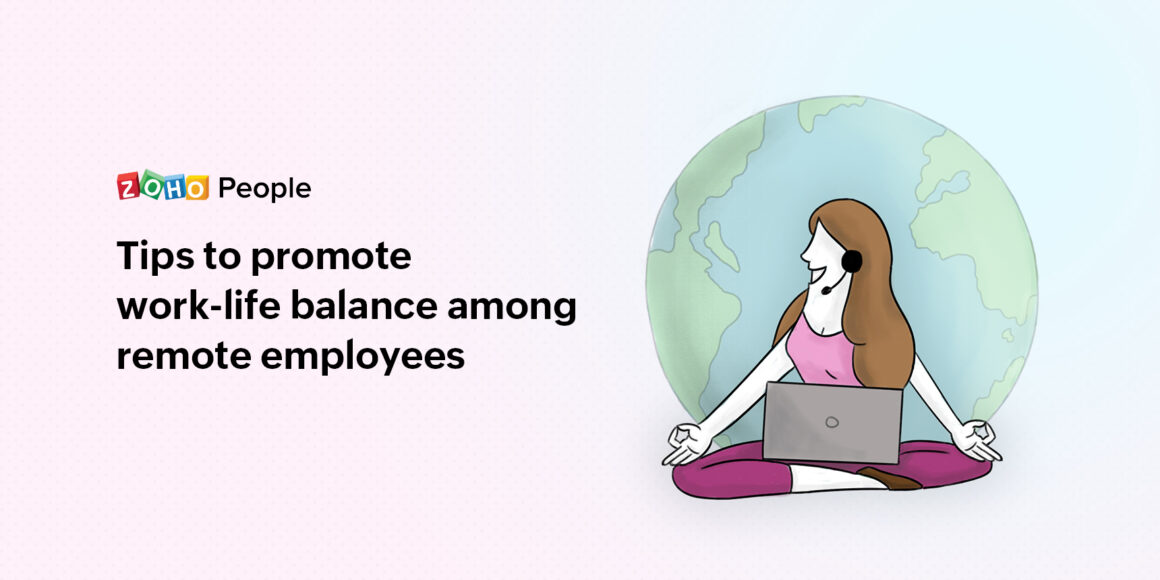 The transition to work from home has blurred the line between work and family. This can harm employee wellness, causing severe burnout. The amount of stress caused due to extending work hours can affect workplace relationships and change the way your employees behave. Your employees' mental health may also take a hit when they are engaged with their jobs for longer hours without regular breaks. On the other hand, practicing a healthy work-life balance while working remotely can have a positive impact on their wellness and productivity. Employees will feel happier and more satisfied when they have time for both their professional and personal lives. Here are some tips to create a better work-life balance for your employees:
Without clear expectations, employees tend to overwork because they don't know if they have worked enough. This causes performance and severe burnout among your employees. Be sure to communicate your expectations for remote work, and allow your employees sufficient time to plan their work days within those expectations. For instance, if you want your employees to be online from 9-5, tell them that. This way, your employees will know that they are not expected to be online after 5. It's also helpful to provide feedback on their work regularly to reassure them that they are on the right track.
Also see:5 ways to set clear expectations for employees
Work flexibility is necessary for your remote employees, too. Employers should understand this to help employees strike a balance between their home and work responsibilities. Otherwise, your employees will feel stressed out. During these unprecedented times, it's advisable to focus on the output rather than the process followed by your employees. If some personal work comes up, allow your employees to take some time away from their work. Also, avoid calling or messaging employees after working hours. All these things will build a feeling of trust, which is a great motivation booster.
In order to improve work-life balance among employees, reporting managers should be aware of the concept. Ask them not to allocate multiple tasks to employees or compel employees to work on holidays just because they are working from home. Urge them to avoid holding group meetings after work hours unless it's quite important. Managers should avoid micromanagement and allow employees to work in a way that is suitable for them. Also, encourage your managers to listen to employees if they have any concerns regarding their work items, and take measures to address these concerns.
Communicate with your employees
Sometimes your employees themselves may not be aware of work-life balance and its consequences. Try to educate them on the best practices to improve work-life balance. Help them create a proper schedule, keeping in mind their working hours. Ask them to take regular breaks throughout the day to improve productivity, and encourage your employees to create a dedicated workspace in their home to avoid distractions. Having a fixed start and stop time is also a great way to practice work-life balance.
Conduct wellness sessions
Conducting wellness sessions for employees can have a huge impact on work-life balance. Participating in wellness sessions helps them to take some time away from their routine work and adopt healthy habits. Tell your employees about the session well in advance to give them enough time to plan their work around it. Ensure that the sessions don't clash with your employees' usual work, and make the program as inclusive as possible to increase participation. You can also organize four or five sessions to help employees choose the one that is more suitable to them. Design it in a way that will encourage them follow these habits even after the sessions.
Leading by example is a simple yet effective way to improve work-life balance among your employees. When you advocate work-life balance among your employees but stay online even after working hours, your employees will not be motivated to adopt a healthy work schedule. They will think that they are also expected to do the same. Before promoting work-life balance among employees, practice it yourself. Avail time-off whenever you need it. Tell your employees about the positive outcomes of balancing work and life from your own experience. This will mean more to them than empty words.
Remote work often blurs the line between professional and personal life as employees can work anytime with 24/7 access to all the necessary tech tools. In the long run, this can be harmful as it causes severe burnout and reduced productivity. So, it's highly necessary to promote a healthy work-life balance among your employees. We hope these tips gave you insight on how to improve work-life balance among your remote workforce.
Also read: Improve your remote communication and collaboration
Tarika

Content Specialist at Zoho People
Leave a Reply
Your email address will not be published. Required fields are marked