How an employee database management system improves your business
How an employee database management system improves your business
Last Updated: May 20, 2020
3.5K Views
4 Min Read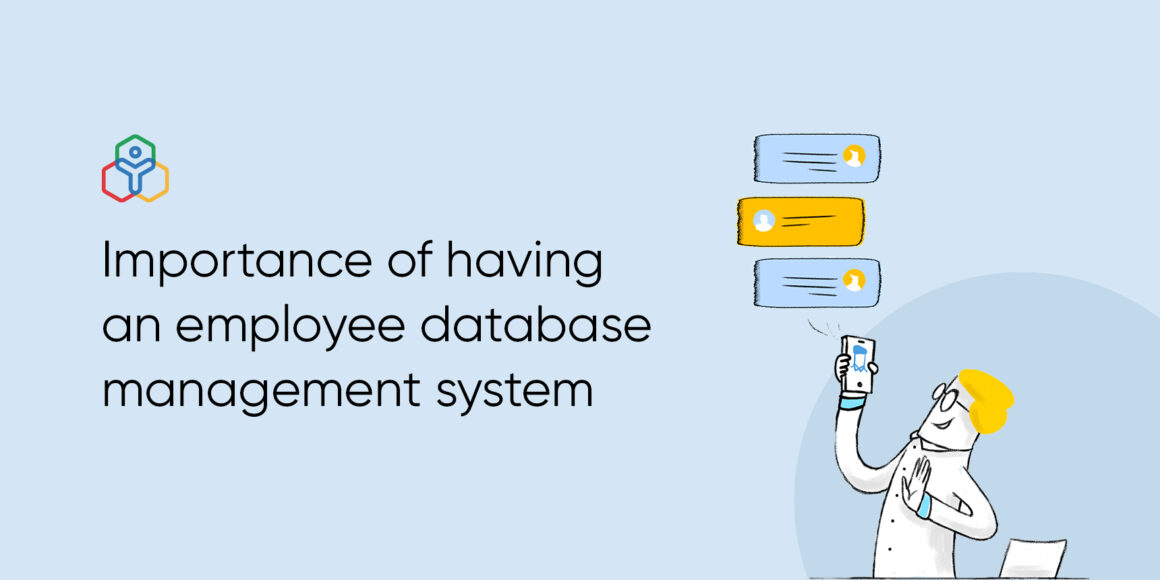 Employees are the most valuable assets of an organization, and managing them properly helps to ensure the success of your business. Employee data has to be maintained carefully to make informed business decisions. The HR department is also legally mandated to manage and protect employee data, and failing to do so will lead to heavy penalties. The problem is that managing a large repository of employee data manually comes with many challenges. It can be time-consuming and error-prone, especially when your organization has a huge number of employees and there are many other vital tasks to take care of. Security is also a major concern associated with manual database management.
Thanks to cloud-based employee database management systems, handling employee data has become easier than ever. It helps you stay organized by syncing employee data with all your other business platforms. Here are some of the benefits of using an employee database management system for your organization:
Consolidates the data in a single place
One of the greatest benefits of an employee database management system is that you will be able to access all essential employee data from a centralized location. It doesn't matter if you are out of the office or it's not during normal working hours. When employee data is managed manually, finding the exact information that you want can be tedious. With an efficient system, employee data is just a search away, and informed business decisions can be made quickly. Reports that identify and track workforce behaviors can be generated with just a tap. This saves a substantial amount of time and energy for the HR department.
It's highly necessary to protect your employee database from external and internal threats for a variety of reasons, including GDPR compliance, cybersecurity, and your business reputation. With an employee database management system, protecting your data is not difficult anymore. The permission restriction feature allows you to prevent others from viewing sensitive data. Employees can only access data that is essential for them. Also, the database system provides an extra layer of security as every piece of information is password-protected.
Increases overall productivity
Maintaining employee data in spreadsheets or on paper decreases the efficiency of your organization. With employee database management systems, all the essential data is just a click away. This helps you to streamline routine tasks associated with this data, giving you more energy and time to focus on other initiatives. If your organization has a global presence, different employee records regarding their different countries can be stored in a central location. This improves the efficiency of the overall process and decreases the workload for HR.
Enhances collaboration among employees
An employee directory is one of the greatest advantages of using an employee database management system. With an employee directory, employees can quickly find their peers' contact information at anytime. Information including designations, contact numbers, email IDs, seating details, ID numbers, and more will be available. This is highly necessary for your organization as not all employees will know each other personally. Everyone can collaborate effectively, even while working remotely. This improved communication will lead to better idea generation in your business.
Mitigates compliance risks
Ensuring compliance with different types of privacy laws is one of the foremost tasks of the HR department as they deal with a large amount of sensitive employee data. Not being able to produce the right documents can lead to heavy penalties. This is where an employee database management system helps the most. As the employee data is stored online, you can access it from anywhere and at anytime. Employees can view their personal information and even edit fields depending on the permissions given to them. Overall, the employee database management system ensures the highest level of accuracy and security to help you stay compliant.
Provides access to the organization's hierarchy
With a clear organization tree model, your employees can easily understand the reporting structure and overall hierarchy of your organization. Whenever an issue arises, your employees will know who to contact to resolve the issue immediately. It also helps in assigning the right job to the right person and ensures that no employee is overloaded. Each employee will be aware of their job responsibilities and work that has contributed to the organization's goals.
Your employee database has to be managed efficiently in order to make meaningful decisions and prevent compliance issues. Using spreadsheets and paper to maintain employee data has become a thing of the past. An employee database management system saves a lot of time and prevents manual errors. As the data is stored online, it can be accessed anytime. It improves the efficiency of the employee database management process overall.
Zoho People's employee database management system allows you to organize and track employee data from a centralized location. This improves your HR process as all essential information is just a click away. To know more about our employee database management system, click here.
Tarika

Content Specialist at Zoho People
Leave a Reply
Your email address will not be published. Required fields are marked