The ultimate guide to selecting a HRMS
Last Updated: June 26, 2020
4.8K Views
8 Min Read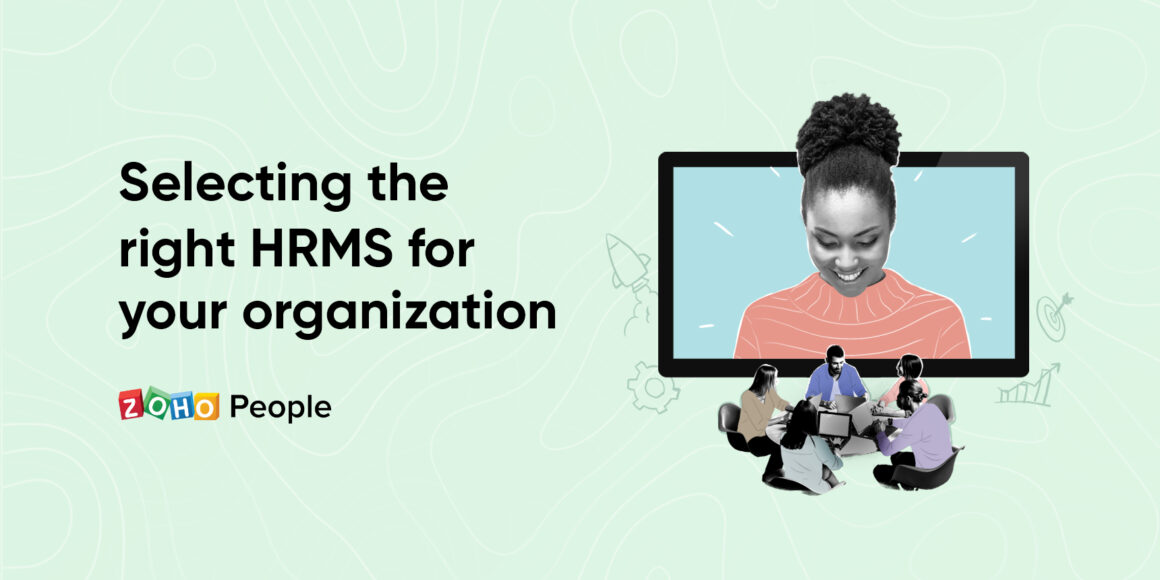 What is an HRMS?
A Human Resource Management System, commonly abbreviated as HRMS, is a software application that enables HR professionals to automate all essential HR operations, including onboarding, talent management, performance reviews, attendance tracking, and more. This allows the HR department to focus on other pressing aspects of the business like employee retention, work-life balance, and team-building. Because all core HR tasks are consolidated in a single system, effective business decisions can be made quickly and easily. On the whole, an HRMS has everything you need to improve your workforce management.
Why is an HRMS needed?
The modern workforce has many millennial and Gen Z employees, so it's becoming more technology-oriented, flexible, and collaborative. Employees expect the HR processes in their organization to meet these standards. The right HR technology can help you. An HRMS provides everything that employees want in terms of collaboration, engagement, benefits, career development, and more. This will help you to build an engaged and motivated workforce, which in turn improves retention rates and work quality.
Additionally, an increasing number of organizations are adopting remote work as part of their organizational culture. Flexible working options cannot shine without the right technology. An HRMS has all the necessary tools to manage a remote workforce. An HRMS takes everything online, which helps employees to perform all the HR functions they need, from marking their attendance to taking up training courses, no matter where they are.
How does an HRMS benefit your organization?
Having the right HRMS that meets the needs of your organization can be of great help to HR professionals, employees, and stakeholders. Here are some of the benefits of using an HRMS for workforce management:
Reduces the amount of paperwork as all documents, forms, and reports are stored and managed online. This reduces paper use and physical storage costs.

Prevents errors in employee data by automating data collection, processing, and documentation.

Saves a substantial amount of time as employee data is easily accessible. You can find the data even when you're outside the office because it's saved on a cloud server.

Enables you to create multiple workflows at once to automate mundane and repetitive tasks. This saves a substantial amount of time and improves the overall productivity of the HR department.

Increases the internal capability of your teams as essential HR functions are well-organized.

Ensures greater transparency and accountability by allowing for open communication, 24/7 data accessibility, feedback, and more. This keeps everybody on the same page.

Communicates your company culture to your new hires by providing a seamless onboarding experience.

Eases payroll processing as attendance and time-off data is stored efficiently online.

Enables employees to view company policies, the employee handbook, payslips, reimbursement claims, attendance hours, leave balances, and more.

Allows employees to store their documents online. They can store their bills, ID cards, brochures, and anything else they need directly in the HRMS.

Improves data security as every single piece of information is password-protected.

Prevents data loss as everything is backed up on the cloud server. You don't have to worry about losing your data due to a disaster.

Generates reports using employee data quickly in any format that you need. This gives a better overview of your workforce in just a few seconds, improving workforce planning.

Reduces employee turnover by improving your overall company culture and providing continuous learning and development opportunities.

Improves communication and collaboration among your workforce by supporting discussions through internal chat, feeds, and online forums.

Allows employees to stay connected regardless of where they work from by providing a central directory, which has the contact information of all employees.

Reinforces diversity and inclusion in your organization by preventing unconscious bias caused during recruitment and employee performance recognition.

Supports integrations with other software applications to ensure better functioning. Your employees don't have to log into different systems.

Enhances employee morale and satisfaction by allowing managers to provide and receive feedback. Employees can ask questions through the internal inquiry system.

Allows employees to mark their attendance with suitable IP and geo-restrictions. They can also apply for time-off through their mobile devices.
As you can see, an HRMS plays a huge role in improving your organization's employee productivity, engagement, morale, and more.
What are some of the modules of an HRMS?
When you are looking out for an HRMS, ensure that it has the following modules to get the most out it:
An onboarding management system is necessary to introduce your new hires to your organization. A well-designed onboarding process provides a clear picture of your organizational values, culture, and goals, helping new hires to acclimate to them. They will have a clear understanding of what they are expected to do from day one.
Employee database management
This module allows you to create a consolidated database to ensure that all necessary employee data is just a click away. This prevents the inconsistency and data redundancy. Permissions to access data can be enabled based on location, job role, designation, and more.
Timesheets can be very useful to organizations that deal with multiple clients and projects. Employees can log their work hours online and send them for approval automatically. This allows you to generate accurate bills for your clients and process your payroll on time.
Document management system
Having an online document management system prevents you from having to go through multiple files or emails. With this, all your personal and common HR documents can be saved in a central repository. Files can be shared with the whole organization or particular employees belonging to a specific location or designation.
Attendance and time-off tracker
With an attendance and time-off tracker, employees can mark their attendance through their mobile device or web browser if they work from home. Your attendance system can be integrated with biometric devices to improve security. Time-off can be applied for and approved online.
Performance management system
This module allows you to optimize employee performance with continuous engagement, reviews, and feedback. It brings consistency between your organizational goals and available human resources. As employee performance is tracked and managed effectively, benefits administration becomes a breeze.
A Learning Management System (LMS) can reduce the time, energy, money, and resources spent on employee training programs. Multiple courses can be created at once and all the learning materials can be uploaded online. Since everything is digital, several employees can be trained at once. Online classes led by tutors can be conducted to help employees grasp difficult topics.
This feature provides a password-protected self-service portal for employees to access all the information that is necessary for them. Through the portal, they can apply for time-off, check their attendance hours, upload and download documents, log their working hours, mark their attendance, access their colleagues' contact information, and more.
With analytics and reports, you can adopt a data-driven approach, which will help you to understand the exact behavior of your workforce. This allows you to identify any issues and create solutions before it escalates and causes other problems. Data-based decisions prevent implicit bias.
This provides a smooth exit experience for your employees. With a checklist, it ensures that all the necessary exit processes are completed by you and your employees. Exit interviews can be conducted to understand if your organization's policies are consistent with employee expectations.
Selecting an HRMS with these modules and features can streamline and simplify the HR activities of your organization.
How to choose the right HRMS?
Selecting the right HRMS for your organization can be challenging considering the number of options available. If the HRMS is not consistent with your organizational needs, it can get in the way of effective HR management. That's why we have devised a step-by-step approach that will help you select the right HR software:
Understand your HR challenges
Once you have decided to implement an HRMS, take into consideration all the challenges that you face in terms of HR management. Evaluate your people management, compliance, data management, training, and retention strategies. Make a list of things that you wish to improve. Set the right expectations. This will help you to look out for features that will improve the overall HR practices of your organization.
It's essential to seek advice from somebody in your IT department while selecting an HRMS. Explain the HR challenges of your organization. As they are aware of software trends, your IT professional will be able to provide a clear picture of your organization's software needs and the options available in the market.
Get an idea about the rough costs of an HRMS. Figure out a budget that you are willing to spend, keeping in mind the size of your organization. Consider the implementation, data migration, and maintenance costs, if there are any. This will help you to shortlist the HRMS vendors that are within your budget range.
Once you have shortlisted the vendors based on the budget and required features, do detailed research about their products. Try to find out if the vendor has a deep understanding of the challenges facing the HR sector. Ensure that their products support integration and customization. This is necessary to aligning the product with your organizational needs. Once the research is done, talk to each one of the software vendors to understand their benefits better. Ask for a demo. Ensure that everybody who's going to use the HRMS gets a chance to see or use the product.
At this point, you'll be able to select the HRMS that meets the needs of your organization best. If they offer a free trial, take advantage of it just to be sure of your choice. Once this is done, implement the HRMS for your whole organization. Educate your employees about the best ways to make use of the HRMS. Reassure them that they can always come to you if they have any doubts.
On-premise vs. Cloud-based HRMS: Which is better?
While selecting an HRMS, you may be pondering over whether you should go for an on-premise HRMS or a cloud-based HRMS. Considering the rapid changes in the way we work, we suggest going for a cloud-based HRMS. On-premise HR software is costly and not consistent with flexible work trends.
An on-premise HRMS involves heavy installation and maintenance costs, whereas the implementation and maintenance of a cloud-based HRMS are completely taken care of by the vendors. You just have to pay a certain amount for the features that you use monthly or yearly. Another disadvantage of an on-premise HRMS is that it requires physical installation in your workplace. You cannot access the HRMS when you work from home. While using a cloud-based HRMS, you can perform all HR functions from anywhere, at any time as long as you have proper internet connectivity!
Check out our blog to see more reasons why you should choose a cloud-based HRMS.
Final thoughts
Selecting the right HRMS for your organization can be a little challenging as there are many vendors in the market. By adopting a systematic approach, you will be able to select the perfect HRMS that is consistent with your organizational goals.
Zoho People, our HRMS, has all the features required to level up your organization's HR management and make it easy and effective. It helps you to develop a collaborative and technology-oriented work environment. Learn more about our HRMShere.
Tarika

Content Specialist at Zoho People
Leave a Reply
Your email address will not be published. Required fields are marked