What do HR professionals need to know about paid time off? Part II
What do HR professionals need to know about paid time off? Part II
Last Updated: October 11, 2022
368 Views
5 Min Read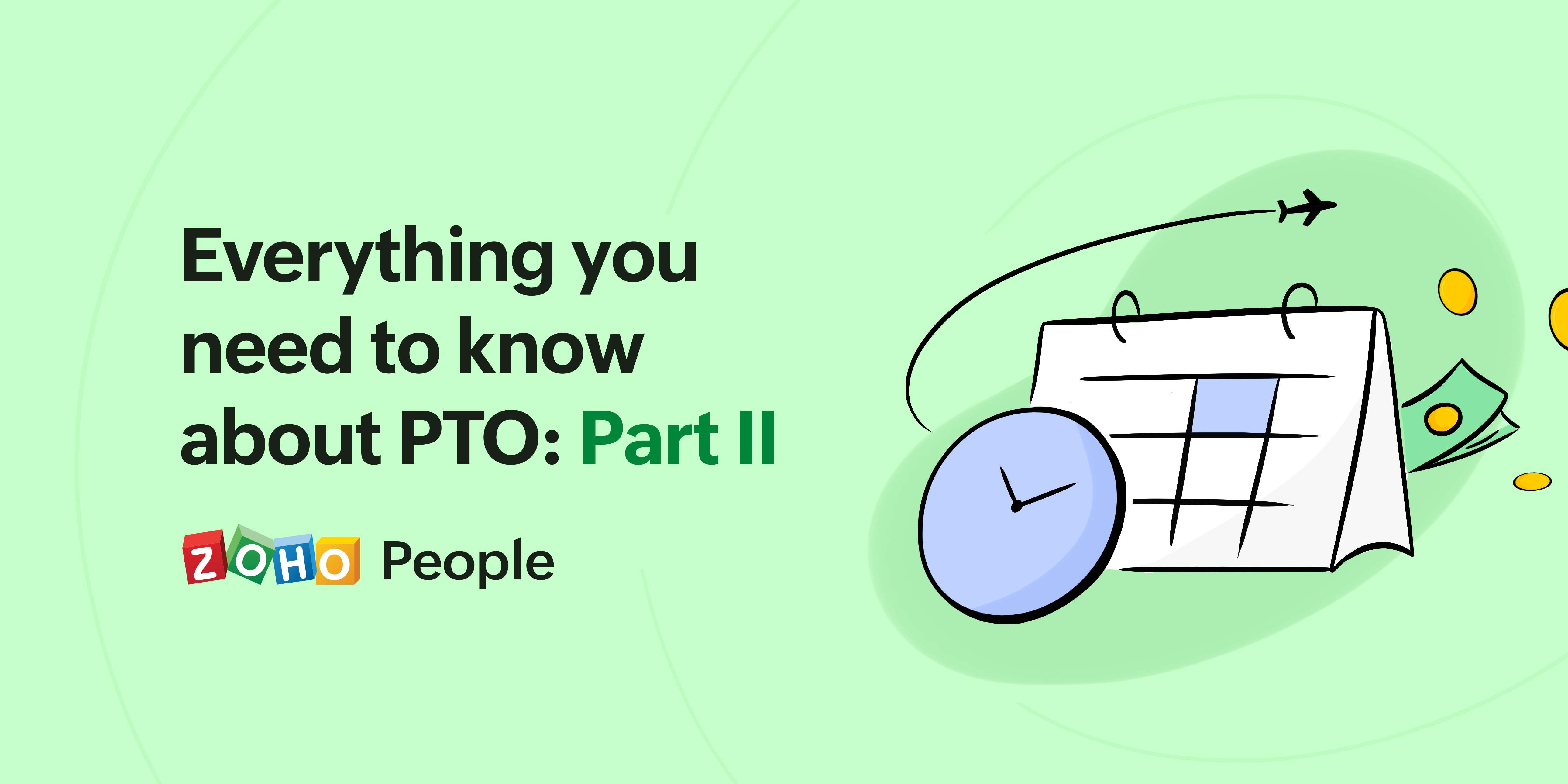 At a time when many organizations are adopting more flexible work cultures, establishing a proper paid time off (PTO) policy is crucial. Vacation and other forms of paid leave are some of the benefits that modern employees expect, and the process itself should be well-defined. In a previous blog post, we explained the basics of PTO, the different types of PTO policies, and three things to consider before establishing your own policy. In this post, we'll take a look at some of the other essential aspects that organizations should keep in mind when crafting a PTO policy for their employees.
Before we jump in, here's a little refresher about the basics: PTO is a key benefit that allows your workforce to take personal time away from work while maintaining their regular pay. Most of the time, employees are the ones who decide when and why to use their PTO.
What are the pros of a great PTO policy?
A proper paid time off policy can skyrocket your workforce's engagement and satisfaction levels, as it promotes greater work-life balance to keep burnout at bay. This will also improve the employee retention rate, since employees can work without compromising their personal responsibilities. Further, as employees take off from work, they'll be able to come back with a positive and rejuvenated state of mind, boosting their morale and making them more productive. This type of benefit is very popular with Millennial and Gen Z employees, so your brand's reputation will increase and you'll gain a competitive advantage in terms of recruitment.
What are the potential cons of adopting a PTO policy?
PTO misuse is one of the major drawbacks associated with paid time off. If a number of employees exhaust their paid time off around the same time, , the burden may fall on the employees who are present at work. To counter this, you can enforce rules that prevent employees from taking off at the same time or using all their paid time off in one go. Some employees may never use their paid time off, especially when there's an option to cash out unused days. In more unfortunate cases, employees may neglect to use their PTO in fear that this could lead to negative performance reviews, and managers may judge employee productivity based on the number of paid days off taken.
What are the laws associated with paid time off?
There's no single governing law deciding how organizations should administer paid time off. It largely depends on the region in which your organization operates. For instance, in India, the Shops and Establishment Act mandates that employers provide a minimum of six paid leave days to their employees. In the USA, there are no laws that require organizations to provide paid time off. Employers often provide them at their discretion to improve employee well-being. EU laws mandate that organizations provide a minimum of 20 paid days off per year. So, before enacting the PTO policy, be sure to check your regional and national labor laws.
What happens to unused paid time off?
Some organizations allow employees to roll over their unused paid time off to the next year. Other organizations follow the "use it or lose it" policy, where employees forfeit any unused paid time off at the end of the year. There are also organizations that set a limit on the amount of paid time off their employees can accumulate, meaning employees are not entitled to additional time off unless they use their existing PTO. Some states and countries mandate that organizations pay out accumulated PTO once employees resign.
How can organizations manage paid time off?
Here are a few tips to help you effectively manage your workforce's paid time off requests:
Educate employees on the PTO rules
Help your employees get a clear idea of what to expect from your PTO policy to ensure they don't misuse it. If you are going for a limited paid time off policy, let employees know how much PTO they are entitled to. During the onboarding itself, communicate when employees will be entitled to PTO and how often their PTO will be credited. Help them understand when they are expected to submit their requests and who will approve them. You'll also want to tell employees what will happen to any unused PTO, as well as what to do when they exhaust their allotted time off and want to request more.
Encourage managers to stay updated on how their team members are using their paid time off. This will help them better manage shared workloads and ensure no individual employee is burdened with an unreasonable amount of work. Managers can ask the employees who are taking time off to focus on their high-priority tasks before they go on leave so that regular-priority tasks can be assigned well in advance to other team members.
Since many organizations have employees that work from different locations, spreadsheets or paper-based processes are not sustainable options. It's a good idea to choose a leave tracking system that centralizes PTO requests within a single database. Your employees can raise their PTO requests through the system itself, and those requests will be sent to the approvers automatically based on how you configure approvals. Employees will also be able to check their PTO balance from within the system itself. The system can be customized easily based on your organization's PTO policies, and the PTO tracker can help you stay on top of related trends to ensure there's no misuse.
Adopting a PTO policy
Establishing a proper PTO policy is absolutely necessary when meeting the needs of the modern workforce, especially when it comes to providing employees with work-life balance and workplace flexibility. We hope this blog gave you a clear idea of the different aspects of paid time off.
Zoho People comes with an intuitive time off tracker that empowers organizations to administer PTO the way they want. You can let employees request PTO and set approvals to manage them in just a few steps. Learn more about Zoho People's time off tracker.
Tarika

Content Specialist at Zoho People
Leave a Reply
Your email address will not be published. Required fields are marked