5 tips to ace shift management at your organization
5 tips to ace shift management at your organization
Last Updated: October 3, 2023
114 Views
3 Min Read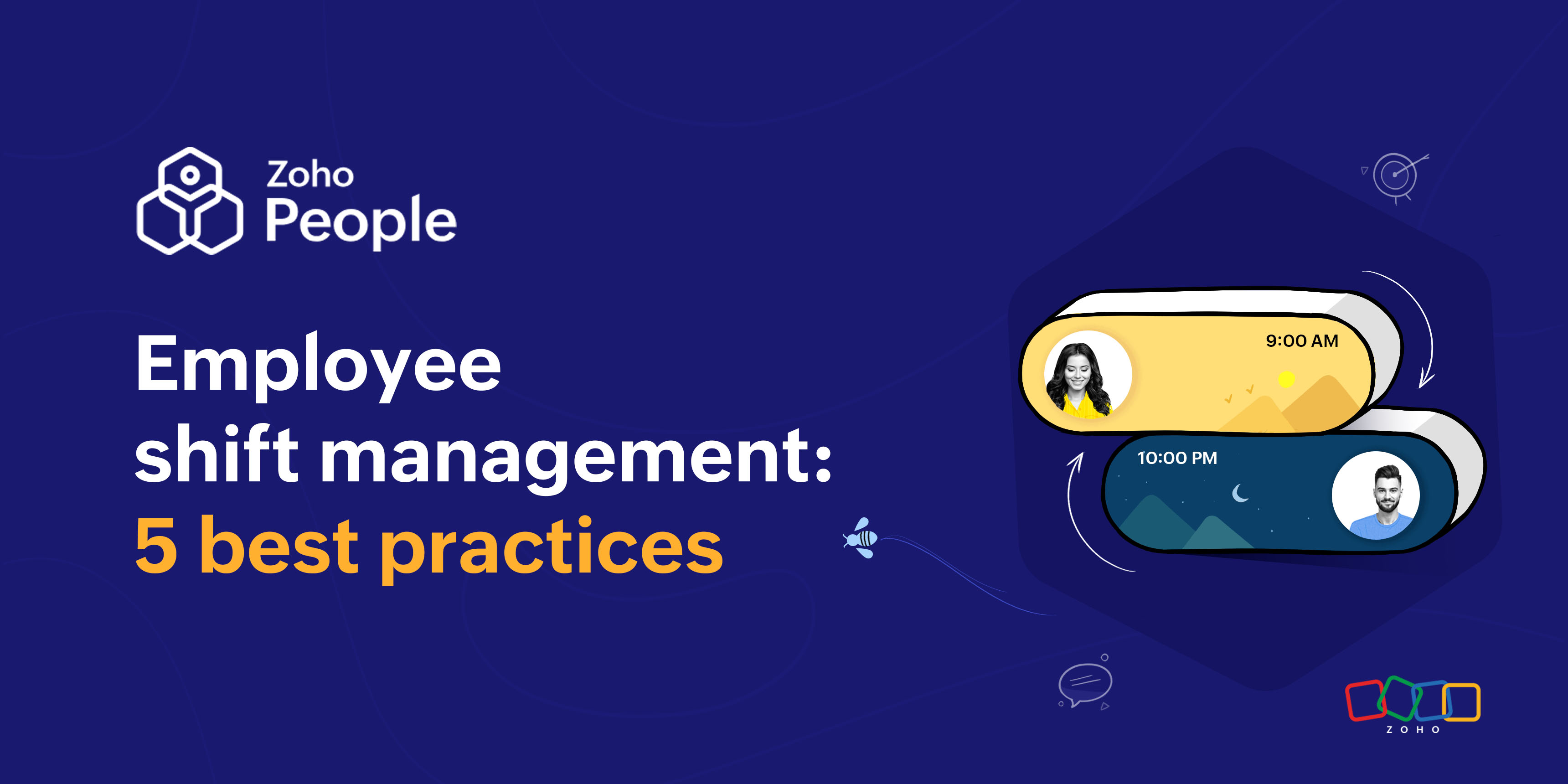 Proper shift management is vital. This is especially true if you have customers across the world, as a comprehensive employee shift management strategy ensures that your employees are available around the clock and plays a significant role in maintaining customer satisfaction.
Improper shift planning, poor communication with employees, regular unscheduled absences, lack of enough resources, and other issues can make shift scheduling tremendously hard. However, with little tweaks to your existing shift management practices, you can improve efficiency and productivity while ensuring that your business processes run smoothly. Here are five employee shift management tips to help you get started:
Before you start with shift scheduling, have a clear idea about each shift and its requirements. Identify the skills and attributes employees need to help customers during a particular shift. Understand each employee's needs, goals, and expectations too. This will help you assign the right set of employees to each shift and determine the number of employees for each schedule. On some days and hours, customer demand may be greater. Keep those days in mind as well.
Once this is done, understand your employee availability and assign them to shift schedules accordingly. It's also good to keep employee preferences in mind to avoid any shift conflicts.
Set clear expectations for your employees
Make sure your employees are aware of your expectations in terms of adhering to their shift schedules. For instance, mention how well in advance should they request a shift swap request if it's a planned one. Lay out expectations for leave requests to avoid unscheduled absences. Let them know when and how they'll be notified in case there's going to be a shift swap from your side. Be sure to mention their working time, break hours, and the policies and regulations about overtime. Publishing shift-based holidays is also necessary.
At a time when employees perceive flexibility as one of the major perks, being a shift-based organization can be a little tricky. Have a proper system in place to manage the shift change requests from your employees. Be sure to approve them on a first-come, first-serve basis. This will uphold transparency and fairness in the process. If necessary, adopt a shift rotation system so different employees take on the more tedious shifts. Further, if possible, offer flexible, general, and open schedules for employees on a round-robin basis to facilitate work-life balance. You could also try self-scheduling, where managers lay out the needs and expectations for each shift schedule and employees get to pick their shift schedules.
Communication is the key to preventing shift conflicts. Whenever there's a change in their shifts, use a multi-channel communication strategy to notify employees. Similarly, send check-in and check-out reminders to employees to make sure that your employees adhere to their shift timing and avoid overtime issues. Make sure that shift schedules are available to your employees at least two weeks in advance. If possible, ensure employees acknowledge that they have reviewed their shift schedules. Further, have a flexible policy that encourages employees to voice any issues with their shift schedules. This will help you improve productivity and efficiency.
Make use of the shift scheduling system
Adopting a shift scheduling system can go a long way toward making shift management hassle-free. Using the shift scheduling system, you can create any number of shifts and assign employees to them in just a few steps. Within each shift, you can define the break hours, weekends, and to which departments and designation it'll be applicable. Additionally, employees can be changed from one shift to another automatically at defined intervals. Whenever employees are added to a shift or changed from one shift to another, they'll be notified through emails and live feeds instantly and automatically so that there are no shift conflicts. Almost all aspects of shift scheduling will be streamlined and automated using a shift scheduling system, making shift management less tedious for employees.
Simplifying shift management
With proper communication, advanced planning, and a little bit of flexibility, you can make shift management seamless and conflict-free at your organization. We hope this gave you a clear idea about the different ways to streamline your shift management strategies!
Zoho People, our comprehensive HR software, comes with an intuitive shift scheduling system that empowers HR teams to create multiple shifts, automate shift rotations, assign shift admins, and a lot more! Learn more about Zoho People's shift scheduling system.
Tarika

Content Specialist at Zoho People
Leave a Reply
Your email address will not be published. Required fields are marked