5 reasons why every small business needs an HR department
5 reasons why every small business needs an HR department
Last Updated: September 15, 2021
672 Views
4 Min Read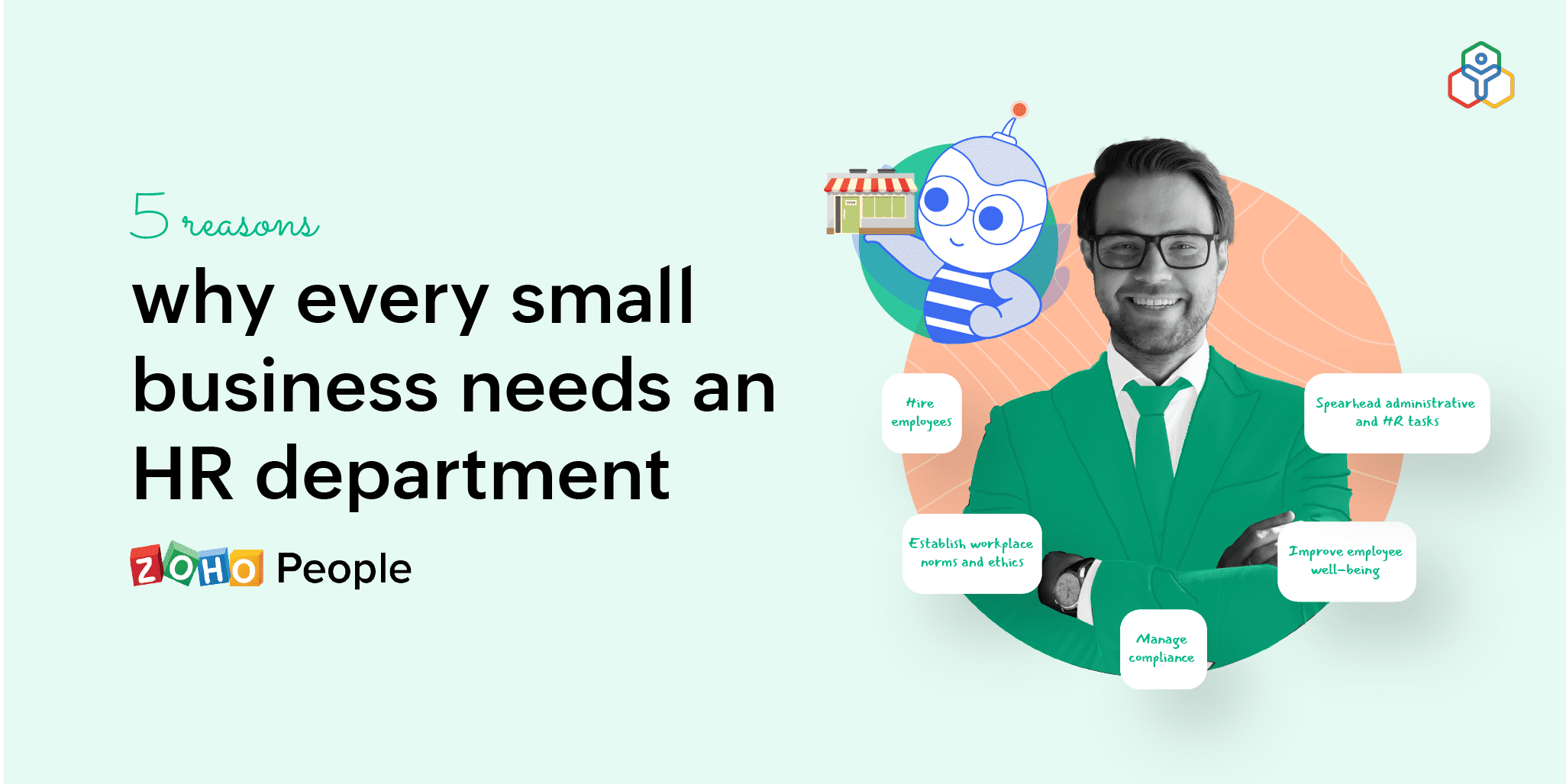 Every small business needs self-motivated and enthusiastic employees, who go above and beyond to take their organization to the next level. Employee performance is critical to sustaining your small business's growth and serving your customers well. Effective employee management should be a core part of your small business's growth strategy; without a formal HR department that takes care of employee management, keeping your employees motivated, engaged, productive, and happy can be strenuous. On the other hand, establishing a lean HR team can help your organization recruit and retain top talent. It's important to have an HR department as soon as you hire your first employee, and not after having costly compliance or management issues. In this article, we have listed five reasons why every small business needs an HR department:
Hiring employees is one of the foremost functions of an HR department. As a small business, you'll need to hire employees regularly to expand your operations and grow your organization. Your HR team will help you source talented employees, whose values align with your organizational values. Hiring includes several processes including creating job descriptions, advertising them, filtering resumes, conducting assessments, organizing face-to-face interviews, conducting background checks, etc. You'll need a dedicated HR team to manage each of these processes effectively to recruit the right employee for your organization. Skipping these processes in recruitment can fill your business with bad hires, where both your employees and your organization will fail to grow. Research by Career Builder has revealed that one bad hire costs an organization an average of $14,900.
Establish workplace norms and ethics
Establishing workplace norms, policies, and rules is the key to foster a positive work environment that is free from unnecessary rumors, gossips, and backbiting. When you are paving the way forward for your business's growth, you don't want workplace negativity pulling you back. The HR team you set up will help establish workplace standards that align with the values, mission, and vision that define your organization. Your HR team will also outline things like how employees are expected to interact with their peers, what is expected from employees at work and what employees can expect from their work in return, as well as how cases of harassment will be managed, workplace safety guidelines, anti-discrimination policies, and more.
Compliance is one of the most important reasons why your small business needs a dedicated HR team. You already have a lot on your plate to take care of; keeping up with ever-changing labor laws is the last thing you want to do. However, lack of compliance with national and state employment and labor laws can prove super expensive for your organization. With a dedicated HR team, you don't have to worry about compliance errors. Your HR team will be fluent with all employment laws governing your organization and make sure that all workplace practices from hiring to offboarding align with those laws. They'll also help conduct regular internal audits to make sure that there are no gaps in your workplace practices.
Improve employee well-being
The COVID-19 pandemic has transformed how organizations approach employee well-being for the better. More and more organizations are beginning to step up their wellness initiatives in a bid to keep employees healthy and happy, especially considering the hurdles brought about by the pandemic like sudden transitions to remote work, lack of interaction, fear of infection, etc. Employees are shifting towards organizations that are genuinely concerned about employee well-being. Introducing wellness initiatives that truly prioritize your employee's mental, physical, and emotional well-being is now standard. Your HR team will help your organization ease employee anxiety and support them in overcoming the challenges caused by the pandemic and improve their well-being. Whether it involves bringing counselors for therapy sessions or offering flexible schedules that support a work-life balance, a dedicated HR team can help your employees be well.
Spearhead administrative and HR tasks
How you manage your everyday HR and administrative tasks can have a huge impact on your employees. Even a small mistake can lead to a compliance issue or affect your employee's trust in your organization. Your HR team will take care of all the HR tasks and make sure they are compliant with regional and national labor laws. These tasks include: payroll management, leave management, attendance management, timesheet management, employee requests management, performance management, shift management, etc.
Wrapping up
As a small business, managing your employees the right way is one of the best possible ways to grow. In the beginning, you can recruit a team of two or three HR Professionals and scale your HR team as your employee numbers increase. We hope this blog you an insight on why your small business definitely needs an HR team!
Zoho People, our HR software, can serve as a great tool for your lean HR team to manage all HR operations from onboarding to offboarding, all from a single, centralized location. Learn more about how Zoho People can help your organization.
Tarika

Content Specialist at Zoho People
Leave a Reply
Your email address will not be published. Required fields are marked