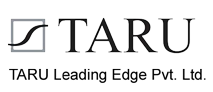 As an HR guy, I believe Zoho People is one of the best available HR software solution that i've come across
Prince Francis HR Manager - Taru Leading Edge Pvt. Ltd.
About the Company
TARU was established in 1990 as an institution with trans-disciplinary expertise to engage with India's development challenges. TARU's expertise is primarily in six core sectors: Disaster Risk Management & Climate Change, Governance & Institutions, Natural Resource Management, Social Development, Urban Development, and Water, Sanitation and Hygiene. Their clients include grassroots institutions, INGOs, bilateral and multilateral organizations, as well as States and Central Government. They are committed to quality, accuracy and succinctness in their consulting services.
Challenge
One of the main challenges for the HR department of TARU was that all their employee details were maintained manually. It resulted in high work pressure and increased employee head count in HR department because of manual administrative work. With most of their HR spending time on managing employee data, the other important HR activities were neglected. Basic functions such as Attendance, Leave management, sending across important reminders to the employees, etc; were done in a hurry and lacked efficiency.
When applying for leave, emails were being sent back and forth between the Manager and employee for approval. This led to additional work for the HR as they had to manually check and look for the email to calculate leave balances. p Organizational announcements had to be made through emails or informed personally. Sometimes employees either missed the emails or never received them on time and this led to information backlog.
"Managing employee data and manual recording of information put too much pressure on our HR department", said Prince, HR Manager at Taru.
Solution
TARU started using Zoho People two years ago and makes use of several features including the centralized employee database, self service facility, leave management, live feeds, instant notifications, approvals and reports. With Zoho People all the regular HR activities are automated. Paper and excel sheets are eliminated. This saves a lot of time and money for the organization.
Now, when leave is applied directly through the portal by the employee, a notification is sent to the concerned manager for approval. All the leave history gets automatically saved in the system for the HR to draw reports as and when required. Zoho People makes sure that any announcement that the HR posts, is made available instantly on all the employees' wall as a feed. All approvals and notifications will automatically load on the wall and he/she can comment and discuss it directly without sending across emails.
"Zoho People has automated our entire HR processes. It's made it easier for us to manage our employee information and the self service option lets our employees modify their own information and apply leave directly", said Prince. "The easy and accurate report generation, helps with our managerial decision making"
Result
For TARU, the benefits of using Zoho People includes the applications automation and ease of use. It helps them distribute their valuable HR resources for other important activities as well.
"With Zoho People, we are inspired to create new forms through it's simple customization, better integration and great pricing that fits our budget", said Prince. He added, "It takes our organization to the next level and helps us define ourselves better".