How to register a domain for your business

What is a domain?
A domain (a.k.a domain name) is a common name that can be attached to a business or an organization or even an individual to get a customized online presence on the internet. To put it in simple terms, it is an identity that generally appears after the @ symbol in an email address and after the 'www.' in a website address. It is associated with a physical IP address in the form of xxx.xxx.xxx.x.
The domain names are the readable form of these IP Addresses which denote a specific entity in a network. The domain name generally consists of a secondary name and a primary Top Level Domain(TLD) separated by a period.
Example: In the domain zylker.com, zylker denotes the secondary TLD, and .com denotes the primary TLD of a domain.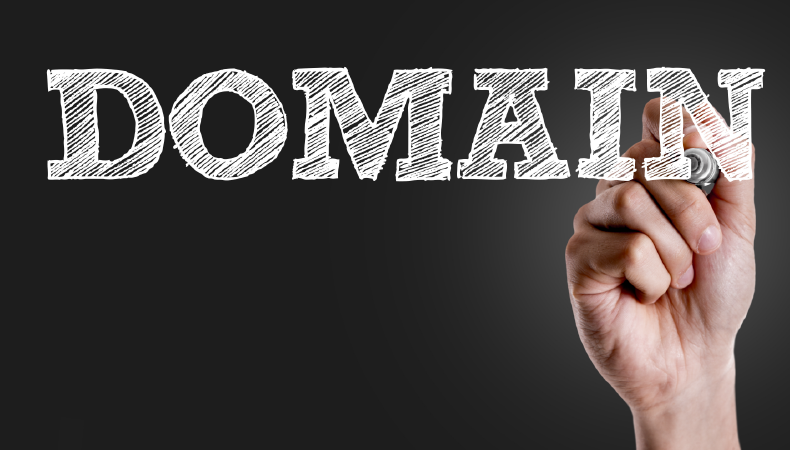 What is a TLD?
TLD is the abbreviation for Top Level Domain, which is also a domain extension. It is the series of letters that appear to the right of the period(.) in a domain name. For example, for the domain 'zoho.com', com is the TLD.
Some popular TLDs
.com - This is an abbreviation for commercial and it is the most popular TLD to date.
.net - This represents Network - Initially created for network technology-related organizations, but is now available to the public and is another common choice for domain buyers.
.edu - The edu TLD is a short form for education. This was created for domains owned by educational institutions like universities, colleges, etc. Nowadays, even schools prefer .edu domains.
.org - A short form for 'organization', this was initially used only by non-profit organizations, but later used by organizations, communities and businesses alike.
.gov, .mil - These TLDs are primarily used by U.S. Government agencies and U.S. military branches.
.info - This is a short form for 'information' and was intended to be used by informative websites.

Initially, when the TLDs were launched, the TLDs were limited and can be only up to 3-4 characters in length. Later as the Internet exploded, a lot of TLDs were launched in the market. Most countries also have country-specific TLDs, which are used by Government agencies and also the businesses or organizations in that specific country. These are country-specific domains and these TLDs can be used based on certain conditions and based on approval by the domain providers.
In addition, there are also a lot of custom TLDs and they are regularised and maintained by IANA. The entire list of TLDs managed by the IANA is available here.
Why do I need a domain for my business?
Just like you have a name for your physical business, you need to have a domain name to establish your business on the internet. To have an online presence, you need a domain name, with which you can create your own website and create a custom domain email for you and your other employees.
A short, memorable domain name for your business can make the difference between creating a successful web presence and getting lost in cyberspace. Once you establish your online presence, you can expand your business beyond regional boundaries. Getting the correct domain and establishing your website and email helps you with the following:
Branding
Expanding your business beyond regions
Adds credibility to your business
Makes it easy for your customers to find you and reach out to you
The evolution of smartphones has literally put the entire world in buyers' hands and your online presence is the best way to reach your potential users. Getting a domain name for your business is the first step toward establishing a unique online presence.
Tips to choose a domain name
Choose a short name for your domain.
If you have an established offline business, it is better to stick to the same name.
In case it is a big name, choose a shorter form of the name.
Choose a good TLD that suits your business.
You can stick to the traditional TLDs like '.com', and '.org' or choose modern TLDs like '.shop', '.online', and so on based on what suits your business the best.
Ensure that it has a simple spelling and is easy to use and remember.
Research and make sure that the domain name is unique and not copyrighted by someone else.
Steps to register a domain name
Registering a domain name with Zoho
Zoho provides domain registration services via GoDaddy and OpenSRS. You can use the service to get a domain, set up a website, and create domain-based email accounts with Zoho Mail.
Navigate to https://www.zoho.com/mail/buy-domain.html to register a new domain.
Search for your desired domain name.

If the domain name with the given TLD is already registered by someone else, you can choose from the other options listed below.
Once you have decided on the right domain, click Proceed to continue the registration process.

Provide the details needed for the registration.


You can opt for Private registration, to keep your registration information private and not available publicly in the WhoIs lookup.

Read and once you accept the terms and conditions, Click Sign Up.
Now you need to make the payment for the domain to complete the domain registration.
Once you have registered the domain, you can choose a suitable plan in Zoho Sites to create your own website.