Reading Time:
7
minutes
During a widespread health crisis, selling from a physical store might not be an option for you, and going to the store might not be an option for your customers. The best alternative in a situation like this is to sell online. If you haven't already started, then now may be a good time to make the switch.
If customers can't shop in person, selling online can help you reach them and keep your business up and running. While selling online can be beneficial to almost any business, it can be especially useful for businesses that are selling essential products and services that are in high demand. Having an ecommerce business model can help those essential products reach more of the people who need them.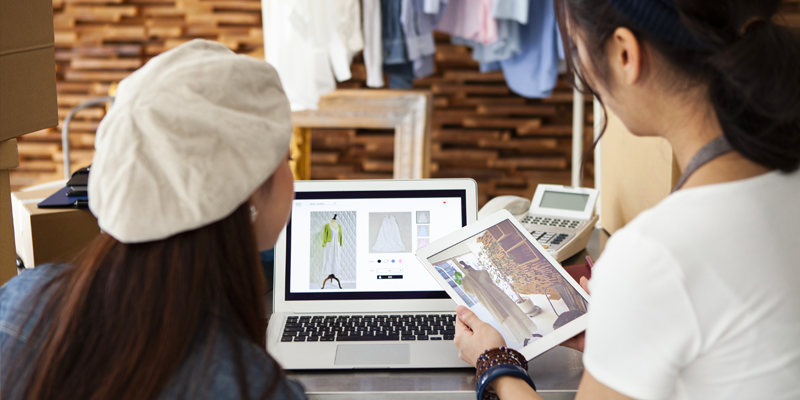 After feeling the economic results of a pandemic, many businesses that still run physical stores are now beginning to realize the value of selling online. This is why global ecommerce sales are generally expected to rise after crises. Statista has estimated that global retail ecommerce sales will reach 6.54 trillion USD by 2022, from the current 3.53 trillion USD.
If you are thinking about selling online, then here is how you can get started.
Do your (market) research
Before jumping into the world of ecommerce, you want to be sure that your business will actually thrive online and that there is enough demand for the products you sell. Start by running a keyword search using the title of the products and services you offer. This will give you a basic idea of how popular (or unpopular) your business type and products are, and will also tell you which of your items are currently the most popular so that you know what to add to your store first. Google Keyword Planner and Google Trends are good tools for this, since they can tell you how much traffic a particular keyword gets. You can also look through social media: check out what's new from hashtags, what popular influencers are talking about and sharing, and even the ads that pop up.
Pick an ecommerce business model
An important part of selling online is figuring out what type of ecommerce business model you want to follow. This requires some careful thought and comparison, since each type operates differently and requires different financial support. There are four main business models, differentiated by the starting point and end user.
B2C (Business to consumer)
B2C ecommerce is the most popular type of business model, since it targets individual, independent consumers. Anything that supplies the common consumer, from a website that sells clothes to a pizza delivery app, falls under the B2C model.
B2B (Business to business)
B2B ecommerce, although not as popular as B2C, is fairly common among businesses that supply each other, like a supply chain. This model specializes in wholesale and bulk transactions. For instance, a business that sells parts to another business that uses these parts to create a final product is following the B2B model.
C2B (Consumer to business)
C2B e-commerce, is when consumers share their products or services with businesses. Examples include when a businesses hire a freelancer or influencer to promote their products.
C2C (Consumer to consumer)
C2C ecommerce brings together separate consumers who have something to offer each other. Popular examples include resale sites like eBay and OfferUp, service-trading platforms like Fiverr and TaskRabbit, and newspaper classified ads.
Find a selling platform
Now that you've done your market research, and figured out the type of model that suits your business, you need a platform to sell your products and manage your store operations. There are several types of selling platforms for you to choose from, so it's important to understand them and make an informed decision. Here is an overview of the different types of selling platforms you can use for ecommerce:
Ecommerce platforms
There are two categories of ecommerce platforms: hosted and self-hosted.
Hosted solutions
Hosted ecommerce platforms are ready-made solutions that you can rent for a nominal fee. They're owned by another company, which make them a good choice for businesses that are new to ecommerce and would like to test the waters with minimal expense and commitment. All you need to do is upload the details of your products, connect to a payment gateway, and start selling. Popular examples include Shopify and BigCommerce
But hosted platforms aren't the right solution for businesses that want customers to focus on their brand and design, since the owning company's design will dominate your customers' experience.
Self-hosted solutions
On the other hand, a self-hosted platform, such as WooCommerce or Magento, is a solution that you purchase and own. This means more freedom to design, structure, and organize your platform and website. After purchasing the platform, you need to set up the server on your computer, and store and maintain all of your business data within that server.
The catch with self-hosted solutions is that you will have to build your online store from scratch, and if you are new to the type of code used, this can be difficult. But if you have the resources, you can hire someone to take care of this part for you.
Online marketplaces
In essence, an online marketplace is an ecommerce website that allows you to sell your products online. You will have to create a catalogue of products that you'd like to sell and add it to the marketplace's categories of existing products that other sellers have also listed. Unlike e-commerce platforms, marketplaces are not the place to start a business, since your customers won't be able to see your brand or store. Instead they will only be able to view your products as one amongst others. Amazon, eBay, etsy, Alibaba, and Google Shopping are all online marketplaces.
Free classified ad sites
Free classified ad sites are exactly what you'd think: a place for you to list your products for free. The website is only responsible for the listing, and you will need to take care of the product delivery and payments when you make a sale. Craigslist, Facebook Marketplace, OLX, Gumtree, Hoobly, and Oodle are some popular free classified ad listing sites.
Now that you know all your options, you'll need to pick one. Here are a few important questions that you can ask yourself to find the perfect platform for your business.
How many different payment options does it allow? What payment service provider and payment gateways does it use?

How secure is the platform? Is it PCI (Payment Card Industry) compliant?

What other tools is it integrated with that you can also use?

Is it mobile friendly?

Does it allow you to customize your webpage's design to follow your brand's theme?

How good is its customer service? Will they be able to help you during a crisis?
Create product descriptions
When switching from a brick-and-mortar store to ecommerce, you're making a big change to the way your customers perceive your products. Instead of being able to hold, see, touch, and test your products and their functionalities, customers are now looking at pictures and reading descriptions toassess your products before making a purchase. For your regular customers, not much will have changed since they have experience with your products already. But it may be a challenge to connect with new and potential customers.
When setting up your ecommerce website, use good SEO techniques so that your products stand out. Come up with your own personalized, product titles and descriptions to put up on your website that follows appropriate SEO, instead of just recycling the information your suppliers or manufacturers have provided. Take good quality pictures of your products, and make videos showing how they work so that your customers can properly see what you're offering them. This will all help you get through to prospective customers. Depending on the number of products you have, creating this content can be pretty time-consuming. Spread out your work and try to finish at least a few products a day so that you can start adding them to your store.
Manage your inventory
Businesses that started out by selling online generally manage their inventory through the selling platform that they're using, while businesses that started off with a brick-and-mortar store may be more used to working with an inventory or warehouse management system. If you're planning to sell online while also keeping your offline store, then you'll need a solution that manages your inventory from both your physical store and online store, preferably on a single platform. A solution like this can help you keep an eye on your stock levels and transfers between warehouses, generate accurate reports, and even help with your accounting. It should also be able to help you with end-to-end tracking for every item or batch of items in your warehouses.
Strategize your order management
As a physical store owner, you probably didn't need to manage too much shipping. With an online store, however, almost all of the orders you receive will need to be shipped, unless you arrange for the buyer to pick up the order themselves. Order management, which includes picking your products from a warehouse for an order, packing them appropriately, and then shipping them to the correct recipient, will become a pretty big part of your business routine.
To ensure that each part of this process works smoothly, you can use an order management system. These systems offer a long list of benefits, like effectively managing online and offline orders, integrating with fulfillment and major shipping services, shipment tracking, and notifying customers about their order status. Some order management systems even come with inventory management functionalities, so that you can coordinate both aspects of your business on a single platform.
If an order management system doesn't seem like enough to handle your order volume or complexity, then you can always work with a 3PL company or fulfillment service such as Amazon's FBA. For a fee, these companies take care of all of your order management processes from start to finish.
 
During a crisis that requires isolation, going into your store to manage your business may not be safe or even possible. Instead, the best way to keep your business stable is to sell online. To successfully transition from brick-and-mortar sales to ecommerce, you'll need to think about a lot of new factors, from helping your customers visualize your products to choosing a selling platform and an order management system. If you start with a good understanding of how you want your business to work, you can pick the tools you need to give your customers a positive shopping experience and keep your sales healthy. To help you get started on your ecommerce journey check out Zoho Inventory's integration with Amazon, a combination of an order management system with a marketplace like Amazon, to manage, track, and fulfill orders.
Visit our COVID-19 Business Resource Center for more guides, webinars, and other resources to help your teams navigate the challenges ahead.