Reading Time:
5
minutes
If you are a growing business looking to streamline your customers' payment process and improve your cashflow, you should now be quite sure that online payments via payment gateways are the best way to go. Payment gateways not only make it easy for your customers to pay you, these payments reflect instantly on your end and improve your cashflow.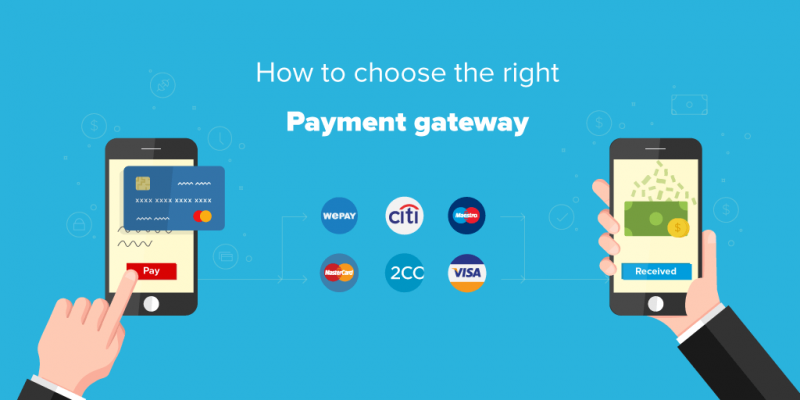 To start receiving online payments, you need a secure system in place, that will let you handle sensitive customer information–and in essence, this is what a payment gateway does: it authorizes online payments and charges your customers' credit cards securely.
Payment gateways accomplish this by doing three things:
Validating customers' credit card details securely.
Making sure enough funds are available to complete transactions.
Approving transactions and transferring the amount to your account.
All of this is taken care of in encrypted payment gateway servers, so that you are absolved of the liability of holding sensitive customer data.
How do you start receiving payments?
To start receiving credit card payments, you need three things: a merchant account, a business bank account, and a payment processor.
The merchant account is a temporary holding account that receives the payments from the payment processor and then transfers the amount to your own bank account. The merchant account temporarily holds the money to educe incidences of recalled payments. Setting these accounts up are part of the essential first step of the payment receival process.
There are two types of merchant accounts that each hold money in different ways:
Dedicated account: This type of account is set up individually for you and is similar to your bank account. There is a lot of underwriting involved and the account provider usually does a risk analysis before providing you with an account. Generally, you'll have more control over a dedicated account: you can negotiate rates, set custom holding times, and more. It is ideal for brick-and-mortar stores that want to receive online payments.
Aggregate account: In this type of account, your money is held in a commonly shared account with other companies' money. These are easier to get started with, but you have less control and can not negotiate transaction rates. It is ideal for e-commerce businesses.
Now, there are a few "modern" gateways that don't necessarily require you to create a merchant account. These payment processors come with an integrated merchant account so that you don't have to create one separately. The only catch is that they come at a slightly higher price. These gateways include – PayPal, Stripe, BrainTree, and others.
Factors to consider while choosing a payment gateway:
Choosing the right payment gateway for your business is an important decision. If you choose a gateway that doesn't fit your business model, you might end up losing a lot of money and customers as well.
Here are the most important factors:
Cost
The most important thing you need to consider while choosing a payment gateway is the total cost that you'll incur. The costs involved in using payment gateway comes in three types: set-up fee, monthly fee, and transaction fee.
To find the most cost-effective choice for your business, both the volume and value of your transactions need to be considered. Most payment gateways have a competitive transaction fee rate of 2.9% + 30ç. This might work well for businesses when the value of their transactions is often not that high; however, if they are, the transaction fees can increase your expenses significantly. If your business deals primarily in high-value transactions, make sure you look for payment gateways that offer their services for a set monthly fee and a low transaction fee.
Types of cards allowed
The most commonly used credit cards are Visa, MasterCard, and Amex. All of these card types are accepted by most payment gateways. However, if your customers usually pay you using other card types, such as a debit card or a Diners Club card, you need to make sure that your payment gateways support that card.
Holding time
Even though payments are usually approved almost immediately, the money is held for a few days before it is settled to your account. This is to allow for the handling of refunds and charge-backs. These holding periods can vary from 1-7 days depending on the payment service provider. You can choose to wait or get paid immediately, depending on your cashflow.
Multiple currency support
If you do business internationally, you need to make sure that your payment gateway can handle payments in different currencies and from different countries. It is of utmost importance to let your customers pay in their currency. You'll also want to, check for fees involved in foreign currency transactions.
Recurring billing
If you run a subscription-based business, you need to pick a payment gateway that's equipped to handle all the moving parts that go into recurring billing. Any provider you choose needs to be able to save and store customer details for future transactions, automatically charge credit cards on preset subscription schedules, and offer retry options for failed transactions. Otherwise, you may have to do all this additional work manually..
Hosted vs. non-hosted
A payment gateway can either be hosted off-site (the customer is taken to the payment processor's website for them to enter their details) or non-hosted (the customer will be able to enter the details without leaving your website).
Each of these different modes of hosting payment gateways has its own pros and cons. One benefit of using hosted gateways is that they reduce the risk of storing sensitive information on your own site. Although this is a huge advantage, the downside is that redirecting your customers to another site adds another step to the payment process, making it longer than usual. If customers go through this lengthy process and the transaction fails due to a glitch or other error, they may become frustrated and not try again. For this reason, businesses with high transaction values prefer to have non-hosted payment gateways integrated with their stores.
Security
When it comes to receiving payments online, because you're storing sensitive financial information, the security of your payment gateway should be a high priority. Keep in mind that different payment gateways adhere to different security standards. Make sure that the gateway you choose is level-1 PCI DSS compliant. Some gateways come with fraud detection and other such screening tools to protect your business from fraudulent transactions.
Mobile payment support
A majority of customers shop using mobile phones and tablets now, so it's important to select a gateway that can support payments made from mobile devices as well. This will give your customers the flexibility to pay you regardless of what device they use.
Limits
There are some payment gateways that set an upper limit on the transaction amount that you can process per month. This might not be a problem for small businesses. However, if yours is a business that deals with high value goods or processes a large number of transactions, you need to be aware of any such limits, as you may lose potential customers.
Integration with other systems
Finally, it's worth considering if your payment gateway can connect with your invoicing or accounting software so that when an online payment takes place, the corresponding invoice will update automatically in your bookkeeping system. This will save you a lot of time and effort because you won't have to keep track of payments and then manually update that payment information in your accounting system as it comes in
We have prepared this handy comparison chart to help you choose the right payment gateway for you.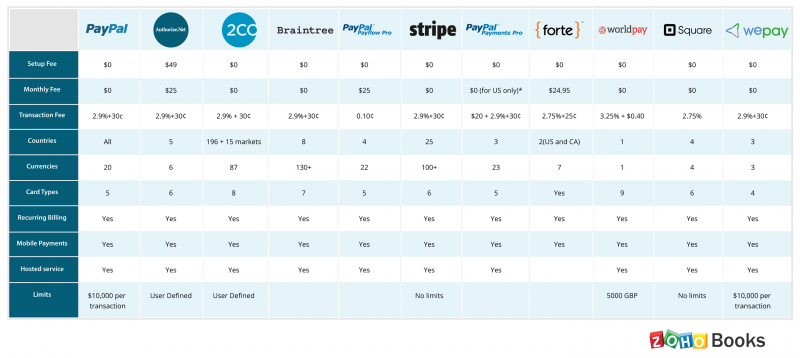 We hope this article helped you narrow down your choices considerably. If you still have any questions, let us know so we can help you choose the right payment gateway.
Note:
Using the right payment gateway makes collecting customer payments smooth and hassle-free. But finding a payment gateway that checks all the boxes takes a little more work. You'll need to make sure that it fits your business' needs, can be used in your region, allows you to receive payments globally (for the sake of your international customers), and hopefully comes at a convenient price. In addition to this, most businesses like to connect their payment gateways to an accounting system so that their books stay updated. That's why we've made sure our online accounting software supports popular payment gateways that cover all these points, so that you have a variety of options to choose from to make accepting payments easier.
If you are a small business, consider trying out our free plan as a part of your payment management strategy.