6 Zoho Cliq integrations for instantly boosting team communication and productivity
Last Updated: August 31, 2022
576 Views
5 Min Read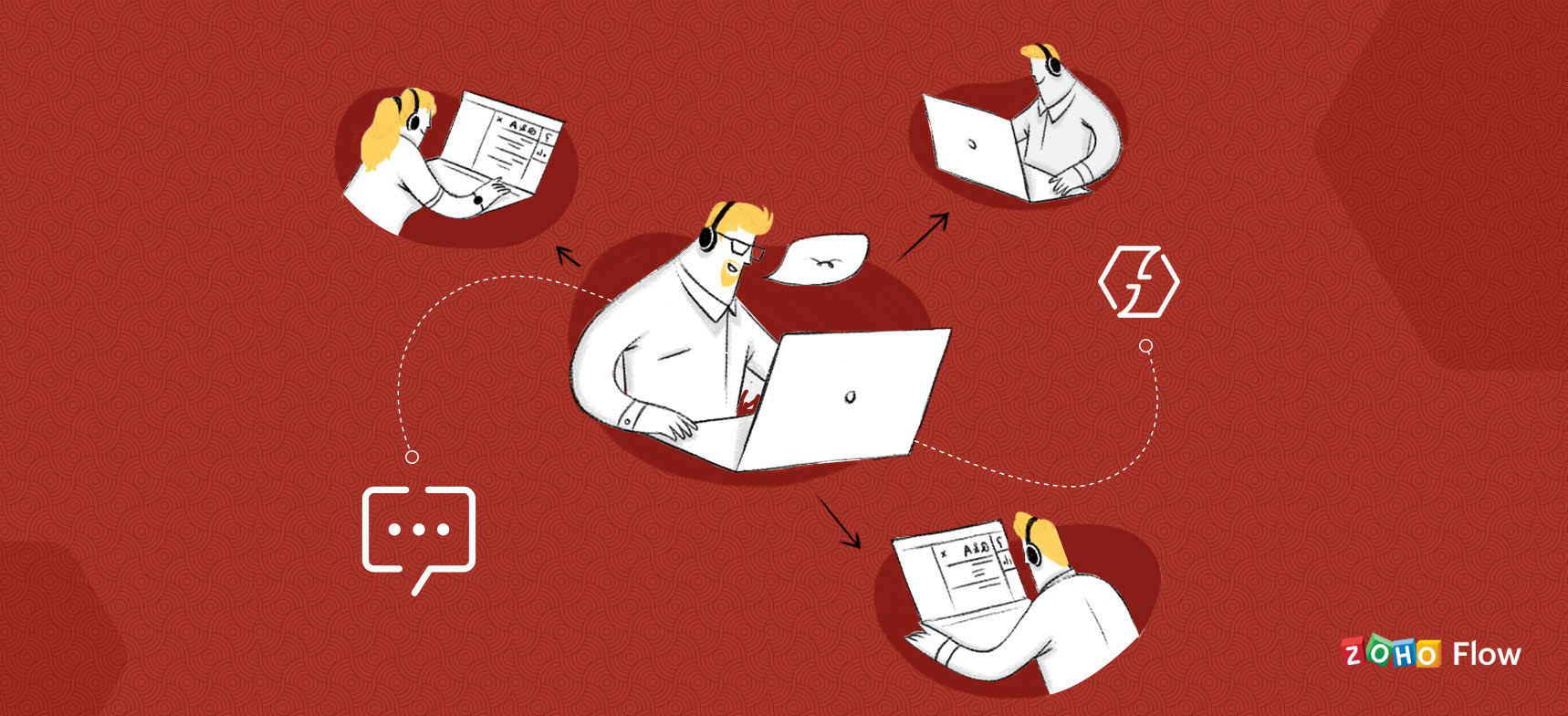 Over the past two years, team collaboration and chat applications have moved from being complementary tools for team communication to being absolute must-haves for businesses to get things done. The pandemic also pushed SaaS companies to build better applications that function well in all sorts of diverse conditions, factoring in remote work, internet connectivity issues, and meetings with hundreds of users joining simultaneously.
Nowadays, modern-day team-chat platforms have evolved to make audio and video calls, share files with your teams and clients, conduct online meetings, and much more. Regardless of the type of workspace you're in—physical or remote—an efficient team communication app can save you time and effort, and ultimately help teams get things done smoothly and on time.
Zoho Cliq excels in this regard, by being a comprehensive team communication platform that's efficient and feature-loaded. It's also received numerous accolades, like being named a Leader in multiple categories on G2 over the years. But that's not where its usefulness ends.
By integrating Zoho Cliq with your favorite apps, you can bring data and updates from all areas of your work onto a single platform. With clear communication between team members, there's more room for them to focus on work that will actually add value to the company and less for distractions and errors.
An app-integration platform such as Zoho Flow can help you create automated workflows by integrating Zoho Cliq (or any other business app) with hundreds of other apps in a few clicks—without you having to write a single line of code. We call these workflows flows.
What can you automate?
Let's go through a few integration ideas you can set up for your team using Zoho Flow:
1. Streamline projects and tasks
If your role involves managing multiple projects simultaneously, you know how difficult it is to create new channels, add the right members, create folders in your cloud storage, and schedule meetings every time you start working on a new project. A study found that only 35% of project managers are satisfied with the project management methods used in their organization. However, part of this dissatisfaction can be brought down by automating redundant tasks for yourself and your teammates.
For example, you can set up a workflow in such a way that every time a new project is created in your project management application, a new channel is created in Zoho Cliq with the relevant members assigned to that particular project. Another example would be automatically scheduling meetings whenever new projects are created in your project management app.
2. Respond quickly to leads
Did you know that responding to new leads within an hour generates seven times more conversations? Leads come from all sorts of sources—web forms, social media, events, blogs, and more. Keeping track of them and getting notified instantly should be of the utmost importance.
However, having to go through separate applications to manage each of those sources is a grueling task. Instead, you can set up a few flows in such a way that whenever new leads are created in your source applications, your team gets automated messages in Zoho Cliq right away.
3. Keep track of documents and contracts
Whether it's tracking contract agreements or reviewing content, if your role involves regularly managing documents, you're likely to miss one every now and then—only to realize it at the last moment. If this is you, you're not alone.
What you need is a set of automated workflows that keep you posted about the documents assigned to you. It's even better if it can give you reminders a few days before deadlines. One example would be a flow that triggers when a document is signed in Zoho Sign, and then sends you a message in Zoho Cliq.
4. Monitor your social media accounts
For businesses, social media has evolved from being a one-way medium to showcase their products and blogs to a place where users can directly interact with a brand in both pre- and post-purchase scenarios—in the form of likes, comments, feedback, complaints, or positive testimonies.
A study found that 78 percent of consumers are more willing to buy from a brand—and 77 percent would choose a brand over a competitor—after a positive experience with them on social media. This is why it's so important to be actively aware of what's happening on your product's social accounts.
However, with so many accounts, a few comments or mentions can easily go unnoticed. To manage this efficiently—without having to check them every few minutes—you can set up automated workflows that send you notifications in Zoho Cliq whenever your account is mentioned on a platform like Twitter.
5. Get notified about new support tickets
If your team takes care of hundreds of support tickets every week, it's crucial that you automate alerts for new tickets and reminders for remote sessions. It helps customer support executives respond quickly to new tickets and better manage their workload among themselves.
For example, you can set up a flow that sends an alert in Zoho Cliq when a new ticket is added in Zoho Desk. You can also add an extra step to the flow, to create a new task in your task management app or schedule a new meeting depending on the type of ticket received.
6. Manage bugs and issues efficiently
Apps like GitLab and GitHub are loved by software developers, because they're great platforms to collaborate on projects, get issues fixed, manage releases, and so on. However, when a new bug or issue is found, it needs to be assigned to the right developers immediately, documented, and resolved quickly. On some teams, this process can be slow and inefficient.
A part of this chaos can be attributed to ineffective communication between developers, content writers, and support engineers. The good news is that you can create automated flows to send channel messages as updates at each stage of fixing an issue, and keep everyone updated.
These are just a few among the thousands of flows you can create using Zoho Flow. Besides using the above-mentioned workflow ideas or prebuilt flows, you can go ahead and explore logic elements in Zoho Flow—such as conditional branching and delays—to customize your flows in exactly the way work is managed on your team.
In case you feel stuck, or if you want to explore more ways in which Zoho Flow can help your business, feel free to reach out to support@zohoflow.com.
Arjun

Technical Writer for Zoho Flow. A curious person who loves to write, think, and research.
Leave a Reply
Your email address will not be published. Required fields are marked