Reading Time:
4
minutes
Fulfillment by Amazon, or FBA for short, is a fulfillment service offered to businesses to help them sell their products on Amazon. FBA not only takes care of order fulfillment processes like receiving, picking, packing, and shipping, but also manages post-sales processes like returns, refunds, and customer service. It even allows businesses to store their products in one of Amazon's many fulfillment centres. Take a look at this guide for more on the basics of FBA.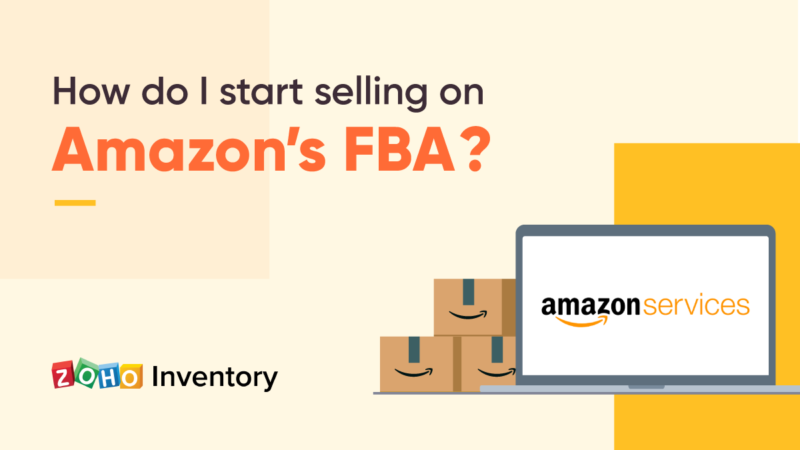 Before a business can start selling on Amazon, there are a few preparations that they must do. Here are six of the most essential steps for venturing into the Amazon marketplace:
1. Pick the right product and plan
Before you create an Amazon Seller Account, it's important that you're clear about what products you're interested in selling and what FBA pricing plan would suit your business.
While Amazon allows sellers to offer hundreds of different products, not all of them can be listed on the website immediately. Some products may require specific permission, meaning you may have to request approval directly from Amazon before you can sell. Take a look at this list to check whether the products you're interested in selling require approval.
Because each business receives a unique volume of orders, Amazon offers sellers two pricing plans to choose from:
The individual plan meant for businesses who sell less than 40 items per month. ($1 per item sold)

The professional plan for businesses who sell more than 40 items. ($40 per month) 
The individual plan charges $1 for every item sold and the professional plan charges $40 per month, regardless of the number of items you sell. So if you sell around 40 items a month, the professional plan would be a better option to choose.
2. Set up an Amazon Seller Account
To begin selling on FBA, start by setting up an Amazon Seller Account. This will require information about your business like your legal name, address, contact numbers, credit card information, bank account details, and tax information depending on where you're from. 
3. List your products on Amazon
After you finish creating your Amazon Seller Account, the next step is to add all the products that you want to sell to your account. When listing products, you'll need to specify three things:
What price you think is appropriate to sell your product for?

What condition your product is in. For instance, has the product been used or is it still new and yet to be unpacked?

Do you want Amazon to take care of shipping or do you want to ship it yourself?
Because most businesses either sell products that they've purchased from other vendors or products that they themselves have manufactured, FBA offers two ways to list products. If you're selling a product that you've purchased, you can search for the product in Amazon's pre-existing list using its name or barcode number. If you're selling a product that you've manufactured on your own, you can create a new product on the FBA website, give it a description, and then add it to your list.
4. Mark your items as FBA
Once you're done listing your products on Amazon, you need to mark the products that you want to fulfil through Amazon FBA. This is because FBA doesn't mandate that you use their services to sell all of your products; you can choose what products you'd like fulfilled, and mark them accordingly.
Also, for every product that you want fulfilled through Amazon, you'll need to choose whether you want to label them using FBA Label Service. If you opt for FBA Label Service, then Amazon will take care of labelling your products with their customized stickers, for the price of 20 cents per item. If you choose to keep your products free of any labels or stickers, Amazon will group your items along with others of the same type and model that are being sold by other sellers.
This is helpful every time a customer from a distant location places an order for one of your products. Since it could cost a lot to ship from your location, Amazon instead delivers a product of the same type and model but from a another seller who lives closer to the customer.
5. Map out an FBA shipping plan
Right after you list your second product, you will be asked to create a shipping plan. This plan is for shipping your products from wherever you've stored them to Amazon's fulfillment centers. To set up a shipping plan, you'll have to provide the address of the location where you have stored your products and the type of packing you've used. The most commonly used packing styles are:
Individual packing, where each product is packed individually, or

Case packing, where a group of the same product is packed together.
When you're done, you can add all the products that you would like to sell to this shipping plan.
6. Send your products to Amazon
Now that you've finished creating a shipping plan, all that's left to do is to send your products to Amazon and wait for customers to purchase them. You'll have to provide some information in this step, like how many units you will be shipping, if your products require additional packing, and your labeling preferences. After this, you can either ship your products to a fulfillment center yourself or ship your products through one of Amazon's Partnered carriers.
After a lot of thought and consideration, many businesses decide to start selling on Amazon's FBA, but they aren't quite sure how to begin. If you are in a similar situation, we hope these steps provided you with some clarity. Amazon may seem like an intimidating platform to sell on, but FBA goes a long way to making the process much easier.