Reading Time:
4
minutes
Purchase orders are a pivotal part of procurement. They formalize orders and pricing, add structure to the purchasing process, and serve as legally binding documentation of a sale. A streamlined purchase order system keeps the purchasing process running smoothly, ensures successful transactions, and supports a healthy supply chain for your organization.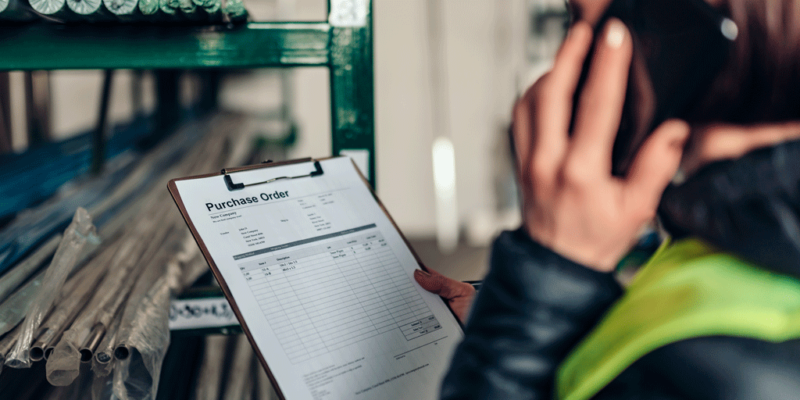 However, if your organization's purchase orders are causing chaos, requiring excessive intervention by management, and leading to lengthy email threads, you need to revisit your practices. Lack of proper guidelines and workflows at each step of the purchase order process can lead your organization to waste funds and allocate resources incorrectly, which may be detrimental to your company's bottom line in the long run.
In this article, we will walk you through the industry's best practices for preventing bottlenecks, optimizing the efficiency of your purchasing operations, and getting the most out of your procurement process.
Evaluate your organization's current purchase order process
Start by reviewing how purchase orders are currently managed by your organization and analyze the types of challenges that arise at the different stages between purchase order creation and closure. After analysis, communicate with the appropriate stakeholders across your organization to identify the source of these challenges, and discuss ways to solve them. More often than not, simply having a discussion with the directly responsible individual (DRI) to hear their feedback on tackling issues and improving processes goes a long way.
Establish practical guidelines
As your business scales and your overhead expands, it's essential to document the purchase order process. The best way to go about this is by drafting crystal clear policies and guidelines around the purchase process. Generate an e-book or booklet that covers the processes of creating purchase requisition forms and purchase orders, evaluating suppliers, establishing internal approval workflows, identifying budgetary constraints, defining conditions for policy exception approval (e.g: purchase orders that exceed the set limit), and more. This standardizes the entire process, making it easy for employees to understand and follow procedures. It also reduces miscommunications and ambiguity of any sort (especially when choosing or dealing with vendors) and simplifies the transfer of knowledge to new employees.
Create customized approval workflows
Purchase orders are typically subjected to an extensive approval process before they are forwarded to the vendor. This helps safeguard the organization's cashflow and reduces the risk of fraud and maverick spend. Purchase order approval workflows will differ based on the organization's budgetary constraints, size, and industry sector. For an approval workflow to be effective, it must be flexible and well-balanced, and it should assign approver roles to appropriate stakeholders.
If authority is not assigned to the right employee, purchase orders that require a specific approver's validation will end up passing through multiple escalations and re-assignments. To prevent this from happening, low-level purchases required for day-to-day operations should be submitted to the line manager. High-value purchases should be routed through two or three stakeholders (sometimes even the CXO) for approval. This organized system helps managers spend against their departmental budgets, empowering them to approve or deny a request based on the budget.
It's important to note that approval workflows that are too rigid and tedious prolong the approval process and lead to decreased productivity and efficiency. But if the process is too liberal, you may lose money due to inaccurate orders, choosing the wrong vendors, and over-stocking. This is why you must meticulously design and implement appropriate and efficient approval workflows. 
Enhance your vendor database
Generally, businesses prefer placing orders with known and trusted vendors, and do not look elsewhere unless the vendor's service is poor and impacts the organization negatively. This is why it's important to maintain records of all the vendors your organization has placed orders with. Include their contact details, a description of the products or services they offer, their prices, their payment terms, and more. This database must be accessible to all buyers or stakeholders who participate in the purchasing process. 
An updated database accelerates purchase order creation and validation, since the buyer can simply find a verified or preferred vendor, retrieve the necessary details, and add them to the purchase order. This saves your employees time and effort that would otherwise be spent looking up data from past purchases.
Leverage technology to automate and digitize
It's well-known that manual processes are expensive, error-prone, and time-consuming. By investing in robust procurement software, you can automate and structure the entire purchase order process. Doing so enables your employees to manage and track the status of multiple purchase orders, items, and vendors, apart from automating approvals, shortening cycle times, and better-managing vendors and contracts.
Categorize and set spend limits:
Using procurement software, you can organize products into different categories (like equipment, office supplies, and raw materials) and sub-categories. This simplifies the process of setting spend limits and defining exceptions for different categories. As for the buyers, a well-organized database makes it easy to retrieve item details and stay within budget.
Budgeting and approval:
With the right software, finance teams can set budgets on a departmental level to curb overspending and gain in-depth visibility into the planned spend vs. actual spend. They can also set approval workflows to verify that purchases fit the organization's budget and purchasing policy. This way, when an item included in the purchase order exceeds your budget, your software flags it automatically and notifies the approver and submitter.
Vendor and contract management:
Most procurement software come equipped with vendor and contract management features. They provide powerful dashboards with full contact visibility, approval dates, and details on contract utilization and compliance. They also feature auto-alerts, which are triggered at critical points in the contract lifecycle, so you can promptly plan contract renewals, reviews, or rebids. Easy access to all this data prepares you for audits (both internal and external) and supports effective contract completion.
Here's your takeaway!
How you manage your purchase orders will be reflected by your organization's bottom line. By leveraging technology, you can automate the entire process and ensure employee and supplier compliance throughout. This way, you can rest assured that every purchase order is optimized and accounted for, helping your organization secure the most value from every purchase.