Reading Time:
5
minutes
Metered billing is a pricing model where the customer is charged based on their consumption level of the product or service.
Typically, under metered billing, the customers subscribe to the product plan that will include a base price for a specific usage limit. Once the customers cross this limit, they are charged extra for every additional unit of consumption.
For example, consider a business that provides cloud storage service. Under the Basic plan, a customer can use up to 10 GB of cloud storage and will be charged $5. If the storage usage exceeds 10 GB, the customer has to pay an extra amount (overage price) based on their additional usage.
How metered billing benefits your business?
In metered billing, customers are charged based on the actual usage of the product. Therefore, they don't feel like they are being charged unfairly for the features they don't use.  This also helps them feel that they are in control, as they are accurately paying only for what they use. This results in customer satisfaction, which in turn leads to high customer retention.
Several SaaS businesses combine subscription billing and metered billing models to charge their customers. By doing so, they create additional revenue on top of their standard subscription model. The twin benefit in this model is that while the subscription model gives the predictability of revenue, the usage-based billing allows you to gain additional revenue since customers are charged for every unit of additional usage.
Increase customers lifetime value
With metered billing, your customers are accurately charged only for what they use. This means the product usage can be tracked with time-specific data that provides insights on when and how much customers used your product or service. You can use this information to execute target marketing and help your customers get more value out of the product. For example, it's common that some of your customers won't try certain features of your product, simply because they don't understand how to. By tracking and analyzing their product usage patterns, you can reach out to your customers and educate them about certain important features that are underused.  This way, you can retain more customers and increase their lifetime value.
When should you consider metered billing?
As simple and advantageous as metered billing seems, it is only suitable for some businesses. Here are some factors you need to consider before implementing metered billing.
Ability to quantify
An important prerequisite to implement metered billing is that the product usage must be able to be broken down to specific units. It should also be easy to identify and understand. You must decide on a value metric that determines the value of the service you provide and quantifies the customer usage, based on which you can monetize the product.
Decide on the value metric
The metric based on which the usage of your product shall be monetized is called the value metric. The value metric differs between businesses, but some of the commonly used metrics in metered billing include:
Here, the more users your customer gets, the more profit you get out of their subscription to your product or service. This is because the pricing scales linearly with the number of users.
Charging the customer based on the number of users is commonly found in many subscription-based businesses. This is especially true in the case of SaaS-based products that enable collaboration in businesses.
Here, the customer is charged based on the number of events they process. This metric is commonly used by the SaaS products that provide API services. Amazon Web Services(AWS) charges per API call, and MessageBird charges based on the number of SMS and emails used.
The customers are charged based on the volume of data consumed. Telecommunication services and cloud service providers use this metric widely.
Determine the pricing model
In metered billing, there are different pricing models under which you can offer your services to the customers. This depends on the type of product or service you offer.
The following common pricing models are widely adopted:
This is a commonly adopted pricing model where customers are charged on a per-unit basis. For instance, the customer will be charged $10 per month if there is only one user in their business. If they have 100 users, the bill amount will be $1000 ($10 * 100) per month. Other examples include pay-per-ride services provided by many carpooling businesses, and pay per API like Amazon Web Services.
Here, the charges for the per-unit usage changes depending on the total usage volume at the end of the specific period. Here, the customer gets the same features irrespective of the volume used. However, as the volume of consumption increases, the per-unit cost decreases. The volume-based model is commonly used and is now widely seen in businesses other than SaaS as the subscription economy expands to several industries.
For instance, Ford had introduced an auto subscription service where the volume-based pricing is the core component. Here, the value metric in this volume-based pricing is miles driven. The basic plan included 500 miles free of cost. If the user purchases an additional 360 miles, the new cost is $0.10 per mile, whereas, for an additional 750 miles, $0.09 per mile will be charged. The more the user drives the car, the less they pay per mile driven.
Here, the pricing of the product or service is structured in tiers. Each tier has limits and is priced separately. Once the customer hits the upper limit of a particular tier, they are upgraded to the next tier, which provides additional functionalities.
For example, Mailgun is an email service provider that uses tiered pricing to charge its customers. The customer can choose a plan based on the number of transactional mails they will need to send each month. As most businesses have dynamic demands for email communication, choosing one plan, and committing to a fixed number of emails won't be feasible. Therefore, if the number of emails used goes beyond the limit of the subscribed tier, $0.80 is charged for every additional 1000 emails.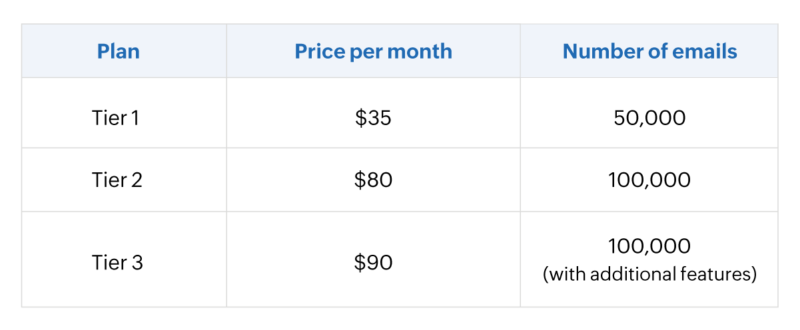 For instance, a user under the tier 1 plan will get 50,000 mails at $35 per month. If the number of emails used went beyond this limit (say 80,000 mails), they will be billed $24 for the 30,000 extra emails that are sent beyond the 50,000 limit. The total bill amount will be $59, which is comparatively cheaper than the next tier plans ($80 for 1,00,000). For the customers who are satisfied with the Tier 1 features but want more than 50,000 mails, providing this addon would please them because they only need to pay for the additional mails they use instead of upgrading to the next tier to satisfy that single requirement.
In a multi-attribute pricing model, the final cost of usage of the product or service is calculated based on multiple factors. For example, consider the pricing model of Zipcar, a car-sharing company. They charge their customers for renting a car by the hour. However, the price depends on different variables, such as the location, the car model, peak seasons, and peak hours. Depending on these attributes, Zipcar charges per hour rate for the rented car.
Usability of the products
One good way to determine whether metered billing will be suitable for your business is to consider the cost incurred by your company. Metered billing may not be appropriate if the company costs do not change with respect to customer usage. However, if the customer usage quantities directly impact your overheads, and you find high costs in the periods that are associated with spiked customer usage, then implementing metered billing could be a smart move.
Key Takeaway
Enabling customers to pay only for what they use not only empowers them but also increases their satisfaction. When customers are satisfied and trust your business, retention becomes easier. Needless to say, your revenue grows along with your happy customer base. If your business fulfills all the criteria listed above, then your business is best-suited for metered billing, and you are all set to implement it.
With Zoho Subscriptions, you can offer flexible per-unit pricing. Here, you can charge your customers the stated subscription fee for a plan with a set usage limit and if they use more than what the base plan allows, metered billing charges them a suitable per-unit overage fee.