5 steps to start an online business from home
Last Updated: January 3, 2022
533 Views
6 Min Read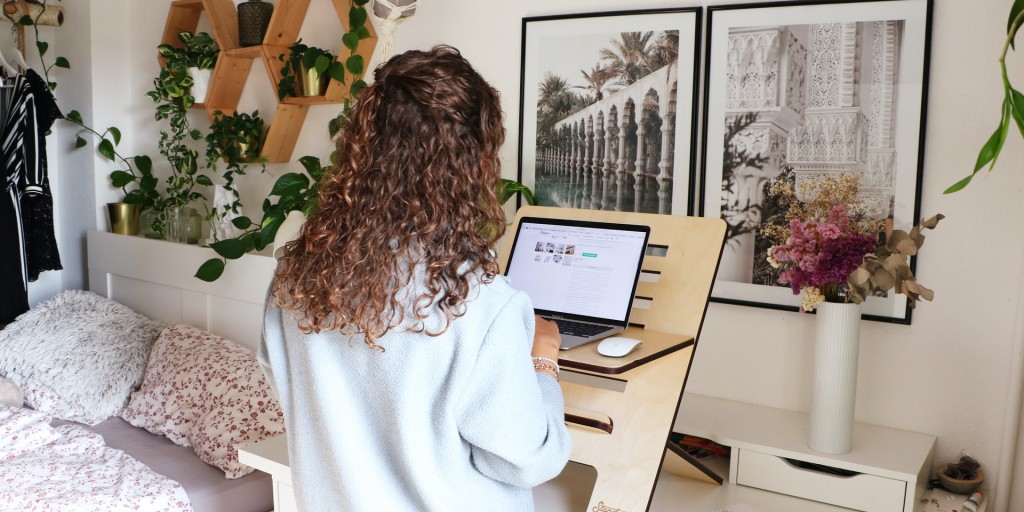 Who wouldn't love making a living from the comfort of their home, sitting in front of a laptop wearing the comfiest pyjamas?
If you're reading this post, we bet the potential of online money-making has excited you.
Yes, running an online business does have its perks and rewards, but it's crucial to realise that it won't be easier than running a traditional business with a physical storefront. Just like any other business model, online businesses require serious effort and commitment to become a success.
If you're wondering how to start an online business, this post will act as a general guide to help you start your online business journey with ease.
1. Start with an idea
The first step in starting a business is to come up with a winning idea, which of course, isn't easy. In most cases, you won't be the first person to come up with a solution to a given problem. And that's completely alright. For your business to stand out from the crowd, you need to identify the right pain points, come up with an idea that can fill in the gaps, and give people a better deal than your competitors can. If you're confident that you'll be able to provide a product/service at a competitive price or quality, you can be assured that your idea is worth pursuing.
Take Zoho, for example. We offer over 45 solutions to help businesses of all sizes run smoothly. However, like any other industry, the SaaS market is fiercely competitive. For us to succeed, we constantly have to innovate to come up with new and better business solutions that can help us push past the competition.
Here are a few tips to keep in mind while choosing an online business idea:
Try to choose to compete in a market where there is room for innovation.

Leverage social media and online forums to discover more about people's interests and problems.

If you don't have any prior experience, talk to industry experts and equip yourself with enough knowledge before venturing into the field.

Above all, your business idea should be something that you're genuinely passionate to pursue.
2. Conduct market research
Before investing your time and money, you need to be sure that your idea is worth pursuing. You need to know where your product or service will stand in the market. One good way to start is by analysing market reports, competitors' case studies, news articles in your industry, and statistics that relate to your business potential. Once you get the basics, you can then go on to gather specific information about your customer base, its buying habits, and search preferences. You can do this yourself through questionnaires and surveys, or by using tools like Ubersuggest and Answer the Public.
Through your research, you'll uncover some key information like:
How much your potential customers will be willing to pay for a specific service

What attracts people to your competitors

What new aspects they'd like to see in a service

What will it take for someone to choose you over your competitors
Once you have this information, determine who your product is likely to appeal to, and create a customer persona—a semi-fictional representation of your ideal customer. Think of your customer persona as your favourite character in a book—you should know everything there is to know about them, including their age bracket, working conditions, education, living arrangements, earning potential, and geographic location. All of this will shape your business' tone and messaging. From defining your target audience, to narrowing down what you will sell, and to learning how to bring in customers, good market research can give you all the critical information necessary to avoid costly mistakes.
Check out this extensive guide by Zoho Academy to learn how to conduct market research for your business.
3. Know your legal obligations
Like any business, you need to comply with specific industry standards, copyright regulations, licences, permits, and various business laws. To avoid complications down the line, be proactive to ensure that every step you take from the start is compliant with all the necessary regulations that apply to your business. Consider speaking to a legal advisor to stay on top of laws, and set up your business mindfully.
Here are a few links to help you continue your research on the legal aspects of running an online business:
Legal essentials for business - business.gov.au
Rights & responsibilities as a business online - Australian Competition and Consumer Commission - ACCC
Doing business online - Business Queensland
Registering a business name - Tech Talk Down Under
4. Be clear about your business planning
Depending on your business requirements, you need to frame an actionable business plan that can help you kick start your online business journey with ease. For example, if you decide to run an online nursery store, you must clearly define aspects like:
Business structure: Are you going to run your business solo, or in a partnership? Do you want to register your business as a company or trust? Choosing your structure early is important because it will determine:
How you legally operate

How your profits will be distributed

Who can take key business decisions

Your tax obligations
Although you can change your business structure down the line, it's important to understand your responsibilities and consider how you want to expand the business in the future. Check out our blog to learn more on basic Australian business structures.
Finances:
Good financial management is imperative for any business to succeed. Managing your finances is all about making wise choices on your spending, and figuring out in advance:
How to allocate your business finances

How to maintain cash flow

What to do when your business runs out of cash

How to build a cash reserve

How to reinvest in the business
Human resources:
Determining employee responsibilities and duties

Being clear on individual roles and whom they should report to

Taking care of salary payments, leave policy and employee benefits

Measuring employee performance
Your online business does not necessitate physical interactions with employees, but it is your obligation to look after their well-being and be prepared to meet your their needs.
Business operations:
Where to source your products and store your inventory

Determining your supply process (deciding if you should buy stock from the supplier beforehand, or only when an order is placed by a customer)

How to work with a third-party logistics provider

Business applications you need to carry out your operations with ease

Return and refund policies

How you're going to promote your business

How to request, and act on, customer feedback
Your business plan should act as a blueprint and give you clarity on how you'll start and carry forward your operations.
5. Get online
Given that you will not be establishing a physical storefront, a website is an absolute necessity for your work from home business. Your online presence is the only way for people to know who you are, and what you have to offer them. It's worth going the extra mile to set up a professional and user-friendly website. If you can't afford a programmer or a web designer, you can use an online website building tool to get the job done. A good website builder can save you the cost of additional hires and can be a perfect all-in-one solution for creating and managing your website on your own. If you're looking to learn more about website builders, we encourage you to sign up and try out Zoho Sites. Our online website builder is easy to use, and has a variety of valuable features to help you build a professional business website without burdening your budget.
Final thoughts
Starting a business isn't easy. From acquiring your first customers to building a loyal customer base, it can take time for your business to get off the ground. So don't get discouraged if your business doesn't take off right away. Track your progress, learn from your mistakes, and be quick to bounce back on track. It might be exhausting to start a business from the ground up, but the end reward of being your own boss, and building a thriving business is worth working for.
Leave a Reply
Your email address will not be published. Required fields are marked