Zoho Show has grown and evolved by leaps and bounds over the past years and we are constantly adding new features and improved functionalities to make your experience even better. Visit this page to know about the latest enhancements.
09.11.2013
New Slide Transition: Swivel
Just In: Spinner & Wipe Effects
08.22.2013
New Gray Interface
Zoho Show now sports a fresh look with the new gray interface that looks more neat and professional. You will find the menu tabs well organized with feature sets smartly grouped under each tab. The new UI also aims to provide a consistent user experience across other document editors within Zoho Docs.
More Animation and Transition Effects
Animations and Transitions are a great way to make your presentations more engaging. When used wisely, they can even act as a powerful aid to visually communicate more complex ideas simple. Here is an opportunity to choose from a wider gallery of animation and transition effects, with many new styles to spice up your presentation.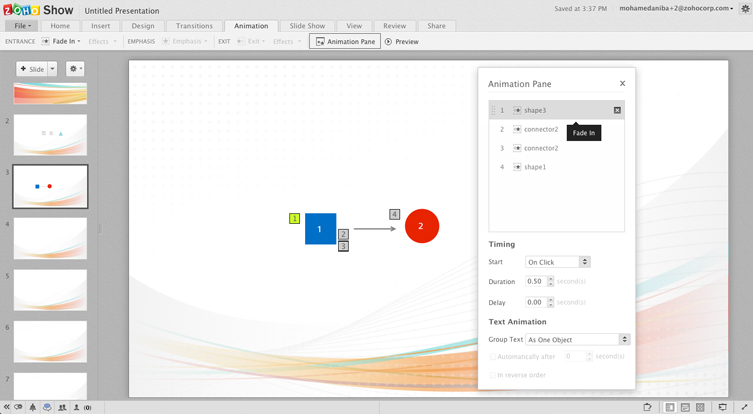 Video Search
Videos are powerful when it comes to delivering a memorable visual experience to your audience. We have now made the process of searching and embedding videos in your presentation simple. To start with, you can embed videos directly from YouTube and Dailymotion. Sure, we will extend the possibilities in future. Watch demo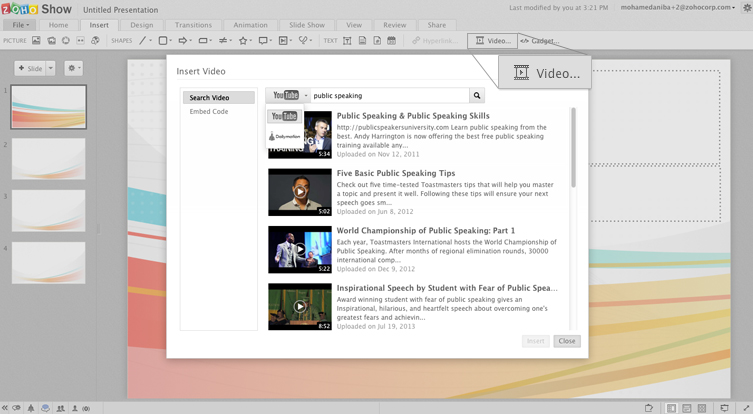 Picture and Shape Pre-sets
Once you have inserted a picture or a shape, you'd want to add effects to make it more prominent. Shadow, reflection or gradient and texture fills are few of the most popular effects that you can choose to emphasize an object on a slide. To make it easier for you, we have added Picture and Shape presets under the respective formatting tabs. Just pick one from the readily available built-in variations and keep building your slide deck.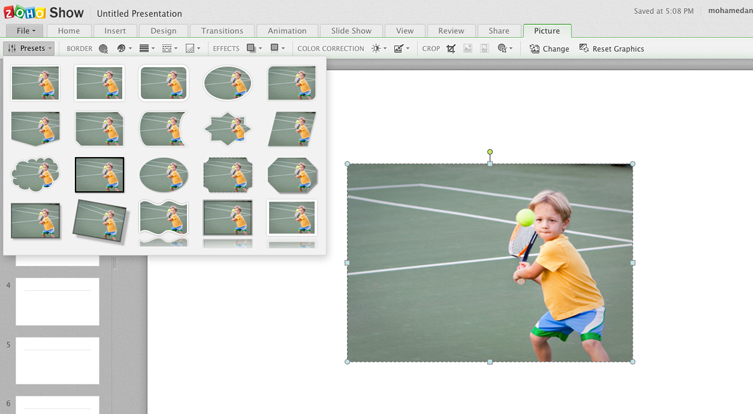 Dynamic Picture and Shape Formatting Tabs
Wondering where the Style tab meant for picture and shape formatting has gone? Well, we've trashed it just to make it better. Now you'll find the tab only when you actually need them. Click on the shape or a picture and you'll see the format tab right there on the menu.
05.14.2013
Share Presentations to Non-Zoho Users
All this while, you were allowed to share your presentations only with people who have registered with Zoho. This update, we have made it more flexible by letting you share presentations to non-zoho users, that is, with people who have not registered with Zoho. When you choose Anyone with the link, a link is automatically generated which you can share through email to specific audience.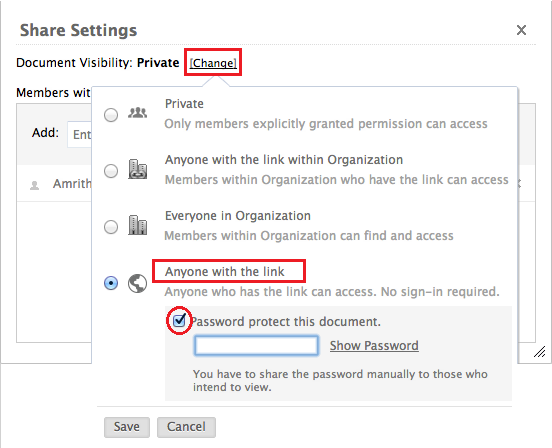 04.30.2013
Collaboration Notification: See Who is Editing the Presentation
Co-authoring a presentation has always been easy and effective with simple file sharing, real-time edit views and live chat functionality. This update, we have made it even better with the live edit notifications. You will now be able to see who is editing the presentation and exactly where they are working in a document. A part of the content will be highlighted and marked with the name of the person who is currently editing the presentation.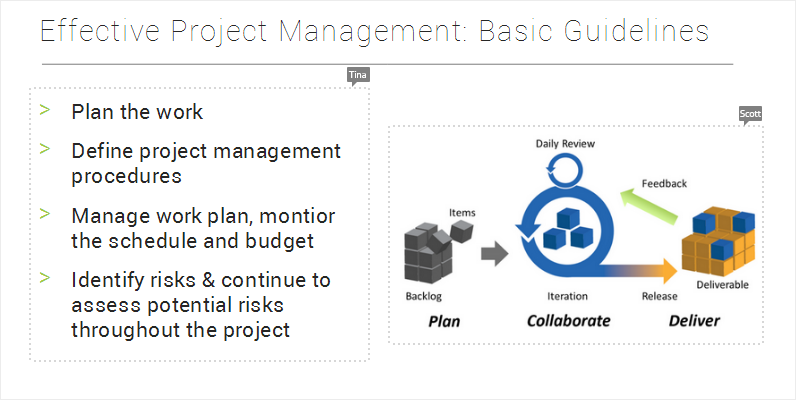 04.30.2013
Smart Guides
Aligning objects on a slide just got easy with smart guides. Smart guides are the dotted lines that appear default, when you try to position an object on a slide. The smart guides will come in handy when you are aligning multiple objects in a context, for instance; while creating flowcharts and diagrams. You can also extend the usage of smart guides to images, text boxes and media files.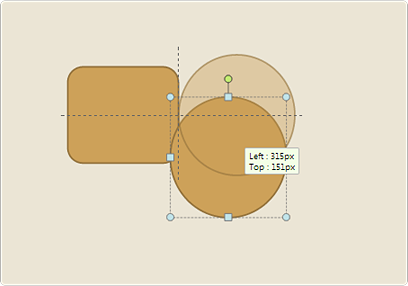 02.12.2013
Wide Screen Presentations (16:9)
Big screen presentations are now possible with Zoho Show. The new set of themes is specifically built for the widescreen aspect ratio of 16:9. Your slides will be less cluttered, as there is more room for the content.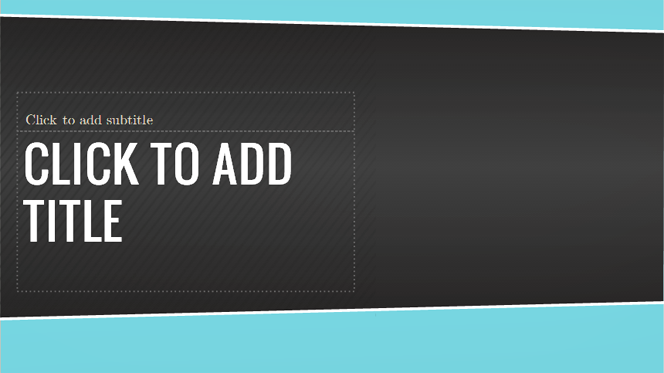 02.12.2013
Picture Placeholder
Adding images to your presentation just got easy with the new picture placeholder support. You can now fit images into one of the pre-designed shapes, while maintaining a consistent style and position. Image re-sizing and cropping is made simple and painless.

02.12.2013
Web Fonts
We seldom realize that fonts can actually make or break the overall effectiveness of a presentation. Wise choice of fonts can help you create powerful visual content that is highly engaging. This release, we have added around 20 new web fonts. Sure, there is lot more to come.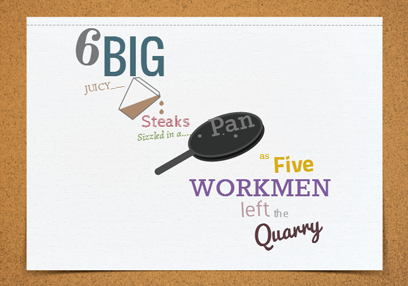 02.12.2013
20+ New Presentation Themes
Themes are merely not a design for presentation template; this is where first impressions are formed. Be it a casual presentation or a very formal business meet, the new themes are just perfect for all the occasions. Each theme looks unique; with a clean and recognizable layout, fresh color scheme, and minimal design that gives a lot of scope for your content.

11.27.2012
Radial Gradient Effect
A gradient is a gradual blend of two or more colors or slight variations of the same color. Gradients can be used to modify shapes or to create compelling slide backgrounds. There are basically two types of gradients - linear and radial. We have been supporting linear gradients for quite some time now, and this release you can see the radial gradients in action too. The transition of colors takes a circular path in radial gradient and these are predominantly used to add effects on circular objects.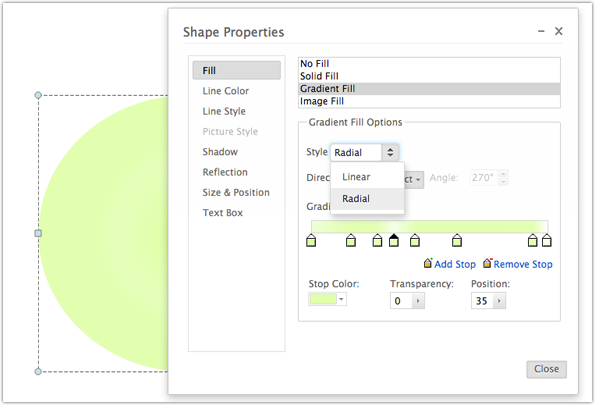 11.23.2012
Zoho Show Gets Integrated With Zoho Docs
In a step to unify and showcase the office apps under one common web address, Zoho Writer, Sheet and Show are integrated with Zoho Docs and from now on, all the three services will be accessible from the Zoho Docs URL: https://www.zoho.com/docs
Zoho Docs provides a centralized UI for Writer, Sheet and Show documents. All the documents you create in Zoho Writer, Sheet and Show are stored in Zoho Docs by default. Previously the Zoho Writer, Sheet, Show documents, were accessible from their respective urls. Now they will be accessible from one common URL, making accessibility to these apps easier.
The following are the URLs that will be redirected to the Zoho Docs URL: https://www.zoho.com/docs
Zoho Writer: https://writer.zoho.com
Zoho Sheet: https://sheet.zoho.com
Zoho Show: https://show.zoho.com
11.06.2012
Overall Performance Improved

This update, we have taken efforts to improve the overall performance of your presentation editor. Slides once rendered, will never re-render again. You can see this evidently while resizing the thumbnail area and also while zooming in the editor area. Slide shows will load and render faster.
11.06.2012
Shadow Blur and Transparency for Images
There are unique ways to set the tone of the images that you add to your slides. Create that desired tone using shadow blur and transparency effects.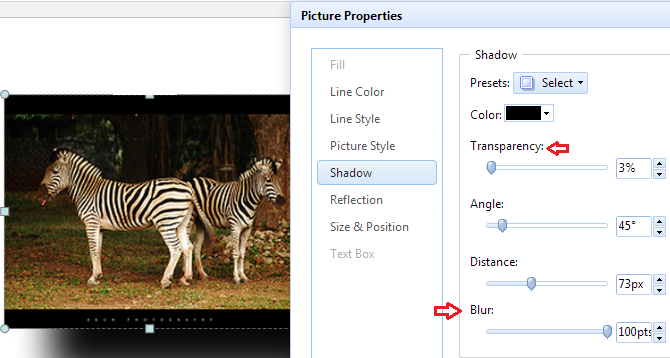 11.06.2012
Slide Number and Slide Notes in Shared Presentations
A shared presentation in slide show mode will now show the slide number and slide notes. It's just not the content on the slide, you can share lot more related information through slide notes.
11.06.2012
Search Images from Web
Looking to add some nice images to your presentation? Search it directly from the web, actually without leaving the editor. You just have to type the keywords there to find the relevant images.

11.06.2012
Share Presentations on Social Media
Make your presentations social. Sharing on Facebook And LinkedIn is just a click away.

09.21.2012
Crop an Image to Shape
Quickly mold images into one of the pre-defined shapes. You will get to see your images beautifully transforming into interesting shapes.

09.21.2012
Embedded presentations sports a nicer look
The embed toolbar now sports a nicer look and feel. We have refined and improved the embed options further. You'll now be able to easily get a custom embed code for your presentations.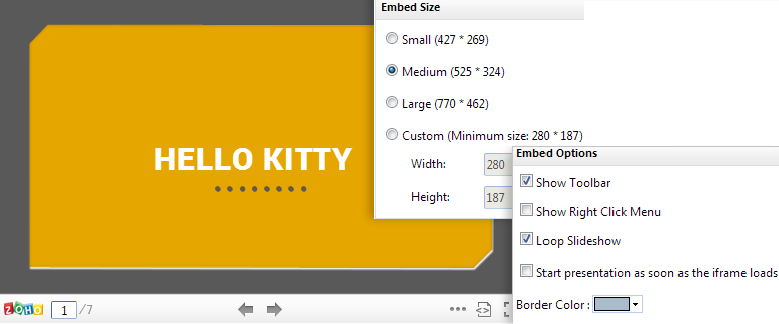 09.21.2012
View Presentations on your Android Phones
With Zoho Docs android app, you can view presentations on the go. Though editing a presentation is not possible now, we will soon be supporting it.
09.21.2012
Show Mote
Show MOTE is an iPhone app for Zoho Show. The app works in tandem with Zoho Show to provide wire-free mobility when you are delivering your presentation. Basically your iPhone acts as a remote to your laptop. The app can be downloaded from ITunes Store:
http://itunes.apple.com/us/app/showmote/id530091329?mt
09.21.2012
Export to PDF
You can now export your presentations as PDF documents.
09.21.2012
Enhancements in Remote Presentation
To help you deliver engaging remote presentations, we have been adding several functionalities to remote broadcasting feature and this time it is the laser pointer and the text and shape animation that makes it to the list.
While presenting virtually, laser pointer helps you to draw audience's attention to specific data points and keep them engaged.
You can see the shapes and paragraph on the slide getting animated on double click.
05.02.2012
Slide Orientation
Slide orientation in Zoho Show allows the presenter to create slides in Landscape and Portrait modes. Portrait slides opens up doors to creative opportunities helping a presenter to think beyond the run-of-the-mill presentations.
Landscape slide layout is seen default and it can easily be changed to portrait mode when needed. The Slide Setup menu also gives the presenter an option to choose from different screen types: 4:3, 16:9 and 16:10.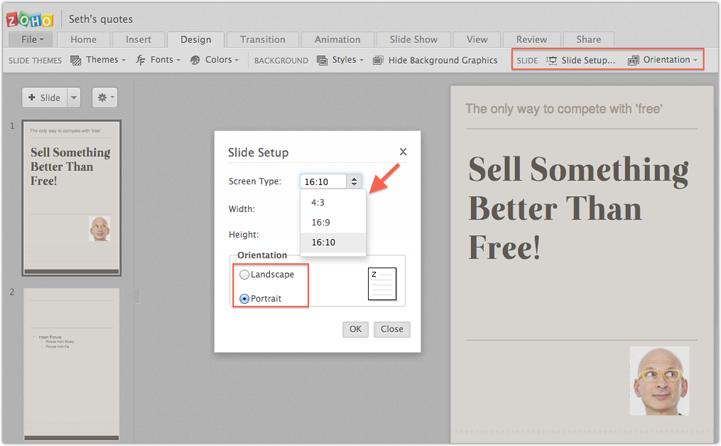 05.02.2012
Line Connectors
Connectors are the lines that are used to connect shapes and they stay connected even when you move the shapes around. Creating flowcharts and diagrams is now easy with these self-routed connectors.
05.02.2012
Masters & Layouts
Master slide helps you to make changes to all the slides at a go. You can set text formatting, slide background, slide themes in a master slide that gets applied to all the other slides in a presentation. Every presentation has a master slide with corresponding layouts beneath it. You can insert or duplicate a specific type of layout. Zoho Show also allows you to customize the available layouts. You can do this by adding placeholders specifically for content, text and picture.
05.02.2012
Zoho Show 3.0 Release
We are excited to launch the new, improved version Zoho Show 3.0 that promises to deliver the best experience of creating and delivering presentations online. You can now take your presentations wherever you go, apply new ideas instantly, review, edit, share and deliver presentations on the go.
09.27.2011
Zoho Show 3.0 Beta is out
We are happy to announce the beta release of Zoho Show 3.0, the newest version that lets you create visually appealing presentations and deliver them anywhere and anytime. It's a complete make-over, click through the presentation below to see what's in store for you.