File Previews
File Previews
Introduction
Previews give you a comprehensive summary of your long document, video, or image album. They let you see what's inside your file at a glance.
The following information about previews in Zoho Docs will help you:
Use the preview toolbar.
Edit MS Office files.
Know supported file formats.
Understand preview errors.
Learn the allowed file size for different file types.
The Preview Toolbar
The preview toolbar options let you perform a variety of actions without opening individual files. These include:
Sharing files
Printing files
Downloading files
Opening files in new tab
Viewing files full screen
Zooming in
Rotating images
Viewing file properties
Commenting on files
The drop-down menu contains additional options: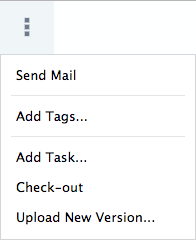 Send Mail lets you email files from the preview screen.
Add tags or keywords for each file to help you find them easily.
Use Add Task to assign items to anyone on any file.
Check out a file so that no one else can edit it while you're working on it.
Upload new versions of files and create different names for each version.
Note
Permission settings affect the available options for shared files. For example, the preview toolbar of a read-only file will not have the share option.
Edit MS Office files
When you upload a MS Office document, you'll have the choice to convert it to Zoho format.The conversion option is turned off by default. If you upload the document without converting, you can preview it and edit it by choosing Open with Zoho Writer from the preview toolbar.
To edit an MS Office file:
Click Open with at the top-left side of the preview toolbar.
In the drop-down, click Zoho Writer. A window will appear.
Read the message and click Continue to proceed. The document will open in Zoho Writer.
Note
When you open a MS Office document with Zoho Writer, a copy of the file is created in Zoho format. Your original file will remain intact.
File Preview Errors
You may not be able to preview a file if:
You enter an incorrect password.
The file conversion fails.
The file size exceeds the stipulated limit.
The file extension does not match the format.
There is no file extension.
The file format is not supported.
It is a spreadsheet containing more than 65536 rows, 256 columns, or two million cells.
Previews - File size limits
Video - 500MB
Audio - 100 MB
Document - 10 MB
Spreadsheet - 10MB
Presentation - 100MB
PDF - 20MB
Zip file - 50 MB
Developer file - 50 MB
Supported File Formats
Images
| | | | |
| --- | --- | --- | --- |
| .ai | .bmp | .gif | .jpeg |
| .jpg | .png | .psd | .ttf |
Videos
| | | | |
| --- | --- | --- | --- |
| .3g2 | .3gp | .3gpp | .avi |
| .flv | .m4v | .mkv | .mov |
| .mp4 | .mpeg | .mpg | .ogv |
| .vob | .webm | .webmv | .wmv |
Audio
.m4a

.mp3

.oga

.ogg

.wav

.wav

.webma
Documents
.doc

.docm

.docx

.dot

.dotm

.dotx

.ds

.odt

.rtf

.tex
PDFs
(Please note that the file size limit for previewing .pdf, .ps, and .eps formats is 20 MB and .tiff is 50 MB.)
Zip
Spreadsheets
.csv

.ods

.sxc

.tsv

.xls

.xlsm

.xlsx
Presentations
.odp

.pps

.ppsx

.ppt

.pptx

.sxi
Developer files
| | | | |
| --- | --- | --- | --- |
| .1c | .adoc | .ahk | .aj |
| .al | .ald | .alf | .applescript |
| .armasm | .as | .asciidoc | .atom |
| .au3 | .bash | .bat | .bf |
| .c | .c++ | .capnp | .cc |
| .ceylon | .clj | .cmd | .coffee |
| .coffeescript | .conf | .cpp | .cr |
| .cs | .cson | .css | .d |
| .dart | .delphi | .diff | .dos |
| .dst | .dust | .elm | .erl |
| .f90 | .f95 | .fs | .glsl |
| .gms | .go | .golo | .gradle |
| .groovy | .gsh | .gvy | .gy |
| .h | .h++ | .haml | .handlebars |
| .haxe | .hbs | .hpp | .hs |
| .hx | .iced | .ini | .irb |
| .irpf90 | .java | .js | .json |
| .jsp | .lasso | .less | .lisp |
| .livescript | .log | .ls | .lua |
| .mak | .md | .mel | .mk |
| .mkd | .mkdown | .ml | .mli |
| .mm | .mma | .nb | .nc |
| .nsi | .nsis | .objc | .oxygene |
| .pde | .perl | .php | .php3 |
| .php4 | .php5 | .php6 | .pl |
| .plist | .profile | .prop | .properties |
| .proto | .py | .rb | .rbw |
| .rib | .rs | .rsl | .rss |
| .ruby | .scad | .scala | .scm |
| .scpt | .scss | .sh | .sql |
| .ss | .st | .styl | .swift |
| .tex | .thrift | .ts | .twig |
| .typescript | .v | .vala | .vb |
| .vbs | .vim | .xhtml | .xml |
| .xpath | .xq | .xsl | .zsh |