Admin Settings
Steps to Admin Settings:
Click on the settings icon at the top-right corner and select Admin Panel.
In the new window, click on the Settings tab.
Table of Contents
Setting Privileges
Here, you can allow or restrict your users from receiving or sharing, exporting, and publishing documents within your organization or outside your organization. This gives you the advantage of protecting your organization documents from unnecessary distribution.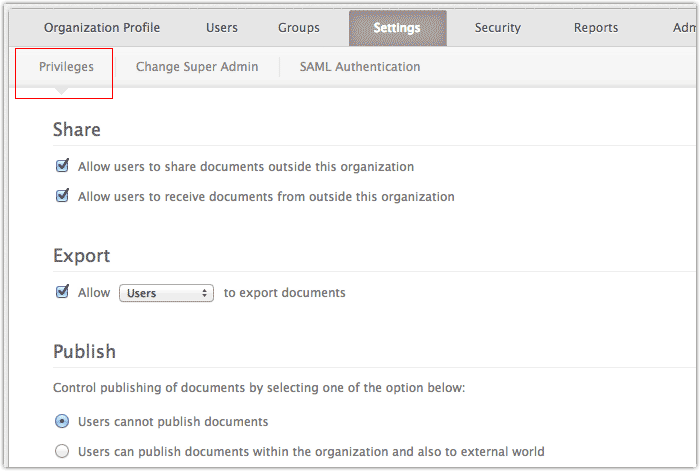 Change Super Admin
If you'd like to make another admin as the super admin, you can do it here. A super admin has complete control of the organization account and can perform all the administrator actions like adding users, defining user roles, managing organization's password policy, etc.,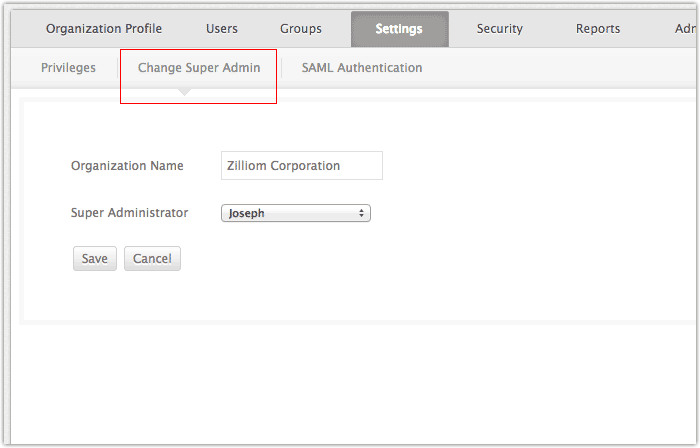 SAML Authentication
You can configure the SAML URL and the public key. A user from your organization should login with his/her domain say "https:// business.zoho.com". The user will be redirected to the IDP provided for SAML with the SAML request for authentication. The IDP will authenticate and send us the SAML response. If the response is success, a ticket will be generated for him and will be set in the cookie.