Customer service software
It is an application that helps a business manage customer interactions across multiple channels, deliver service more efficiently, and resolve issues. It comes with features to track, prioritize, and close customer service tickets and consistently deliver customer satisfaction. A robust help desk system can not only improve customer service but also work wonders for your company's bottom line. Be known for your quality customer service. Close tickets faster than ever, Zoho DesK saves up to 2 hours per agent per day.
The highlights of having customer service software to run customer service operations
Designed with features to address customer service challenges across industries

Works for all business sizes, from small or medium to enterprise

Extends as a platform to build a customer community and brand image

Improves overall CX
What is customer service software?
Customer service is the person or team in a company that addresses customers' questions or complaints. It also includes general post-sale follow-up and seeks to maintain the customer's happiness with the company's offering. When done in scale, this function usually requires some sort of database—a platform to maintain all customer data and interactions.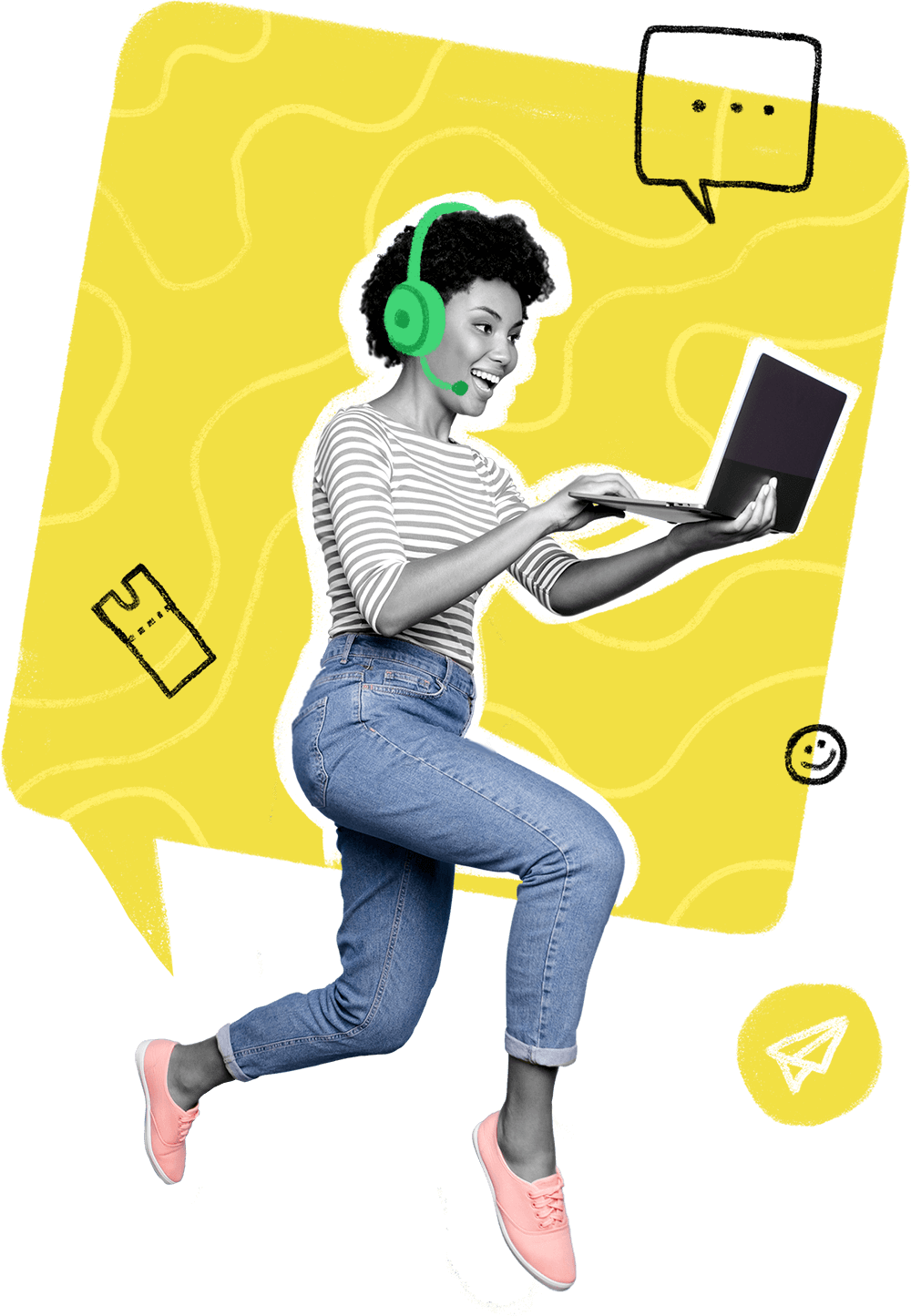 5 Reasons why you need new customer service software
When you run a business, you need a way to interact with customers. You might be relying on multiple channels to manage customer conversations. However, knowing when to make a new investment or make a switch is part of good business. Here are the reasons why you need to upgrade from your ticketing system setup.
Streamline your processes

If your customer service activities require juggling a handful of applications with several open windows, you're losing valuable time. You need customer service software that lets you manage customer service from a single interface. If you pick a customer service software that integrates with other tools and scales with your business as it grows, it will go hand-in-hand with your other business apps, making things easier.

Build a brand image

Be it increasing self-service, or fostering a community, the tool that you deploy must be customizable and an extension of your core theme and values. It needs to reflect your overall brand image and help grow customers' trust. If your current customer service setup is difficult to customize to your advantage, it's time to introduce a new customer service software.

Keep things within budget

Both compromising on quality because of budget constraints or burning a hole in your pocket for high quality are business blunders. A good quality, cloud-based customer service software is typically affordable and has well-built features to address all your customer service issues.

Scale-up as you grow

Any profitable customer service software comes with several pricing and feature options, so you can choose one that fits where you are as a business. If you're a startup or a small enterprise, you should be able to start slow with an economical edition of the customer service solution and move up the plan as you grow.

Deliver high-quality CX

Customer service software will help you with everyday customer service activities. But your software should do more than the bare minimum. It should make the entire service experience easy and enjoyable for your customers. Using robust customer service tools with advanced features makes that much easier.
What are the real-time benefits of customer service software?
While the specific features differ from one brand to another, there are some immediate benefits to deploying user-friendly customer service software. When you invest in one, you need to know the immediate benefits to use it to the fullest.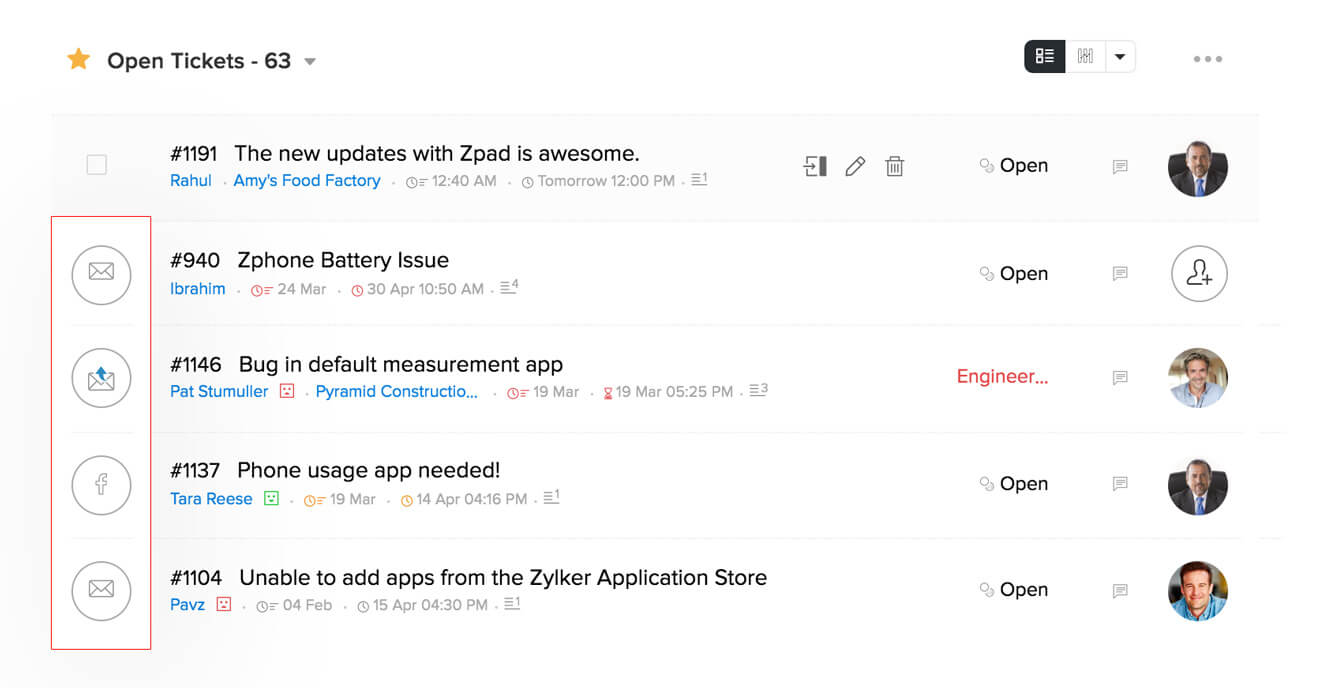 Multichannel service
You don't have to stick to one mode of communication when your customers want to reach out in ways that are convenient to them. When you implement omnichannel customer service software, you instantly open up different contact points, including email, phone, social media, web forms, and live chat. It lets you streamline customer requests with a single click.
Improved productivity rate
The first hurdle in customer service is time management. Routine tasks, like sending notifications to customers and reminders to other support agents, can decrease agent productivity and eat up time that can otherwise be spent focusing on customer relationships. Customer service software helps you automate these routine tasks so your response times and resolution rates improve rapidly.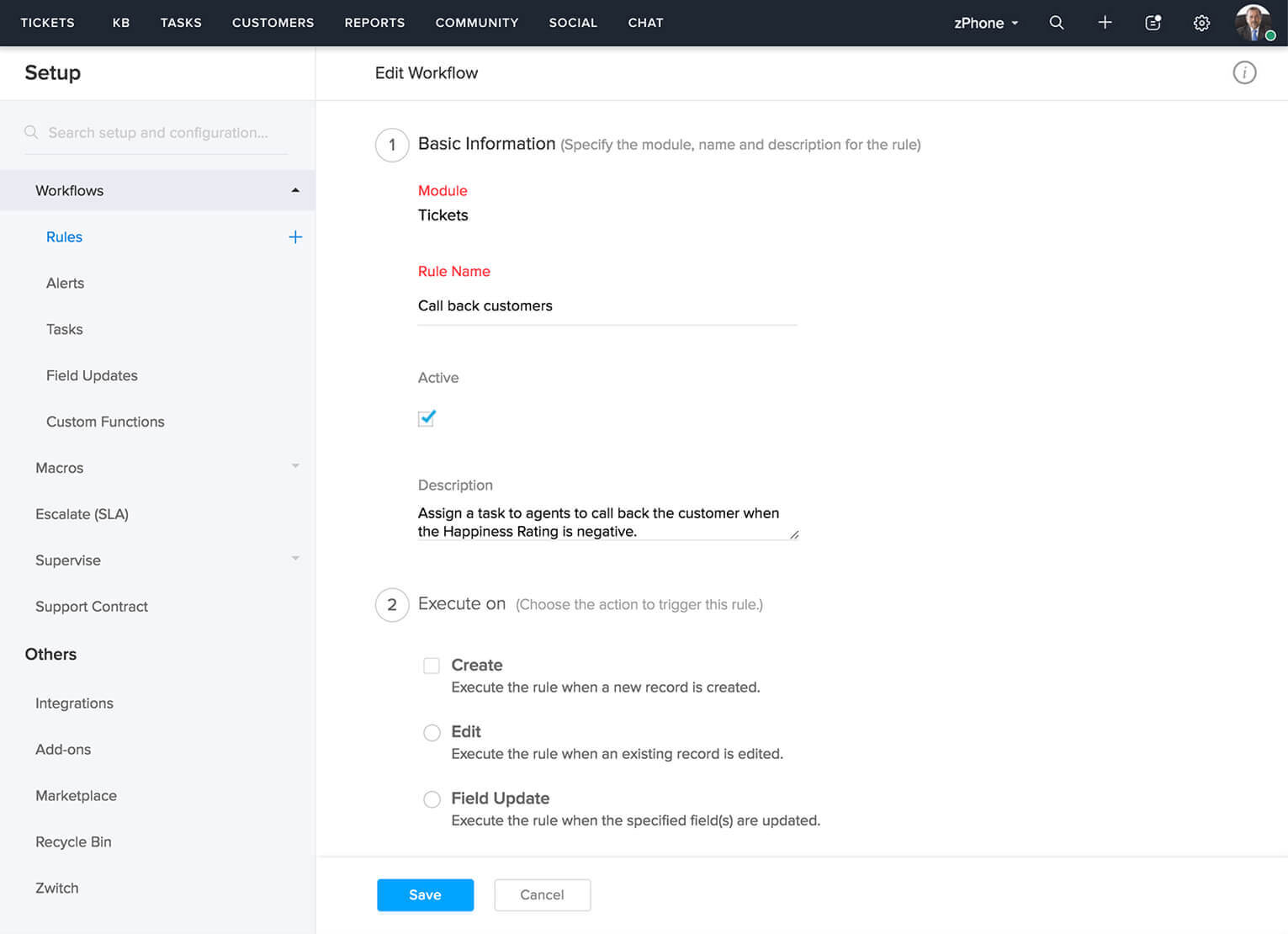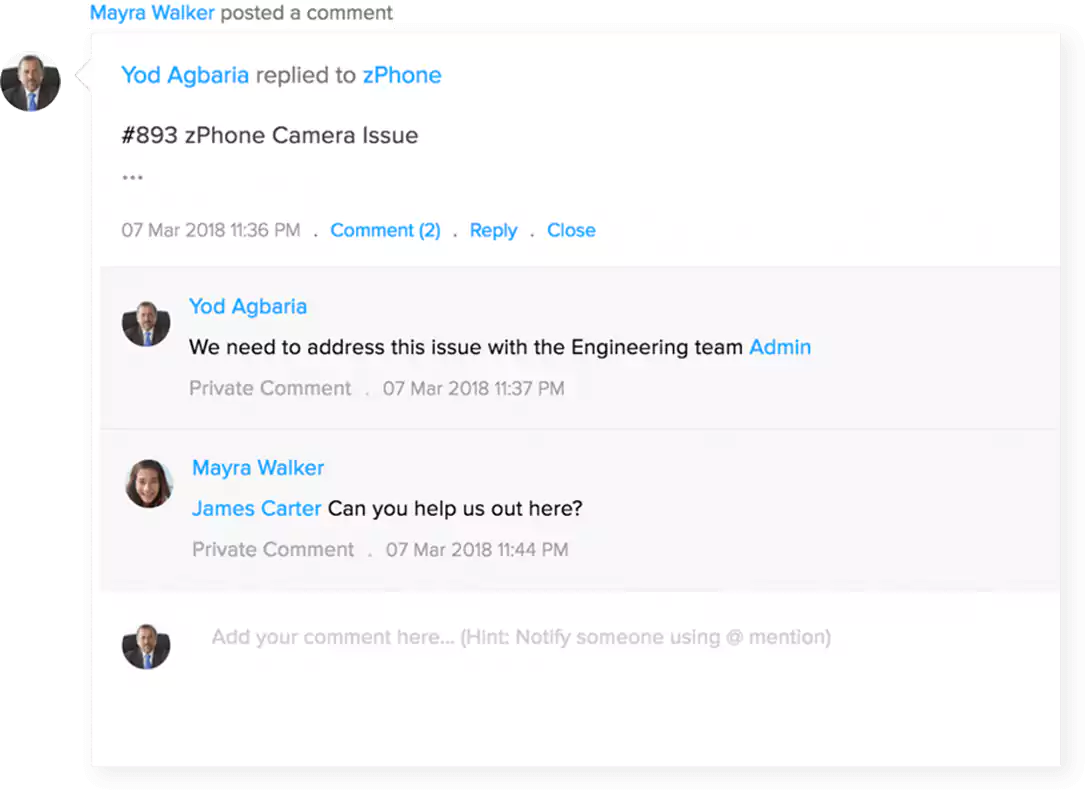 Convenient collaboration
In this age of telecommuting and customer service teams working together across different regions, customer service software can bridge the gaps that distance and time create. With a quality customer service app, your team can collaborate in all manner of ways without having to hold physical meetings or calls. In a single interface, you can see who is working on what and keep a tab on all ongoing customer service activities.
Offering self-service
The first step you can take to ensure that customers have their questions answered quickly is to give them a comprehensive FAQ page. Good customer service software makes it easy to configure, host, and maintain one, so your customers don't have to raise a support ticket for solutions to trivial or common problems.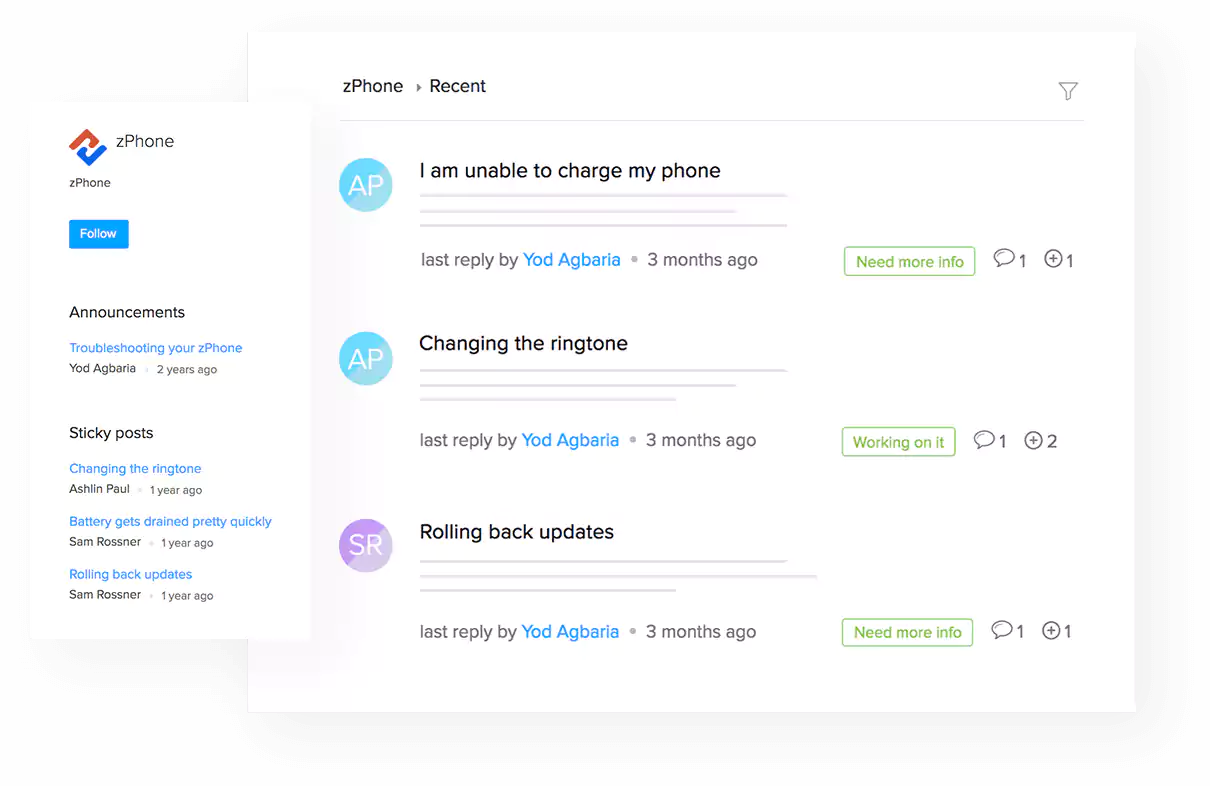 Reporting & analytics
With all these efforts across agents, channels, and time zones, you certainly need strong data-crunching to see if you're heading the right way. Customer service software should be able to bear this load and deliver a host of interpretations of all your key metrics.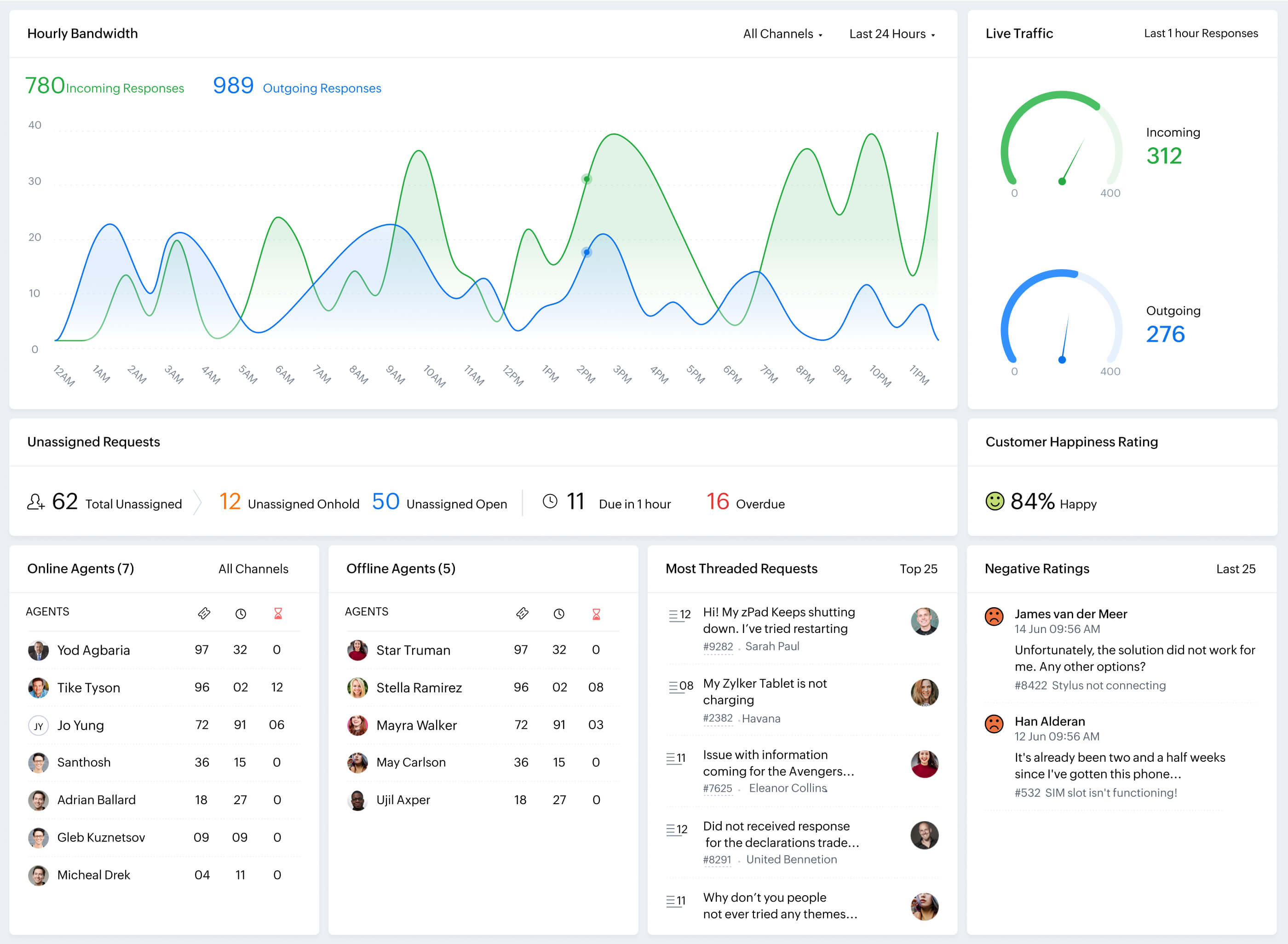 What are the ideal features of customer service software based on business size?
Customer service software scales to fit the needs of businesses of any size. Below, we've listed the key features that are specifically useful to different business sizes.
For Startups and Freelancers
For Small Businesses
For Enterprises
For Startups and Freelancers
Sort tickets in a snap
Get your tickets arranged by the factors that matter to you, like channel, priority, or agent. With a single click, find exactly what you're looking for, so you can get right to work.
Stay mobile-ready
Urgent customer tickets can come in any time, even when you're out and about taking care of other aspects of your business. A mobile-ready customer service software will help you stay on top of your game, wherever you are.
Get customer feedback
Your business thrives on feedback. Customer service software helps you request, track, and follow up on customer feedback after every customer interaction, without losing track. This improves customer experience and customer loyalty.
For Small Businesses
Automate routine tasks
It can be a daily productivity drain to sort through the day's pile of tickets and assign them manually based on priorities and requirements. Good customer service software can save time on these routine tasks by turning those priorities and requirements into automation rules.
Measure team performance
Resource management is vital to optimizing your customer service efforts. Customer service software can help you keep track of how your agents' time is being used, trends in ticket traffic, and other important metrics. All of this goes a long way toward improving your team's productivity.
Improve collaboration
With teams these days being spread far and wide, customer service software can bridge the gap that physical distance creates. It also gives agents a platform to reach out for assistance from other members by ticket sharing, @mentions, and comments, and grow collectively as a result.
For Enterprises
Automate your process management
Customer service software can help you set up processes that run automatically without the need for supervision. It carries out every step and keeps stakeholders in the loop, freeing up time for management to focus on bigger goals.
Get advanced insights
Metrics is your single source of information and inspiration to push your team towards continuous improvement. Good customer service software not only crunches all these numbers for you but also extracts the insights you need.
Improve accessibility and security
The fact is, it's impossible to keep an eye on every piece of customer information your team deals with, especially given the size of your company and layers of confidentiality at play. Customer service help desk software can be equipped to handle this problem with a host of access and data security features. These ensure that you're not slowed down by the legalities that come with handling customer data.
What makes Zoho Desk as a best customer service software?
Aside from the regular customer service software capacities, Zoho Desk, the industry's best customer service software, is designed with powerful and advanced features to take customer service to the next level. Here are a few unique Zoho Desk capabilities to build an everlasting brand reputation:
Customer context

Customer service software needs to go beyond being an online database of customer details and provide agents with actionable information that helps them make every response personalized, accurate, fast, and meaningful. Zoho Desk pulls in sales information through a CRM and uses Artificial Intelligence to delve into sentiment analysis.

Multi-department setup

If you have several brands under your umbrella or sell multiple services/products, assigning issues to the right people can be tedious and time-consuming. Using Zoho Desk, you can set up multiple departments with different teams, SLAs, and help centers, making it easier to operate efficiently and avoid chaos.

Powerful AI

Good customer software solution prepares for the future. Zoho Desk comes with an AI customer service assistant, Zia, which can have natural customer conversations and also learns over time. Zia can pull up help articles from the Knowledge base, analyze customer sentiments, and help agents prioritize tickets accordingly.

Advanced process automation

When you have multiple business processes involving several teams, it's hard to keep track of process management and oversight. Blueprint, from Zoho Desk, helps you create business process models inside the customer service software, so things run smoother. It notifies stakeholders on time, alerts if you miss a step, and ensures you close things on time.

Global reports and dashboards

As a business owner or decision-maker, you need a bird's eye view of everything going on at any given time. Zoho Desk pulls up global reports and dashboards with all necessary metrics across all departments. You can learn about the anomalies and customer service challenges of every unit with a single click.
Aside from the regular customer service software capacities, Zoho Desk, the industry's best customer service software, is designed with powerful and advanced features to take customer service to the next level. Here are a few unique Zoho Desk capabilities to build an everlasting brand reputation:
What if you aren't happy with the customer service software free or after buying it?
There are a lot of options when it comes to customer service software, and most of them come with a free trial period, including Zoho Desk.Evaluate Zoho Desk and compare it with a list of competitors, and decide what works best for you.
Start your customer service transformation journey today!
No credit card needed. No software to download.
More topics you might like to explore