Best-in-class
CRM Ticketing

System

Send better responses and close deals faster with the user-friendly context-aware ticketing system.

TRY ZOHO DESK
What is a CRM ticketing system?
A CRM ticketing system is a help desk ticketing tool with a builtin CRM integration that brings more context to customer support. It works by establishing two-way sync between a CRM and a help desk. A CRM-based help desk system brings customer context into support tickets and adds ticket information into leads in CRM. This way, a CRM ticketing system helps support agents prioritize tickets better and sales executives follow up on leads promptly.
Why do you need a CRM ticketing system?
A CRM with a ticketing system makes several business processes more efficient and improves the overall customer experience.
Context should never be the missing piece
Customer service is only done right when your customers don't have to repeat themselves or give you information that you should already have. When you have a CRM and a help desk tool working together as one unit, you have the customer data from CRM available within the ticketing screen. That means your agents have all the context they need to kickstart problem-solving.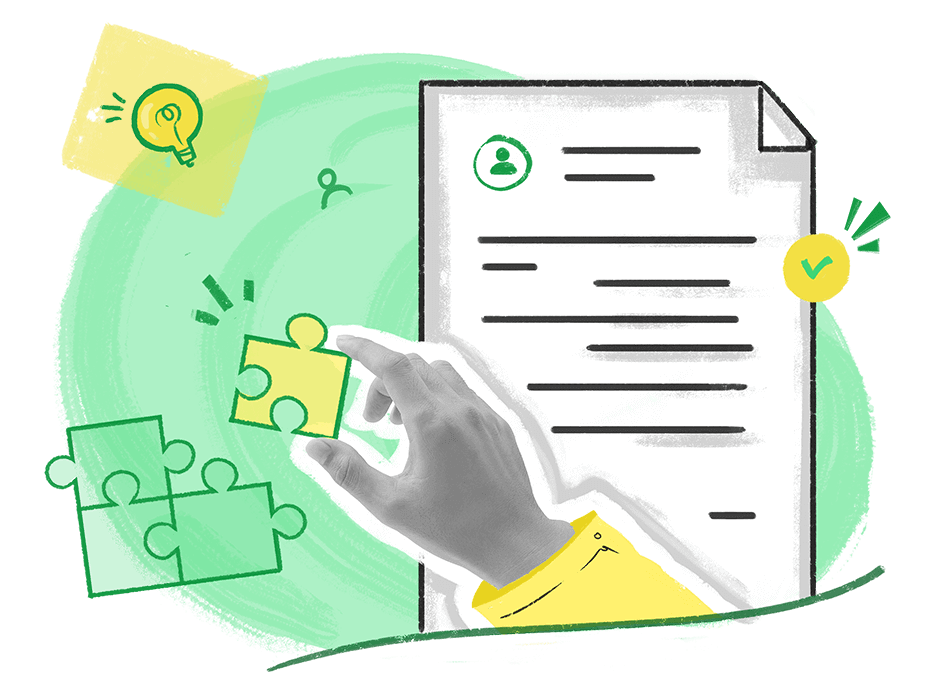 Customer service: The quicker, the better
Response and resolution rates are the most difficult metrics to control in customer service. A CRM ticketing system brings customer details inside each ticket, so agents don't have to redirect the customer tickets or wait on additional data from the teams or the customer. It improves response and resolution rates tremendously.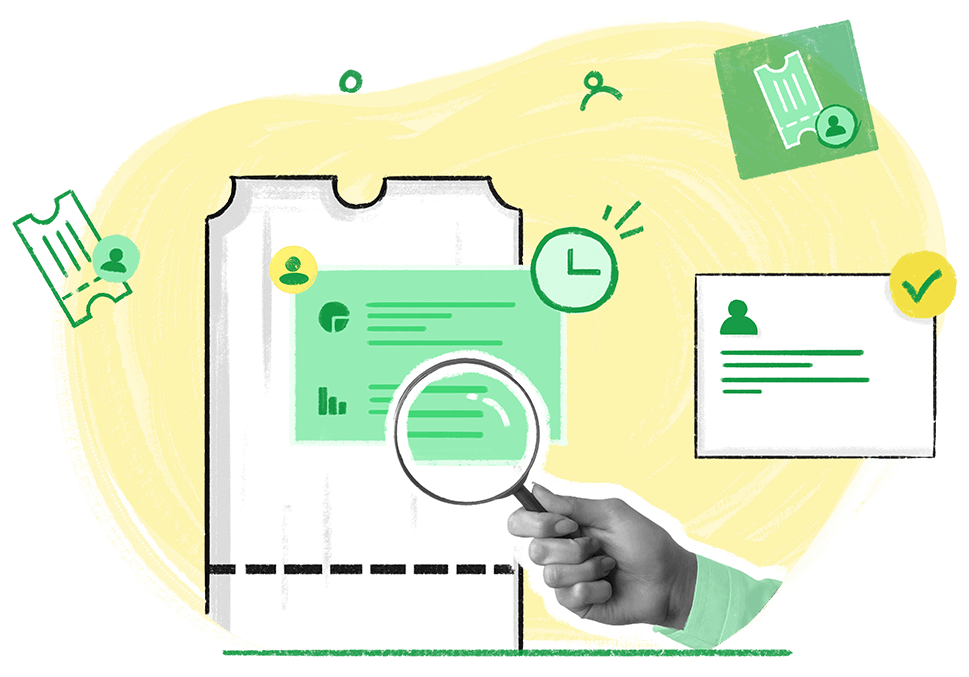 Customer experience is the ultimate goal
Customer loyalty is gained through multiple instances of meaningful customer interactions. You retain customers and repeat sales when you focus on each customer and give them your time every time. A CRM ticket management system ensures transparency between teams and always notifies the right person to help with a prospect or customer request.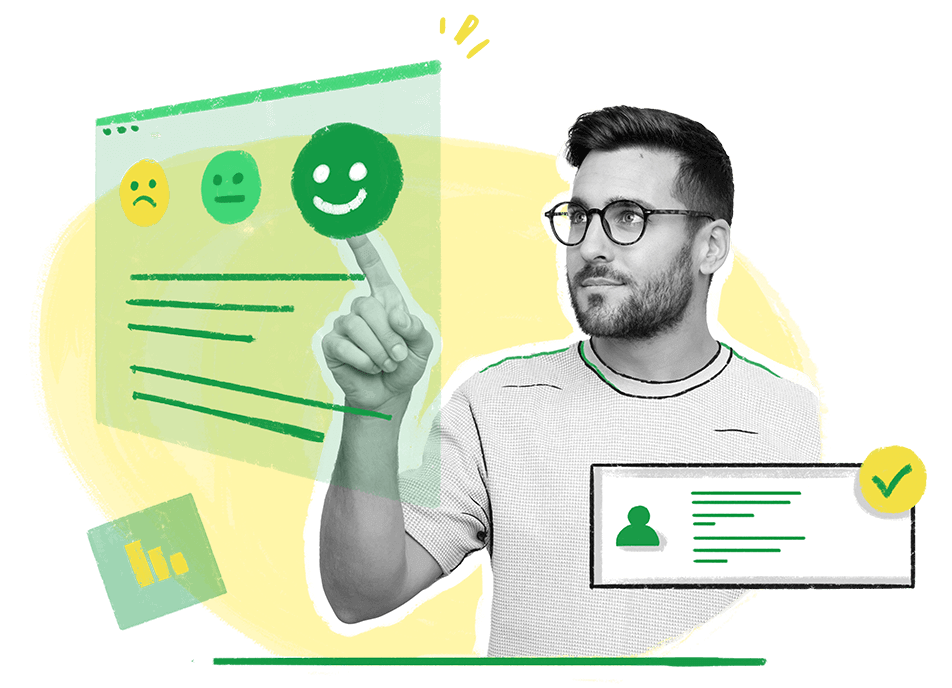 Do more with less, by using the right tech
Support agents can identify cross-sell opportunities and notify the sales team. The sales team can tag support agents to help with a lead's technical question. This only scratches the surface of how a CRM ticketing system can improve your business.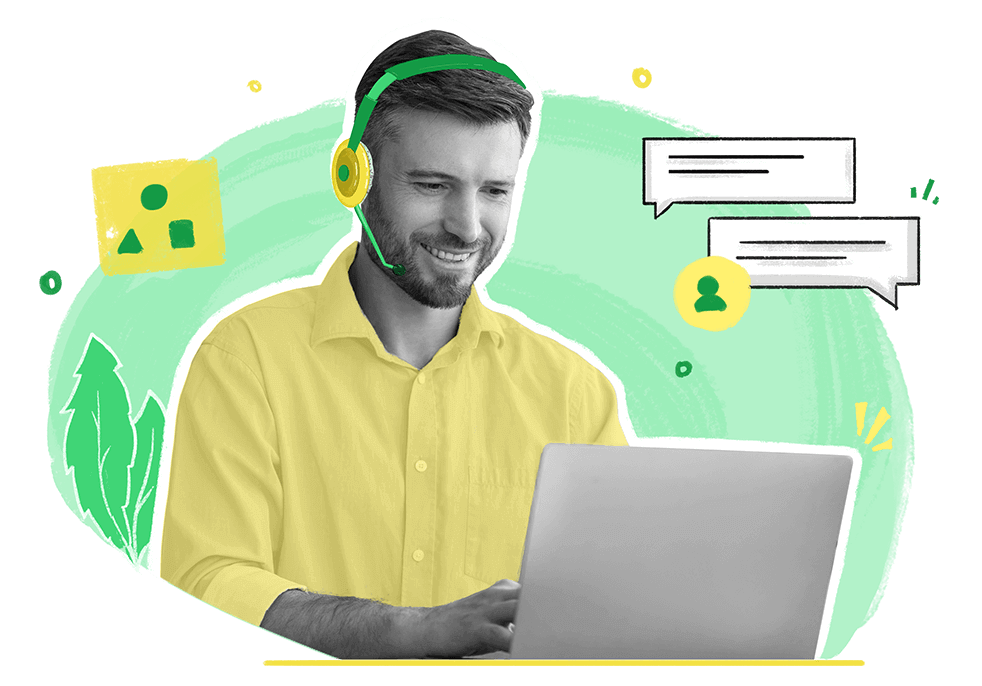 Improve the performance of both sales and support. Here's how
With the right CRM ticketing software, you can help sales and support teams stay on the same page.
Sales
Sales Reps Responding to Tickets
When prospects ask for help before purchasing, your sales reps can pitch in immediately and expedite the buying decision by responding to tickets from within Zoho CRM.
SalesSignals in Zoho CRM
When a prospect asks your support team about a product service, SalesSignals in Zoho CRM notifies the sales rep. They can view the ticket, responses, and happiness ratings, and then can time their actions right to close on leads.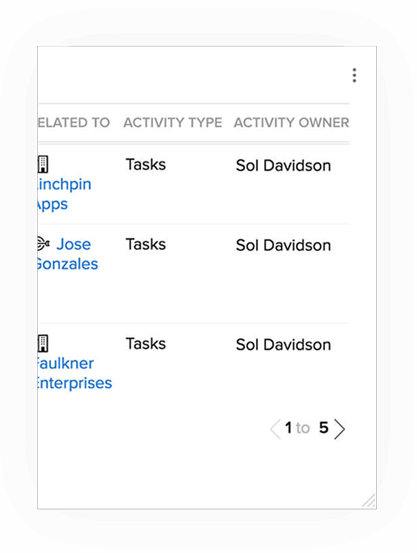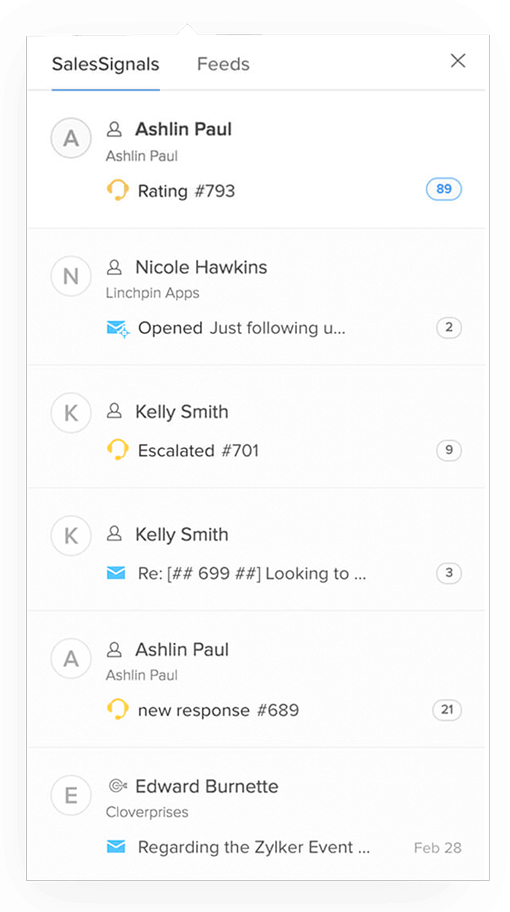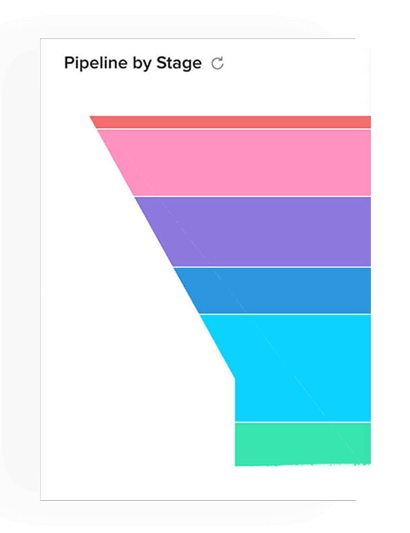 Support
Tag the sales team within Zoho Desk
When a support agent identifies a sales opportunity from support interactions, they can tag the sales team and update the prospect details from within Zoho Desk.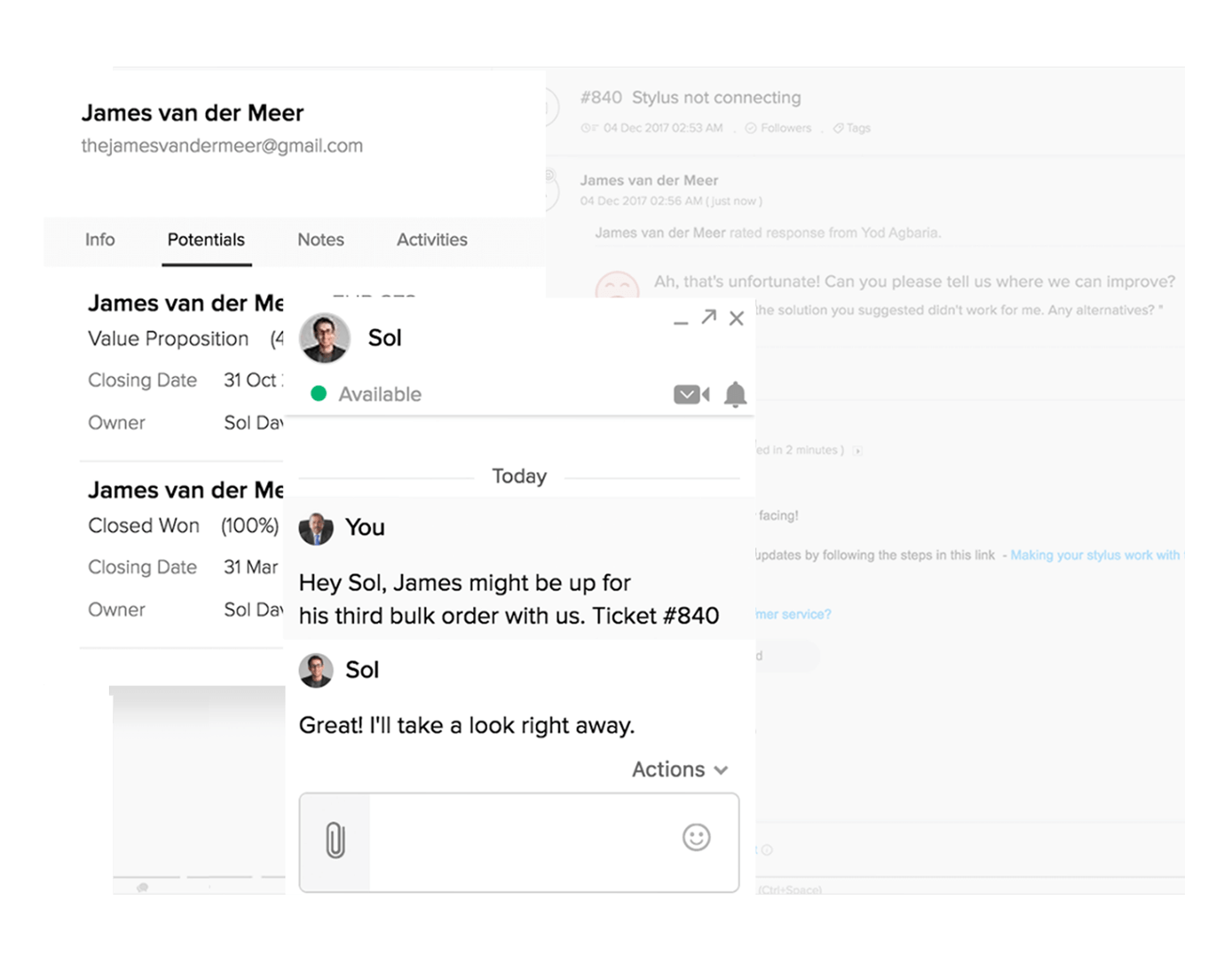 Handshake Mode in Zoho Desk
Handshake Mode in Zoho Desk lets support agents see tickets from leads. Inside a ticket, they can see more details, like the deal valuation and the product evaluated. This way, the support team can prioritize tickets better and assist sales when needed.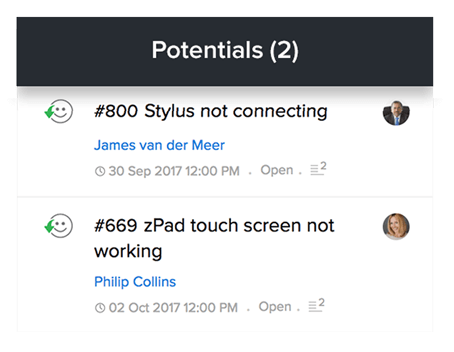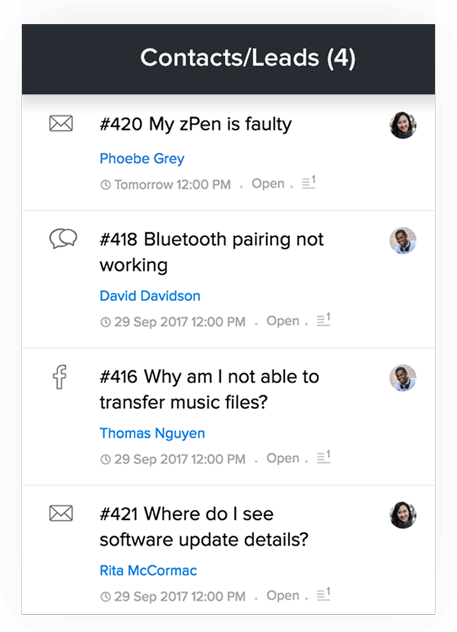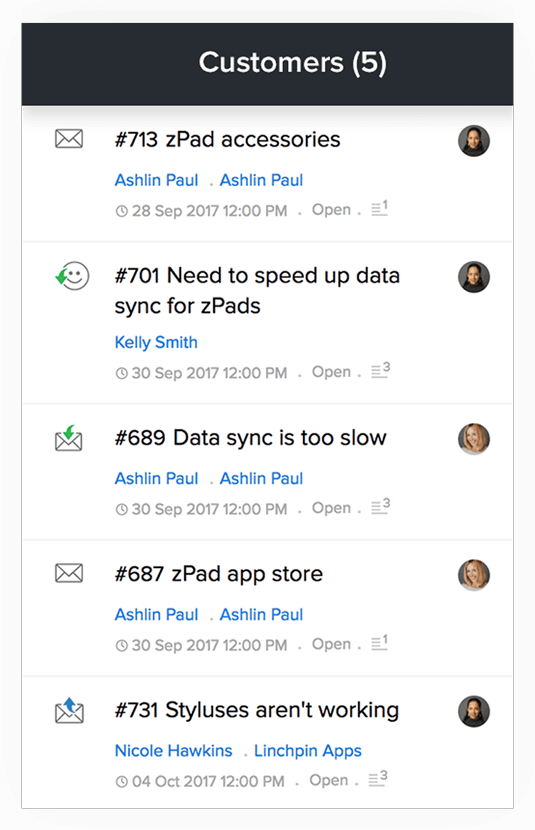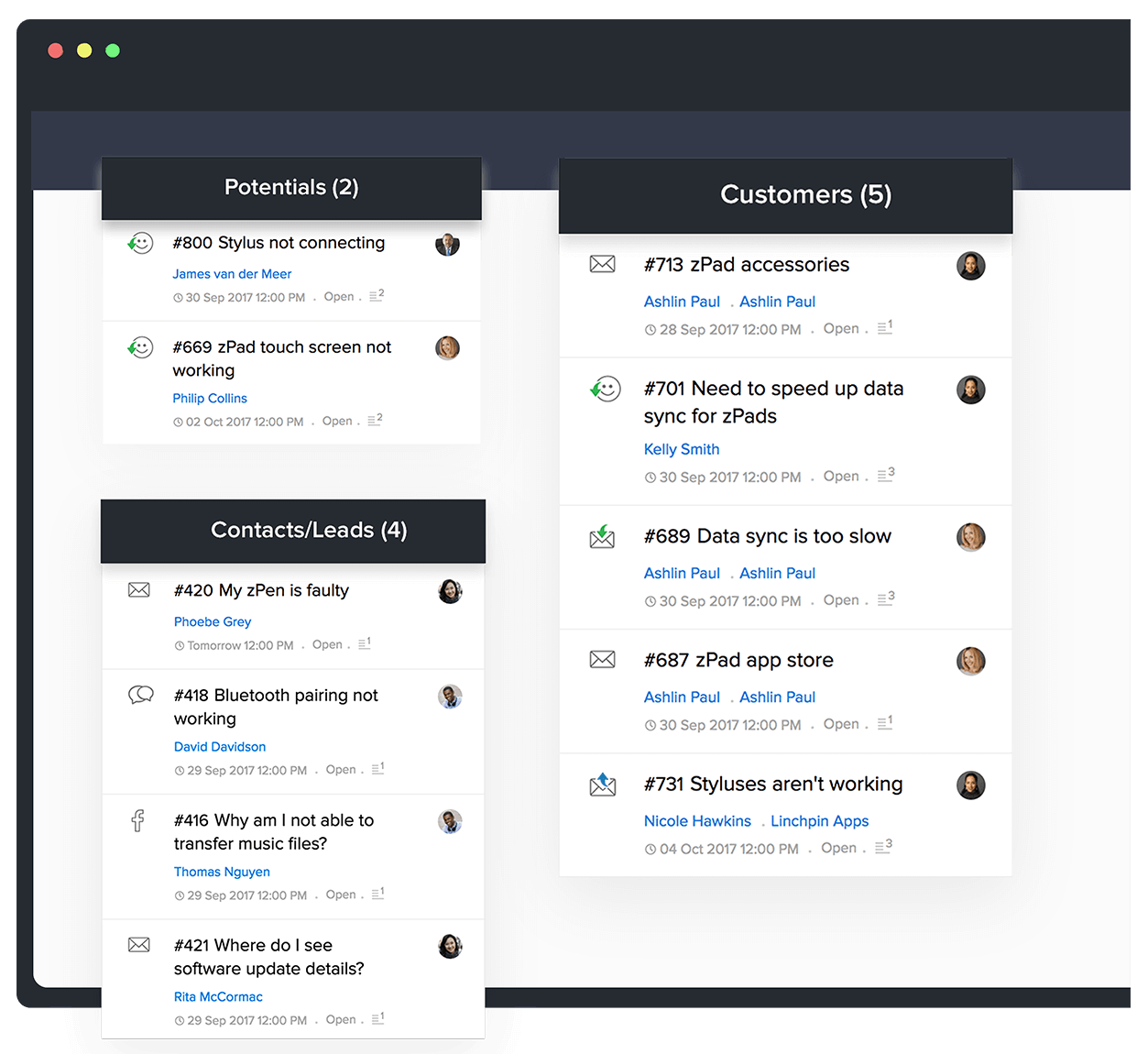 Zoho Desk goes hand-in-hand with all your favorite CRM systems
Zoho Desk, the context-aware help desk, brings more to the table
Zoho Desk is an efficient CRM help desk software—better than open-source, as it's packed with cutting-edge features in pocket-friendly editions.
Omnichannel Setup

Zoho Desk collects support tickets from different channels and organizes them in one tab. Agents can effectively manage all of their tickets from the same tab. These channels include email, social media, live chat, webforms, telephony, and more.

Multi-brand Help Center

No matter how many brands your company consists of, you can create and maintain distinct help centers for each one. For each brand, you can create a multi-lingual knowledge base, list FAQs, and set up customer communities. It creates a cohesive brand experience for your customers while you and your team manage tickets from a single interface.

Automation

Zoho Desk is packed with smart automations to ensure diligent use of your resources. Automatic ticket tagging and sorting help your agents save time on routine tasks and spend more time on things that need their attention. Automatic assignment rules, tasks, and SLAs help your managers ensure work stays on track.

Analytics

With customizable dashboards and reports, Zoho Desk allows you to schedule reports to your inbox on a regular basis. This makes it easy to monitor tasks, review metrics, and make the right decisions at the right time.

Artificial Intelligence

Intuitive chatbots and Artificial Intelligence make ticket handling much easier. Zia, an AI-powered support assistant from Zoho Desk, learns from the data you feed it, and in turn, answers customers, notifies managers when there are anomalies in the daily ticket traffic stats, and analyzes the customer sentiment in every ticket.

Mobile Apps

Your service should be available to your customers around the clock, but that doesn't mean being tied to your desk 24x7. Zoho Desk comes with apps that let you perform most tracking functions on your mobile phone, so you can help your customers outside of the office.
FAQ
CRM Vs Ticketing system. What's the difference?
A CRM system holds all customer information that facilitates sales and marketing activities while a ticketing system uses that information to provide the best customer service. When put together, these systems form a powerful unit that improves the customer experience and increases customer lifetime value.
How long can I use the CRM Ticketing system for free?
Zoho Desk, a top-rated CRM ticketing system, comes with a free trial of 15 days to allow you to explore all of its features. After the trial, you can choose from the competitively priced editions starting from just USD 14 per agent per month.
Can I set a workflow in CRM Ticketing system?
Yes, you can. Zoho Desk offers a bunch of automation to make your life easier. You can set workflows and write rules to update fields, send alerts, add tasks, and perform actions. You can also use Macros, SLAs, Assignment rules, etc., to rule out mundane repetitive jobs.