What is Social CRM?
A Social CRM is your Customer Relationship Management software integrating with social media channels, allowing your teams to leverage social information to understand and engage customers, gain market insights, and provide better customer service.
Does your business
need social media?
With more than 3 billion active users, social media is a platform where consumers spend time everyday, talking to each other about their likes, dislikes, and what intrigues them, and even stumbling onto brands that they ultimately become loyal customers of. Every business, from SMEs to enterprises, requires a social media strategy to expand their reach, increase brand exposure, bring in prospects, and engage existing customers with quality content.
Internet users ( 7% YOY increase )
active social media users (13% YOY increase)
active mobile users (4% YOY increase)
active mobile social media users


How does traditional CRM differ from
Social CRM?
The central strategy
TRADITIONAL CRM:
Collecting, managing, and acting on customer data. The communications are mostly transactional—be it a sales rep trying to close a deal or a support agent helping a customer to resolve their issues.
SOCIAL CRM:
Customer engagement and brand exposure without hard selling. Most of these interactions are to spark interest in your brand and initiate conversations about customer interests or trending social issues.
The caveat with customer interaction
TRADITIONAL CRM:
The business controls the flow of conversations through standard communication channels and predefined time slots which are restricted to the working hours of the business.
SOCIAL CRM:
Social media takes the power and control from the business and puts them in the hands of the customer. They are free to initiate conversations and interact with businesses at their leisure.
What are a social media
customer's expectations?
Customers on social media are more connected and exposed to information than ever before. This lets them look for answers by interacting with other people, industry experts, and influencers, to learn about products or brands before a purchase. A few expectations of customers on social media are:
A unified experience regardless of what channel they choose to interact with a business on.
Customers are more likely to recommend a brand to their peers if they have had a good experience with customer service on social media.
Useful, relevant, and quality content to be shared by the brands on social media.
Business should be active and respond to customers in real-time on social media. If they post about an issue, they expect a resolution from the company within the hour.
Social CRM–the need of the hour
A Social media CRM gives you a 360-degree view of customers by bringing in relevant social media information to supplement what's gathered through traditional channels. It allows you to keep track of when consumers are talking about your organization to each other, and in what context they're doing it.
What are the benefits of Social CRM
01

Empower your support team:

Your customer support reps are equipped with the necessary information—from your CRM—to offer quick resolutions and troubleshoot customer problems.

02

Understand your audience

By bringing in real-time data, a Social CRM tool provides you with valuable insights into what makes your target audience tick. This information can be made available to relevant teams to provide your prospects with a personalized and consistent customer experience.

03

Publish relevant content.

Don't add to the noise. Leverage the information gathered from social media to create interesting and engaging pieces of content and push it through the right channels to generate maximum traction.                     

04

Give social context to your interaction:

The insights gathered from social media help you initiate and hold meaningful conversations with your prospects, which humanizes your brand and fosters a better relationship with them.

05

Instantaneous feedback.

Be it good or bad, Social Media CRM brings you instantaneous feedback from your customers. This helps you improve your products and services and see the results without having to constantly reach out to them.
Companies that increase
their social media output by 10% see a
7%
increase in
brand awareness
4%
increase in
customer satisfaction
Every 10% increase in earned social media based on brand following, likes, followers and subscribers.
12%
increase in
brand awareness
3%
increase in
customer satisfaction
6%
increase in
purchase intent

Social media monitoring
A key aspect of any Social CRM is the ability to help you gather information from customers by monitoring what people are saying on social media about their experience with your brands. Understanding what customers want—be they existing, former, or even competitor's customers—helps fine-tune your business operations to better serve your customers.
Integration with multiple social media platforms.
The number of social media users grows every day, offering you the chance to locate, monitor, and engage existing and potential customers. A CRM that integrates with popular platforms is invaluable in helping you penetrate the intricate web of social media and establish your brand.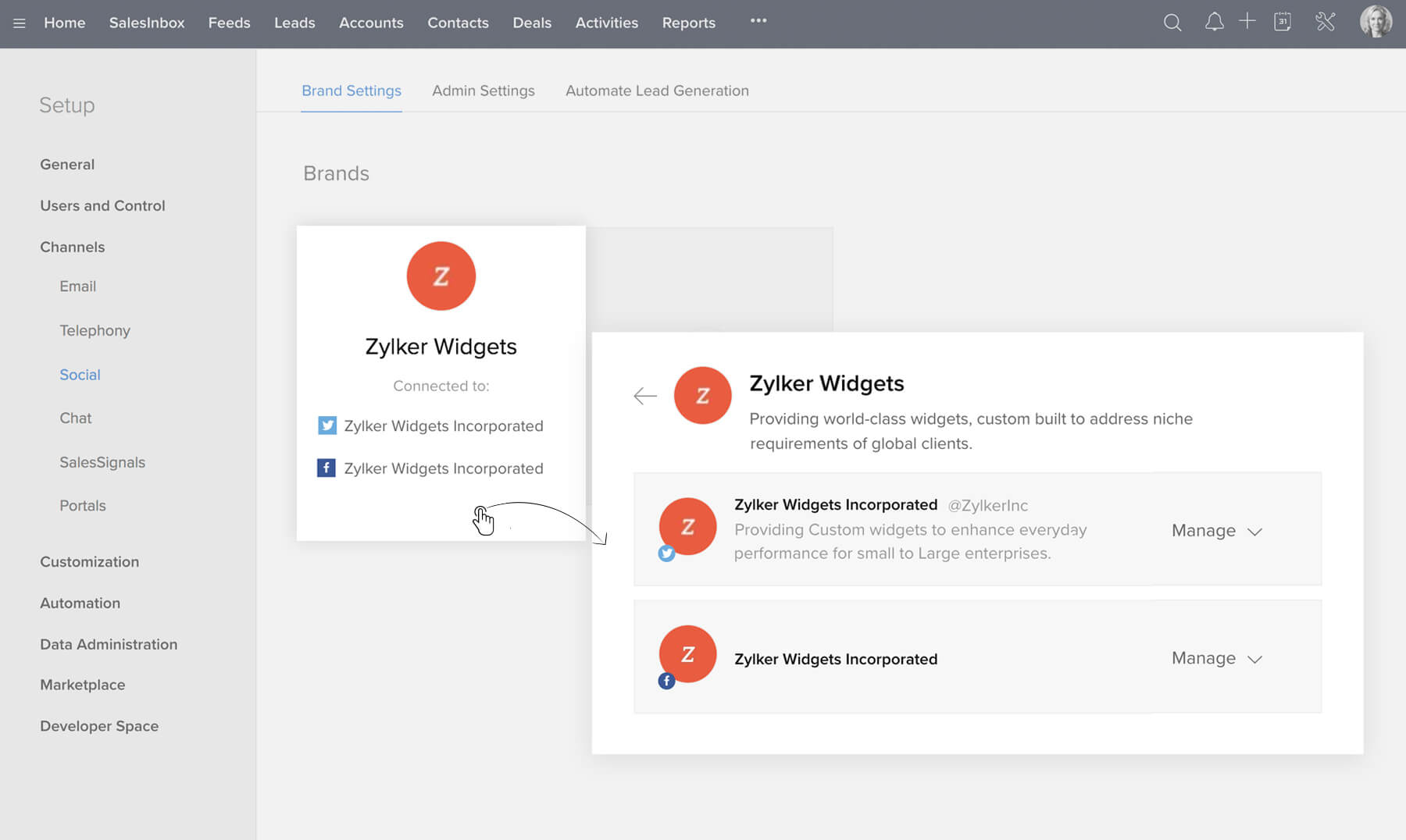 Lead generation
You've established a social media presence and people are constantly engaging your brand; so what's next? It's important to capitalize on this and push these prospects to your CRM, so your sales team can reach out to them and see if they can be converted into paying customers.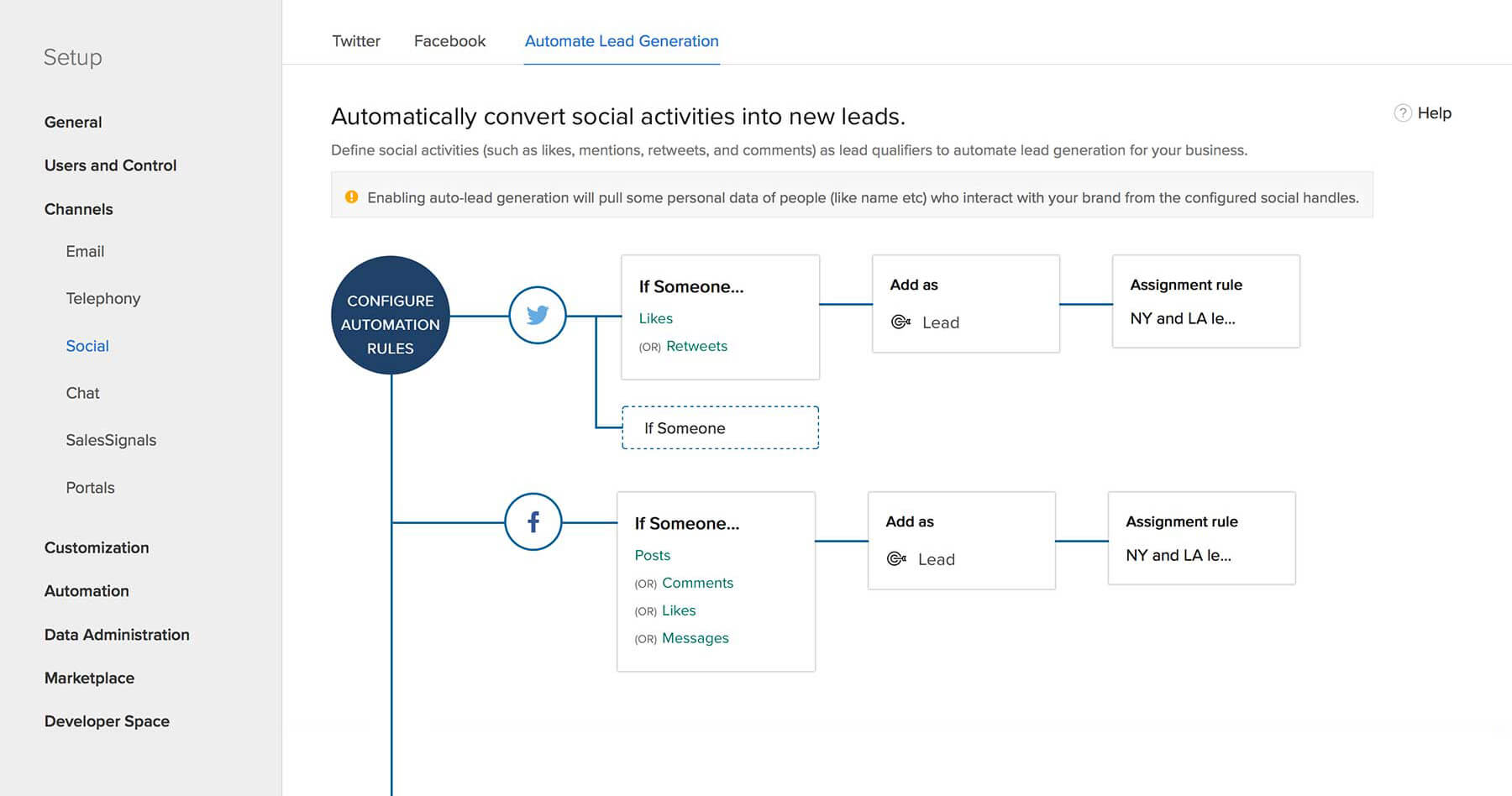 Unified Omnichannel experience
Your communication with a prospect may not be limited to just social media, but could be spread across emails, phone calls, and even live chat. It's important to ensure that you are notified of these interactions in real time, so there's no delay in responding to them. By centralizing the history of interactions and making it available to the customer-facing teams, this engagement can be made seamless and consistent.