Sales Management
101
A sales manager's handy guide for building a productive sales process, managing the sales pipeline, and leveraging CRM software to increase selling opportunities.


What is sales management?
What is
sales management?
Sales management is the process of planning, recruiting, training, organizing, supervising, and coordinating an organization's sales force. Whether you are selling a service or a product, sales managers are responsible for managing the sales force, setting the objectives for the team, planning and controlling the entire sales process, and ultimately ensuring the execution of the team vision. More than any other group in an organization, the role of a sales team is probably the most crucial one, since it has a direct impact on an organization's revenue.
One of the most important functions that you have as a sales manager is to set up and implement a sales process for your business. Let's take a deeper look at crafting the perfect sales process for your business.

What is a sales process?
A solid definition of a sales process would be:
A planned series of activities at every stage of your sales pipeline used as a roadmap for moving the sale forward. The sales process begins with the contacting of a lead and ends with the closing of a deal.
No two businesses are the same, and the same logic applies to building a sales process. Ideally, your sales process should replicate the buyer's journey and it should be clear and self-explanatory, even for a newly recruited sales rep to understand. As a sales manager, you should define a sales process that ensures you meet your specific set of goals at every stage, and that leads flow through the system without any hindrance.
To understand where the sales process fits within an organization, it's important to understand the marketing and sales funnel and how a lead flows across the funnel.
Setting up a sales process for your business.
As you can see in the above illustration of the marketing and sales funnel, sales plays a huge role at the bottom of the funnel, and it becomes paramount for you, as a sales manager, to have the right process in place to convert the leads passed on to you by your marketing team. Here's a step-by-step explanation of what you need to do at every stage of the sales cycle to maximize your chances of converting those promising leads in your pipeline.
A step-by-step guide to build an efficient sales process
01

Qualify leads

02

Learn prospect's needs

03

Address the problem

04

Present the solution

05

Sell value

06

Negotiate & close

07

Onboard efficiently
Qualify leads
Once a lead is identified as 'Qualified' by your marketing team, it's your sales team's responsibility to convert the lead from a MQL (Marketing Qualified Lead) to a SQL (Sales Qualified Lead). This makes it clear that the lead is worth pursuing by the sales reps. During this step in your sales process, your team will qualify leads through a process known as lead scoring.
Lead scoring is the manner in which your leads are scored and ranked based on a set of criteria determined by the sales managers in a company. Most commonly used criteria for scoring a lead would include their level of email engagement, whether they've viewed marketing collateral, the lead source, the size of the deal, and their number of link clicks.
Learn prospect's needs
Once your sales team qualifies the leads that are in the pipeline, it's the responsibility of the sales manager to assign qualified leads to their sales reps. Lead assignment can be done based on a variety of lead parameters, such as country, industry type, size of the organization, and number of users.
Lead assignment ensures that the right leads reach the right sales rep. Once the lead is assigned to a sales rep, it's their duty to understand the needs of the prospect so that they can recommend a product that's the best-fit solution for their business. Start with the most basic questions about their industry and go deeper to understand more about their business as your progress.
Address the problem
Once you've established initial contact with your prospect and you've clearly understood their needs, the next logical step for a sales rep is to address the problems that the prospect currently faces in their system. Remember, every sale is a solution to a problem. Your customers can give you clues about the problems that they face on a daily basis.
For some prospects it can be spending too much money, for some it may be wasting too much time on a single activity, and for others it can be the struggle to meet deadlines because of an inefficient process. As a solution provider, you need to get to the root cause of every customer problem and try to find a solution that your product can offer. If it's something that your product can't help with, prospects can look for a better-fit product in the market.
Present the solution
Sales reps have to remember that they are selling solutions to business' problems. Once you understand a prospect's current problem, sales reps have to create a compelling presentation that demonstrates their product's problem-solving capabilities.
Set up a suitable time for you to give a demonstration of your solution. Completely review your presentation beforehand so that you avoid any last-minute setbacks. Try to explain clearly with use-cases what it means to have your product present in the day-to-day activities of the prospect and their company. Allow them to take notes of your presentation and ask questions whenever necessary. Demonstrate how your current customers have solved similar problems using your product. This way you can build confidence in your future buyers.
Sell value
Selling just doesn't stop with you pitching your product. Today's customers have a variety of choices as they look for a product solution in the market. Prospects can evaluate other competitors and it's your responsibility to highlight your product's value to your prospect's business.
As a sales rep, you should always put forth your brand's value. Show how you stand out from the rest of the competition, and what elements makes your brand the best buy for their business. This stage of your sales process will have your prospects clarifying their doubts about the product or service that you offer. At times, buyers can feel that they are being pushed into a sale. As a sales rep, you have to ensure that your sales pitch is less pushy and more driven by value. This way, you'll make a lasting impression on your prospect's mind.
Negotiate & close
You've worked hard to demonstrate the value of your product. The buyer is considering a purchase and you're one step away from closing the deal. It's the stage of your sales process where you and your prospective buyer will decide on the terms and conditions, validity, and services offered as part of the deal. The buyer can always ask for discounts, and sales reps will have to negotiate within your organization's policies on discounts.
It's also important to keep your pricing scheme fair and open so that your prospect can understand your pricing easily. This also reduces the time spent on negotiation by your sales reps. It's important not to let negotiations take a long time in your sales pipeline. Learn to walk away if your negotiations aren't leading anywhere, and celebrate success if it's all win-win.
Onboard efficiently
In business, you don't just close a deal, you create an opportunity for a lasting customer relationship. The real value of the purchase is gained from the buyer using the product. Ideally, this will lead to repeat customers for your product. You need to ensure that all your product updates reach your customers at the right time, and always aim to educate them about new features. Send out surveys, find out how they're feeling about the purchase, and impress them with a quick response to any complaint.
Selling in the digital age
Sales, like any other aspect of business has transformed over the years. There's been a complete shift in the way customers buy. Customers no longer wait for a sales rep to guide them through their buying process. Research suggests that around 81% of buyers conduct online research before making a purchase, so it's especially important for sales teams to be where their customers are.
When the default for business becomes digital, your organization needs to follow suit. From researching customer information, to predicting the possibility of landing a deal, the utility of today's digital sales tools have great potential to positively impact the ROI of businesses. The digital age has opened up a variety of avenues for sales teams to engage with their customers.
Benefits of Digital Selling
37%

Increase in customer
engagement

32%

Greater web and
mobile engagement

30%

Increase in customer
revenue
Source: State of Digital Transformation Report, Altimeter Group, 2016
CRM system as a sales management software
"If it's not in the CRM, it didn't happen."
Sales is all about getting the right data at the right time, and modern CRM systems have considerably improved the ability to do that, by providing an organized sales pipeline for any business. Also, any information that enters and exits the business cycle is easily captured in a CRM application so that you won't miss out on any key information when dealing with customers. For example, with a CRM system in place, a sales rep can ensure that a cold call to a lead isn't boring by being fully aware of all relevant customer information.
Greater efficiency of sales teams, higher lead conversion rates, increase in automation, and improved customer engagement are some of the benefits that CRM software has brought to an organization's sales management process.
We've listed a few key CRM features that will help businesses greatly improve their sales performance.

Lead Scoring
It's not enough to just bring in a high volume of leads, you have to be able to score them effectively. As we've discussed earlier, lead scoring should be the first step in your sales process, and so it becomes incredibly helpful if your sales management system can automatically score leads as they enter your pipeline.
Lead scoring helps sales teams identify the real value behind the different leads in their pipeline and set realistic targets for themselves. You can also learn what kinds of MQLs (Marketing qualified leads) convert the most.
Lead assignment
Most businesses rely on multiple sources for generating leads. This increases the likelihood of getting leads from varied locations, industries, interests, or requirements. Your sales management software should let you automate the lead assignment process by defining rules based on which leads are assigned to a set of reps. You should be able to configure different criteria based on your industry's specifications like territory, product interest, lead source etc., such that only the leads that satisfy the criteria will be automatically assigned to the selected rep.


Real-time actionable sales notifications
You need to know when your qualified leads interact with your company, so your reps can react before the trail goes cold. Knowing immediately when someone visits your website, opens your email, or mentions your brand on social media allows your sales reps to stop relying on guesswork and instead seize opportunities in real time.

Built-in Telephony
It's no surprise that sales people spend the majority of their time talking to their prospects. However, it becomes difficult to communicate effectively if they don't have a telephony system that integrates with their CRM. This is where a cloud telephony system helps sales reps. A lot of cloud PBX vendors (as they are normally called) integrate with popular sales management systems, letting sales people call a prospect from within their sales management system with comprehensive lead information provided with every call.


Live Chat
Live chat is a highly interactive channel that lets visitors ask questions or get advice on products that best fit their needs. Sales reps can see which web page a prospect is stuck on, and start providing immediate and personal assistance to increase sales conversions. Make sure your sales management system makes it easy to convert your live chats into leads, add deals, and create follow-up tasks all from your chat window.
Pipeline management
A sales pipeline gives you an instant glimpse of what stage each customer is currently at in your sales process. This information helps you decide what steps to take next in order to move closer to closing a deal. Ensure that the sales management CRM you are choosing lets you keep a close eye on your deals, along with the respective deal stage as well as the numbers associated with it in a single screen. It's also important to know how much of your expected revenue is near closing, and which deals need immediate attention.

Process Management
CRM helps you create a sales process unique to your business. As your organization grows, it's important that your sales management process becomes scalable. This can be easily achieved using a scalable process builder inside your sales management tool. Having a process mapped out helps sales reps keep focus while prospecting with the knowledge of what to do at every step of the sales pipeline.

Email for Salespeople
It can be easy for sales people to miss important emails with a traditional email client. However, when your email and sales management system are able to talk to each other, you never have to miss out on another important sales email again. That way, the most important contextual emails show up first rather than sequentially.

AI for Sales
Artificial intelligence is no longer a buzzword. It's now become an important part of the modern sales strategy.
As a sales manager, you want your sales reps to spend less time on manual data entry and more time talking to prospects. If your sales management system comes with an an AI-enabled sales assistant, you can automate most of your tedious data entry tasks and let your sales reps focus their productivity on closing more deals.

Territory Management
When your sales team is spread out across multiple geographic locations, territory management becomes one of your top priorities. Modern sales management CRMs have inbuilt territory management functionality which helps you define a sales plan and allows you to structure your team based on parameters such as geography, type of business, and expected revenue.

Commission Management
Nothing motivates a sales rep like a reward for their good work. One way of rewarding them is setting up an effective commission management system as a part of your sales process. A sales management CRM automates this process instead of requiring you to manually split, calculate, and assign commissions.

Sales Analytics
What's the use of data without analysis? When you accumulate massive amounts of sales data, it's important that you have a sales management software in place that helps in sales tracking, spotting key trends and ultimately helping you make better future decisions. As a sales manager, you'll be able to keep tabs on your key performance metrics, pipeline, and targets for the month.

Sales Automation
Automating your sales process is key to improving your productivity. Automation helps reps spend less time on admin work and more time on planning and executing their activities. Here are some key areas where automation can help you be more productive:
Follow-ups

Tasks

Workflow

Suggestions
Have you ever lost a big deal just because you didn't follow up at the right time? This is most likely the case if you're just using a traditional database management tool to track your priorities instead of a sales management software. Using a CRM system to manage your follow-ups will ensure you engage with every qualified lead in your sales pipeline.

Sales, like anything else, can be reduced to a set of regular activities. The ability to automatically create and update tasks pays huge dividends, considering the amount of time sales people spend on working with mundane tasks.
Automated workflows help save time and ensure sales reps quickly complete a set of steps without the need for any manual intervention. By having workflows set up for every stage of your sales pipeline, you can effortlessly speed up your sales process.

Automated, proactive suggestions from your CRM can go a long way in reducing the time that you spend on every lead. Some examples include providing the best time to contact a lead, predicting the success rate in closing a deal, and suggesting a suitable email template.

Selling on the Go
Your CRM should be business-ready wherever you go. A mobile-enabled CRM can allow you to add and update data while you commute between multiple business appointments, and even when you're offline. From trade shows, business meetings, and networking events–both in flight and on the road–sales management apps can help you close deals on the go.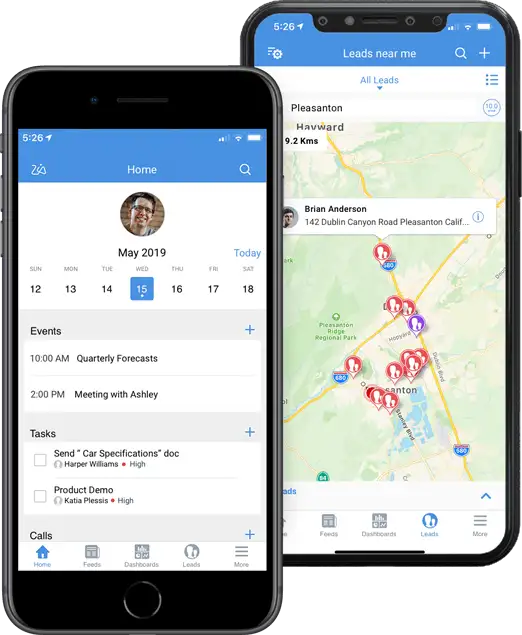 Have you found the right sales management tool yet?
Zoho CRM has been in the enterprise software industry for over 13 years, and it's grown to become the preferred choice of sales teams around the globe. Millions of sales people across all major industries and verticals trust Zoho CRM to help them close more deals in less time, and we feel that Zoho CRM can be a great fit for your business, too.
Zoho CRM comes with a built-in AI-based sales assistant which could potentially eliminate manual data entry from your sales process completely. Our other popular features include SalesInbox–an exclusive email client for salespeople, SalesSignals–a real-time customer interaction medium, and Blueprint–an end-to-end process builder with a built-in analytics engine to help you make data-guided decisions.
JusCollege's sales increased from $1 million to $20 million in only two years because of Zoho CRM. We are ready to make a bigger investment into Zoho and increase our use of workflows and automations.
Zoho CRM saves us a ton of time and really allows us to have smooth and quick interactions with customers allowing us to fit in more work per day. I recommend Zoho CRM as often as I can.
Zoho CRM is essentially the brain of our company. It holds all of our memory. My executives can generate workflow loads and custom functions themselves. It's incredibly useful for us; we can accomplish new initiatives quickly.
Allan Teruel
CEO, JusCollege
Chester Hull
Founder/CEO, Prosound
Aurian De Maupeou
Co-founder, Selectra
Kickstart your free CRM trial today