What are form fields?
Fields are the building blocks of the forms and applications you create on Zoho Creator. They let you collect data from the people who fill out your form. Every record you capture with Zoho Creator forms and apps are available as a powerful online database.
Wondering what types of data you can collect with Zoho Creator?
Zoho Creator offers a wide range of field types—both basic and advanced, like Name, Address, Drop Down, and Lookup— for you to create a sophisticated relational database with the right data, in the right format. Take a look!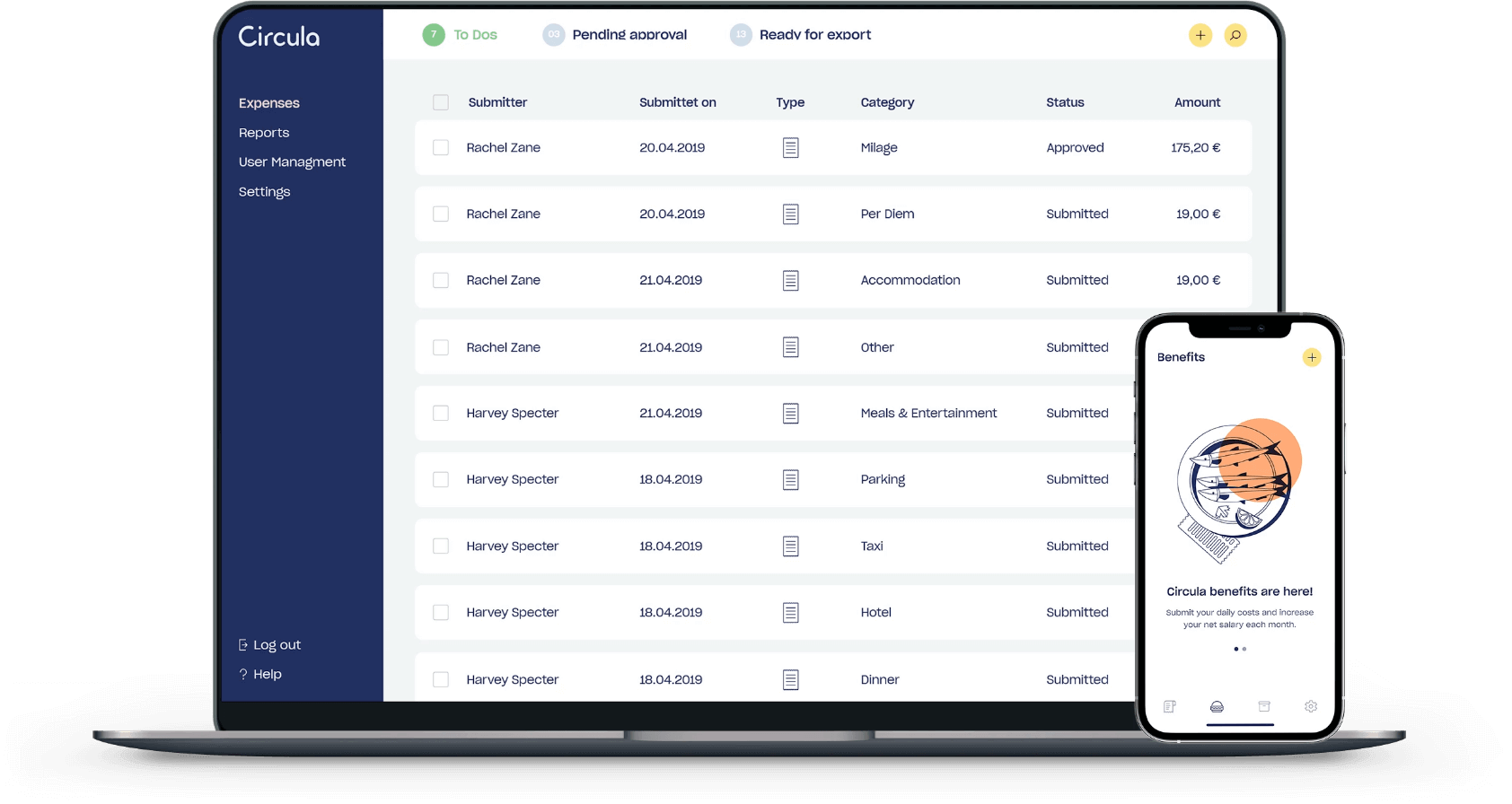 Over 30 types of fields to help you capture a variety of data
Build GDPR-compliant forms
Fields like Name and Email in Zoho Creator are optimized to protect the privacy of your respondents and safeguard any personally identifiable information (PII). You can also label sensitive PII to be encrypted while in transit and at storage.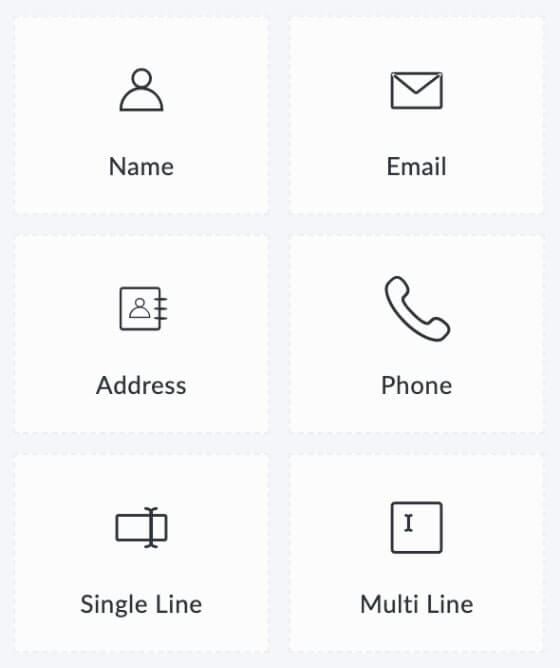 Easy audits with HIPAA compliance checks
Set compliance checks to adhere to industry regulations. For example, a healthcare organization can mark a field that contains HIPAA-sensitive data as ePHI (electronic protected health information).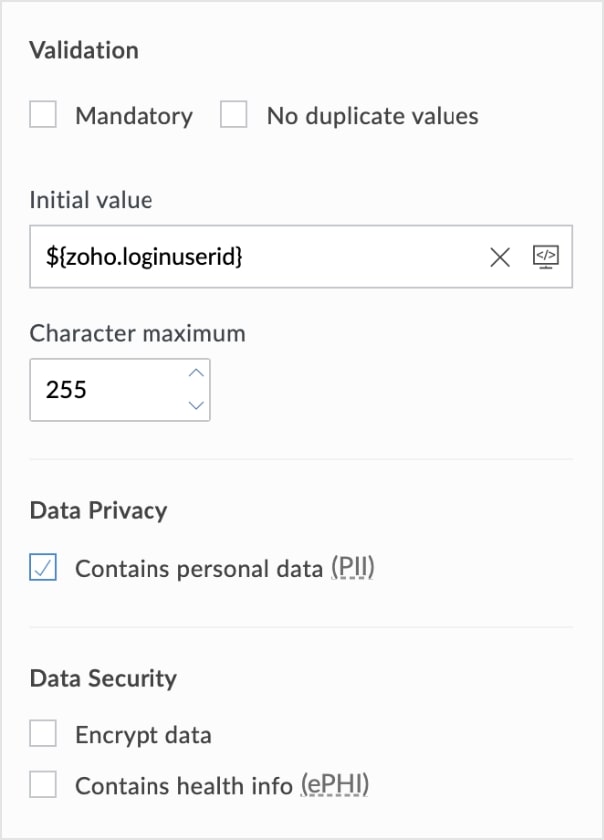 Close deals online with digital signatures
Now you can sign documents online, without having to arrange a meeting. Go paperless and collect signatures on every form and on any device. Zoho Creator is ISO 27001 compliant, so our electronic signatures carry the same authority as ones on paper.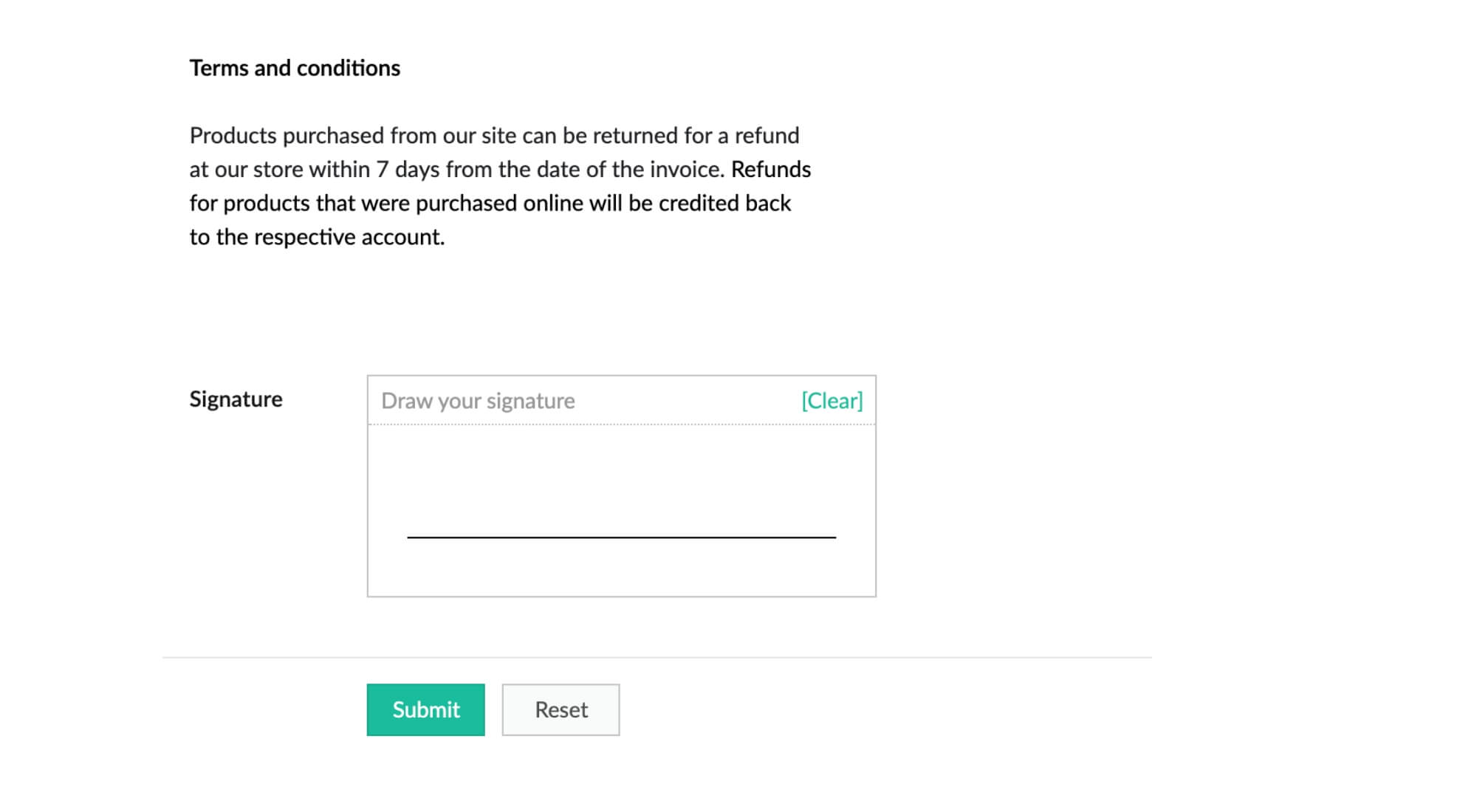 Your forms and apps can speak 62 languages
Got co-workers, customers, and vendors speaking different languages? Create your app in any language and your users accessing the app can view it in their preferred language. Zoho Creator apps get auto-translated into 62 different languages!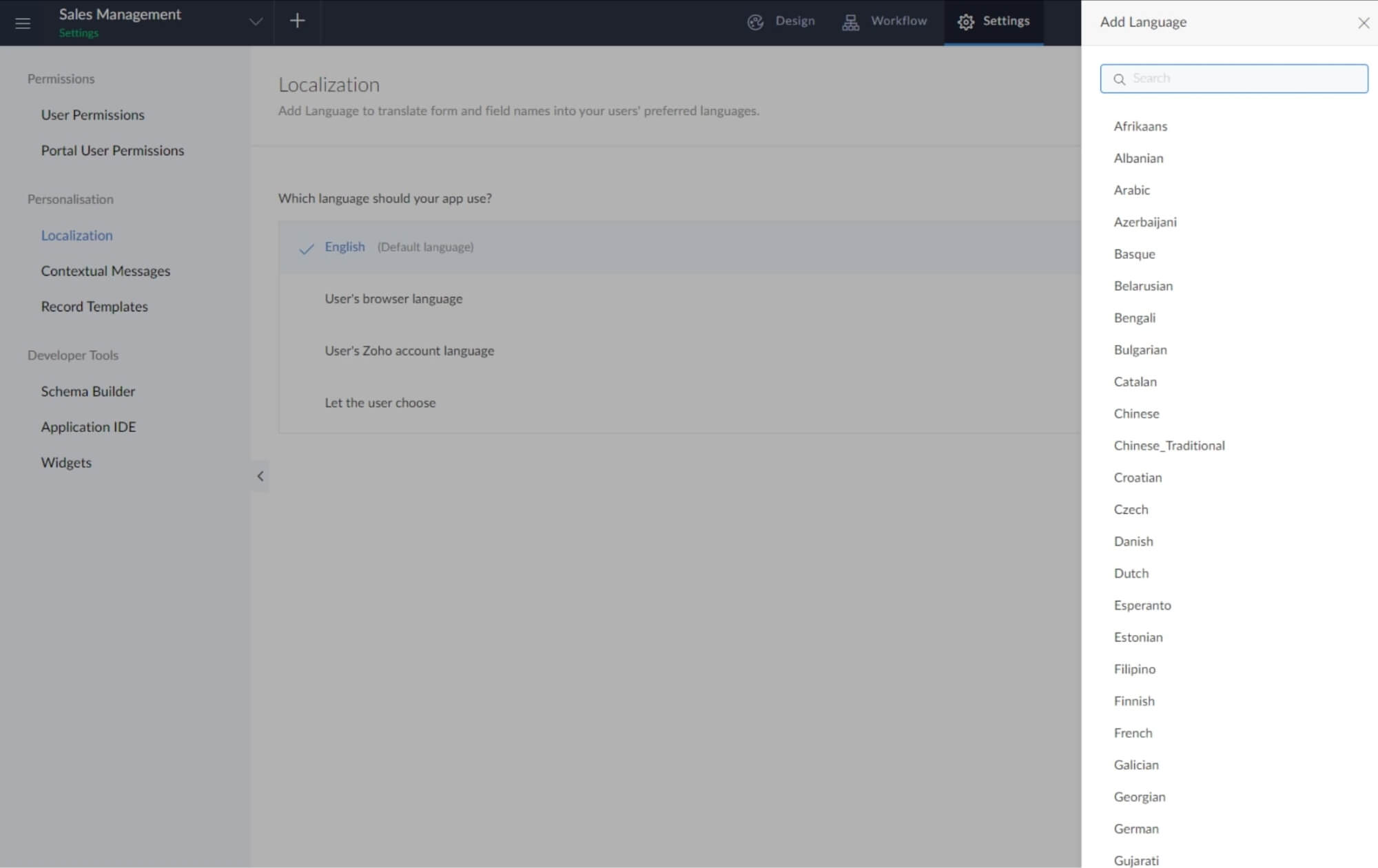 Euros, dollars, pesos, rupees, and more
Show monetary values in more than 137 different currencies from across the globe. Localize the formats of dates and currencies to resonate with users around the world.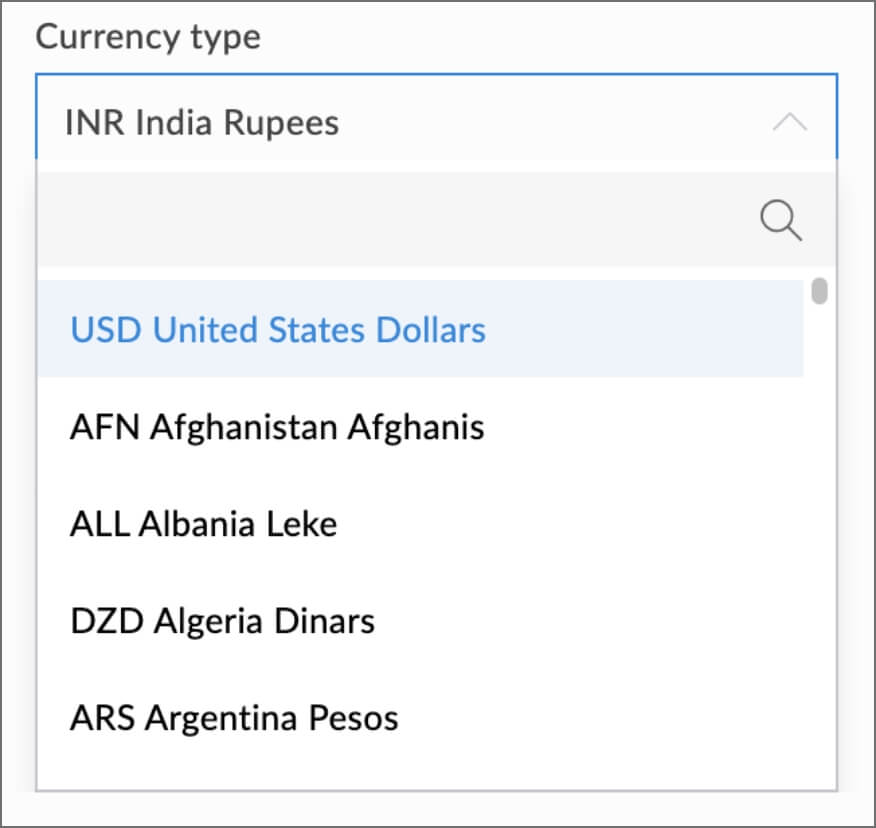 Let users upload files and media
The File Upload field lets visitors upload audio, video, pdfs, and other files to your forms.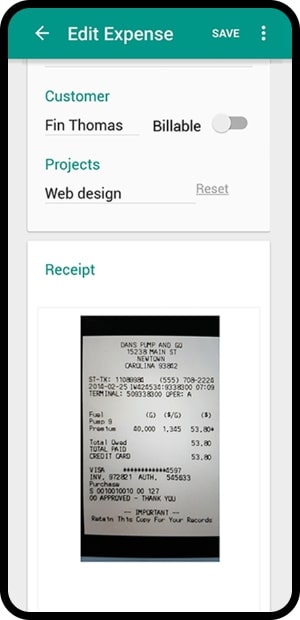 Get accurate map locations
You can easily collect geographical data on your Zoho Creator forms, as well as allow user locations to be prefilled into a form.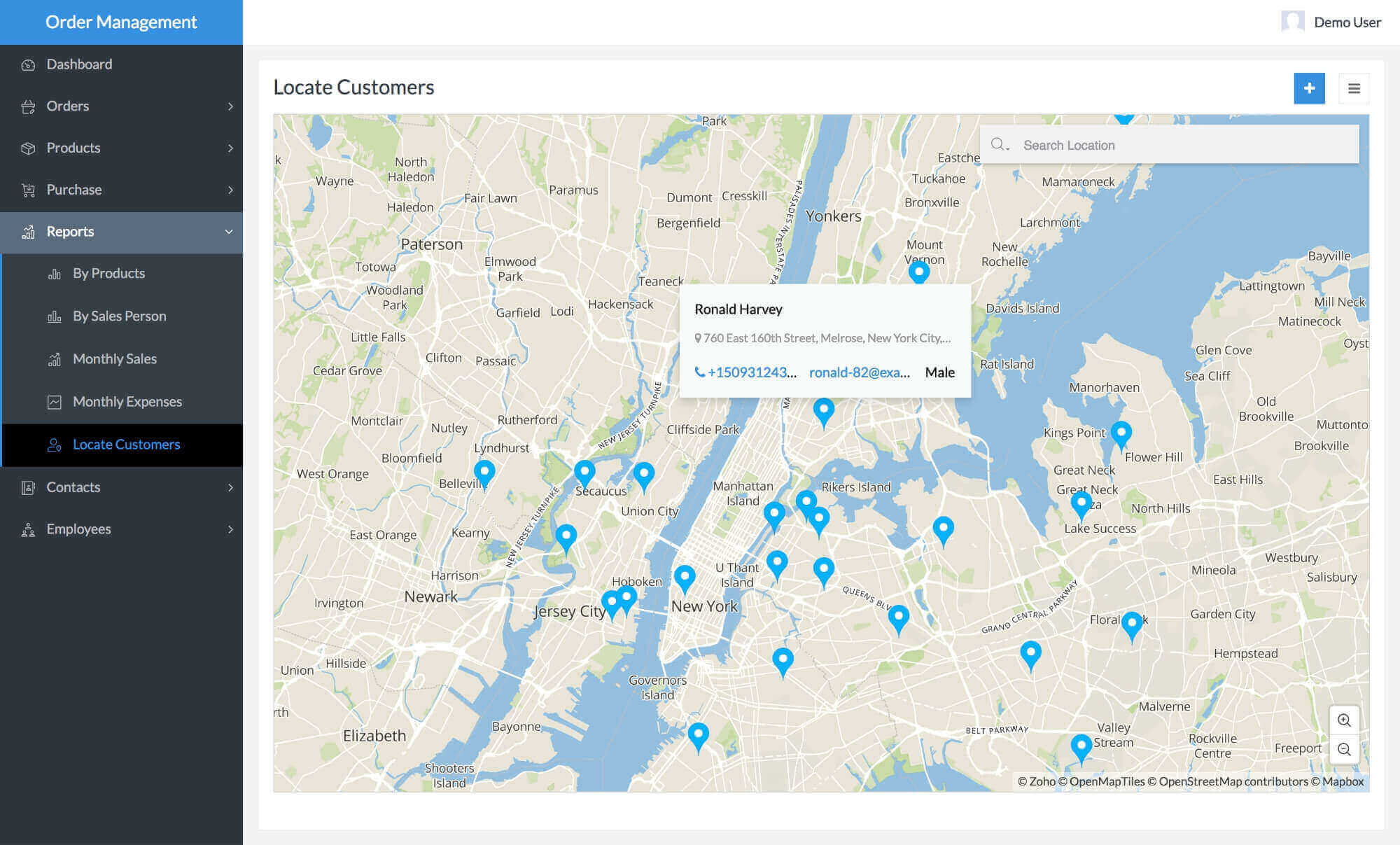 Collect email content and forum posts
Our Rich Text field empowers your users with a WYSIWYG content experience, with various styles and formatting options. The content your users enter will then be automatically captured as HTML code inside the application.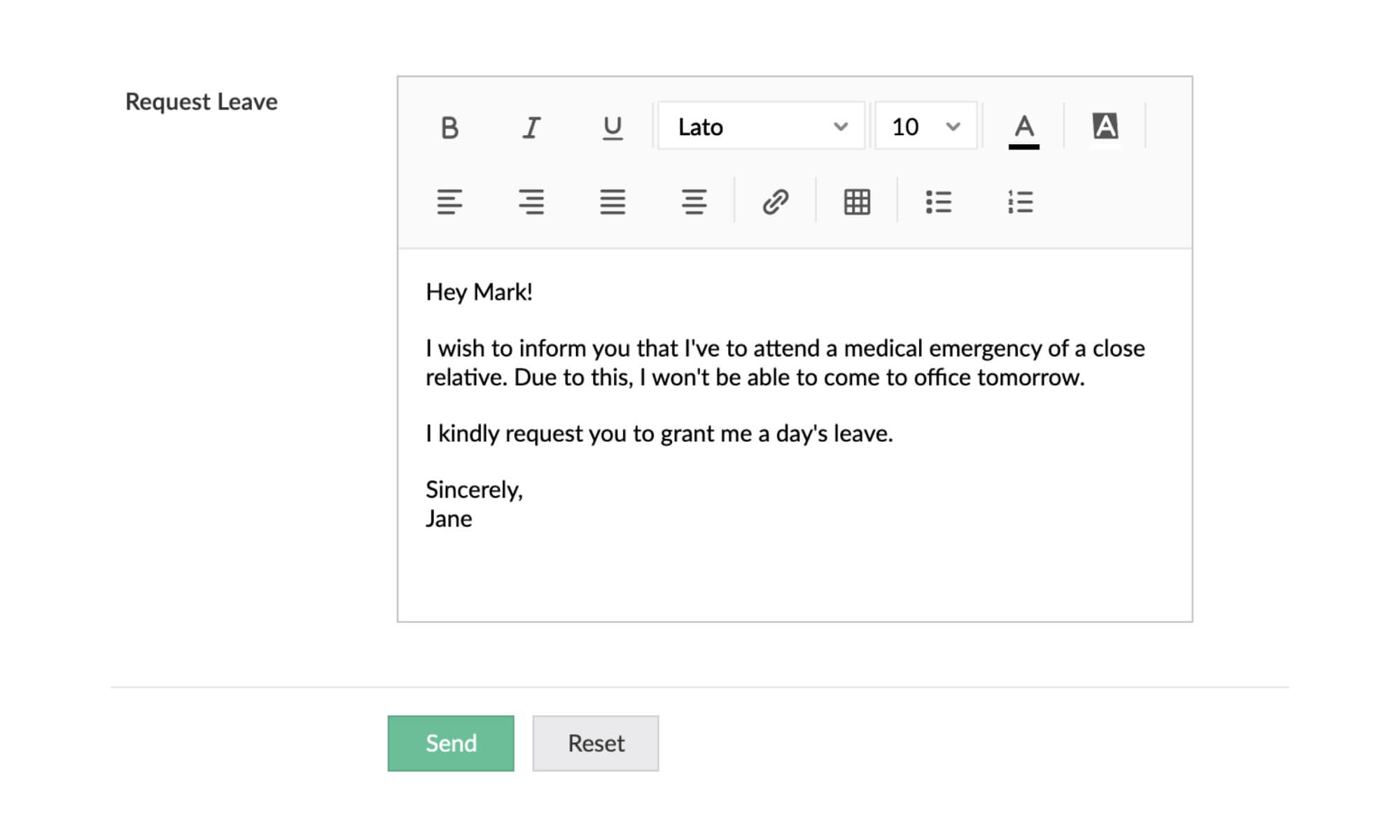 Perform powerful calculations
Let your forms do the math for you—total costs, compare dates, or calculate values based on user input. Use the Formula field to write custom logic based on operators, fields, and built-in functions.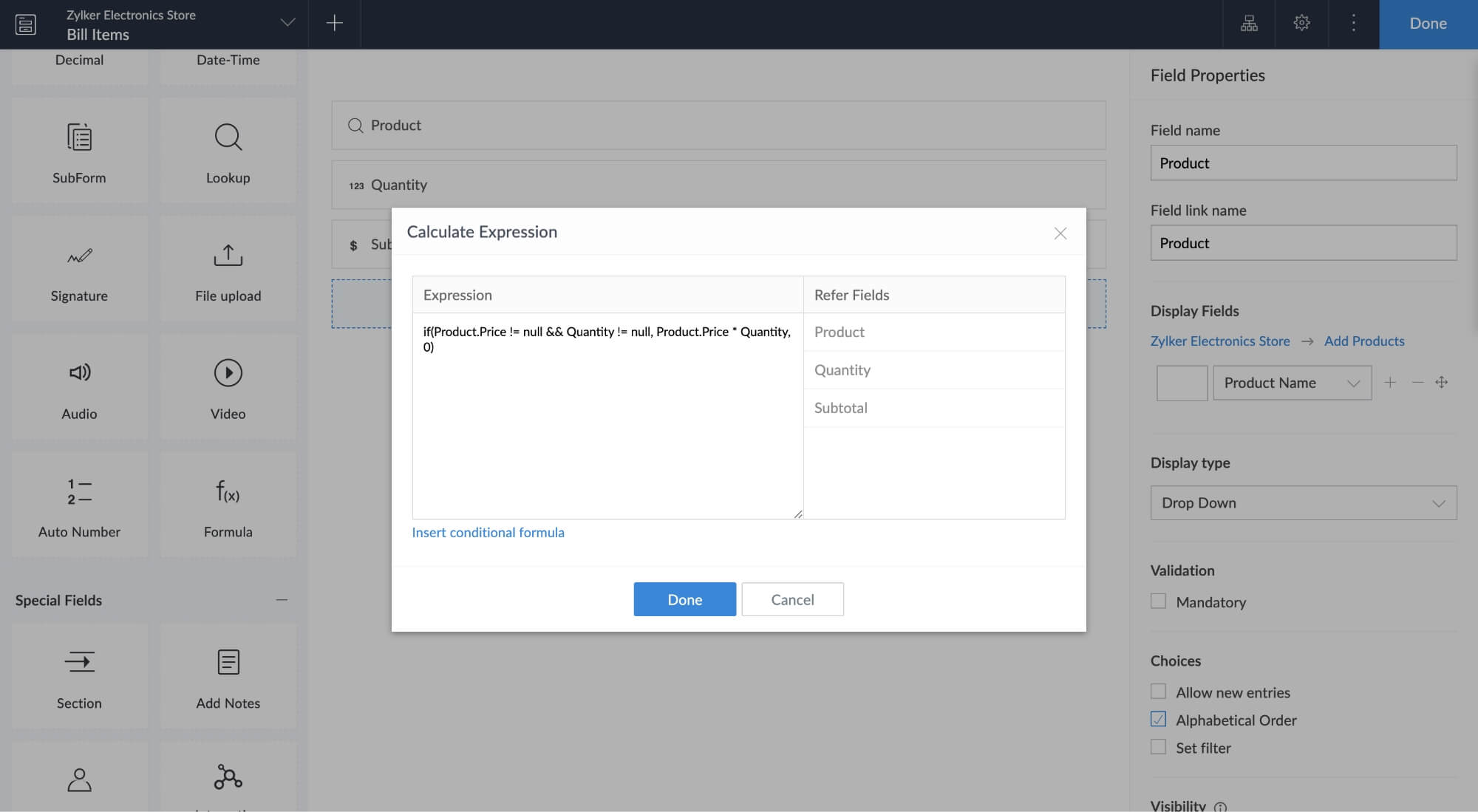 Scan NFC tags, QR codes, and barcodes
Your employees don't have to type in details from your inventory manually. Enable them to autofill the details for products by scanning their NFC tags, QR code, and barcodes.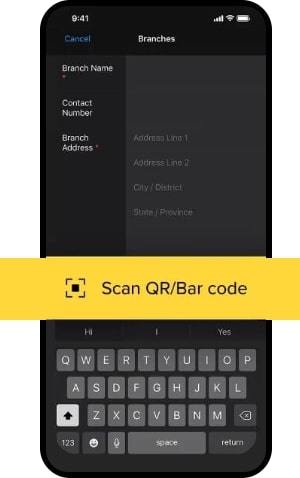 Create dynamic repeating sections
One customer might buy 6 items, but another might only buy 3. Accommodate the needs of everyone using Zoho Creator's subforms. Using subforms, you can create a one-to-many relationship between your primary form and a series of subforms.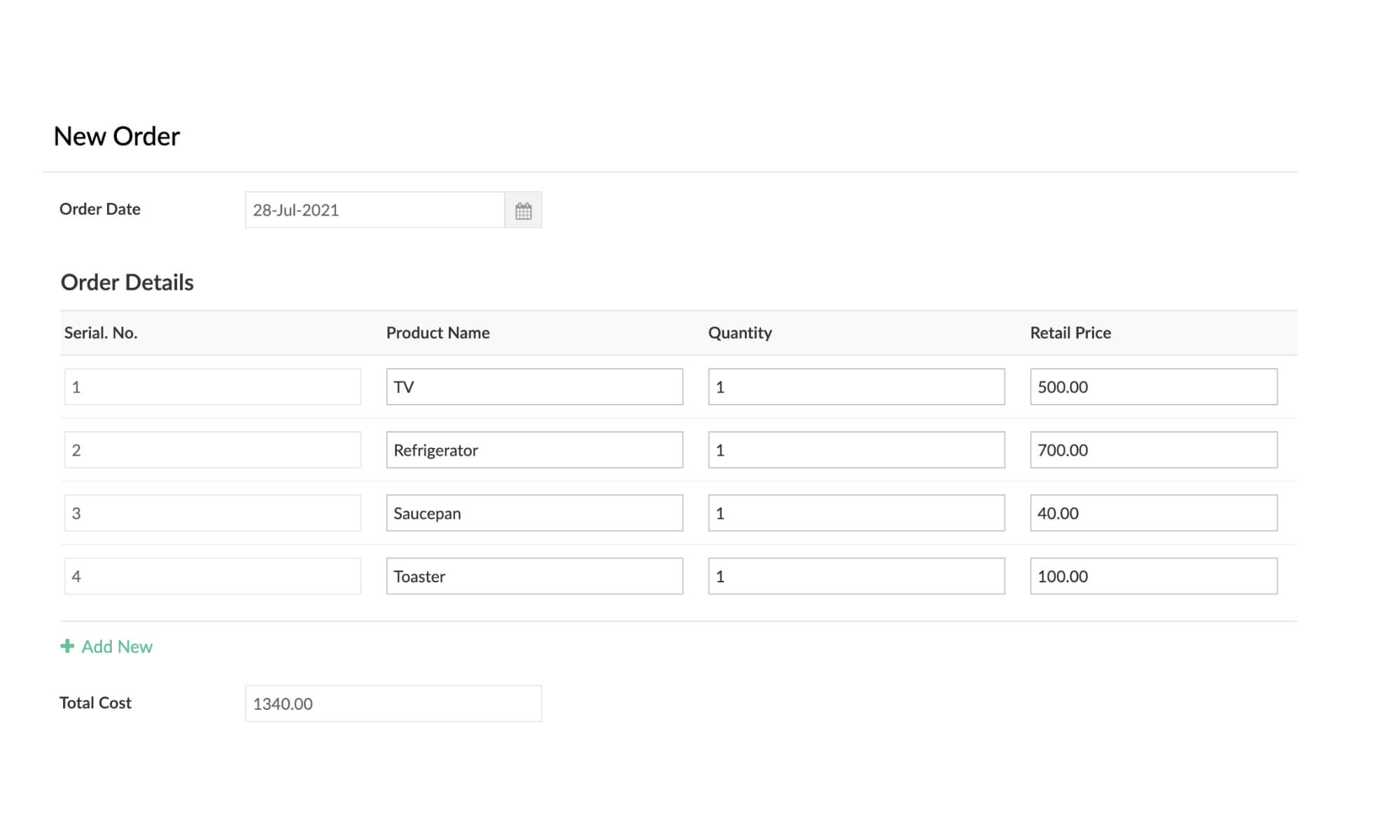 Look up data from other forms in real time
A professional application is incomplete without real-time lookups. With lookups, you can auto-populate fields and dropdowns based on entries from other forms.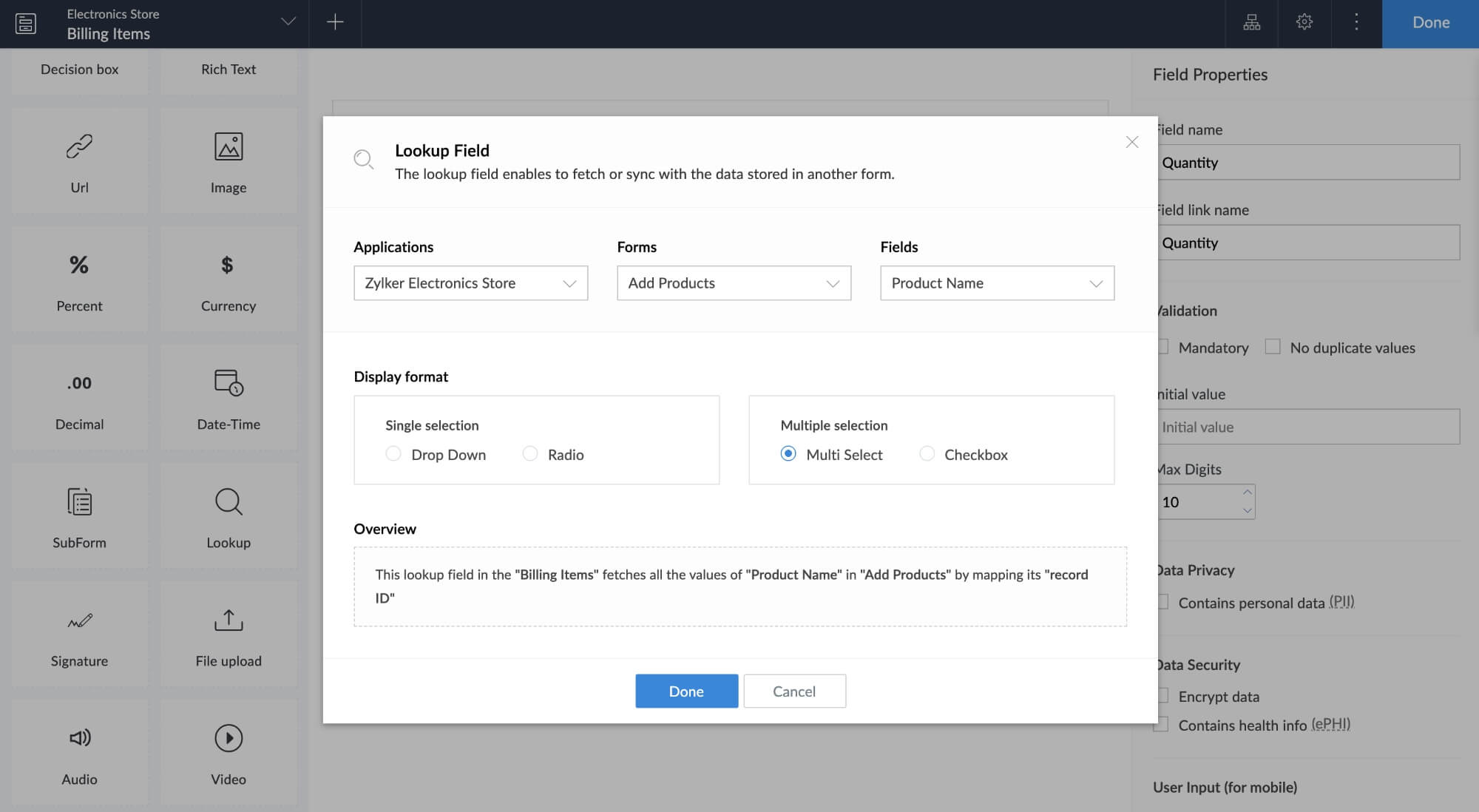 Pull data from other services
Each time your users access an Integration field on your form, Zoho Creator fetches data in real time from the selected module of an external service, such as Zoho CRM, Zoho Recruit, Salesforce, or QuickBooks. And you can achieve this without writing any code!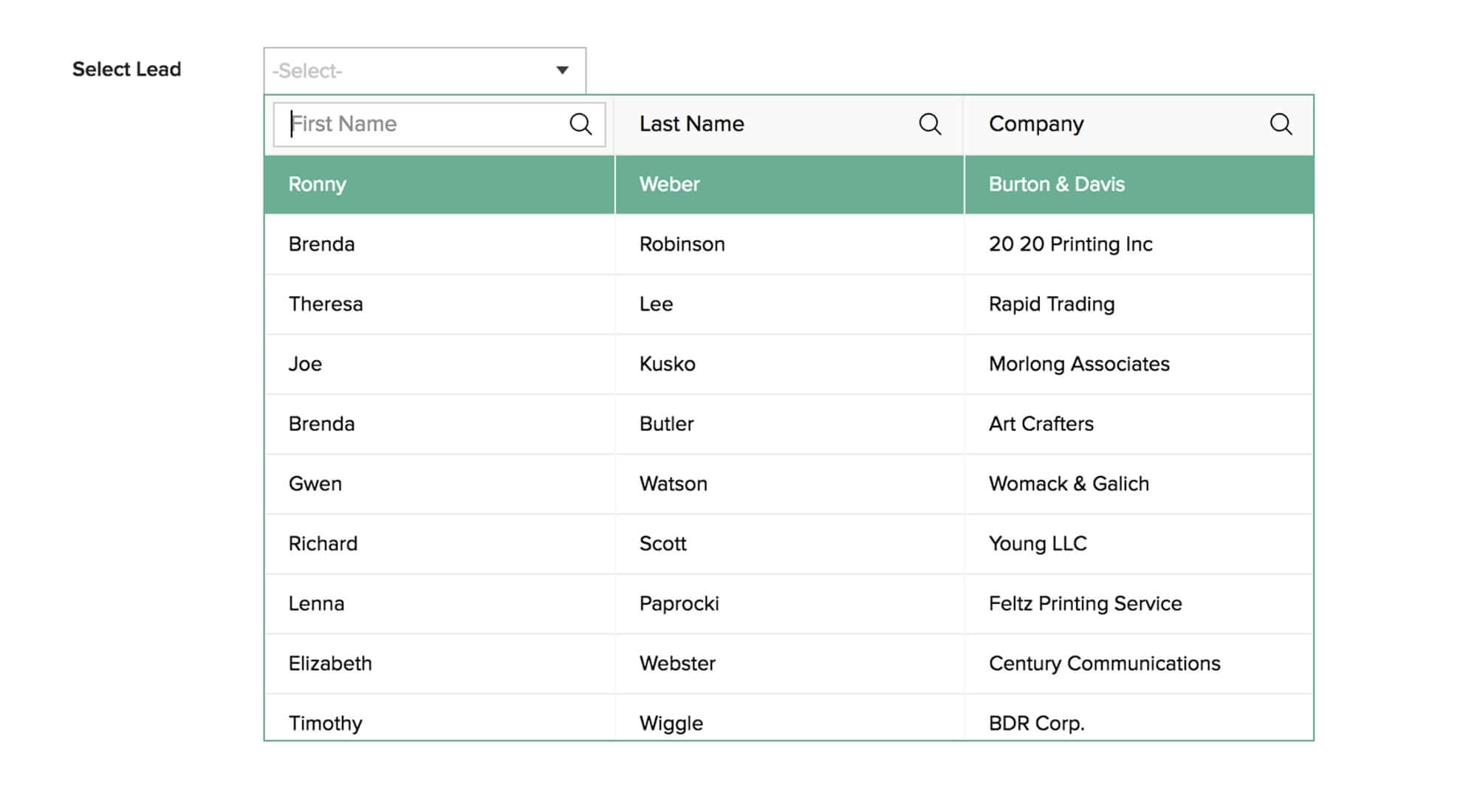 Associate records with users
Customize each record to be user-specific. Map a record to a user, and control ownership of records based on the user selected in the Users field.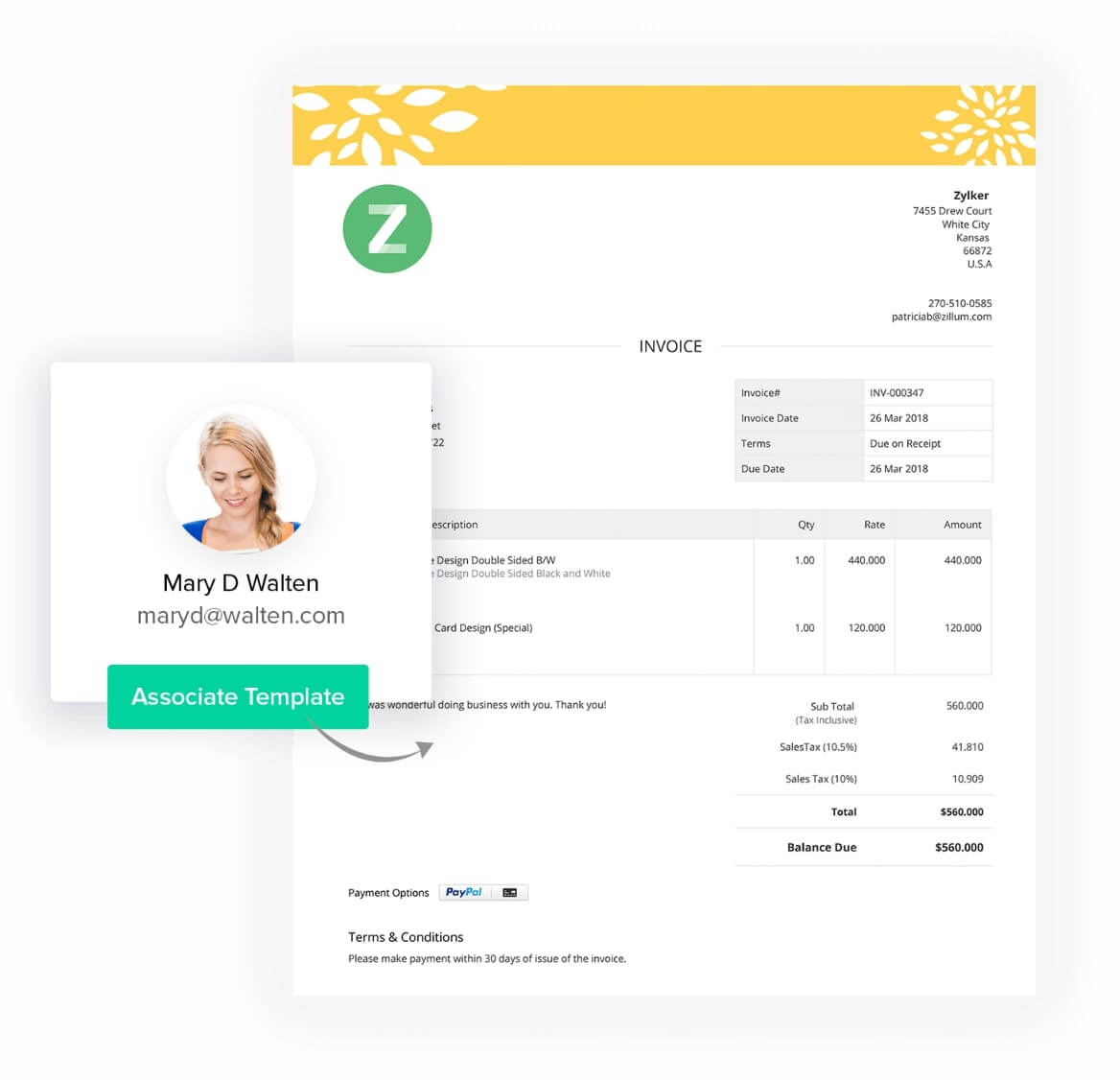 Prediction

Predict results based on insights from millions of pieces of past data.

Sentiment Analysis

Detect sentiment scores for human feedback.

Object Detection

Identify the presence of common objects.

Keyword Extraction

Extract important words from long paragraphs.

OCR

Scan files and images to digitize data.
Explore relevant features
Frequently Asked Questions
I need a calendar field in my form. Where can I find it?
The Date field gives a text box with a pop-up calendar for entering dates. These fields can be used for setting up reminders, scheduling meetings and appointments, and a lot more.
Do you offer CAPTCHA?
Zoho Creator supports CAPTCHA image verification to prevent automated spam entries to your forms. Learn how to enable CAPTCHA here.
How do I obtain explicit consent on my form as required by GDPR?
You can add a Checkbox field to your form with a clear description, such as "I agree to the terms and conditions." You can also control form submissions based on user input in the Checkbox field.
Can I have internal-use fields on my form that won't be displayed publicly?
Yes, you can configure form fields to appear only to administrators. Choose the field in the form builder you wish to display internally. Then, under Field Properties, navigate to Show field to and select Admin Only. Learn more here.