What is field service management?
Field service management involves dispatching workers to a location outside the company premises to repair, manage, or install equipment or products. Field service management software keeps track of an organization's field resources, and personnel sent on the road to deliver services directly to customers.
SIGN UP FOR FREE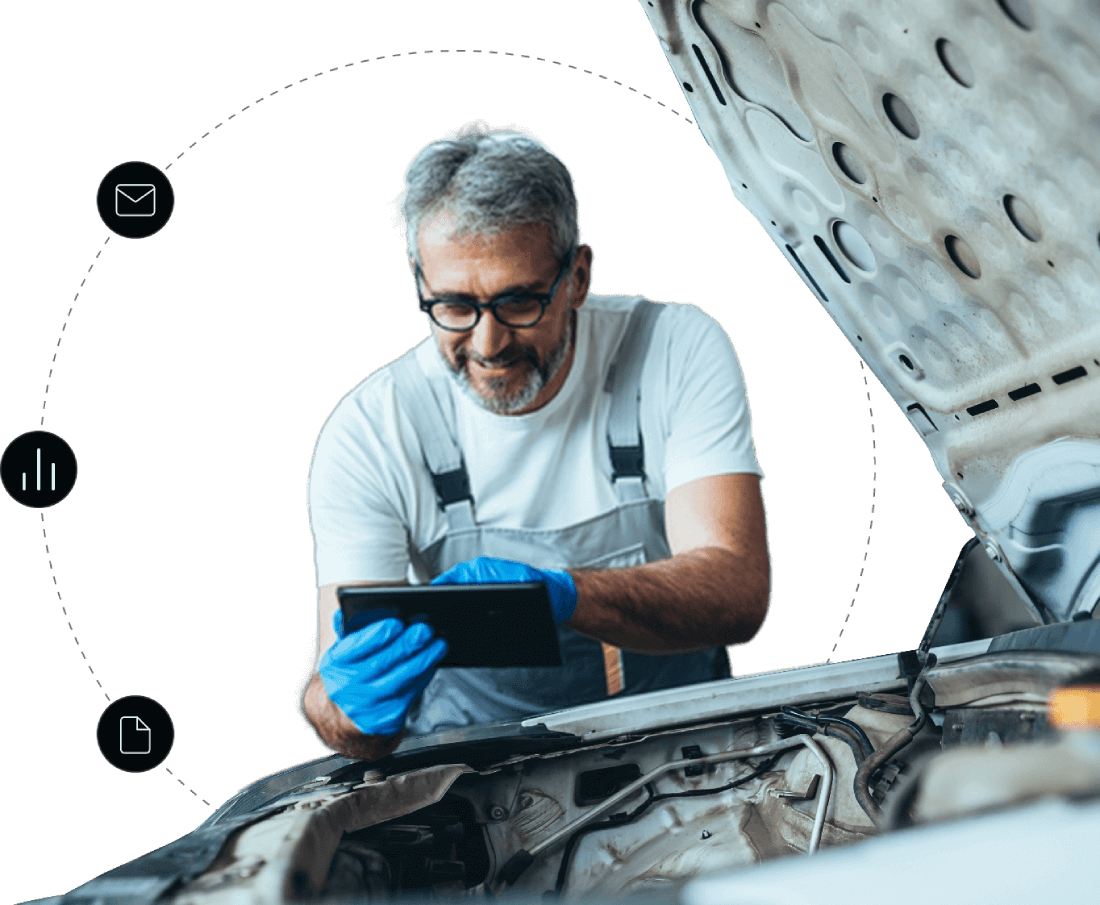 Benefits of field service management software
In today's digital world, keeping up with the demands of clients promptly can be a game-changer. So how do field service applications help you?
Aiding field service technicians:
Provide field technicians with remote assistance and mobile capabilities that help them troubleshoot and complete work tasks efficiently.
Increasing customer satisfaction:
Deal with customers face-to-face, make sure technicians meet client expectations, and eliminate service delays.
Eliminating allocation errors and improving service rates:
Ensure that technician allocation is effortless, ensuring they have the correct data and appointment information on a single platform.
AI-in-field service management:
As digital transformation evolves, AI will amplify field technicians' skills and training requirements while leveraging the ability to analyze endless fields of new and historical data.
Does your current solution not meet the mark? If you're looking to build a custom field service management application, low-code platforms are the tools you should be looking at!
One service to manage your field employees
Low-code application platforms offer customized solutions for field service management. Certain features can play a pivotal role in how your field service software differs from the competition. Here are a few of the key ones:
Notifying customers

Notify your customers about their request status, send SMSes and email notifications for field technician visits, and share invoices, reports, and quotes in real-time with clients.

Tracking assignments

Stay informed of the details of services for the day, and their statuses, such as whether they're open, in progress, or closed. Categorize tasks by call type, contract type, and service type. Also, reduce errors in the manual tracking of assignments and improve operational efficiency.

Customer service

Capture customer feedback and ratings at the end of services so you can address any issues immediately and prevent future complications.

Simplified reporting

Field technicians can update details about their assignment and report additional changes or costs that arise. Also, maintain complete visibility on the work done and a project summary.
Field service management software with Zoho Creator
Best-in-class field service organizations ensure a customized work experience by optimizing jobs and work orders. But how do you ensure client and employee satisfaction? Through custom field service management software on a low-code solution.
Zoho Creator offers you a broad set of custom solutions that can help manage your field services with ease! Some of the ideal custom solutions we provide for field service management software are:
Inventory management:
Our in-depth dashboard displays critical information regarding your inventory at a glance: purchases, sales, and products sold. It also contains visual reports on weekly and monthly sales. Extensive drill-downs can be accessed by clicking on specific data points on the graph.
Learn more
Logistics operations:
Effortlessly manage your shipments, vehicles, and drivers. What's more, with automated email/SMS notifications and full mobile support, your logistical operations are guaranteed to run smoothly.
Learn more
Supply chain management:
Break down supply-chain silos with real-time collaboration and visibility across your network. Our online supply chain management application lets you optimize your supply chains, vendor relationships, and distribution channels.
Learn more
Field service management software with Zoho Creator
We use a bidding process, where all approvals were tracked in an Excel sheet. So we built an app for it that is now being used in the organization. We're trying to digitize everything, as Excel can not be collaborated on, and we can't check the data very easily, on the go.
Rohit Bhatt,
Representative, Tata Projects
READ MORE
Get started now with our prebuilt retail software
Ordering goods and packaging, refilling inventory, automating purchase orders and invoices—take care of your backend operation fundamentals with our suite of applications for retail. Just install and customize them to match the unique needs of your retail landscape.
Frequently Asked Questions
How do you manage a field service team?
Field service teams can be easily managed through a field service management application. Building a custom solution through low-code enables you to cater your application to your specific needs and requirements.
Why is field service management important?
Field service management software allows you to automate a wide variety of repetitive tasks, including scheduling, sending out reminders, issuing work orders, and much more. It also reduces the risk of human error, eliminating mistakes that can prove costly for your business.
Who can utilize field service management software?
Any organization that deals with on-road projects or employees can utilize field service software. This could include warehouse management, inventory management, asset trackers, and much more.
How does Zoho Creator aid in field service management?
Zoho Creator is a low-code platform that enables users to build custom applications. You can create a custom FSM application according to whatever needs your organization or business use case requires.
Does Zoho Creator have ready-made applications for field service management?
Zoho Creator offers a set of pre-built applications for dozens of use cases. We offer applications such as inventory management, supply chain management, logistics operations, and more for field service management.Learn more page.