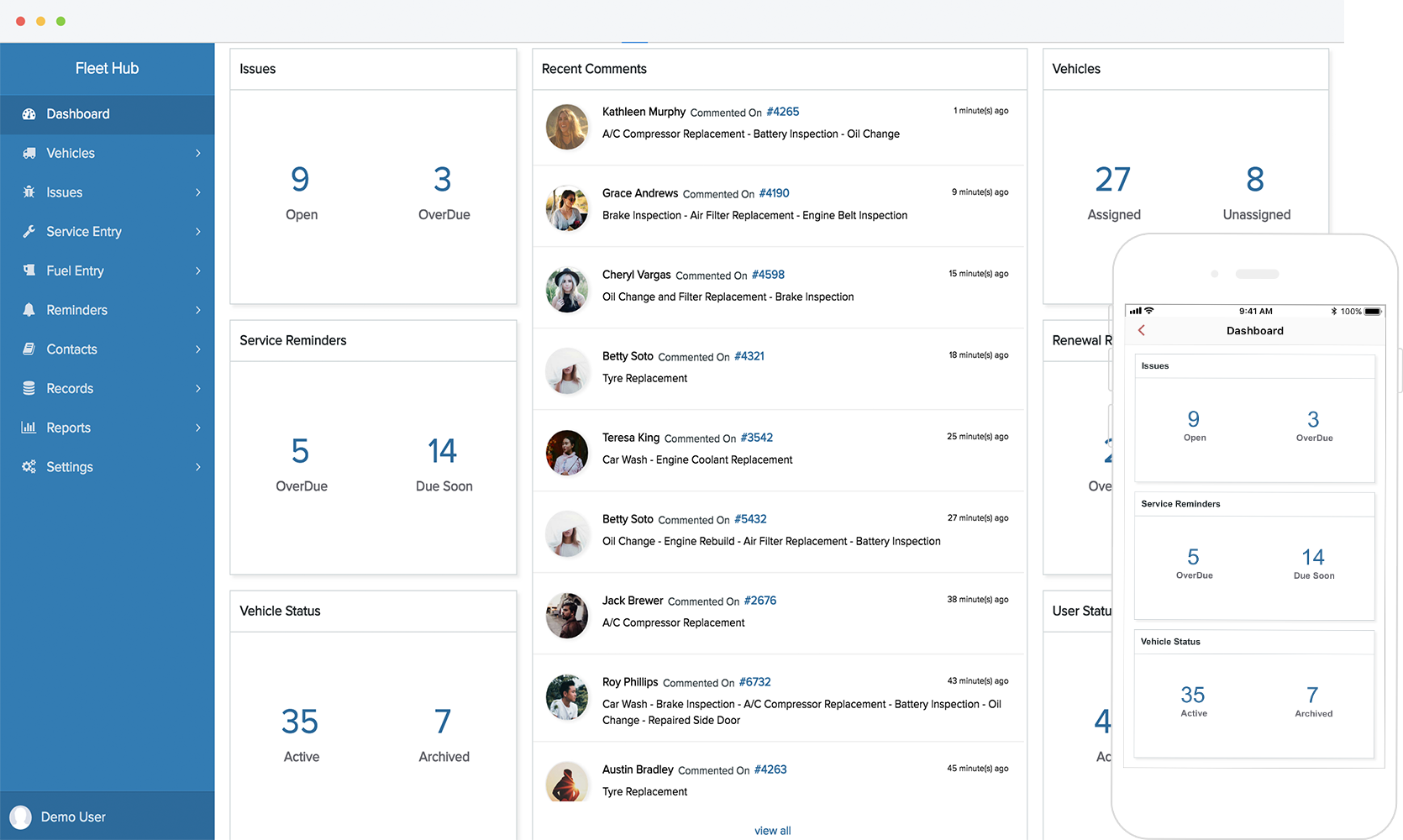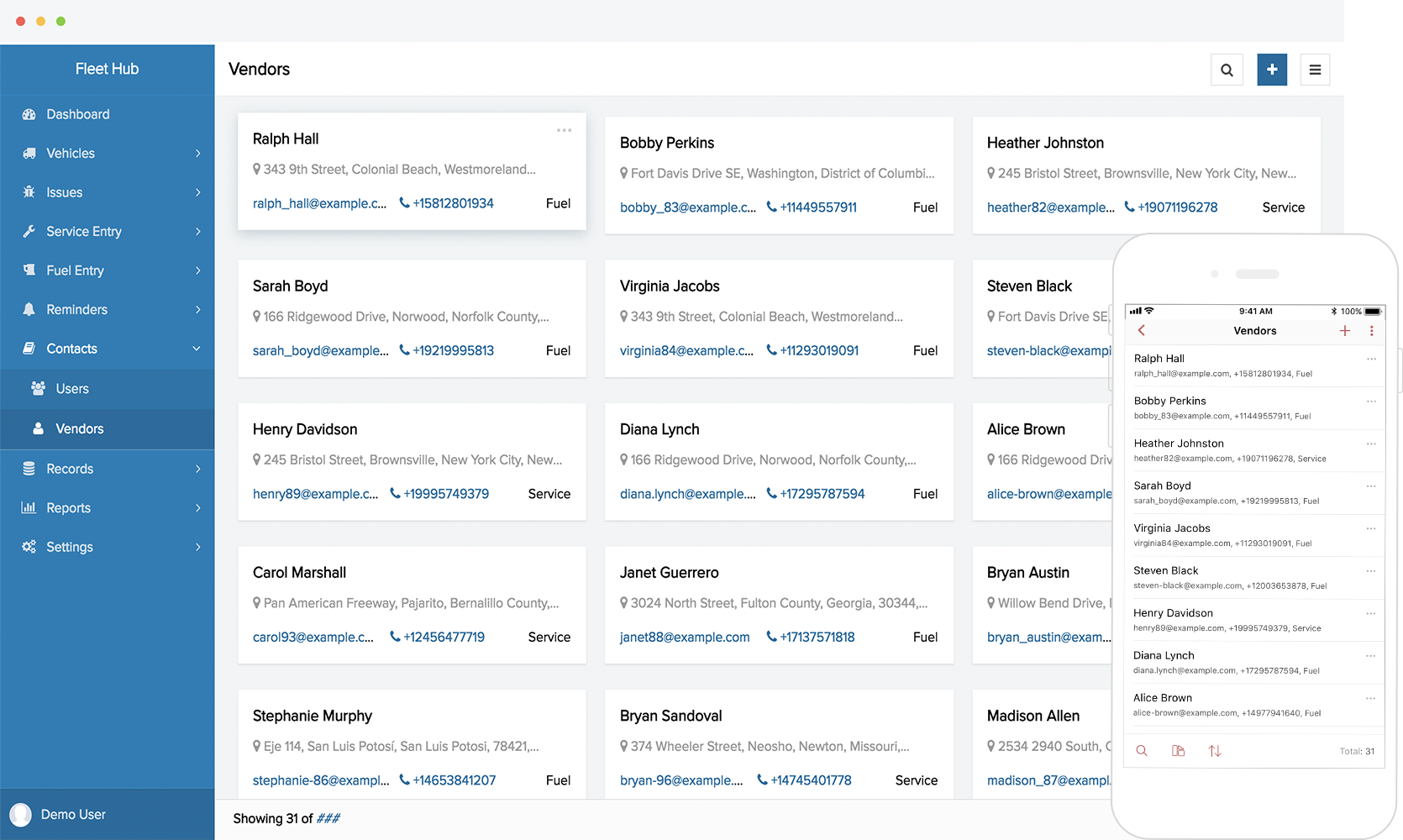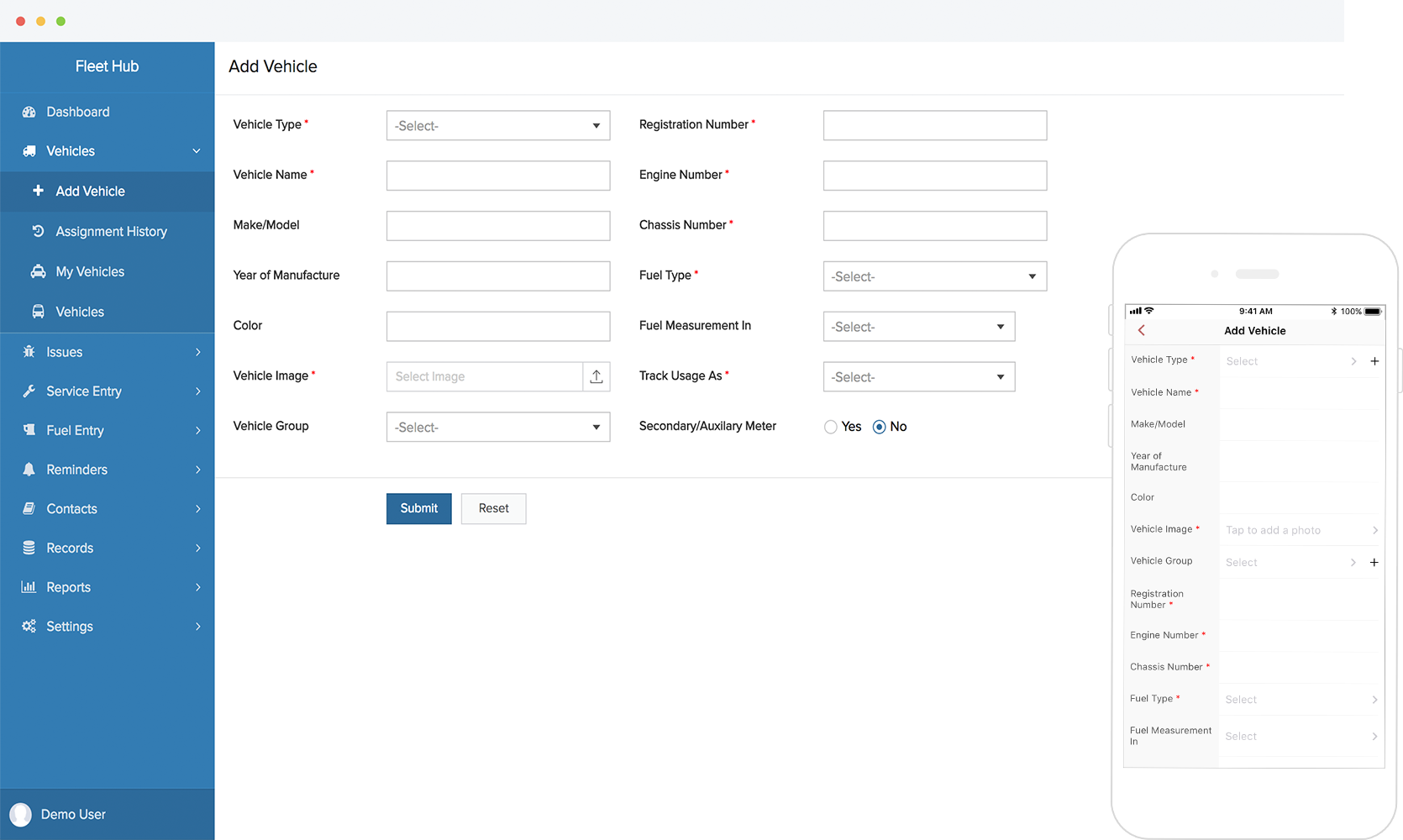 The nucleus of your fleet management activities.
Stay compliant.

With detailed service logs and periodic reminders, never miss a tuneup again. Automated email and SMS notifications ensure that you get your licenses renewed on time.

Monitor your resources.

Document details about your field assets, ranging from technical specifications, service history, fuel logs, and driver assignments, all in one place. 

Eliminate the paperwork.

Reduce the margin for error and save time by digitizing your operations, with electronic forms for data entry. And since it's a cloud-based platform, you can access your data from any device.

Digitize inspections.

Enable your staff to relay issues and inspection statuses in real time. Make quick decisions using comprehensive reports and attached hi-resolution images. 

Maintain a human resource database.

Use the inbuilt database management system to track every driver, service vendor, and employee in your organization. Add photographs and contact details, and generate printable ID-numbered employee tags for each person.

Analyze spending.

Use pre-generated graphs to scrutinize spending trends regarding fuelling and servicing to gauge vehicle efficiency and vendor performance. You can also view said graphs for each vehicle to appraise its relative operating potential and lifetime.
It's not just a fleet tracking app. It's a platform.
Customize.

All our apps are fully customizable, right out of the box. Coupled with the guided scripting feature, our drag-and-drop form builder allows you to add limitless functionality to your app. Want to record more information on each vehicle? Head to the vehicle info form, and add a field yourself. 

Go mobile.

For every app you access on your computer, there's a fully optimized native one waiting for you on your smartphone. Enjoy all the features of your app wherever you go, and on any device. From using barcode scanners, to tracking fuel cards, to uploading relevant pictures, to viewing service reports in real time, everything's possible.

Integrate.

We're flexible. Zoho Creator features integrations with a host of major software solutions like Quickbooks, Zapier, and Salesforce. You can also integrate with applications like Google Maps to provide drivers with turn-by-turn navigation and real-time traffic updates.