What is MRO software?
Business process management (BPM) software that specifically caters to the needs of organizations that deal with the maintenance, repair, and overhaul (MRO) of engines, components, landing gear, and airframes is called MRO software.
Whether you're a small aircraft maintenance shop in its growth phase or a large established MRO service provider, implementing the right tools to meet evolving business IT needs is critical to your operations. MRO software helps increase efficiency, reduce downtime, lower costs, improve compliance, and better communication between stakeholders.
What can you do with custom MRO software?
Monitor task-level compliance with regulatory requirements laid down by the FAA (Federal Aviation Administration) and EASA (European Union Aviation Safety Agency).
Access fleet data, upload images of defects, raise part requests, and sign off on maintenance tasks on the go, with mobile apps that support dual authentication.
Generate reports and utilize analytics to track maintenance performance and identify areas for improvement.
Schedule and track maintenance activities for all of your organization's aircraft.
Manage parts and inventory levels to ensure that you always have the necessary parts on hand.
Streamline communication and collaboration between maintenance teams, flight crews, and other stakeholders.
Simplifying MRO operations tracking for aircraft maintenance professionals:
At any airline or MRO, as a director of maintenance, you're responsible for ensuring that your fleet and its components are well-maintained and kept in airworthy condition. This requires the careful planning, scheduling, and tracking of maintenance activities, as well as compliance with regulatory requirements. To help you manage your maintenance operations more effectively, and get real-time visibility of mission-critical data, we offer a comprehensive set of tools to visualize data in your custom aviation MRO software.
Zoho Creator provides a user-friendly interface that allows you to manage maintenance schedules easily, track work orders, and monitor performance. With REST API integrations, you can also seamlessly connect third-party applications for real-time data feeds from maintenance engineers and pilots, allowing you to quickly identify and address any unscheduled maintenance issues as they arise.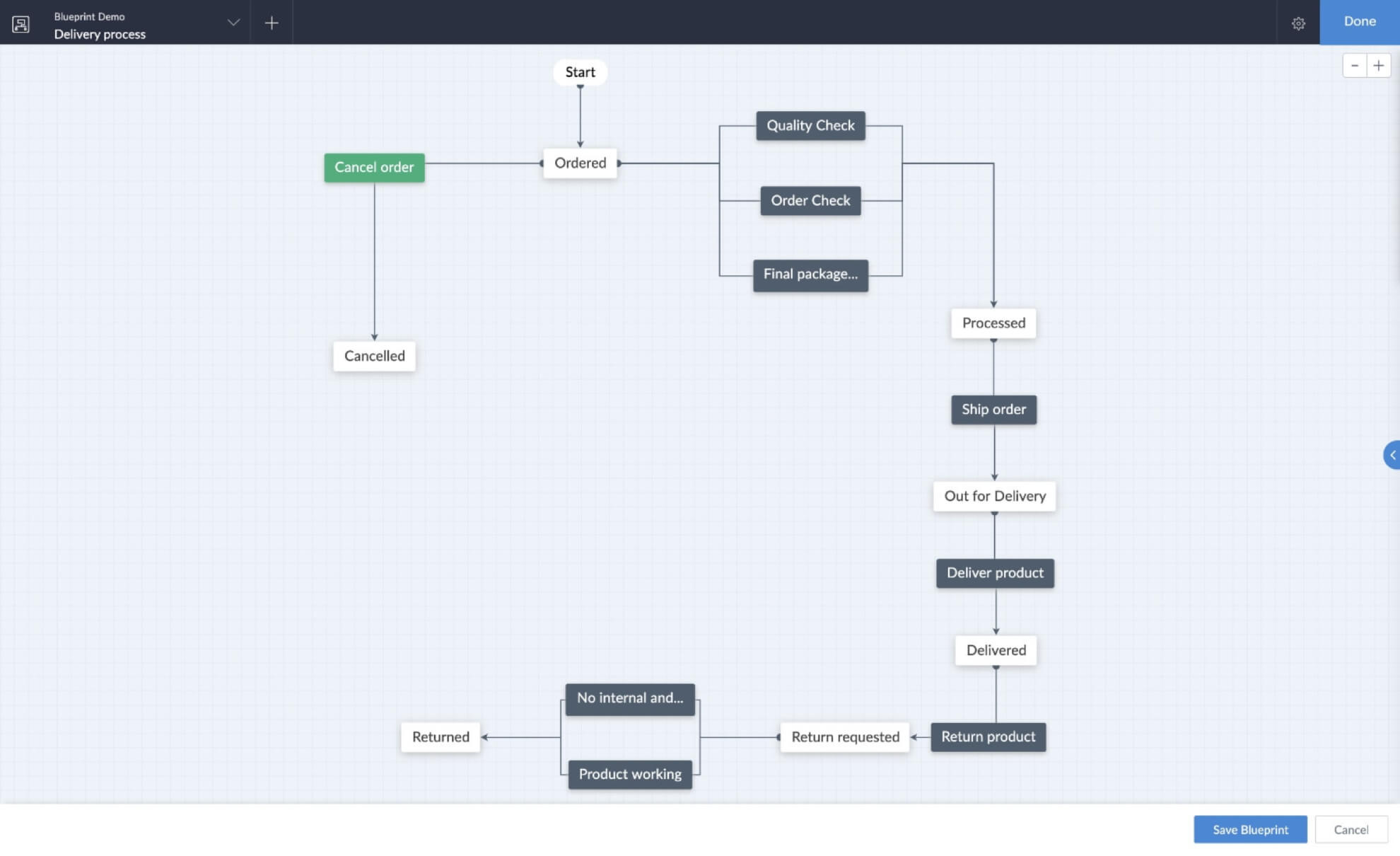 Learn how aviationscouts GmbH grew 200% with
Zoho Creator
aviationscouts, based in Germany, refurbishes and trades aircraft interior parts. Their teams, across departments, have successfully transitioned from paper and spreadsheets to Zoho's low-code platform. They've deployed a dedicated portal for parts trading, integrated with other apps to maintain books and inventory, and created a QR code generator tool that assists with parts tracking. Curious how they pulled it off? Get all the details in this e-book.
"Since 2022, our sales have almost tripled. I can also say that the amount of inventory we currently manage has tripled in the last two years. There are also many more data points we are working with than we were two years ago"

Hemal Bharadva,Director of Engineering and Operations, aviationscouts
Optimize your fleet and aircraft parts maintenance operations with low-code!
Don't wait any longer to transform your aviation MRO business operations. Get started with a free trial today!
Schedule a demo
Frequently Asked Questions
What are the benefits of using low-code aircraft maintenance software?
With low-code software, users can create custom applications tailored to their specific needs, integrate with third-party apps, build custom dashboards, configure workflows, define roles and permissions, and much more. These benefits can optimize and help IT and business operations teams improve maintenance operations and overall performance.
How does low-code aircraft maintenance software differ from traditional ones?
While the intent of MRO software is to help digitize processes, manage databases, and automate workflows, the difference lies in the ease of usage and ability to quickly customize them based on internal needs. Low-code platforms accelerate this process with a visual drag-and-drop interface—while traditional MRO software is typically developed by software vendors and is designed to meet the needs of a wide range of aviation organizations.
What features are typically included in low-code aircraft maintenance software?
Low-code MRO software supports all the needs of a maintenance organization, and provides flexibility to users to easily configure every part of their operations. Some of the features include: work order management, asset management, inventory management, compliance tracking, reporting and analytics, and mobile access.
Is low-code aircraft maintenance software easy to build and customize?
Yes! With low-code aircraft maintenance software, users can develop apps and customize processes, even if they have little or no coding experience. You can check out our training resources and help guide to get started.