What is a digital workplace?
Digital workplaces enable new and effective ways of working that enhance the employee experience. With constant technological advances, you can continuously reform your workplace to better achieve your business goals.
Simply put, the digital workplace includes all the tools and solutions to facilitate an innovative and collaborative work environment. It delivers a positive experience for employees by improving engagement and productivity.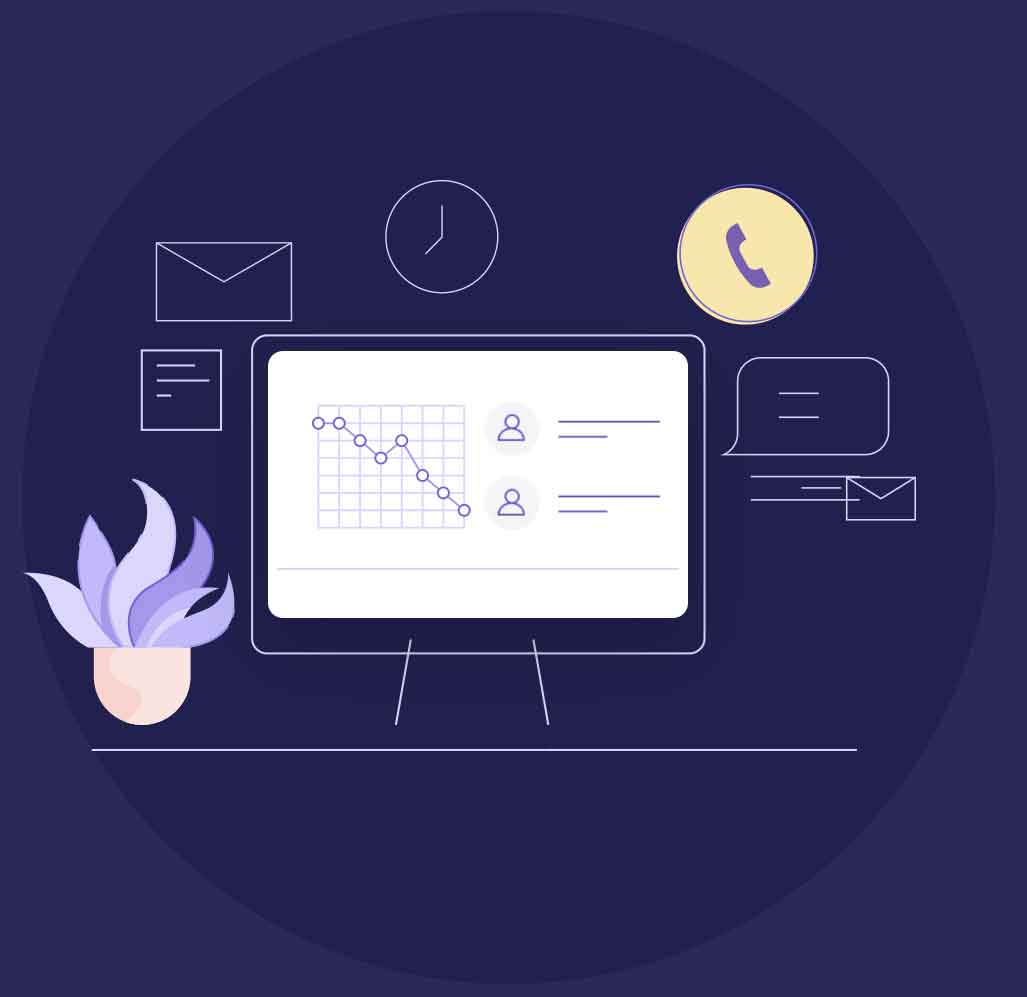 Modernize your workplace for measurable results
By adopting a digital setup, businesses enable employees across locations to communicate, collaborate, and complete their core work responsbilities.
Higher productivity

More effective employee engagement

Lower operational costs

Better process control

Enhanced customer experience
Build a well-connected

digital workplace solution with

Zoho Creator

Zoho Creator is a digital workplace platform that is powerful and flexible to adapt to your business needs. It is intuitive, and comes with a host of templates and plug-ins which enable your teams to create process-specific applications easily. It helps a workplace transition into a modern, connected environment that's aware of its occupants.
Muliti-level approvals

Smart alerts

Role-based access

Prebuilt integrations

Fast deployment

Native mobile apps

Auto-scaling


Automate your processes atop a low-code digital workplace platform
With Creator, you can build custom workplace solutions that will help you with:
Task management
Enable different teams in your organization to create applications that help them plan, coordinate, and monitor work progress effectively.
Process management
Keep all your operations process in one place, and make it accessible to anyone to pull out important insights.
Learn more
Project management
Get accurate real-time updates about ongoing projects, and keep track of the planning, initiation, execution, monitoring, and closing of a project.
Employee management
Track employee activity in real time, as well as requests made by employees for leave, travel plans, reimbursements, documents, and more.
Asset management
Integrate your applications with inventory or equipment lists, and update information like current availability, and item location or status.
Case management
Solve any style of case work, including investigations, incident management, service requests, employee onboarding, and bug tracking.
Learn more
See what our customers say about us

"Our company turned into a digital army when they realized the possibilities with Zoho Creator and started creating applications themselves. I was so delighted when non-programmers from our HR and accounting teams developed their web and mobile applications with minimal help from IT."
Jojo Guingao, VP Aboitiz

68.8
Hrs of development time saved
"Zoho Creator has given us extraordinary agility in the market. Whatever the need, we can build, deploy, and sell it with a relatively tiny go-to-market timeline and cost model. It's the ability to say to any client: "Yes, we can do that." That's a superpower."
Shelby Spencer, CTO Briotix
Try our custom-built digital workplace software
Get started with these pre-built apps that can be completely customized to fit your business needs.
Frequently Asked Questions
Who is Zoho Creator Digital Workplace Solutions for?
Your entire organization can use Zoho creator to digitize the workplace. The platform gives users the power to make this transition quickly and hassle-free. With its easy-to-use app building tools, Zoho Creator breaks down the technical barrier for all professionals, helping IT and businesses to work together better. This helps in creating an operational system of record to keep track of the progress of projects.
Why choose Zoho Creator over other products?
Zoho Creator is one of a pioneer in the low-code space that enables businesses to automate processes, manage and analyze data in visual reports, and integrate with existing tools. Zoho Creator digital workplace solutions act as a central hub for communication and collaboration, and as a process management tool to manage your day-to-day work. We provide you with all the features to digitize your workplace that doesn't require any special training.
How many companies are using Zoho Creator?
We have more than 10,000 businesses across 170+ countries using Zoho Creator to manage their workplace operations. Our customers include large, small, and mid-sized organizations (many in the Fortune 500) and span across various industries, including education, manufacturing, logistics, finance, retail, NGOs, food and beverage, health and hospitality, and many more.
Can we access the applications on mobile devices?
All the applications built on Zoho Creator comes with a native app for iOS and Android, which allows users to have real-time data access everywhere. We've also used Progressive Web Application technology to create a mobile app to use no matter what device or operating system you use.
How are Zoho Creator licenses priced?
Zoho Creator has a flexible per-user pricing model. For more details, please visit our pricing page.
How do I get started?
Zoho Creator has a 15-day trial period where you get to access all the premium features. You can get started with Creator by signing up here, or by visiting the sign up page.