Supply chain survival strategies for the post-pandemic era
Supply chain survival strategies for the post-pandemic era
Last Updated: July 27, 2020
4.6K Views
4 Min Read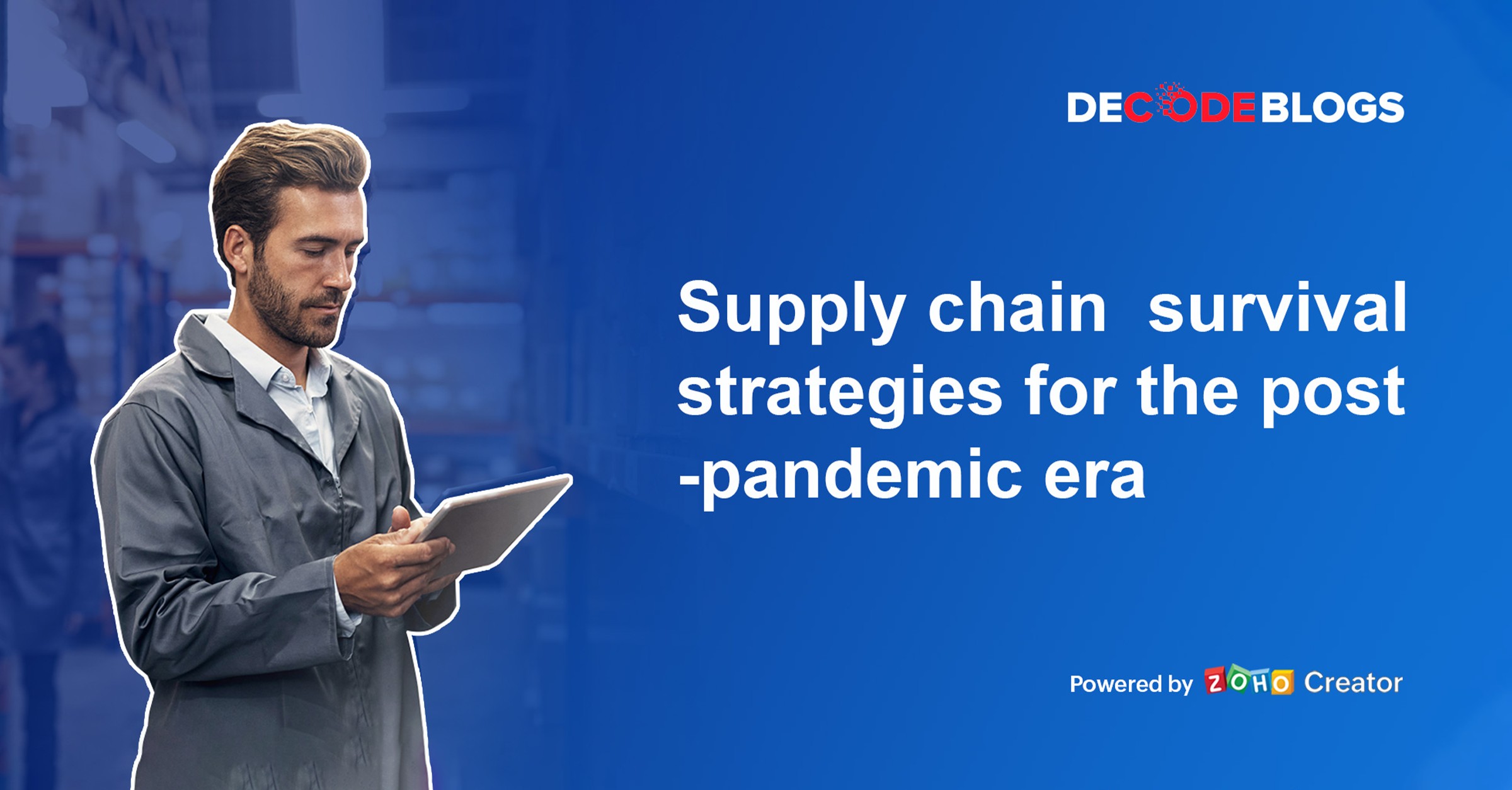 The largest disruption to the global supply chain in modern history is the COVID-19 pandemic, which falls under the category of unknown and unplanned events. No amount of contingency, technology, or prescient thinking is ever likely to allow full or even reasonable preplanning to achieve suitable preparedness for something like this.
The supply chain is now in a state of disruption, and this is affecting all sectors of the industry globally. The virus has affected the industry to the point where a return to normalcy will be exceptionally difficult.
Steps to tackle the impact of the pandemic
The best any supply chain organization can do—or possibly hope for—is to rapidly and logically group and regroup. This is essential to assess, determine, and act, in order to position the organization to support, communicate, and collaborate. This will ensure that the detrimental effects of the pandemic are managed within the current capacity while quickly building immediate future capacity and capability.
Here are some of the steps supply chain organizations will have to take for sustainability in these turbulent times:
Reassess continuity plans, and for those who haven't developed these plans yet, it is crucial they do so at the earliest.

Crisis management planning needs to be adopted by all stakeholders.

Focus on financial management is essential, as it will become a critical capability of the supply chain.

Inventory management volumes will either be surging or decreasing, so by having access to the right data, and by equipping themselves with an understanding of the markets, companies will be able to make more rational decisions.

Digital transformation will need to be mandatorily carried out and implemented in all supply chain and logistics organizations.

Adopt new strategies around digital technologies, such as big data, AI, cloud computing, blockchain, robots, IoT, 3D printing, drones, and virtual reality.
Having said that, business leaders will need to build trust and solve important problems by listening and engaging with their workforce and stakeholders. They will need to be factual, and run various scenarios while planning for the organization. These scenarios include strategy, finance, transfer pricing, cross-border trade, compliance implications, and contingency planning. So staying connected with key stakeholders is important, and visibility is paramount.
Other aspects of the supply chain
Ecommerce
Ecommerce is growing substantially as consumers look for new ways of making purchases, including buying international brands at cheaper prices than retail outlets.
The last mile
The last mile of deliveries has had its hiccups due to freight volume, which has expanded delivery times. Some of the causes for this relate to a lack of resources for delivering products to customers, and this is only going to continue. Some freight companies have made the move to review transit times to address customer complaints.
Reverse logistics
Another important arm of the supply chain that has been affected by COVID-19 is reverse logistics, which has been facing lots of challenging issues in 2020. Analyzing bottlenecks in the reverse logistics aspect of the supply chain, and resolving them, is vital to ensuring customer satisfaction and organizational sustainability.
Finance and sourcing
The cost of inventory and access to cash and contingency planning will be vital. Furthermore, procurement will play a significant role in discussions with suppliers on deeper collaboration regarding geographic areas for sourcing and auditing suppliers. They will need to map their suppliers and begin looking at predicting sourcing (which would consist of supplier, category, contract, payment, and sensitivity analysis).
Strategies
Supply chain strategies will always be initially dependent and interdependent on the manufacturing, selling, and financial functions within an organization. Once alignment with those strategies becomes visible and viable, supply chain strategies across technology, systems, processes, and people can be determined, adopted, and implemented. Supply chain improvements (large or small), irrespective of strategies, should always be sought, tested, and deployed rapidly.
The road ahead
In today's digital age, organizations are faced with the changing nature of the demand curve and the element of uncertainty in the supply chain. For operations teams, the challenge and competitive advantage is now dependent on how well we respond and execute against ongoing uncertainty.
With the world being so unpredictable, chaos is the new normal. Timetables and priorities have shifted, and demands on supply chains are increasing exponentially. A few years ago, supply chain performance was all about batch quantities, timetables, and lead times. Today, millions of packages are shipped a day, many with only a few items.
Supply chain decision-makers need to try and predict what will happen, then optimize performance against planning in the face of this upheaval.
Supply chain strategists should:
➤ Be ready for continued disruptions
➤ Ensure there are business continuity plans and crisis management plans in place
➤ Implement digital transformations to make organizations more agile and drive change
➤ Map supply chains from suppliers to customers, to identify risks within the supply chain and review processes
➤ Have the right people in the organization focusing on measures to combat challenges, attain targets, and manage work priorities
➤ Look at the lessons learned from current challenges to the supply chain, and reassess, improve, and change from the ground up
The path forward demands a bold leap in the supply chain—in terms of thinking, execution, and constant iteration upon continued feedback—to stay ahead of the curve to be sustainable.
Explore Now
David Rogers

I'm a tertiary qualified and commercially focused professional supply chain executive, with excellent strategic, operational skills and knowledge in FMCG, Consumer, Pharmaceutical, Manufacturing and third-party logistics encompassing international and domestic markets.
Leave a Reply
Your email address will not be published. Required fields are marked