Building a custom ERP for the accounting service sector with Zoho Creator
Building a custom ERP for the accounting service sector with Zoho Creator
Last Updated: August 31, 2022
424 Views
3 Min Read
We're back with another Decode blog series! With #JustLowCodeIt we bring you interesting use cases from our partners around the world.
In this blog, Zolution, a partner based out of Singapore, shares how they solved their customer's problems using Zoho Creator.
Zolution's client is a leading accounting firm in Singapore, with a footprint that stretches across Singapore, Malaysia, Vietnam, and China. Their regional network of offices makes them the ideal choice for businesses that need fully compliant accounting services across borders. The client provides various accounting, corporate secretary, and other related managed services, such as financial statements, tax return preparation, and business registration. On average, the client onboards close to 100 companies a month. So far, they have around 5,000 active customers.
The accounting services the client provides involved extensive manual work and paper processes, which resulted in inefficient and mistake-prone operations. In addition, the services offered are marketed under different subsidiaries individually, in order to match the needs of a variety of industries and segments. These inefficient operations were impeding the growth of the client's business, due to higher overhead costs, the complexity of quality assurance, and compliance with know-your-customer (KYC) efforts. These factors have slowed down expansion into new markets and reduced their competitiveness in existing markets.
In order to achieve economies of scale as the business grows, management built a shared operation center where their accountants and consultants gather as a team to deliver services centrally. Concurrently, they also planned to implement a custom ERP system, which includes a project management solution and advanced workflow functions, to automate their key business processes. The client aimed to achieve:
Reduced errors and duplicate work caused by manual entries
Empowered staff that can process higher value work for their customers
Better management of customer data for marketing and retention
Zolution was tasked with building an ERP system that synchronizes customer and transaction data from the multiple accounting systems that all the subsidiaries have. The system needed to automate project workflows, inform internal stakeholders about deadlines, and notify customers for renewals.
Zoho Creator was quickly adopted by the client as the low-code platform for their system, which they use as the intermediate layer to coordinate information flow between various existing IT systems. Zoho Creator consolidates the transactions and customer information from separate accounting systems, then synchronizes the processed data to Zoho CRM, which acts as the single source of truth for the sales, marketing, and operations teams to manage all customer data across different entities.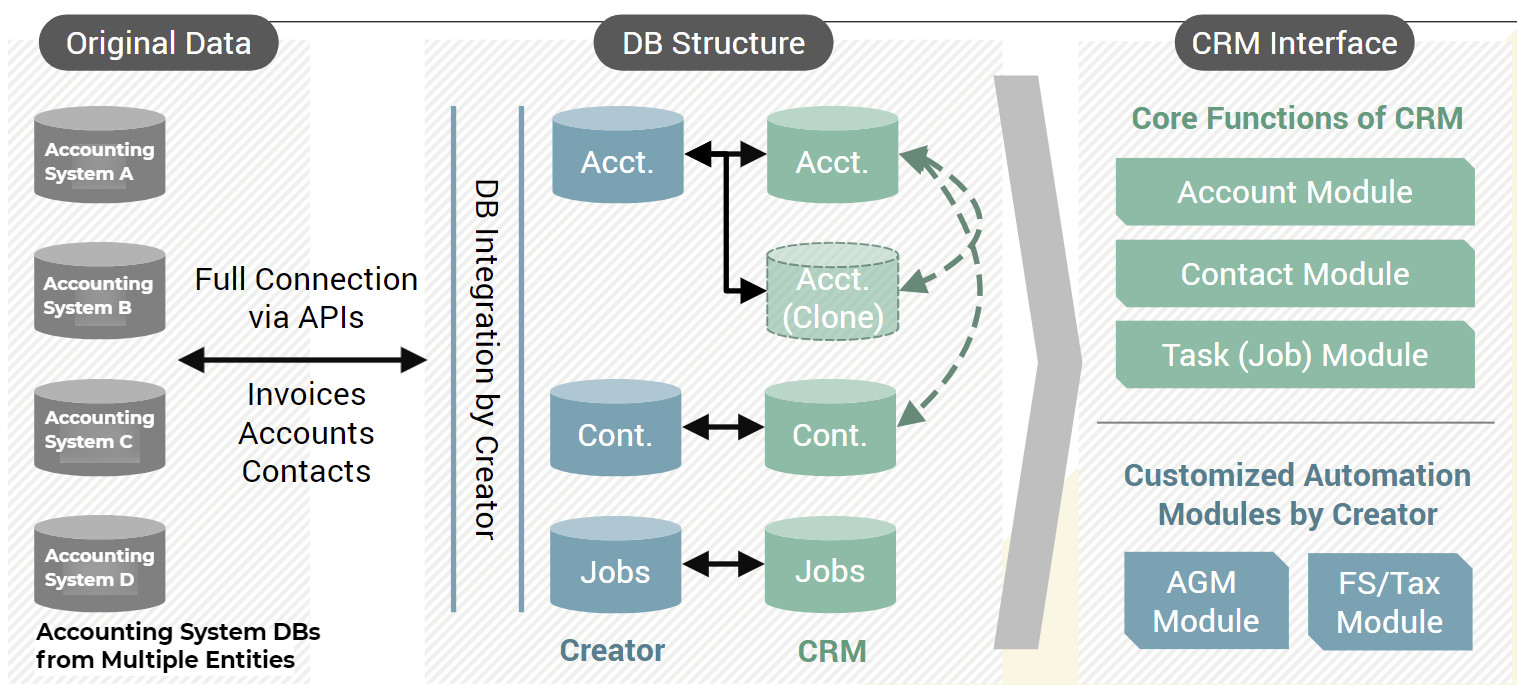 Zolution worked with the client's management team to build a custom ERP system to perform important tasks:
Help the sales team close deals and log customer information in respective accounting systems
Synchronize data when invoices are created in the accounting systems
Transform the raw data from the accounting system into the processed data that the operation teams need, then push the data into CRM
Use CRM to track the status of various projects across all subsidiaries and enrich customer insights for the sales, marketing, and operations teams
Generate up-to-date reports for management at any time
The client was highly satisfied with the results of the project. In terms of cost savings, the average operation cost per headcount was reduced from S$5 per customer in 2018 to S$2 in 2021. In terms of operational efficiency, they successfully achieved:
Reduced cost of labor-to-revenue ratio from 60 to 50 percent
Reduced the error rate of filing by 50 percent
Reduced average process time per case by 40 percent
No major system errors after the UAT
After this successful implementation, the client continuously engaged with Zolution for development of the second phase of the ERP. The first phase of the project enabled the client to consolidate all customer data and automate key processes. The second phase then focuses on marketing automation in order to grow the customer base regionally.
The flexibility of Zoho Creator also allows the client to quickly and timely modify the ERP according to the changes of their operations processes. In this hyper-competitive era, having the capability to quickly adapt to market changes is what sets companies apart from the competition.
This blog is written by James Yang, the managing director of Zolution, as part of the Creator developer's month initiative. Thank you for sharing your story with us.
Throughout this month, we'll bring more interesting stories to you. Celebrate world programmers' day with us!
Explore more about programmers day
Zoho Creator

With over 16 years of experience, Zoho Creator is a pioneer in the world of low-code. We empower users to build powerful solutions with minimal coding expertise. So, keep watching this space for all things low-code/digital transformation
Leave a Reply
Your email address will not be published. Required fields are marked