Key Takeaways:
Seamless collaboration

Zero errors in process flows

Operations savings of ₹300k

Mobile interface and approvals on the go

Greater efficiency in data collection
"We didn't face great challenges in switching to Creator. Because, once built, it was child's play for our teams to work on the Creator app. It gave us minimal scope for manual errors and greater accountability."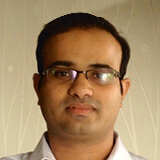 Gopi Krishna P,
Chartered Accountant
A transformation powered by low-code
Zyenac Solutions has gained immense exposure in the fields of accounting and taxation. The company was using spreadsheets to maintain their assignments. However, as they grew, they had difficulty defining a process for approvals, and providing restricted or role-based access for employees to protect confidential data.
They needed a new development platform to help them be more responsive to customer needs through faster, iterative updates, while also reducing growing backlogs. After experimenting with different charterd accountant solutions, they decided to implement Zoho Creator as their key platform, due to its availability on all types of mobile devices.
With Zoho Creator, Zyenac solutions was able to build their own application which helped them stay on top of their game. Employees now have efficient workflows and zero errors in their process, and they're managing their assignments with far less effort.