A bright future for the low-code market
A bright future for the low-code market
Last Updated: January 3, 2022
388 Views
4 Min Read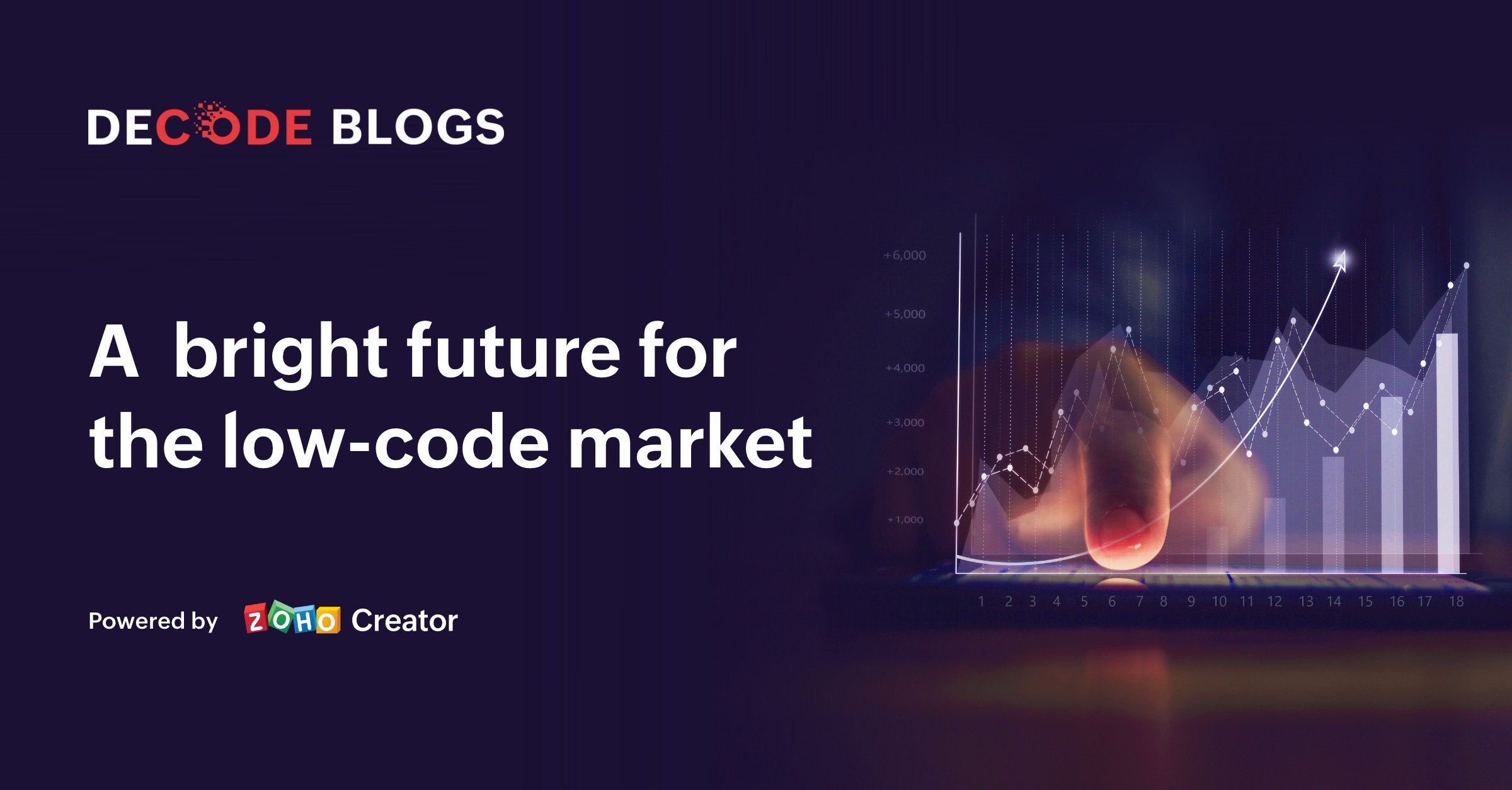 The low-code market is on the cusp of going mainstream, according to a new study by Zoho. The report, which surveyed over 800 IT and business leaders worldwide, identified several factors driving its adoption. The most significant of these is to increase the rate of application development.
This finding should not be a surprise to enterprise leaders.
Customers, partners, and employees now expect a fluid, digitally empowered experience throughout every interaction with an organization. Unsurprisingly, that has created an enormous demand for digitalization and automation—a demand that far exceeds the capacity of resource-strapped IT organizations.
The answer—at least in part—is low-code development platforms. The study highlights this growing momentum, identifies the specific challenges fueling it, and paints a picture of why organizations will increasingly turn to low-code platforms as they seek to embrace digital transformation initiatives.
The digital transformation challenge
While the term digital transformation is on the verge of overuse, there's no denying that organizations are in the midst of a massive push to digitalize, automate, and use technology to improve virtually every aspect of how they function and operate.
The pressure to do so is immense.
Most of this pressure comes from the experience that customers, partners, and employees now expect in every interaction. Whereas each of these constituencies would have accepted a manual process only a few short years ago, any process that they now perceive as inefficient is likely to lead to a lost sale, failed employee retention, and partners bolting for competitors.
And this is now true for even the smallest organizations, as everyone is competing against world-class consumer experiences.
As a result, organizations of all sizes are on a mad dash to "digitally transform," whether by digitizing manual forms and processes, automating workflows, or creating entirely new experiences. However, they quickly run into several challenges that inhibit their forward progress.
In the Zoho study, two-thirds of respondents reported that their most significant technology-driven challenges were a combination of communication gaps, the lack of priority placed on departmental needs, and the slow process to develop applications.
In short, the problem is an automation gap that organizations need to close if they are to compete and thrive in a digital-first world. And this is where low-code is entering the picture.
Closing the automation gap
Other than reducing demand—which is now impossible—few options are available that will enable an organization to develop and deploy more technology faster. In fact, it really comes down to only two opportunities: increase the speed of development (i.e., reduce the time it takes to develop, deploy, and manage applications), or increase the number of people doing the development.
Low-code platforms enable both.
The majority of respondents identified two primary benefits of low-code platforms: their ability to increase the rate of application development, and their ability to abstract away the complexity of the development process. The latter is an enabler of the former. Ultimately, this finding indicates that organizations see low-code platforms as a way to activate the first option—development becomes faster using them.
This improvement in development throughput means that organizations can deliver solutions more quickly, enabling greater market responsiveness. It also means that they can get to those departmental requests that might not otherwise make it to the top of the development pipeline due to clearing the IT backlog.
But low-code platforms also expand the number of people that can participate in the development process in two ways. First, it enables IT organizations to engage non-development technical staff in the process. Second, it opens the door to engaging line of business users in the development process itself.
The abstraction function of low-code platforms allows nontechnical users to focus on business functionality rather than on code syntax—and essentially expands an organization's development resources.
However, that's not the only benefit of engaging business users in the development process. By allowing them to focus on their specific business needs (rather than the technology itself), low-code platforms enable business users to more rapidly experiment, react, and respond to the changing business climate—whether that's creating technology-powered solutions to better serve customers or by closing those communication gaps that drive inefficiency and frustration.
The Intellyx take: Low-code's bright future
There were two shocking numbers in Zoho's The State of Low-Code Development study, both of which point to a bright future for the low-code market.
The first was that 59% of IT respondents (and 29% of business users) stated they are proficient in at least one low-code platform. Just a few short years ago, it would have been surprising to see that number of IT leaders even aware of low-code platforms, let alone proficient in them.
This adoption level indicates both the significance of the automation gap challenges facing IT organizations and low-code's ability to close it.
The second finding backs this assertion. According to the study, almost two-thirds of organizations are now "actively evaluating" low-code platforms at a strategic level. Again, this supports the analysis that solving the automation gap is critical for enterprises and that low-code platforms represent a proven way to address it.
Taken together, it seems clear that the low-code market is reaching the tipping point in which it will become a predominant method of development in organizations. It looks to be an essential enabler as they seek to improve communications internally and externally, automate workflows and business processes, and deliver exceptional experiences to their customers, employees, and partners.
You can read Zoho's The State of Low-Code Development by clicking here.
Copyright © Intellyx LLC. Zoho is an Intellyx client. None of the other companies mentioned in this article are Intellyx clients. Intellyx retains full editorial control over the content of this paper.
Explore Now
Charles Araujo

Charles Araujo is an industry analyst, internationally recognized authority on the Digital Enterprise and author of The Quantum Age of IT: Why Everything You Know About IT is About to Change. As Principal Analyst with Intellyx, he writes, speaks and advises organizations on how to navigate through this time of disruption. He is also the founder of The Institute for Digital Transformation and a sought after keynote speaker. He is a regular contributor to CIO.com and has been quoted or published in Time, InformationWeek, CIO Insight, NetworkWorld Computerworld, USA Today, and Forbes.
Leave a Reply
Your email address will not be published. Required fields are marked