What is business process automation (BPA) software?
It's software that helps simplify jobs, enabling automation of complex business processes and functions beyond conventional data manipulation and record-keeping activities. Enterprises need effective automation software to manage core processes that go beyond the IT department.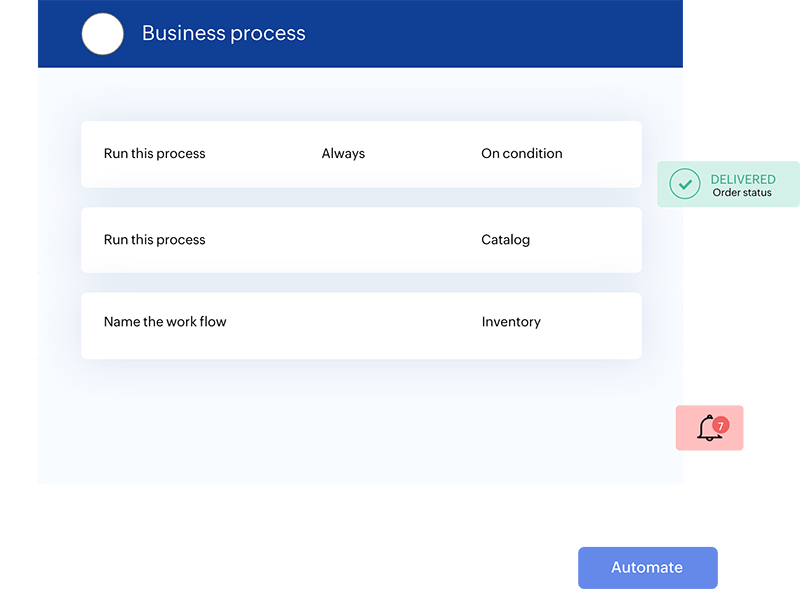 What can you achieve with a business process automation platform?
Improve productivity with automated processes
Eliminate the possibility of human errors
Stay on top of your work with notifications about updates or any process deviations
Schedule tasks and send reports, event invitations, and reminders on time
Get deeper insights into business processes with prebuilt connectors and easy-to-configure APIs
Configure multi-level approvals for any process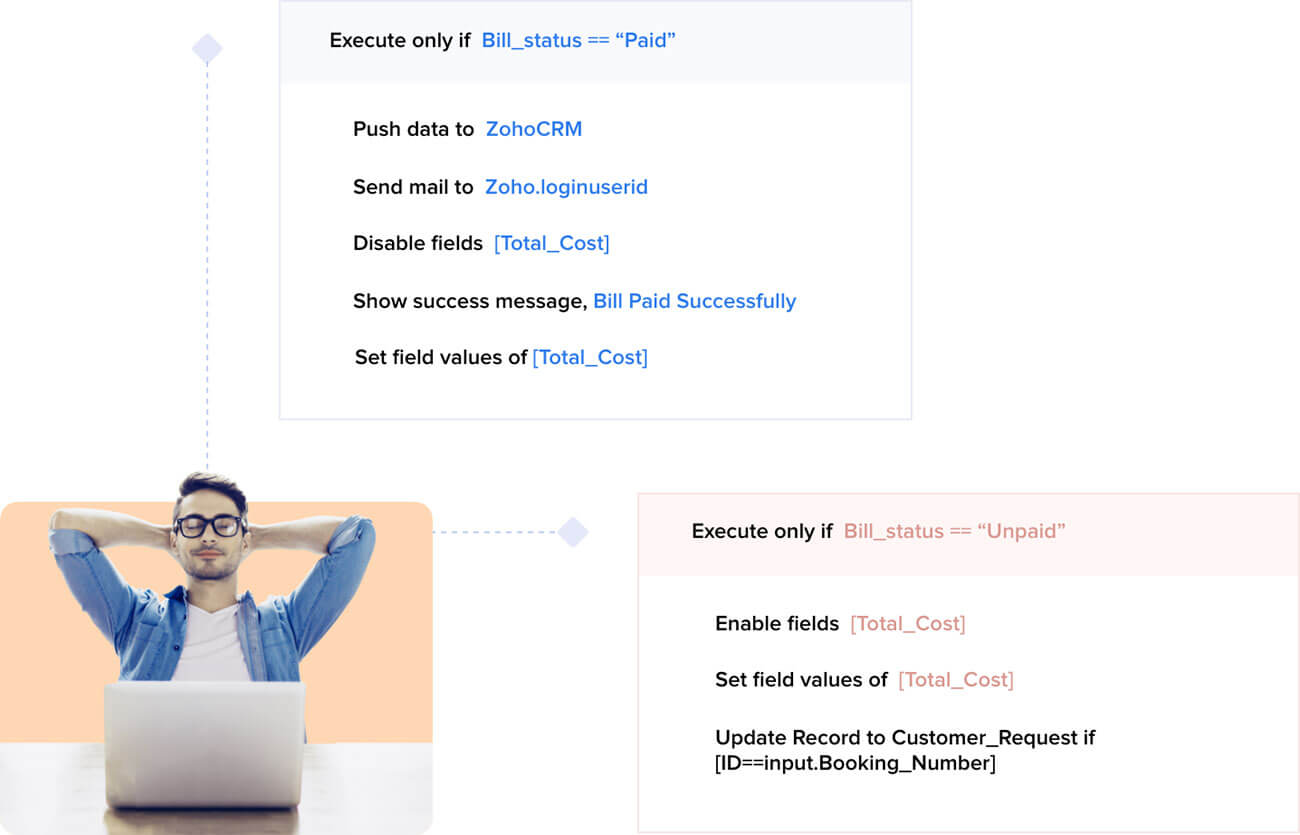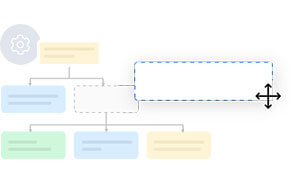 Workflows
Automate repetitive processes
With Zoho Creator, users can create rules with ease and set any process in motion. The visual workflow builder is a drag-and-drop interface, which simplifies the steps involved in creating a new workflow.
Learn more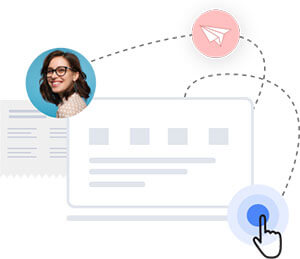 Dashboards
Multitask with ease
Create custom dashboards to get a bird's-eye view of all your operations. Perform multiple actions, like confirming orders, sending invoices to customers, and updating inventory levels—all on a single screen.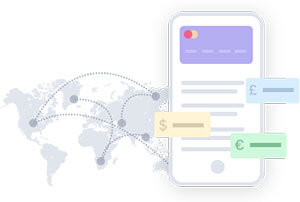 Payments
Carry out global transactions
Manage payments and consolidate financial records across locations with pre-set currency fields.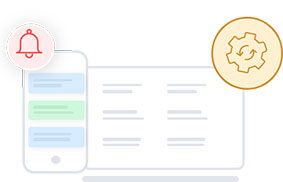 Notifications
Get real-time visibility
Track the progress of tasks and get notified if there are any process deviations.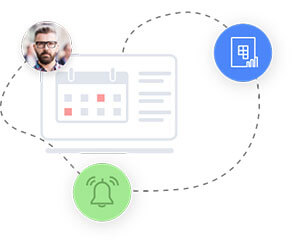 Schedulers and Reminders
Stay on top of your tasks
Work ahead of timelines with scheduled tasks and set up reminders to keep track of upcoming tasks.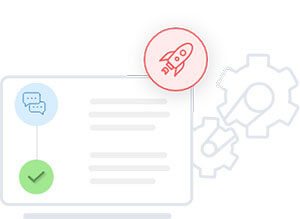 Approvals
Get approvals on the go
Avoid approval delays for every quote, expense claim, or day off from work. Setup workflows to get requests approved automatically.
Learn more
Seamless integrations with the apps & services you need
From prebuilt integrations to powerful APIs. Zoho Creator works with The apps and services your business requires.
LEARN MORE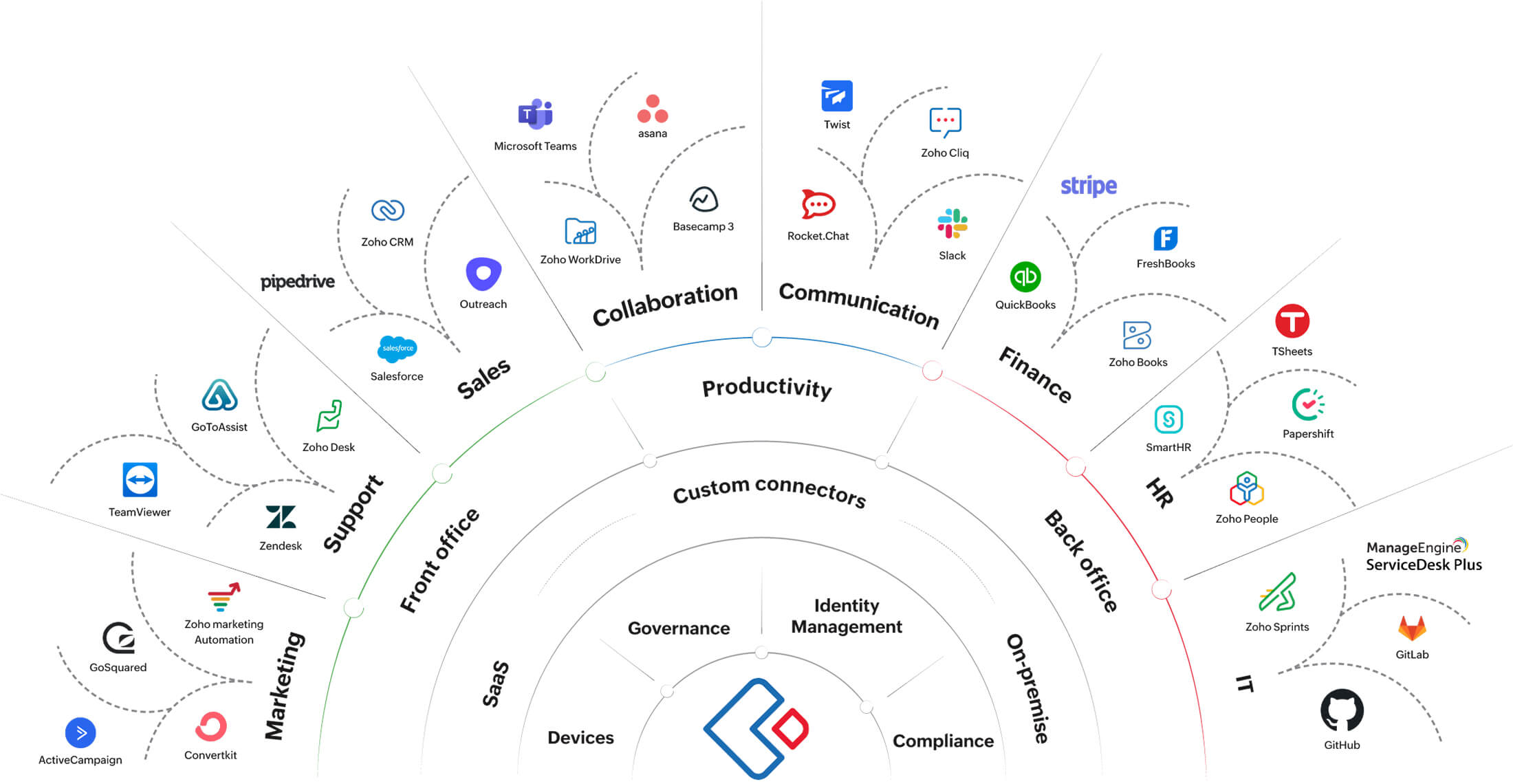 Unravel limitless possibilities with a low-code BPA software
Low-code offerings are on the rise, with a short learning curve, faster time to market, and uncompromising security that has made them appealing to businesses all over the world. These platforms handle everything from storage to security, combining an abstracted development environment with the ease of a drag-and-drop interface.
But the ability to empower non-developers to become citizen developers is perhaps the most significant attribute of low-code platforms.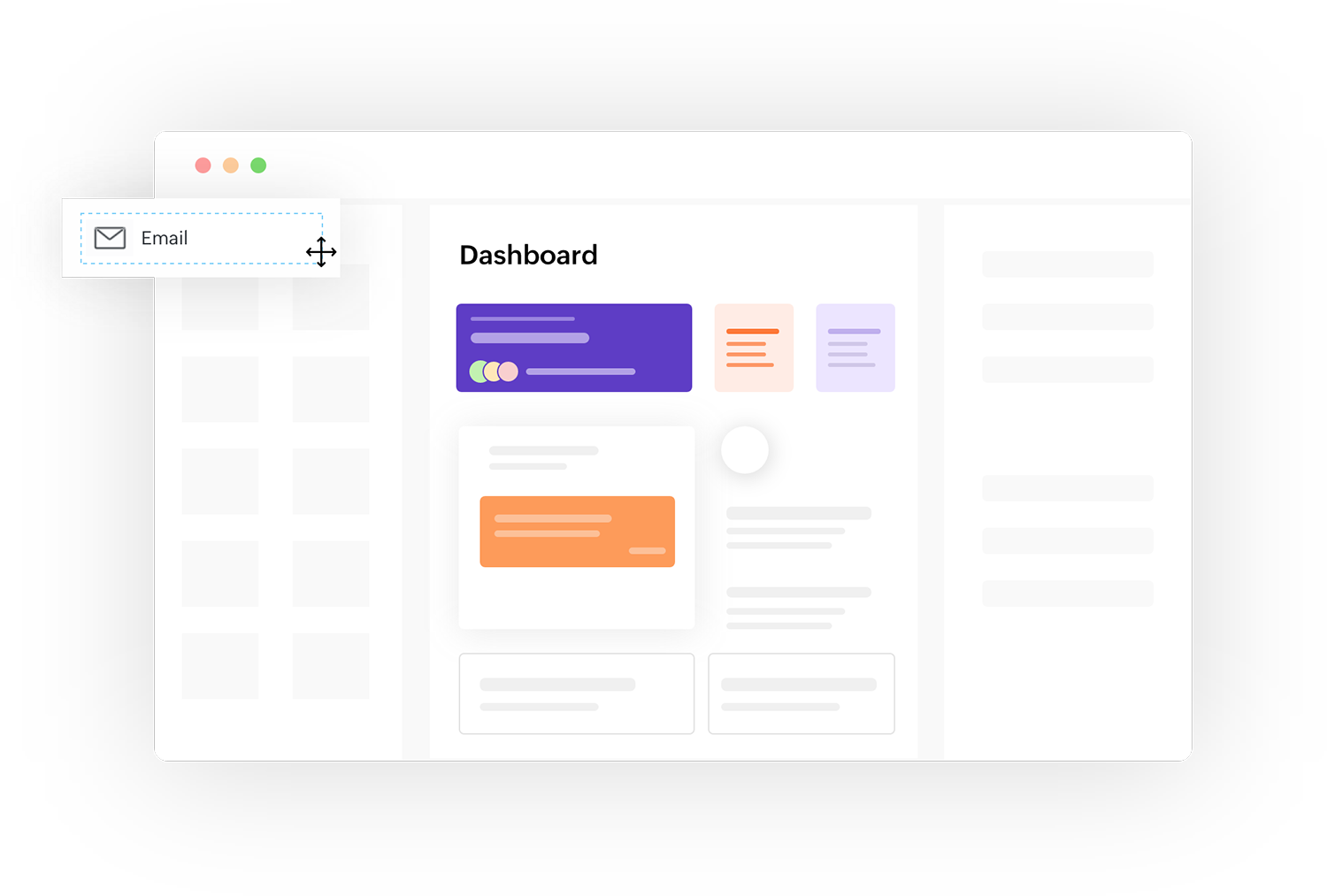 Learn how MTN transformed data management and automated processes with low-code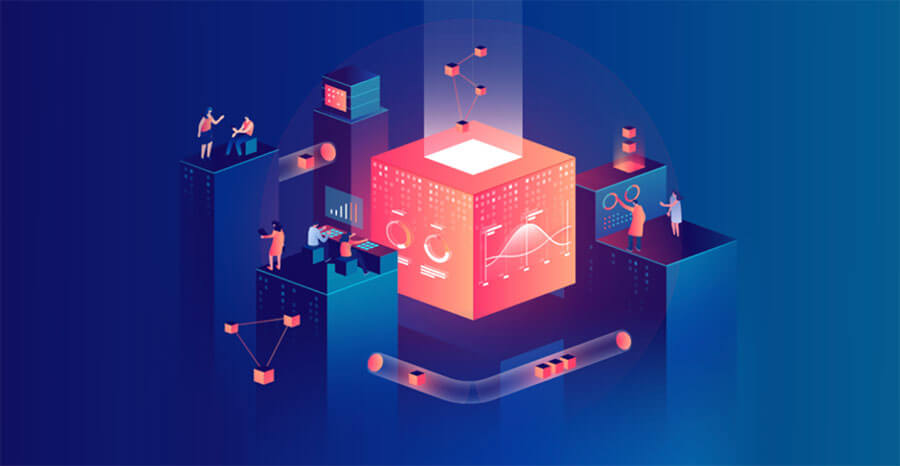 Read Blog
Why choose Zoho Creator?
We've helped 14,000+ brands create bespoke workflows and improve their end-to-end operations across a variety of industries. With over 25 years of experience in catering to B2B organizations, we have the best tools in the trade to help you improve your business.
Mtn

audible

zomato

Whirlpool

siemens

Samsonite
Automate your business processes now
15 day free trial. No credit card required.
Sign up for free
Frequently Asked Questions
What is a low-code business process automation platform, and what are its benefits?
Low-code business process automation software is a tool that enables users with little or no coding to automate parts, or the entirety, of their operational activities by designing custom workflows. Here are five major benefits:
Faster delivery of applications
Higher productivity
Reduced development cost
Multi-experience made easy
Improved agility
How do you automate a process?
Although it differs from process to process, there are usually 5 or 6 steps involved. This is what Zoho Creator recommends:
Identify repetitive tasks
Define your requirements clearly
Sketch a workflow of the processes that need automation
Choose workflow automation software that suits your needs
Train stakeholders on the software
Create workflows as simple or complex as you want, then you're done!
What should you look for in business process automation software?
A well-rounded process automation tool should be easy to use, have excellent dashboard and analytics features, and support seamless integrations, multiplatform compatibility, and role-based controls.
How easy is it to migrate your existing data to Zoho Creator?
Import Excel data or convert a Google Sheet into an app in a few clicks. Run your MS Access or Filemaker databases through our migration tool and get up and running fast. Using a legacy system? Send us an email, and we'll get you set up on a modern platform.
What type of applications can be built on Creator?
From everyday tasks to complex process automation, you can build scalable solutions with our multiplatform app builder. Create your own app from scratch or get started with our collection of ready-to-use business apps. Click here to learn more.