Why you need a team collaboration software
Cross-team collaboration

Space to share innovative ideas

Increase in transparency and visibility

Effective problem solving

Productive team meetings
Get everyone on board for better online team collaboration
Collaborate as one team, in one place
Your team should collaborate in one central place. Our exclusive multi-pane view helps you keep tabs on multiple conversations at once, or switch to a single chat window if any discussion that requires your undivided attention.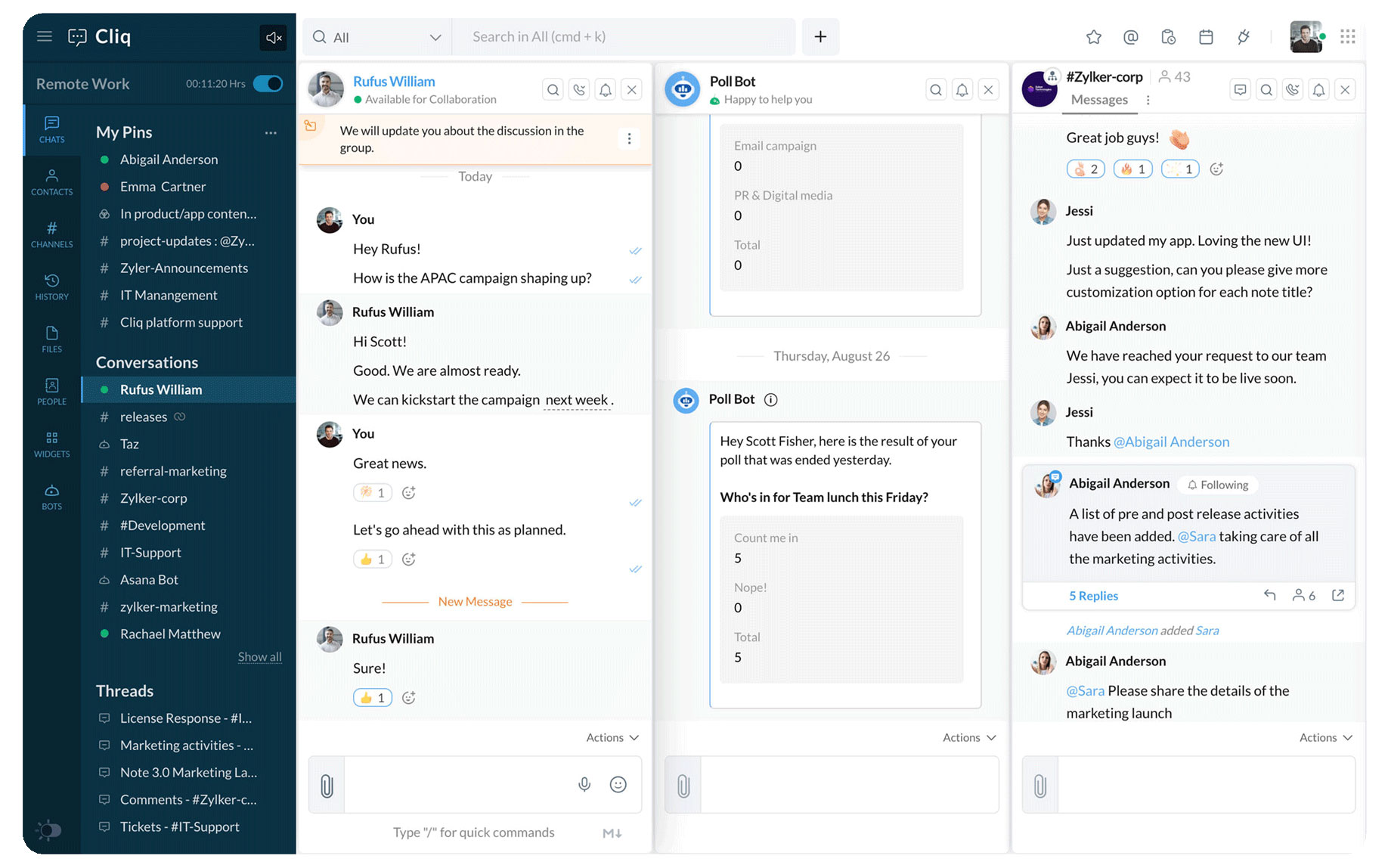 Do more than just chat
Make decisions faster, together, with audio and video calls. Get on a video call directly from within a chat and share your screen. Keep everyone on the same page, even on the go.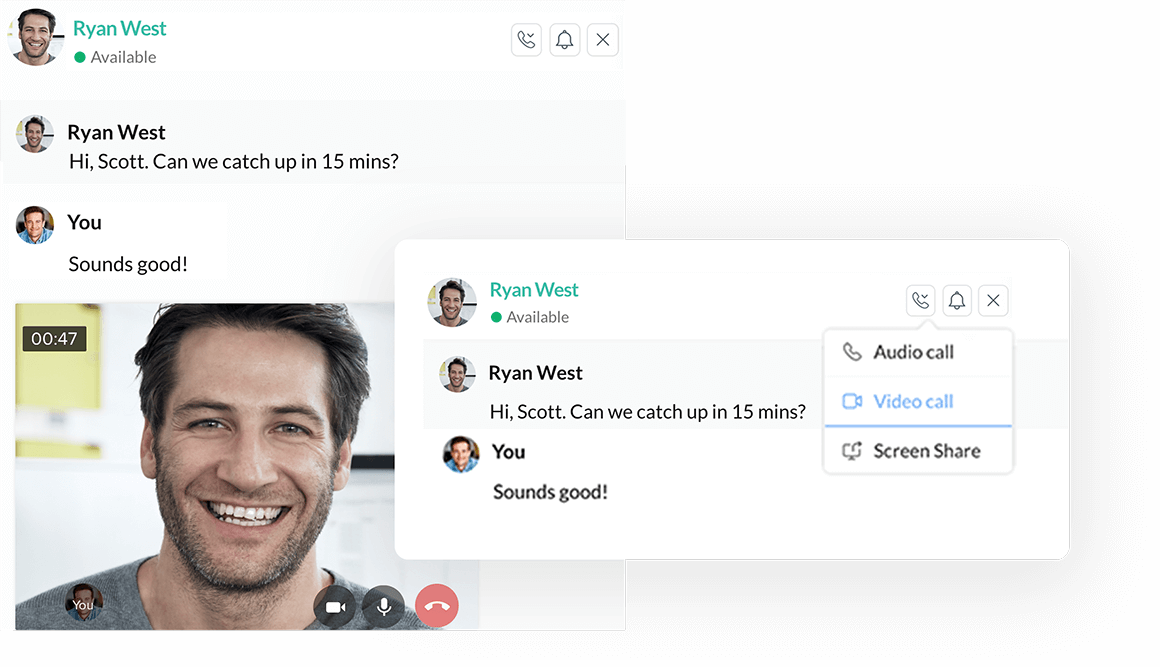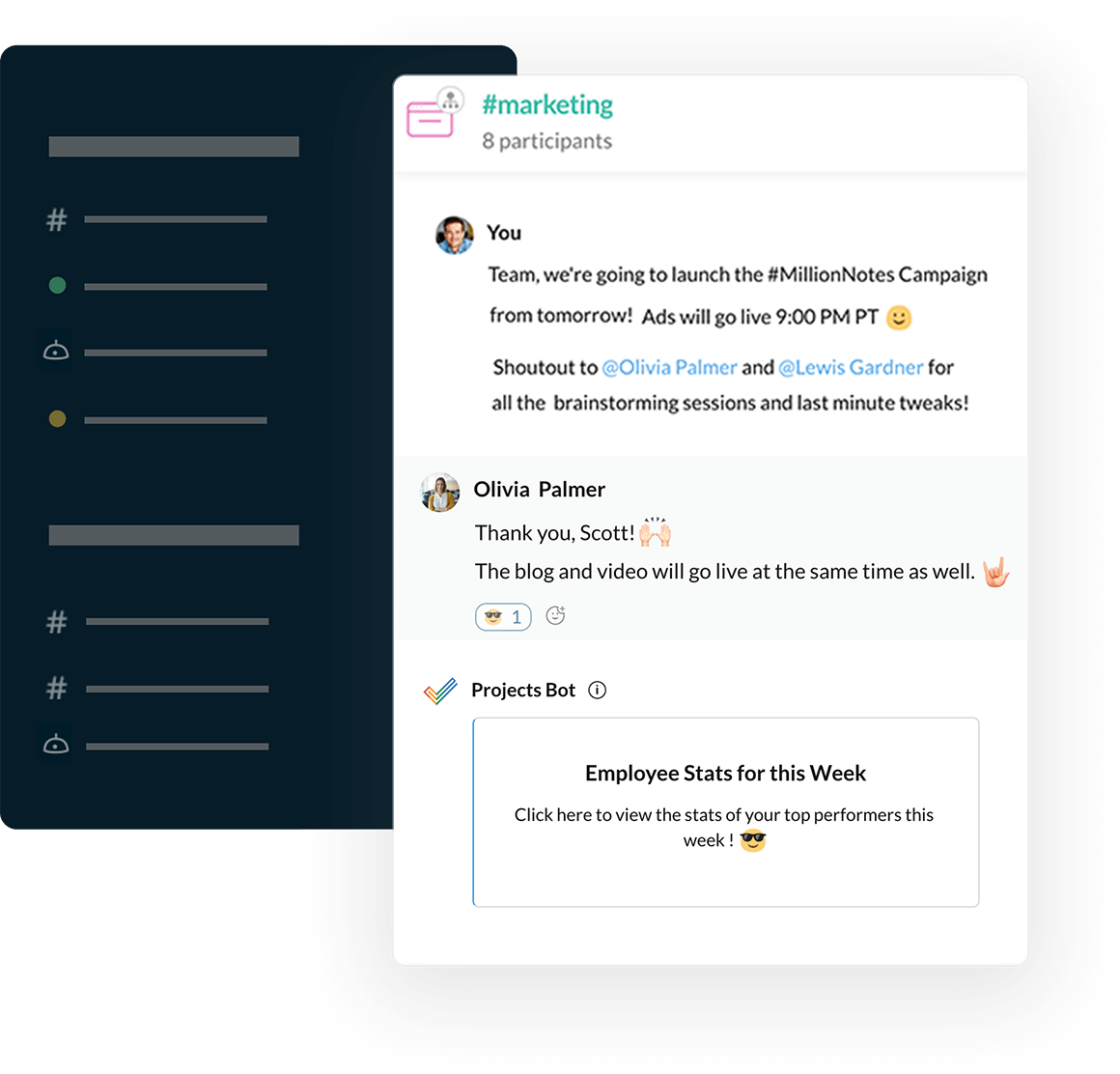 Get everyone up to speed with channels
Streamline your conversations with Channels—a smart, transparent platform for team collaboration, where your ideas, resources, and work align. 
Set up virtual conference rooms in no time
If your team is working remotely, you need to make sure your team collaboration game is strong. Get on a group audio or video call to brainstorm, share ideas, or just hang out with a cup of coffee.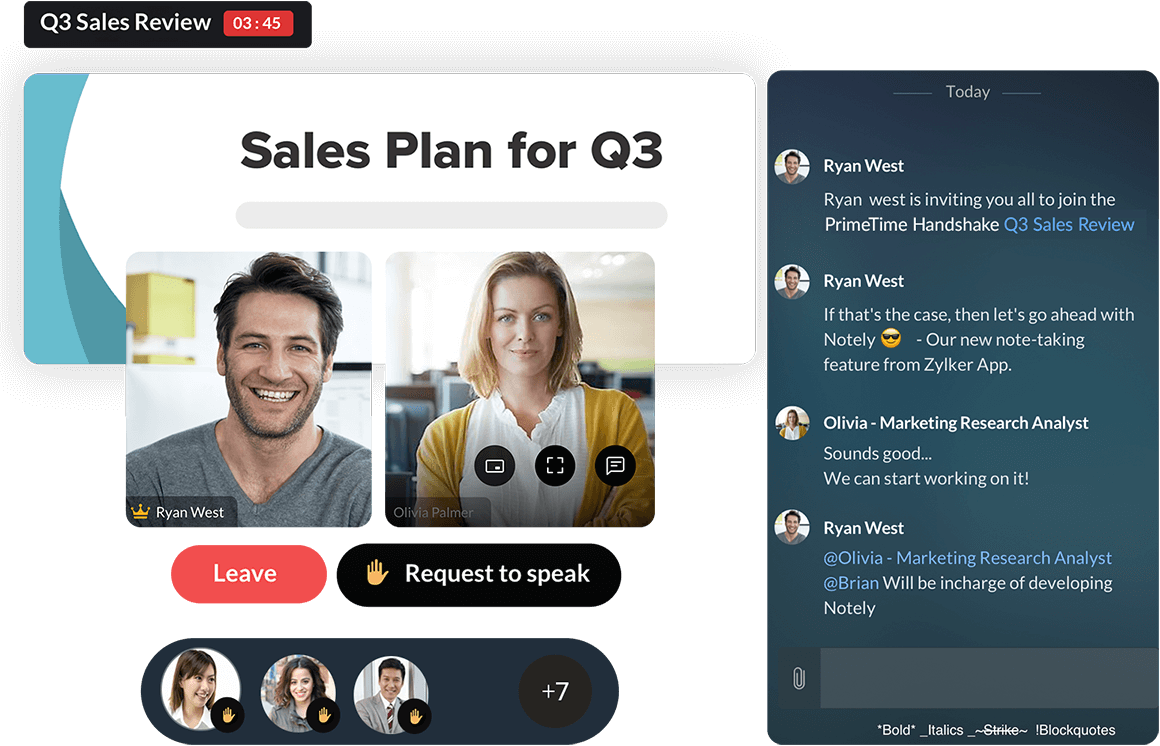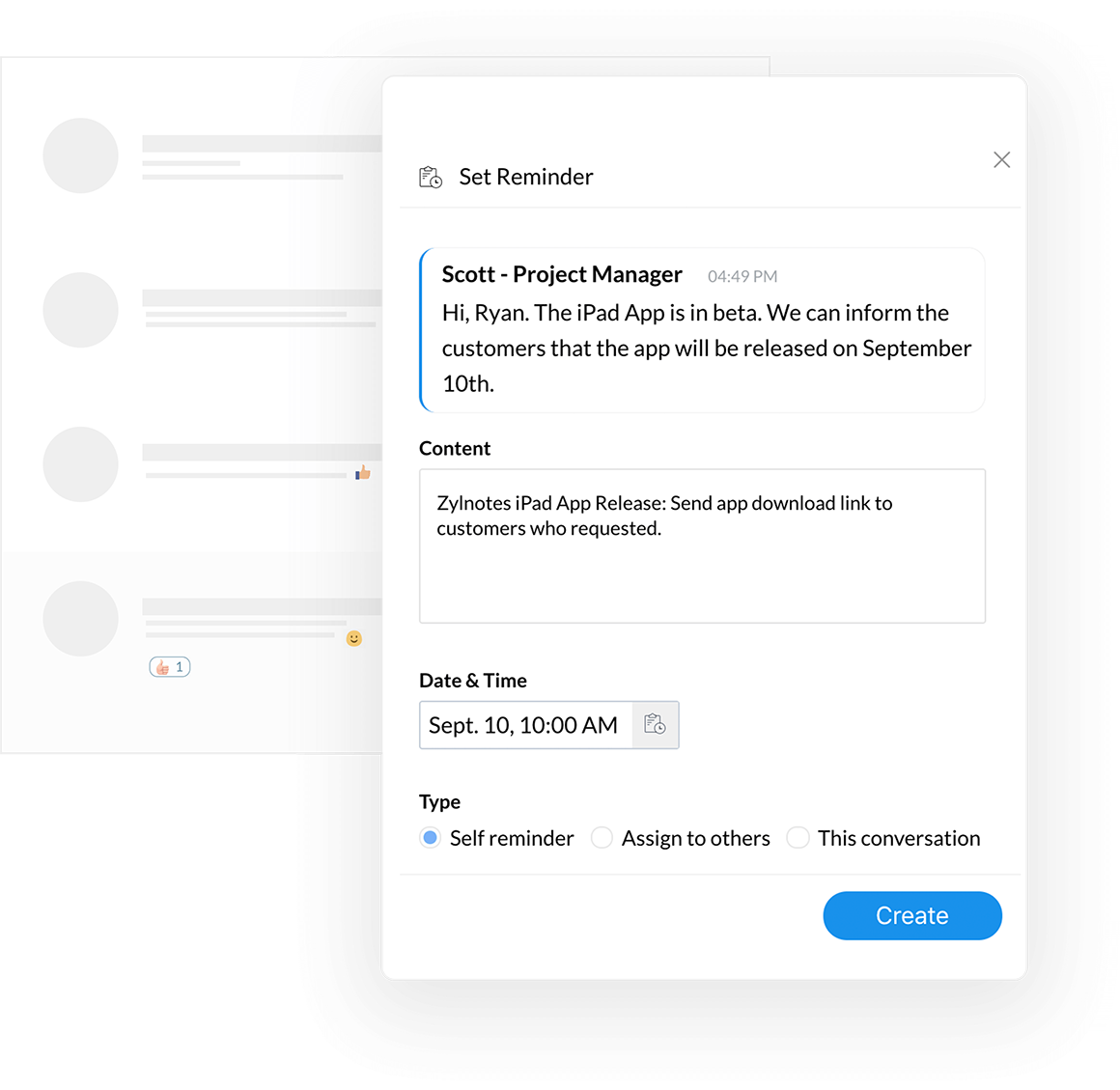 Don't let important messages get lost!
Stay on top of important messages or conversations by setting in-chat reminders. This way, you can easily follow up on anything.
Stay in sync with your schedule
Your team collaboration platform should help you spend less time planning and scheduling so you can focus on doing more. Let Zia, our AI-powered virtual assistant, orchestrate meetings and alert stakeholders while you run the show.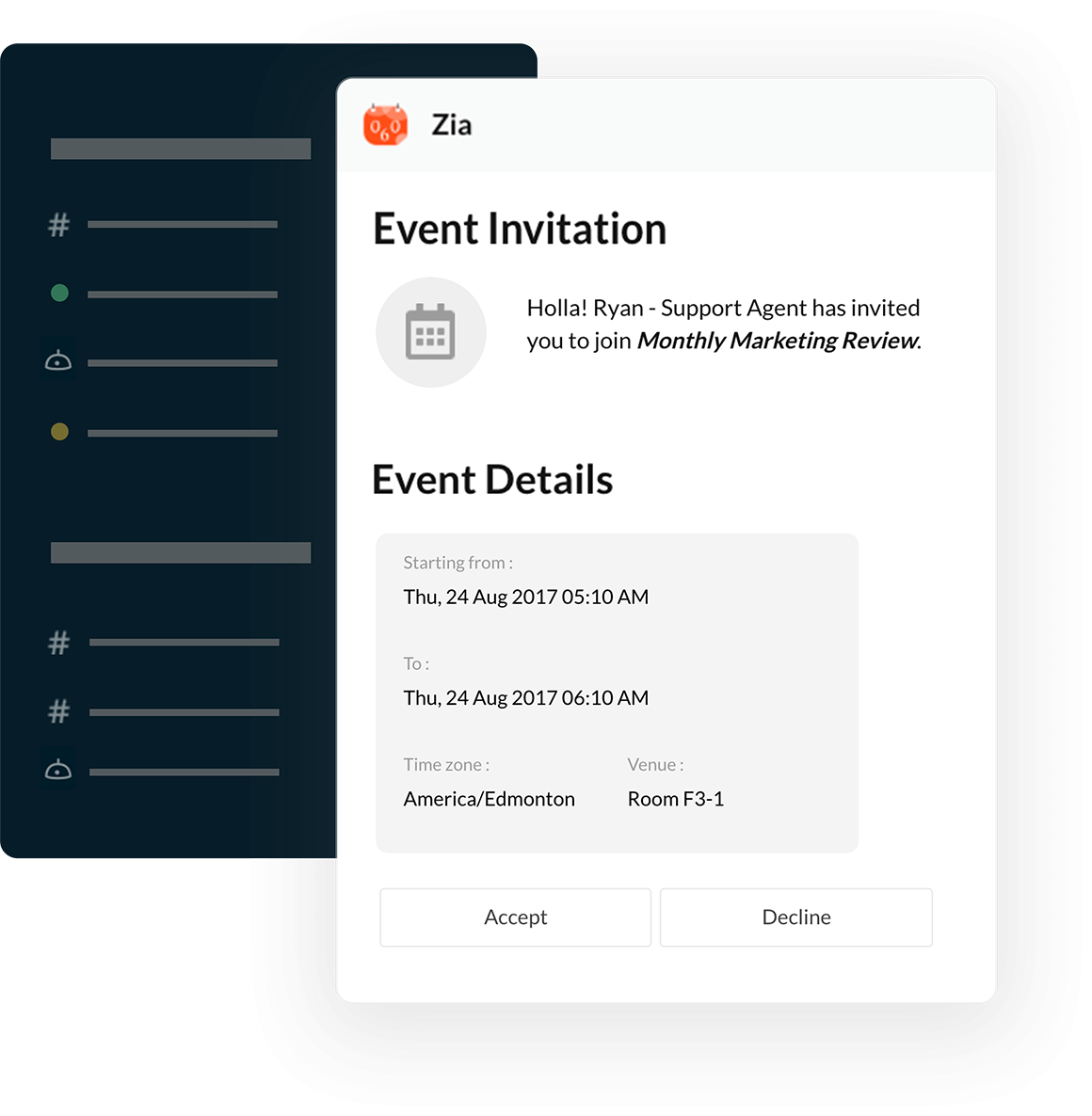 Work better together
A team collaboration tool should serve as the team's central hub for communication and productivity. Connect Cliq with all your favorite applications, get a clear overview of task updates, bug fixes, new customer queries, and more within your chat window. Connect Cliq with all your favorite applications, get a clear overview of task updates, bug fixes, new customer queries, and more, all from your chat window.
G-Drive
+
Zoho Desk
Asana
+
 
Zendesk
+
Trello
Zapier
+
Online team collaboration essentials on Zoho Cliq
Instant group chats

Create ad hoc groups and get the conversation going with the Fork from here message action.

Smart suggestions

Cliq can scan the context of your messages and suggest ways to follow up. Adding a reminder or creating a meeting directly from your chat window has never been easier.

Easy-to-find conversations

With global search, you can locate messages, files, and links from any past conversation.

Effortless file sharing

Share files easily, either through your desktop or a cloud storage system. You can even drag and drop attachments from one chat window to another.

Annotate images

Make your online team collaboration even easier: add notes and mark-up to images while sharing them on Cliq to keep your information organized.

React to messages

Add color to your conversations with emoji reactions to messages. Acknowledge a message or show your agreement without typing out a sentence, or even encourage your teammates to react to an idea to gauge the team's response.

Group mentions

Call a group's attention to a chat based on their availability, and make sure you notify the right people in a discussion without any noise.

Automate work-day activities

With bots as conversational assistants, command as shortcuts, and customizable message actions, you can get real-time updates from third-party applications, turn messages into work items, and more.

Channel permissions

Channels provide the perfect environment for effective team collaboration. Modify a channel's structure with granular permissions to suit a specific purpose and group.
Collaborate, wherever you are
Available for free on iOS, macOS, Linux, Android, Windows, and the Web, Cliq works seamlessly across all major devices to keep your team collaboration  in sync.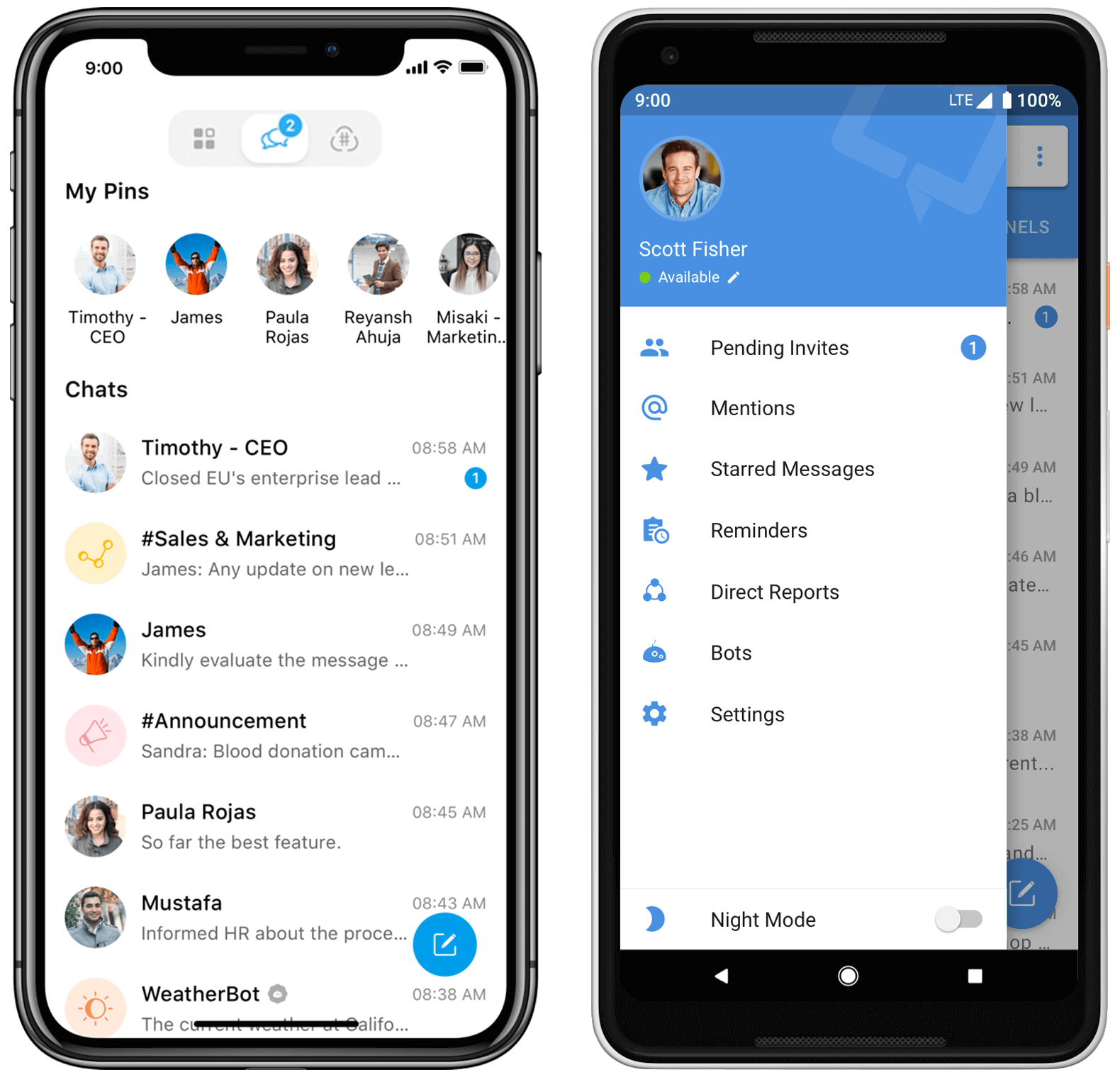 Real time team collaboration, as easy as it gets