The whys and hows of promoting webinars like a pro
Are you looking for ways to promote your webinars? Before that, do you know why webinars are valuable? Here's a webinar that will help you learn why webinars are a key tool for marketing in any business, and how they can be promoted using Zoho Campaigns in order to drive more registrations and better sales.
We couldn't attend to all the questions during our webinar. However, we have answered them in detail here.
Q&A
Q1: What is A/B testing?
A1: A/B Testing will allow you to send different versions of your campaign to different segments of your audience, and discover which email works best.
In A/B Testing, you will have to choose a campaign variable to test, like the subject line, sender's name and email content and see what gets the best response from your audience. The reports of this campaign that you had sent show you how recipients interacted with each version of your campaign, so you can find the best performing email that should go to your remaining audience. Compare how many people opened your message and clicked on your links in each version of your campaign.
Before creating an A/B Test campaign, you have to choose the size of your test audience and how long to run your test. You can set up an automatic winner selection so that the winner version can be sent to all the remaining recipients according to the open rates or the click rates (which you can decide). Alternatively, analyze the reports manually, and send the better email to the rest of the contacts in your mailing list.
Learn more on A/B Testing.
Q2: How to remove duplicates in the contact list?
Q2: The duplicates in the contact list will automatically be removed while you are importing your contacts to a list.
The Import Overview page in your Zoho Campaigns account contains all of your imported contacts' details. You can view a generated report on your contacts after the import is complete. Zoho Campaigns makes it easy to view the entire history of imported contacts in a single step.
From the Import Overview page, you can view the number of newly added contacts, duplicate contacts, and ignored contacts. Just click one of the numbers to view the related contact details.
Q3: Specifically, how many users can you have on Zoho Meeting at a time?
A3: The attendees' count per webinar depends on your Zoho Meeting license. The licenses range from 25, 50,100 to 250 attendees.
You can learn more from this link.
Q4: How efficient is Zoho Meeting when compared with GoToWebinar?
A4: Apart from providing a simple and non-cluttered user experience, Zoho Meeting has many other capabilities that help you make your webinar engagement better. It completely runs on cloud so that your attendees need not download the software but can just join your webinar in a simple click. You can check on the complete feature comparison from this link.
Q5: When conducting webinars, can there be multiple speakers on the line in different locations?
A5: Yes, you can add co-organizers to co-host during the webinar. Read more about the co-organizers.
Q6: What can we expect from Zoho Meetings' upcoming updates?
A6: We're looking at providing a pre-recorded webinar option that lets you record your webinar at your convenience and just play it at the scheduled time. We're also working on our registration process that lets you host paid webinars in future.
Q7: Can you share the differences between Zoom and Zoho Meetings?
A7: Here is the comparison with Zoom.
Q8: Is there a how-to video that shows the presenter's screen to guide us through hosting a webinar?
A8: Yes, here is a complete walk-through of the Zoho Meeting product.
Q9: Is it only free registration in Zoho Meeting or can it be chargeable if needed?
A9: We do not have paid webinar feature at the moment. However, we have this on our roadmap.
Speaker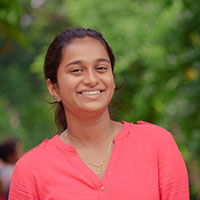 Annet Mathews
Product Marketer