Zoho Campaigns Webinars
Learn how email marketing can help you reach and engage with your customers, with Zoho Campaigns webinars.
Level up your small business email marketing with a cost-effective CRM tool
Are you a small business owner looking to take your revenue to the next level? If yes, one of the most significant areas you might want to look at would be regulating your email marketing and sales efforts. So, here's a webinar to help you achieve the same.
Q&A
We couldn't attend to all the questions during our webinar. However, we have answered them in detail here.
Q1. How is the deliverability compared to MailChimp?
A1. The deliverability performance of your emails depends on various aspects and is not based on the email marketing application that you use. For example, factors like Sender domain's reputation, Contacts' legitimacy, etc., play a major role in deciding the deliverability of your email campaigns. You can take a look at our articles to understand the best practices that need to be followed for better email deliverability.
Q2. Can you explain about workflows in Zoho Campaigns?
A2. To begin with, workflows are a series of automated emails that are created to trigger personalized emails to your contacts based on their information, their actions, buying habits, etc. In Zoho Campaigns, you have varieties of pre-built workflow templates that can be used in order to set up workflows to contacts who've subscribed to your newsletters, who've opened an email, and more. You can also create custom workflows in Zoho Campaigns to perform unique triggers that would suit your business scenario. The basic steps involved in creating a workflow are:
- Decide who should enter the workflow that you're going to set up
- Configure the steps that should be followed by the ones who've entered your workflow
- Select the action that you'd want to be performed once they exit the workflow
You can take a look at our detailed explanation of workflows to understand more.
Q3. What data will be shared after initiating sync between Bigin by Zoho CRM and Zoho Campaigns?
A3. Once you initiate the sync, depending on the sync type, contact data from Bigin will be pushed to Zoho Campaigns. And, after sending out email campaigns from your Zoho Campaigns account, the campaign details could be seen in your Zoho Bigin account and based on the contacts who've opened and clicked your email campaigns, they will be pushed to your Zoho Bigin account. Moreover, the campaign activities of each contact will be visible in Bigin if a multiline field is created in Bigin. To understand more, you can take a look at our article on Campaigns—Bigin integration.
Q4. Is it possible to add videos in Zoho Campaigns to the email content and is there a size limit, if possible?
A4. You shall use the video merge tag option in Zoho Campaigns to insert video in your email content which will display a thumbnail of the video. And, when you click on it, the gets played on a new window. All you have to do is to upload the video link when you create a video merge tag. Zoho Campaigns integrates with YouTube, Vimeo and Wistia for video marketing. Moreover, since the video is hosted by the external service, the size of the video does not make any difference to Zoho Campaigns.
Q5: Is it easy to sync between Bigin and Campaigns?
A5. Incredibly easy. It's just a couple of buttons away. You can check out the step-by-step procedures here.
Q6. Can Bigin replace Dubasado?
A6. Yes, Bigin can replace Dubsado. Here's the link to our webpage for better understanding.
Q7. I am already a CRM, SalesIQ and Campaigns user. Will Bigin help me?
A7. If you're a small, medium-tier business with contact management and customer retention requirement, Bigin will do an excellent job. Large enterprises will be more comfortable with Zoho CRM.
Q8: Is there a limit to the number of contacts that can be added to Bigin?
A8. Bigin allows upto 50,000 records.
Q9: How is Bigin different from CRM module of Zoho One?
A9. The predefined modules in Bigin by Zoho CRM includes deal, contacts, companies, products, activity, and dashboard. But in Zoho CRM, you can create custom modules and add further modules like sales order, purchase order, vendor module and this will be based on the certain editions of Zoho CRM.
Speaker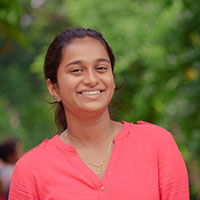 Annet Mathews
Product Marketer