Understanding email and webinar security with Zoho Campaigns and Zoho Meeting

Personal data security is prime, especially during the present times of remote working, virtual sessions, and email communication. With many people accessing and sharing information online simultaneously, through emails and webinars, it's important for your business to prevent data breach and threats. In this webinar, we'd be discussing how to protect sensitive data, rely on privacy controls, and conduct necessary measures while you host webinars and send out email campaigns.
 
Q1: How many contacts could be added to my mailing list? What is the cost and how many emails can be sent at a single time? 
A1: Contacts/leads can be added to your Zoho Campaigns account based on the subscription plan. Here's the link to our pricing page. 
You can choose either a monthly or yearly subscription and a subscriber- or email-based plan, depending on your requirements. There is also a pay-as-you-go plan for users who use Zoho Campaigns for two or three months in a year.
The subscriber-based plan is based on the number of contacts in your account. You can purchase the plan for a specific number of contacts and then send those contacts unlimited emails, set autoresponders, and use workflows. For example, if you choose a subscriber-based plan for 1000, you can store up to 1000 contacts and you can send unlimited emails to those 1000 contacts. 
Read more about the different plans and their details here. 
Q2: Does Zoho Campaigns cover all or most of the capabilities of MailChimp? 
A2: Yes, it does. Please refer to this link to view the feature comparison between Zoho Campaigns and MailChimp.
Q3:Besides security and privacy, does Zoho provide features that are better than Zoom and, conversely, does Zoho have all the relevant features of Zoom?
A3: We do have numerous features compared to Zoom and a few features that we are catching up with. Here's a comparison page. 
Q4: Will we get a notification that there is a registrant if we opt for the manual registration option?
A4: Yes, there is an admin setting that, when enabled, gives you an email notification for every registration.
Q5: Does Zoho compete with Zoom, WebEx, GTM, etc.? 
A5: Yes, Zoho Meeting does compete with Zoom, WebEx, Logmein, and more. Zoho gives utmost priority to privacy and security, which is especially the need of the hour given recent issues with other software applications. Moreover, if you are part of the Zoho One suite, you get to integrate with different in-house products that can help strengthen your business workflow.
Q6: What is the difference between Meetings and Webinars in Zoho Meeting?
A6: The Meetings option is for collaboration while the Webinars option is more of a broadcast. You can also check this link for further understanding. 
Q7: What's the conserve bandwidth option in Zoho Meeting?
A7: When the conserve bandwidth option is enabled for an attendee, screen sharing is optimized according to the user's download speed. I.e. if the user's download speed is low, fewer screen updates are sent. Similarly, for presenters, it optimizes according to the upload speed.
Q8: Can attendees share screens and videos in the webinar?
A8: The Webinar organizer or co-organizer can allow other attendees to share their screen using "Make Presenter" option during the webinar. You can read more on this here.
Q9: If I'm a Zoho One user, how many email campaigns can I send?
A9: It's based on the number of users you have purchased. If your Zoho One license is for just one user, you can store up to 5000 contacts and send unlimited emails to them. However, if you have a license for two users, you can store up to 2x5000 contacts and send them unlimited emails.
Q10: Can you explain the difference between Zoho ShowTime and Zoho Meeting?
A10: If you need a tool for generating leads and engaging them with nurturing emails, you can use Zoho Meeting.
On the other hand, if you're looking to do longer online classes or training with training materials, courses, and more, you can use Zoho ShowTime.
Moreover, the common benefit of using Zoho products is that all the products have tight integrations with the in-house applications that make the flow of data seamless.  
Q11: Is there a tutorial where I can find how to change the image size? Could you please post a link.
A11: You can find the help link here. 
Q12: Do you have a workflow chart of how to conduct a webinar?
A12: Of course, yes, we do have a user guide on webinars. And here's our webinar link that can guide you further.
Q13: What can we do for newsletter subscription management?
A13: You can now embed signup and popup forms in your website/web pages and easily maximize your page visitors with the help of Zoho Campaigns. All you have to do is design (or use one of our pre-designed templates) a form and configure information that you would like to get from your website visitors. Here's a help link that can guide you in using signup forms with Zoho Campaigns.
Q14: Can we add external databases/audiences/contacts in Zoho Campaigns?
A14: Yes, you can add external contacts to Zoho Campaigns. We have an option to import/upload contacts. Please check this link to learn how.
Q15: In Zoho Campaigns, when my campaign is sent for verification, is the verification done by a person or by a computer program (automated)? Will my data be safe if it is done manually?
A15: It will go through both automated and manual checks. We need to do that in order to avoid spammers. We will make sure that all your data is safe. And you can find our compliance certifications here.
Speaker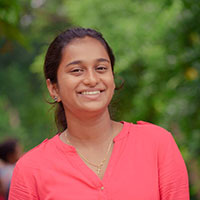 Annet Mathews
Product Marketer