Maintain quality mailing lists with double opt-in
With Zoho Campaigns' double opt-in process, you only let subscribers who are genuinely interested in hearing from you onto your mailing lists, i.e., every individual that submits data through a sign-up form will receive a confirmation email with which they can either accept or deny their subscription. Simply put, double opt-in is your way to build clean and healthy mailing lists.
Process personal data under the right lawful basis
You might process subscribers' data for varied purposes, but in order to align with the data processing principles of GDPR, you are required to determine the right lawful basis for each purpose. Whether your purpose for processing is single or multiple, Zoho Campaigns' GDPR-compliant email marketing lets you process data under one of these six lawful bases—Contract, Consent Required, Legal Obligation, Legitimate Interest, Public Tasks and Vital Interest. Adopting this method helps you organize the way you collect and handle personal data.
Note: We always recommend that you approach legal counsel to advise on identifying the appropriate lawful basis for each of your data processing activities.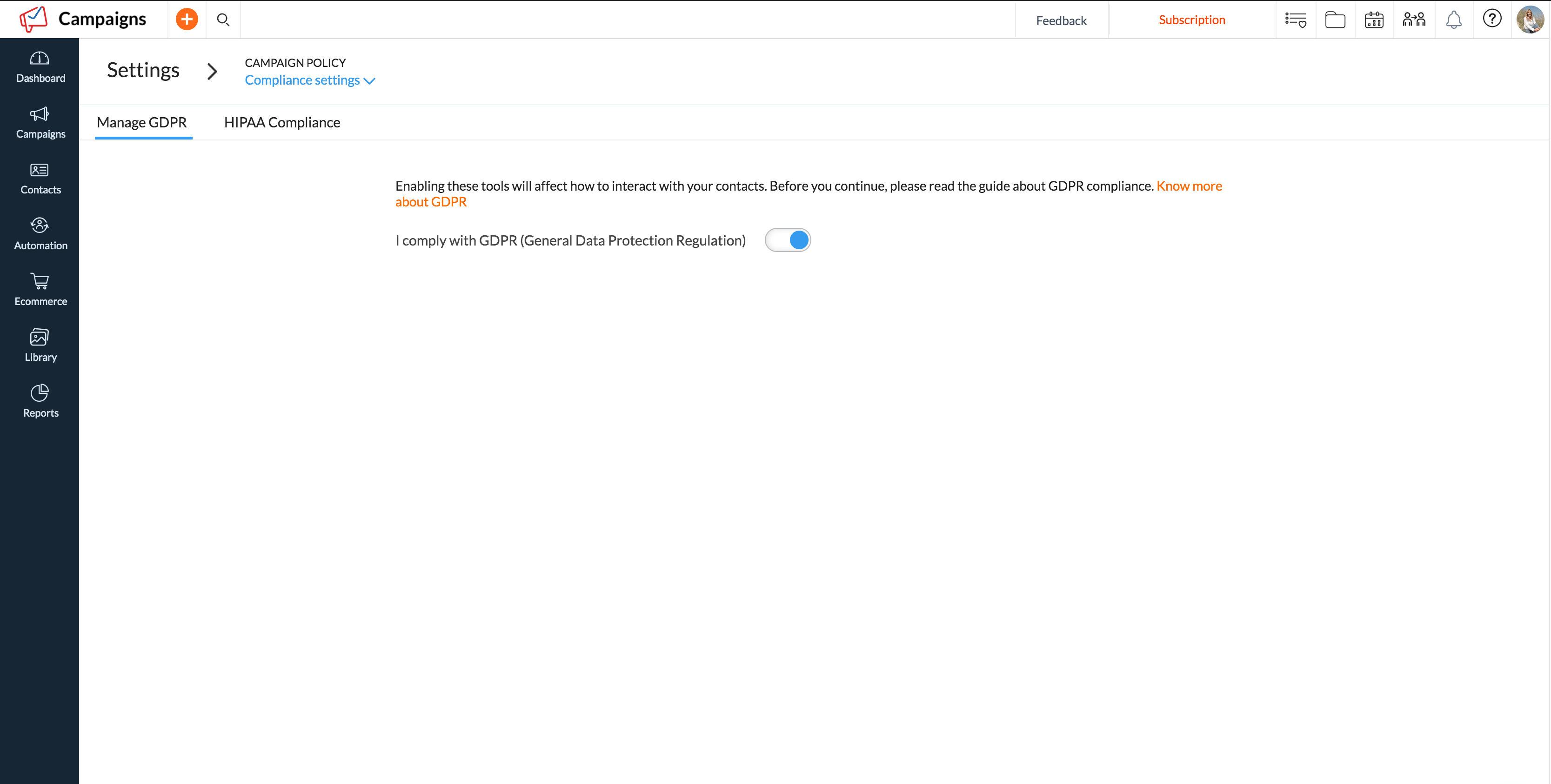 Be transparent with subscribers' personal data
The Right of Access mandated by the GDPR means that subscribers can access their personal data, whenever they wish to. Make your subscribers feel secure that you are using their information in the right way. Zoho Campaigns lets you export subscribers' personal data in machine-readable formats so you can email the data as and when they request.
Note: Any file that contains subscriber information should compulsorily be password protected. We recommend that you export the data only upon your subscribers' request and you remove the data once you have shared it with them.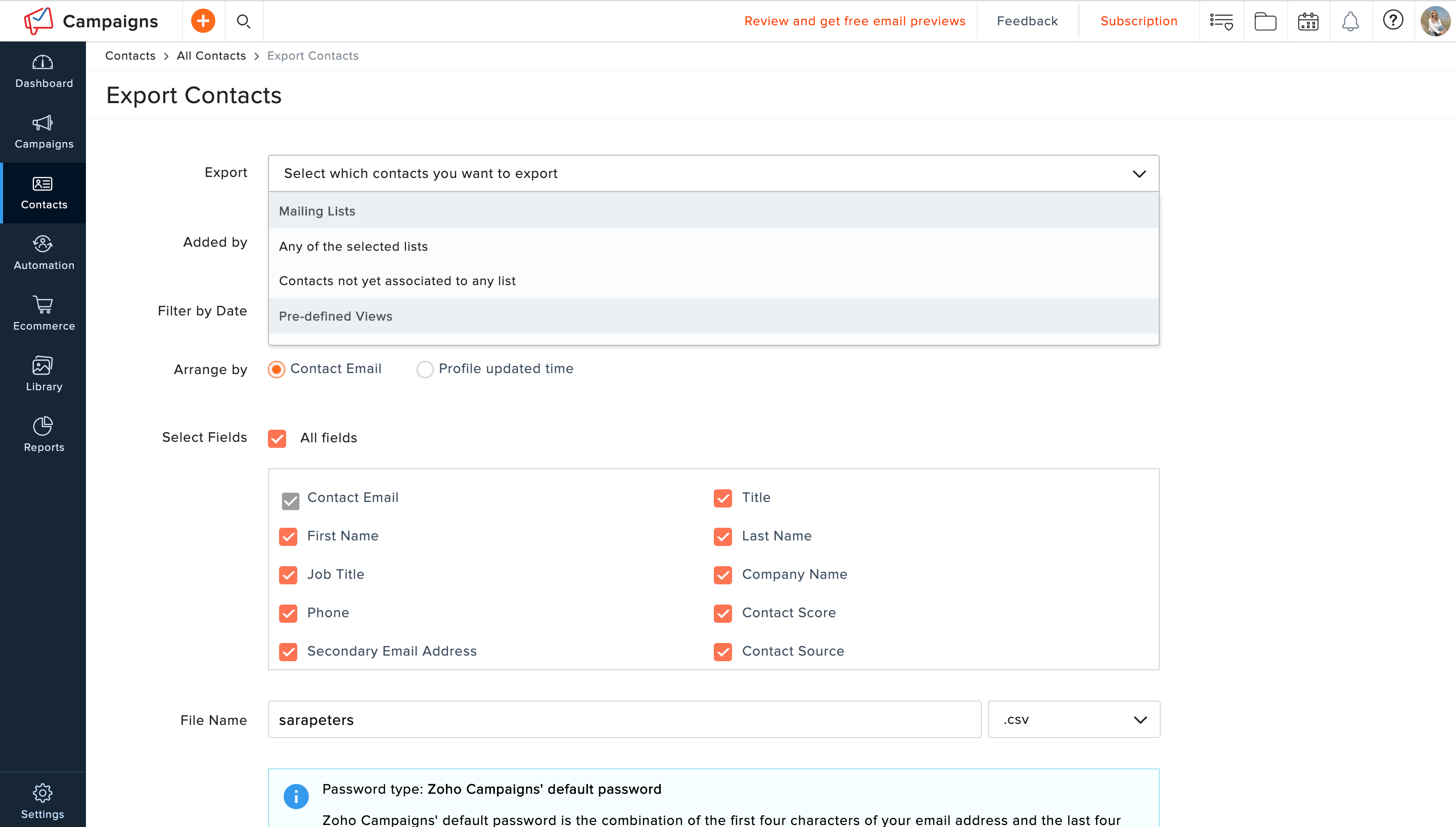 Add Imprint details and make communication effective
Maintain transparency in your email marketing by including Imprint details, which carry the email sender's information such as their name, contact information, and Tax Identification Number (TIN). Zoho Campaigns mandates that you include the Imprint Information merge tag in all your emails.
Note: Details about the name of the authorized representative and contact email address are compulsory under the Imprint Information. Other details such as the organization address, contact number, and TIN are optional to include.
Allow subscribers to choose what they want to receive
Target subscribers with engaging and timely content based on their interest by including a subscriber preferences merge tag in your email. This makes it easy for your subscribers to update what type of emails they'd like to receive, thereby increasing your engagement rates.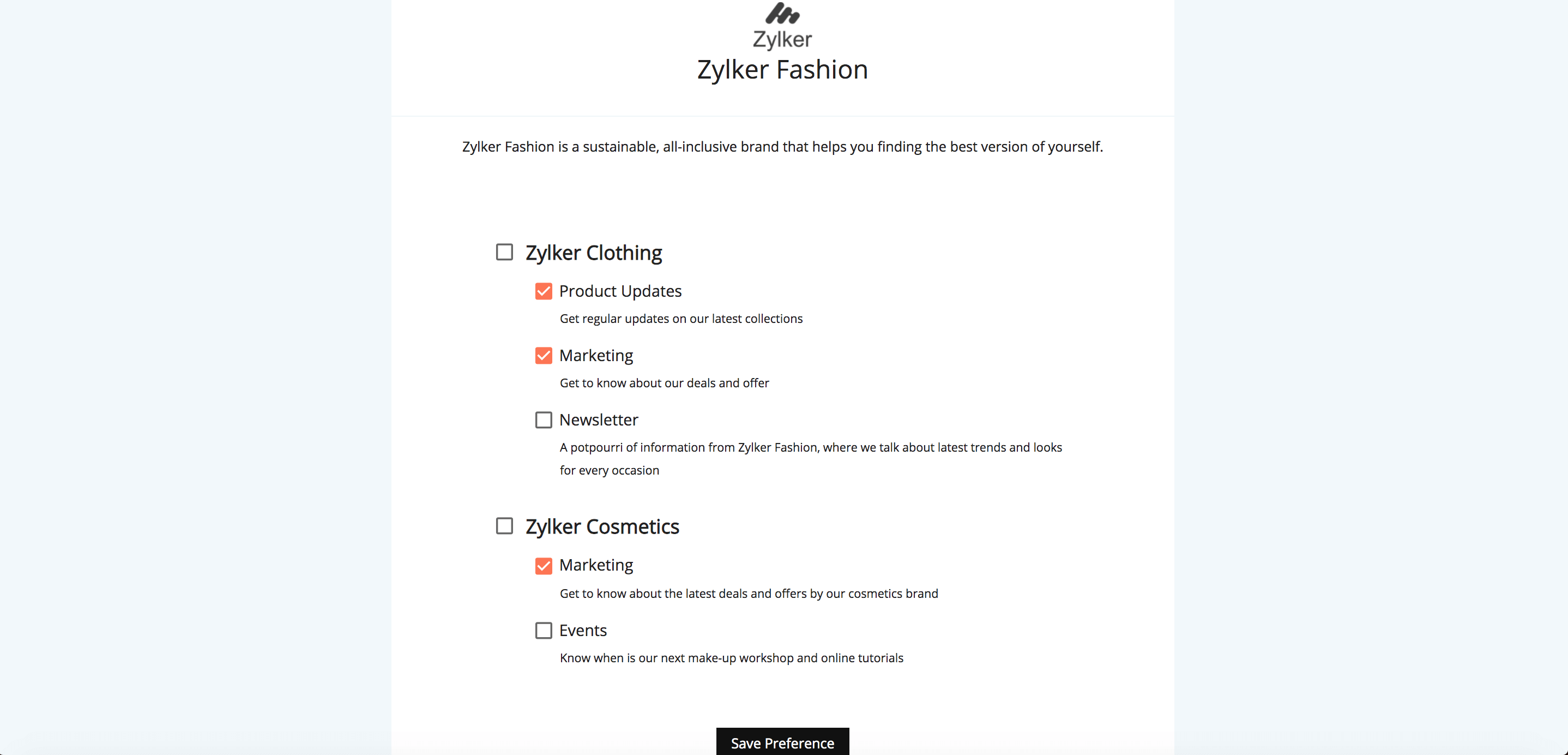 Keep your subscriber records up-to-date
As with the Right to Rectification under the GDPR, subscribers should be able to edit their personal data as and when needed. Zoho Campaigns facilitates this by including an update profile link in your email footer.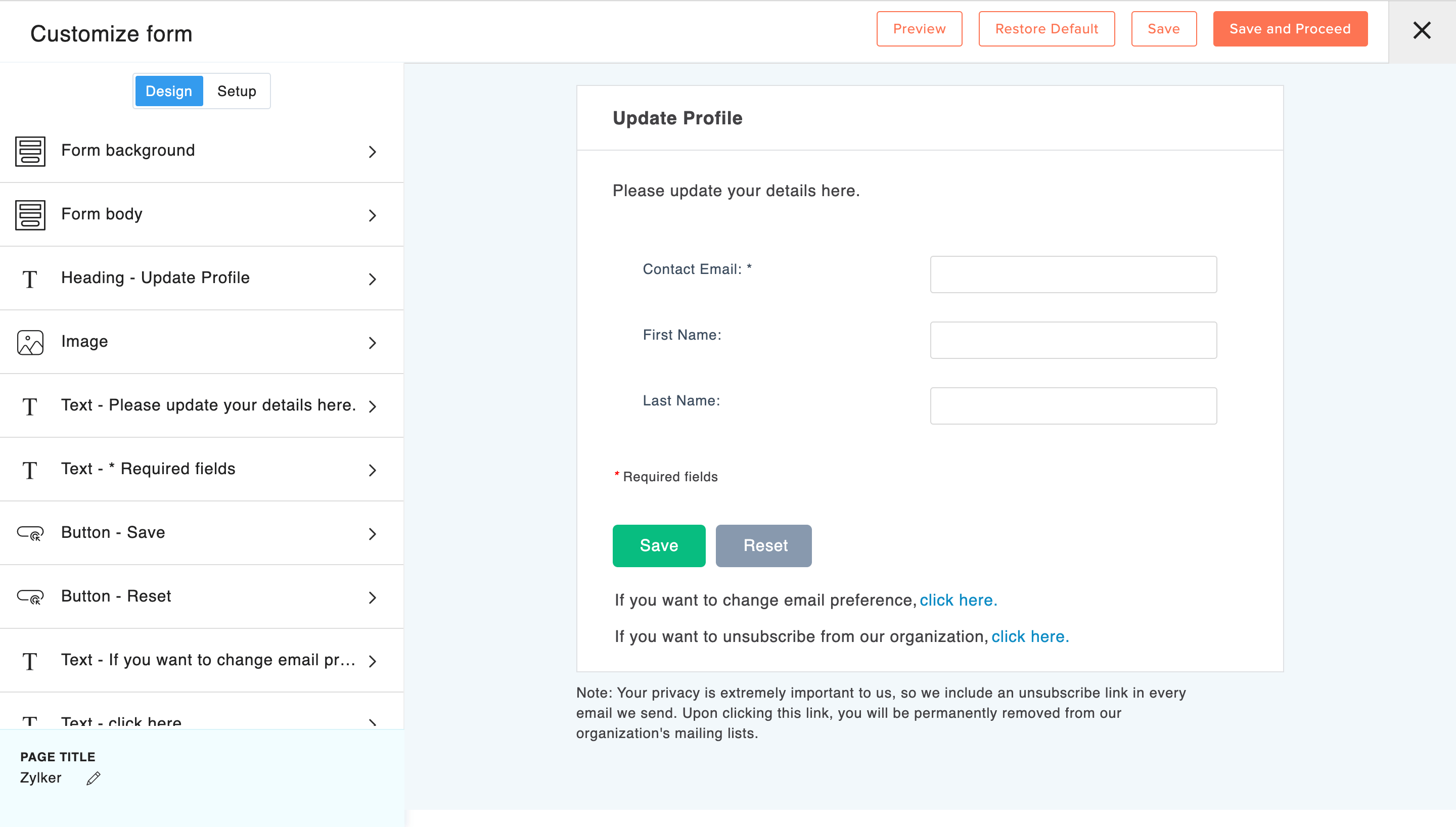 Allow subscribers to delete their personal data
Subscribers have all rights to request you to delete their personal information, as mentioned by the Right to Erasure/Right to be Forgotten under the GDPR. Whenever a subscriber feels their information is no longer necessary for your organization, they can access the unsubscribe link from the email footer, where an option to erase personal data is provided.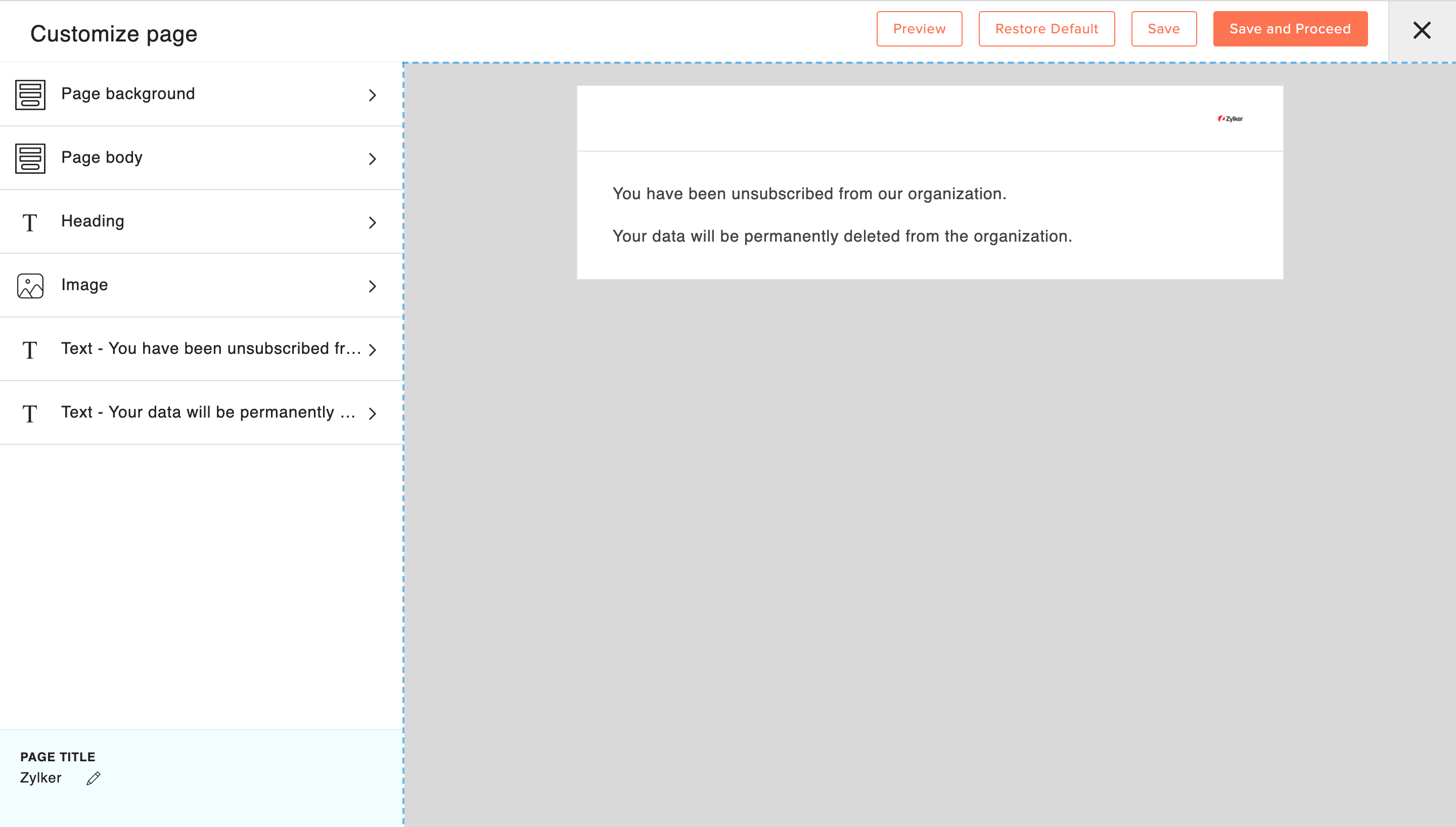 Protect personal information with data encryption
Since data protection is one of the key aspects of GDPR, storing subscribers' information with utmost security becomes vital. Zoho Campaigns makes this easier with its Custom Field Encryption, an option that lets you encrypt subscriber custom fields with just a click.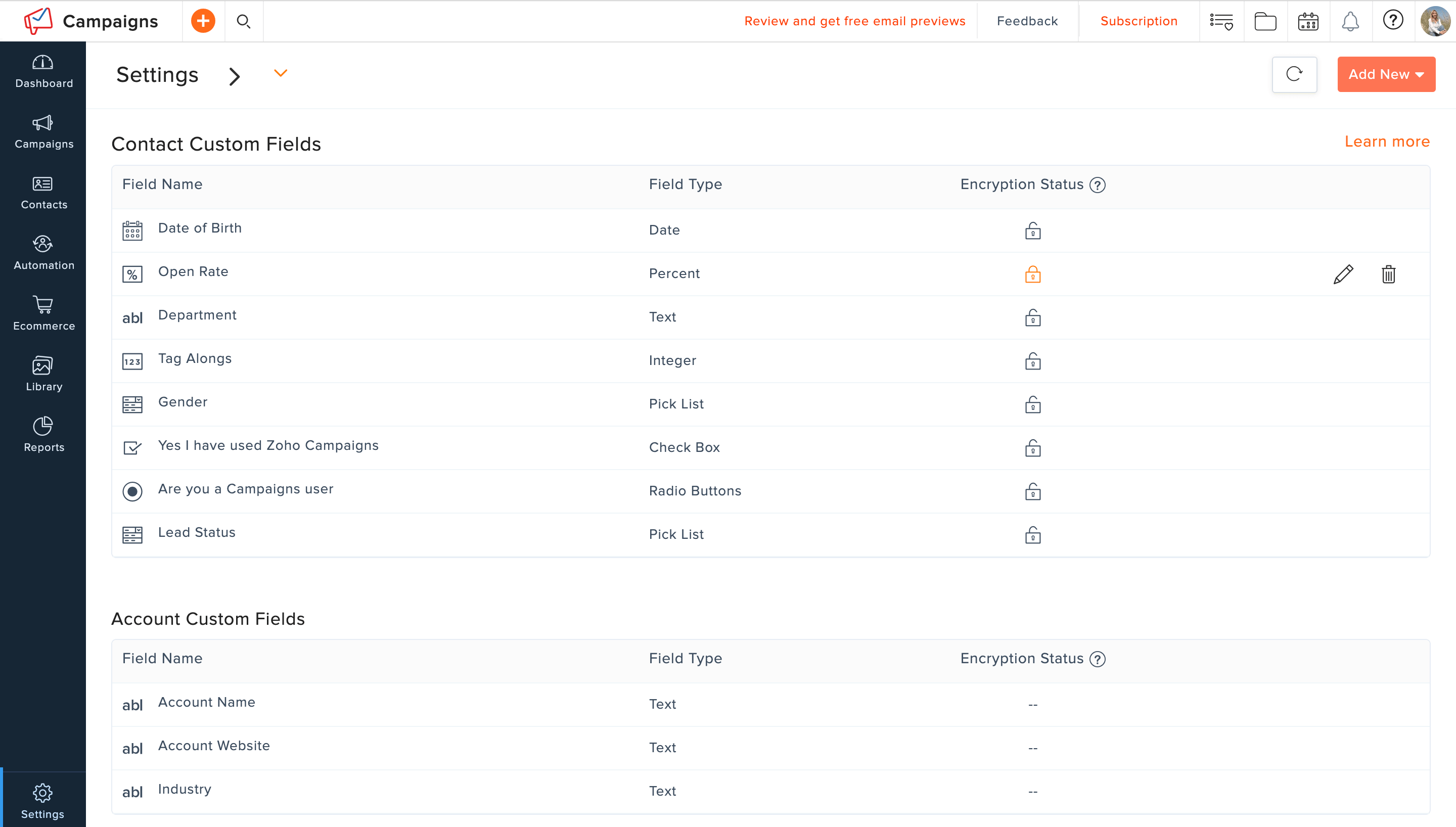 Guarantee data protection with a privacy policy
Include a privacy policy in your sign-up forms and subscribers will feel secure while submitting their information to your organization. Adhering to the Right to be Informed under the GDPR, all the sign-up forms that you create with Zoho Campaigns have the option to add a link at the bottom to your privacy policy statement. This really helps you build brand credibility.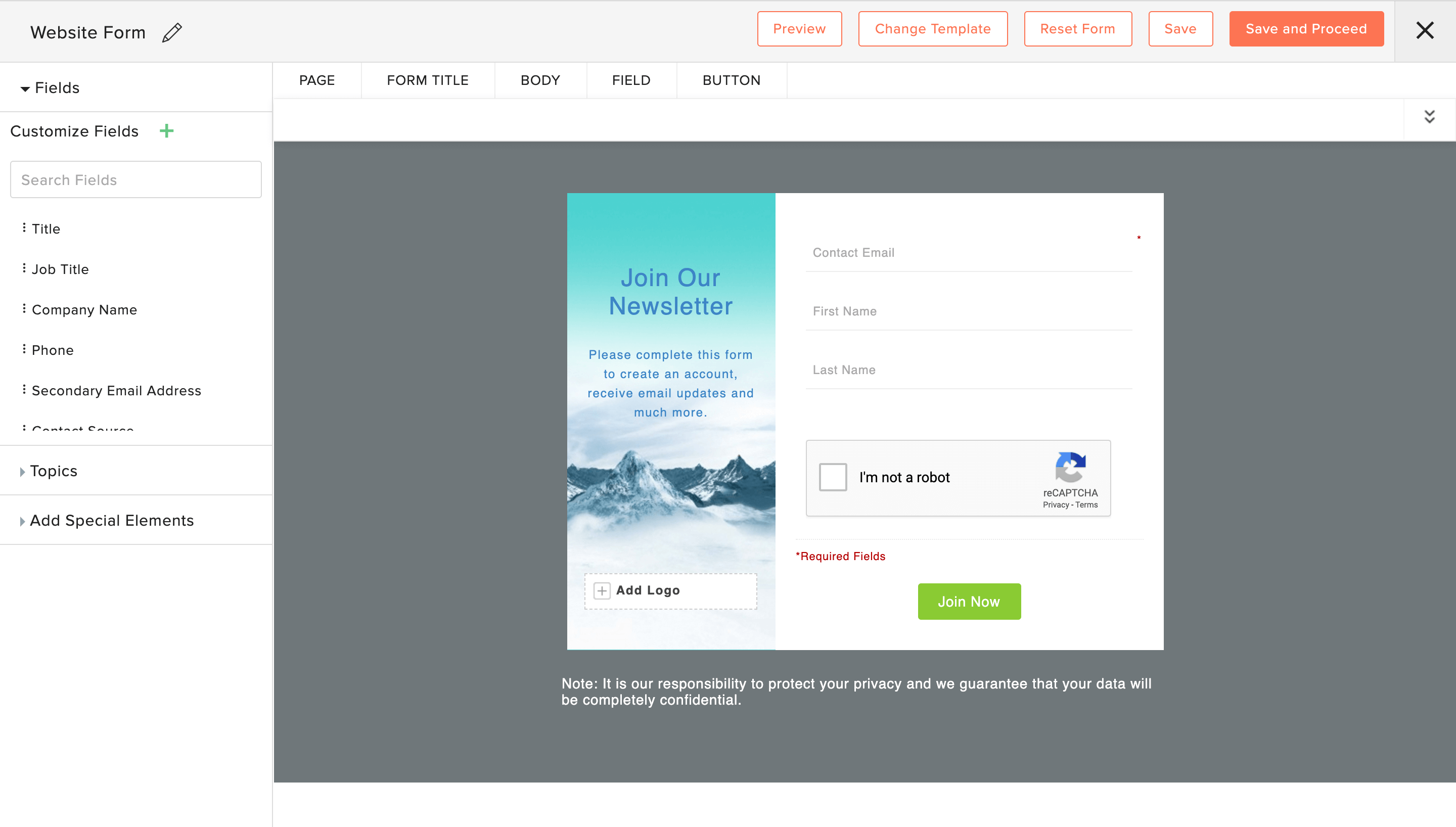 Let the uninterested opt out
Maintain healthy mailing lists and reduce spam complaints by moving unengaged subscribers off your lists. By default, Zoho Campaigns has an Unsubscribe link in the footer of your emails. This makes it easy for subscribers to leave your mailing list or organization with just a single click. The process also allows subscribers to erase their information from your organization if they wish to, as mentioned under the Right to Erasure/Right to be Forgotten.