Advantages of personal calendar:
Create a daily routine
A personal calendar helps you incorporate more structure and discipline into your day and tackle any uncertainty, which causes stress and unhealthy habits. It helps you prioritize your tasks and reminds you of upcoming deadlines.
Save your time
A consistent schedule helps you spend less time on making decisions. Progress faster and save time when you set your priorities, helping you achieve your goals easily.
Expect the unexpected
When you're organized, you'll be in a better position to deal with unexpected interruptions to your schedule. You'll have the ability to recognize potential problems in advance, making you someone your team can rely on.
Incorporate some fun
Imagine you've finished a three-hour task in two hours. Use that extra hour to go to the gym, meet a friend for a meal, or learn a new skill. Sounds fun, right? Finish your tasks before your deadline runs out and, much like a game, get the best score every time.
Enjoy some "me time"
When your schedule has some structure, you can easily say no to activities that hinder your plans. This will help you find more time for self-care, learning new skills, or attending meetings. Enjoy this extra time to attend to things that are most important to you.
Worry less, accomplish more
Getting yourself organized with a personal calendar helps you feel calm, relaxed, and collected. When you're efficiently focused on your work, you can better keep in mind even tiny details and instructions. This way, you won't have to redo or rework things, helping you feel more accomplished.
Things you can do with your personal calendar
When you're keeping track of your tasks and events with a calendar, you'll discover pockets of time you didn't even know you had. Here are some more ideas for maintaining a personal calendar.
Create an event calendar
Made a workout plan but seem to be unable to follow it consistently? Create a schedule with Zoho Calendar's Create Events feature. When your workouts are marked on your calendar with the daily recurring option, you'll be in a better position to excel in your fitness goals.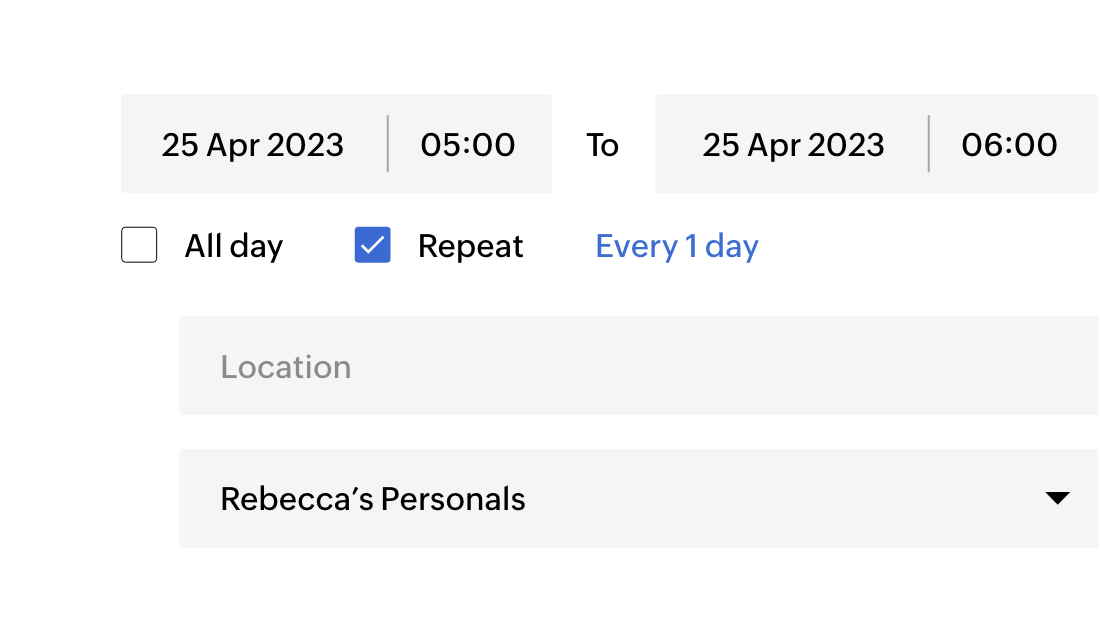 Set reminders
Busy multitasking with multiple items on your to-do list? Just set reminders for your events and relax. Focus on your work without anything distracting you. Before an event begins, an email or popup will come to your rescue, reminding you to attend.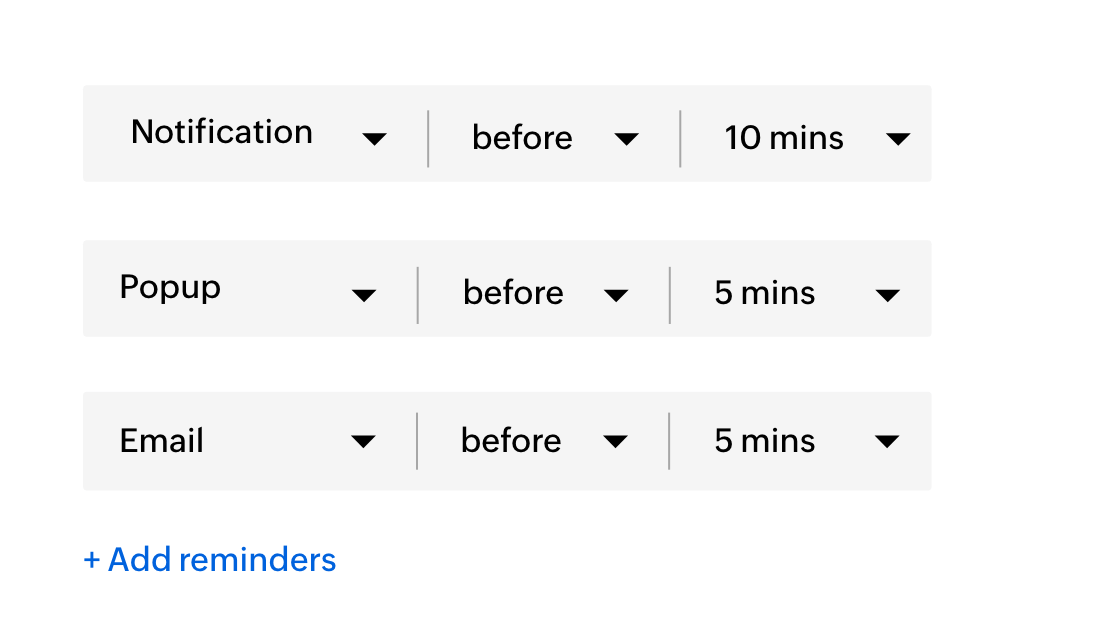 Subscribe to holiday calendars
Forgot to book your travel tickets and messed up your vacation plans? Simply subscribe to the free holiday calendars to see your upcoming holidays and make your plans to enjoy your vacations with your loved ones.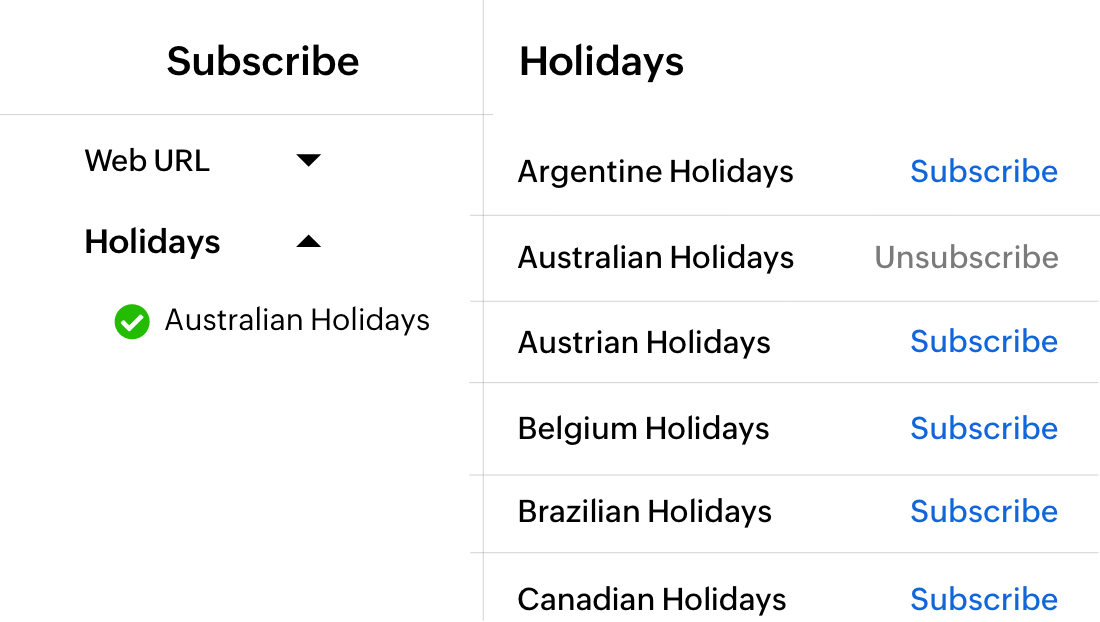 Keep family calendars
Planning a family get-together, but it looks like it'll be just you and your dog showing up for the occasion? With group calendars, create a family calendar, add your family members, and create events that everyone can see. Then enjoy a fun-filled gathering because everyone knew to attend.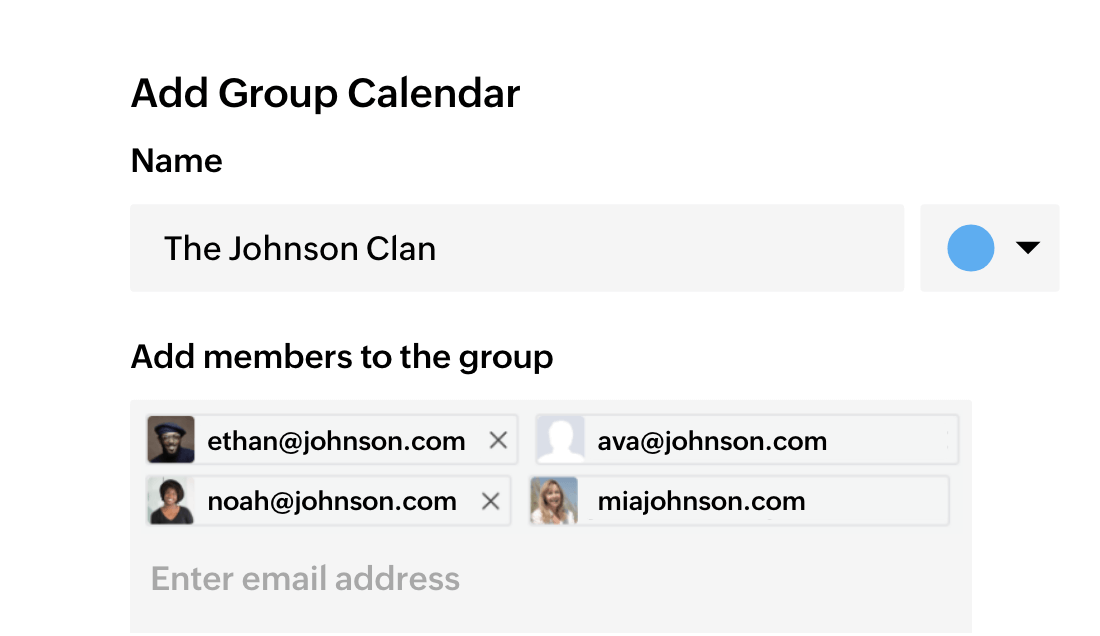 Calendar app on your mobile
Worried about missing out on important events when being away from your desk? With Zoho Calendar's mobile app, you can access your online calendar from anywhere at anytime by just reaching for your phone.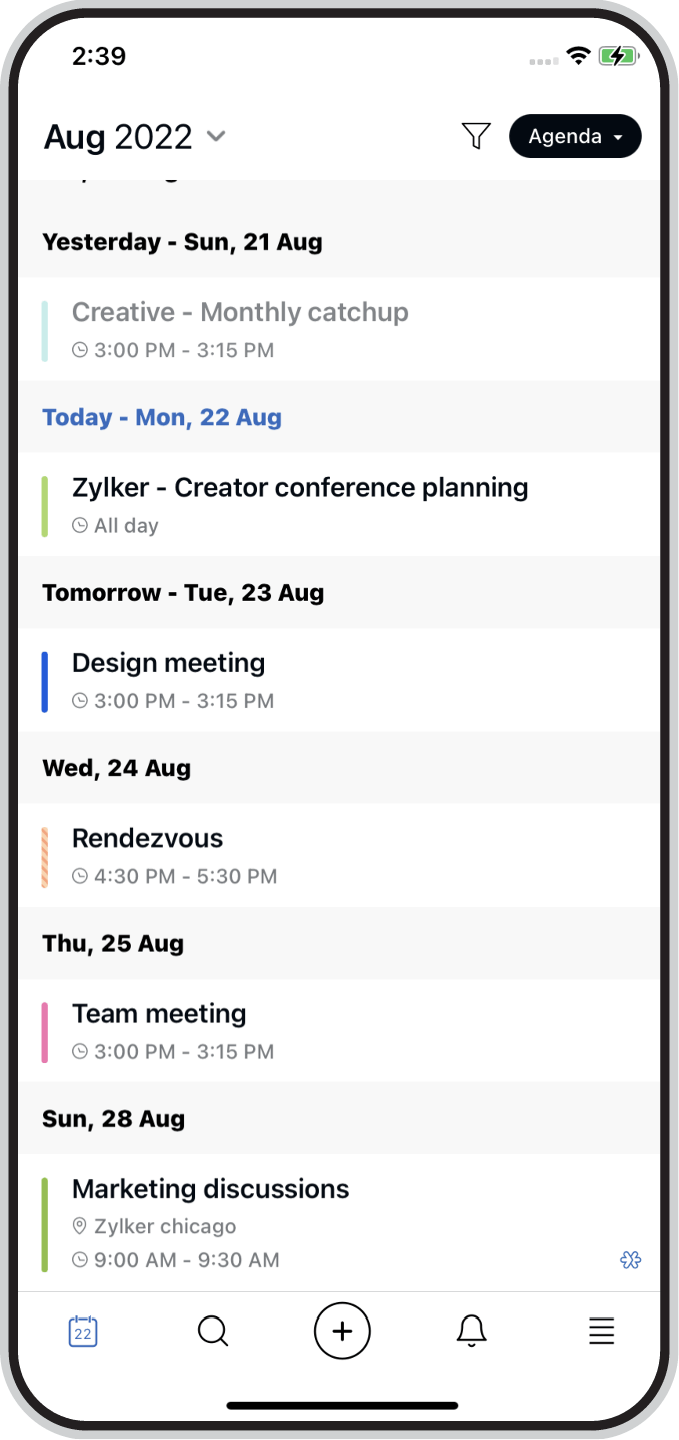 Frequently asked questions
Here are just a few questions users often ask when they're getting started. We have an entire library of them here for your reference.
1. What is a personal calendar?

A personal calendar is an effective tool to keep yourself in an organized routine by creating events on specific dates. Maintain a record of your daily activities and achieve your goals easily by being consistent with a schedule.
2. Can I share my personal calendar?

Yes, you can. Simply select your calendar, invite participants by entering their email address, set their accessibility level, and finish by clicking share. Learn more.
3. Can I set reminders in my personal calendar?

Set reminders as emails, popups, or notifications to remind you before an event starts. Learn more.
4. Can I have multiple calendars?

Yes, you can have a personal calendar and group calendars, such as one to keep all of your family members organized.
5. Is it possible to add new participants to view an event?

Add participants by inviting them to a specific event using their email address.