Why do I need an issue tracking software to handle my bugs?
Explore Now
Excel sheets can be great, but they have their limits. Manually keeping track of who is taking care of what, which bugs are critical, and when severe bugs are due can simply be too much when you're logging hundreds of bugs each day.
Have you been reporting your bugs over email? Information can easily get lost in the chaos of our inboxes, and lost data is worse than no data. You'll often end up wading through a mountain of emails to find some crucial information.
With an exclusive issue tracking tool, all your questions can be answered in minutes, allowing your team to focus on what really needs your attention—fixing high-priority bugs.
Why use Zoho?
Submit requests
Whether you are a paid customer or use the free version, we are here for whatever you need, whenever you need it.
Need help migrating from another product? Want to see a demo? We are here to assist you every step of the way.
Customizations and automation
Every project has its unique needs. Create custom fields and statuses to convey project and bug requirements accordingly. Moreover, automate processes by triggering business rules and honor service level agreements with timely escalations.
More than an issue tracker software
With Zoho, there's always more than what meets the eye. Track your time manually or with automatic timers, get extensive reports, easily chat with your team using the inbuilt chat, create, share, and manage your files, and do so much more with just one software.
Powerful Integrations
Does Zoho power your entire business? Integrate with our other apps like Zoho Desk and Zoho Books, and work more efficiently. You can also integrate with other apps like Zapier, Github, Bitbucket, and others to enhance your bug tracking experience.
Submit and track bugs
Record bugs quickly by adding in details, such as severity, priority, and whether they are reproducible. Assign them to people in your team, create custom views, and track them till they are fixed.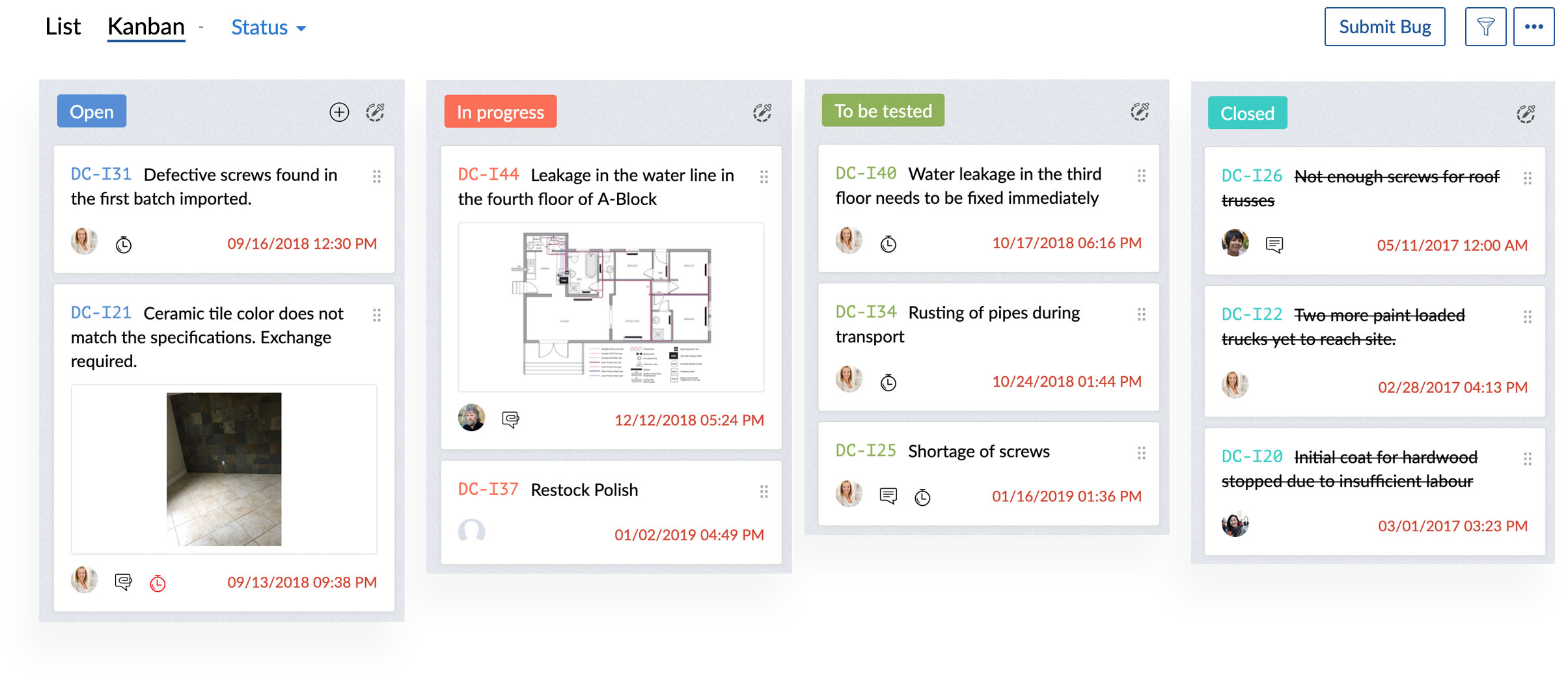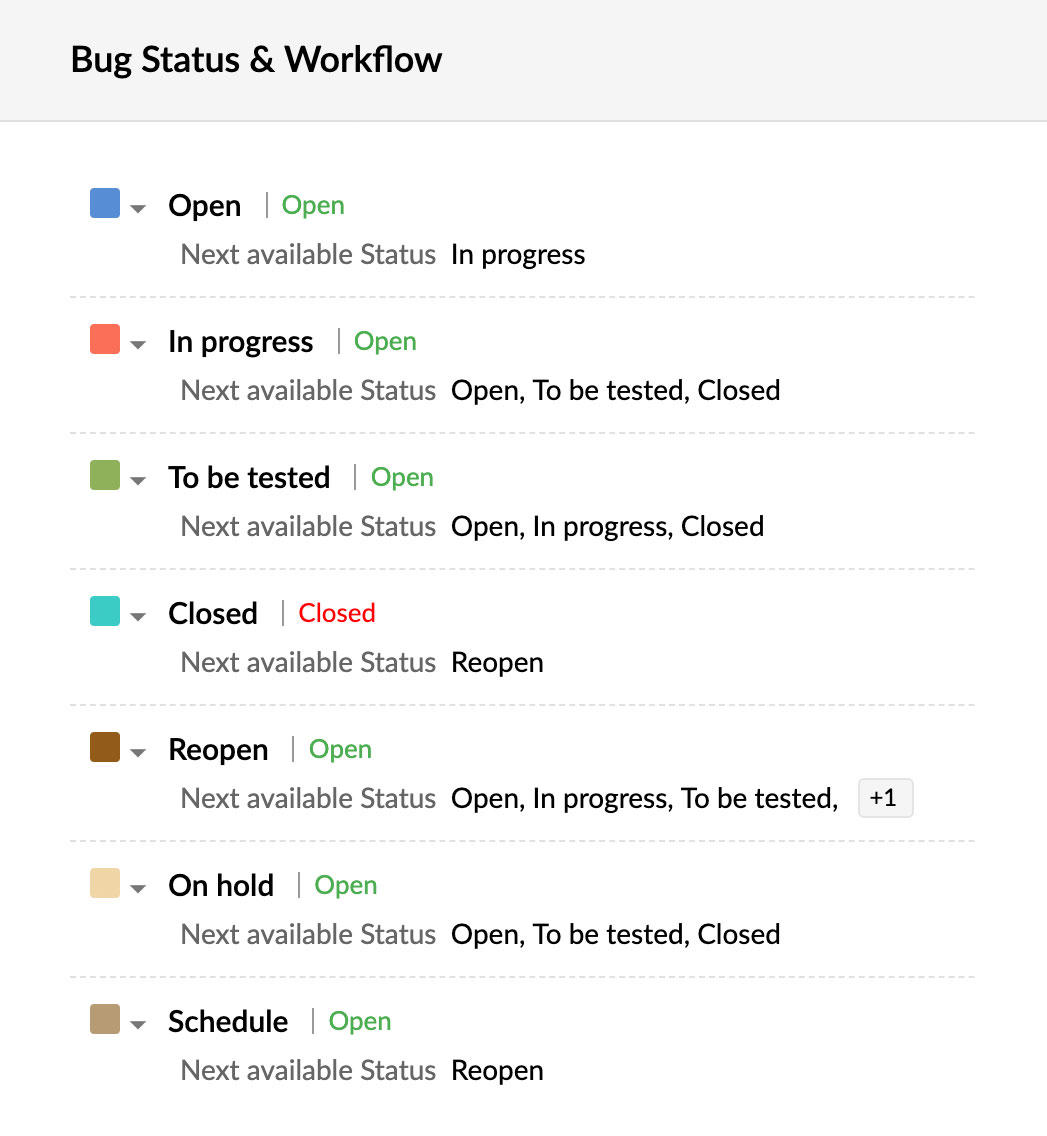 Custom workflows
Create individual workflows for different projects. Each workflow can have as many steps as required to reflect your unique project needs.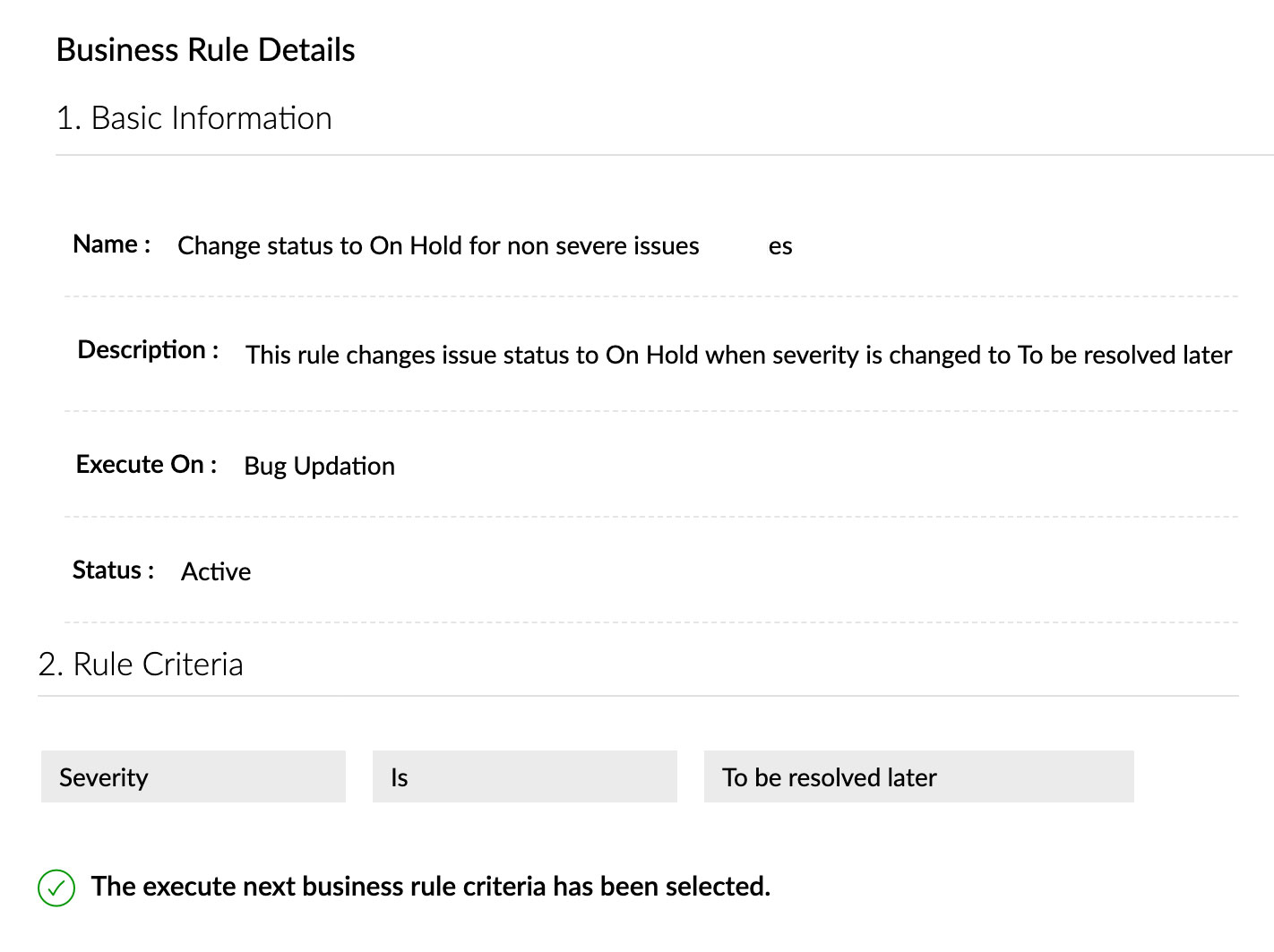 Automate processes
Set up rules to trigger field updates and notifications, or call third-party applications. Automate escalations easily, and fulfill service-level agreements to meet client targets.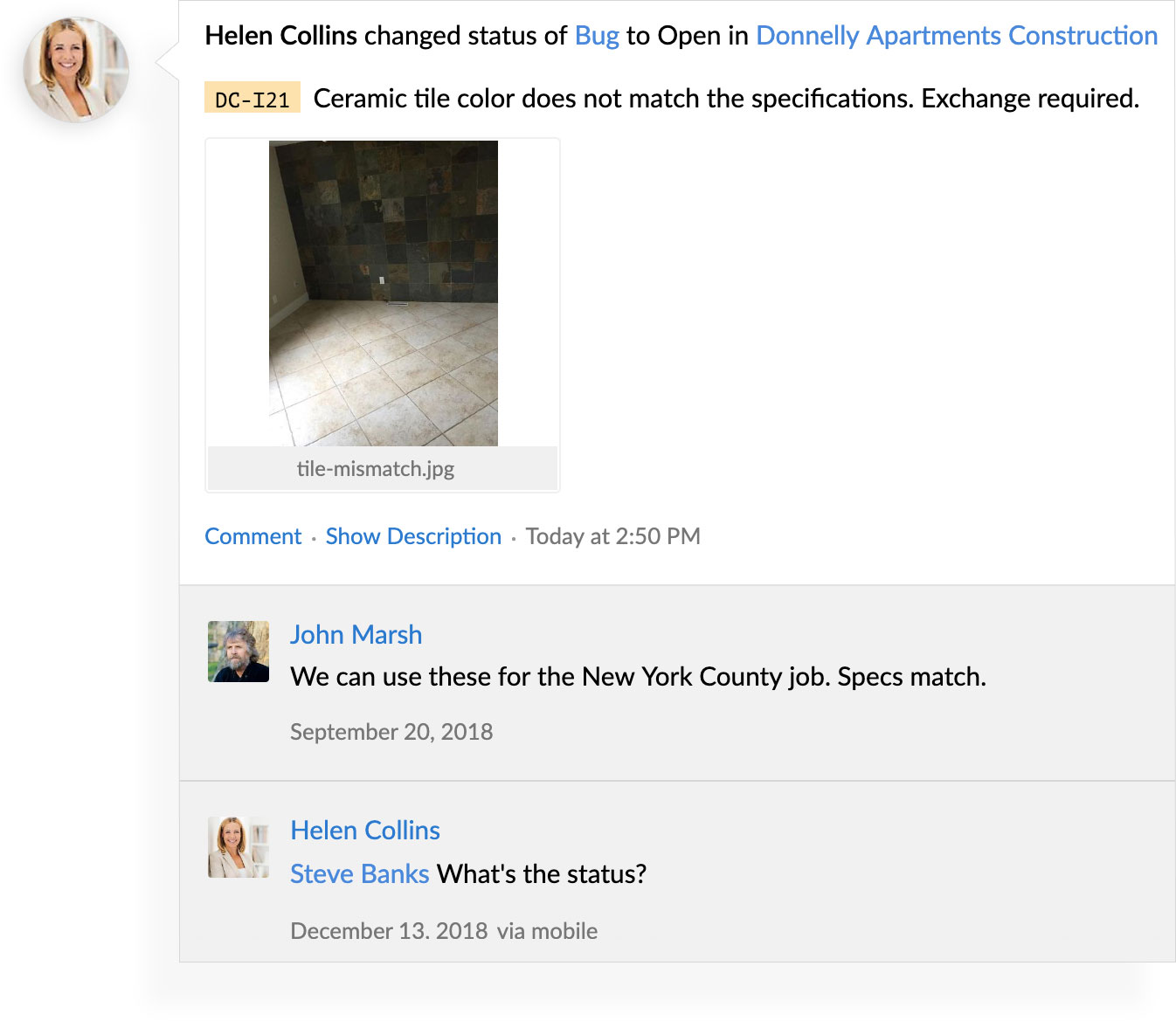 Collaborate efficiently
Work with your team easily from across the globe with the help of interactive feeds, built-in chat, file sharing, and discussion forums.
Time tracking & invoicing
Record time spent on tasks with automatic timers and timesheets. Generate invoices using approved time logs to bill your customers accurately.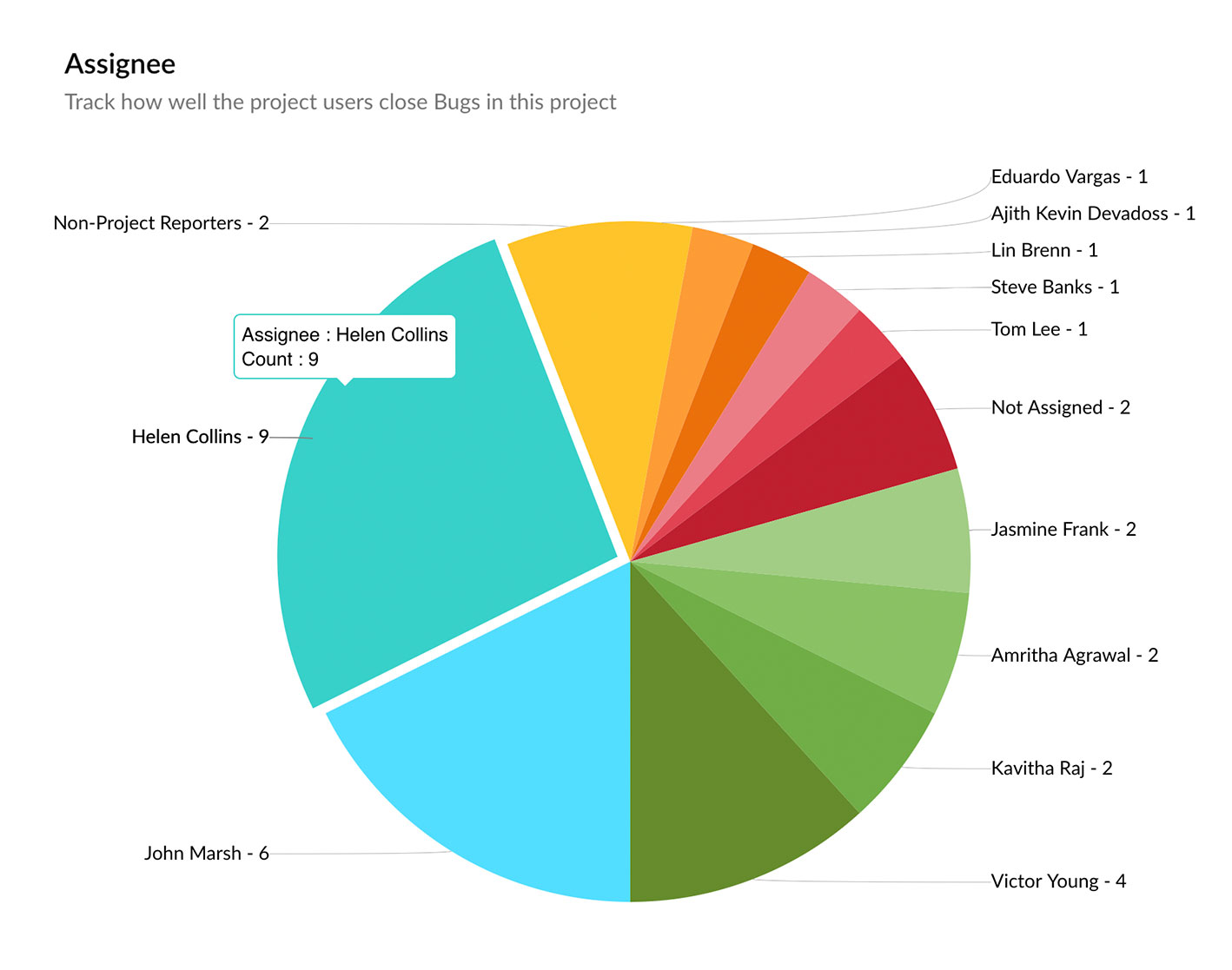 Advanced analytics
Gain in-depth insights about your projects and bugs using built-in reports and colorful dashboards. Get even more functionality with the Zoho Analytics integration.

We were looking for a simple cloud-based bug tracking tool with a short learning curve. Zoho has proved to be the most efficient option for us."
Rajesh Rao
HCL Technologies